This Easy Flatbread (No Yeast) makes a superb side to anything from curries and falafels to koftas and kebabs. Soft, pliable & quick to make too with barely any kneading. It's everybody's favourite!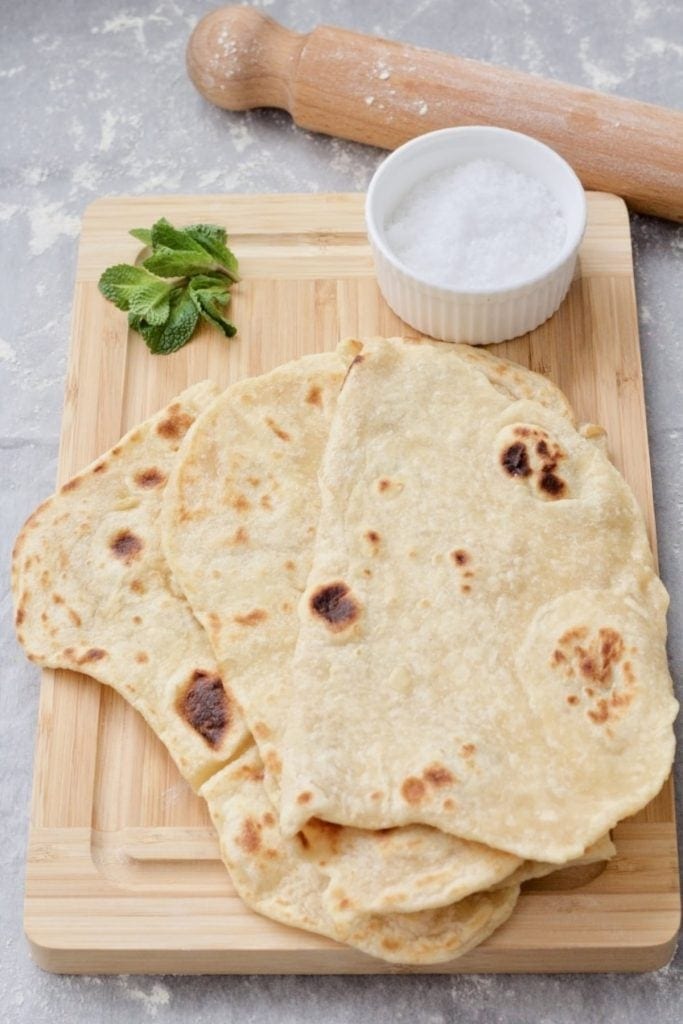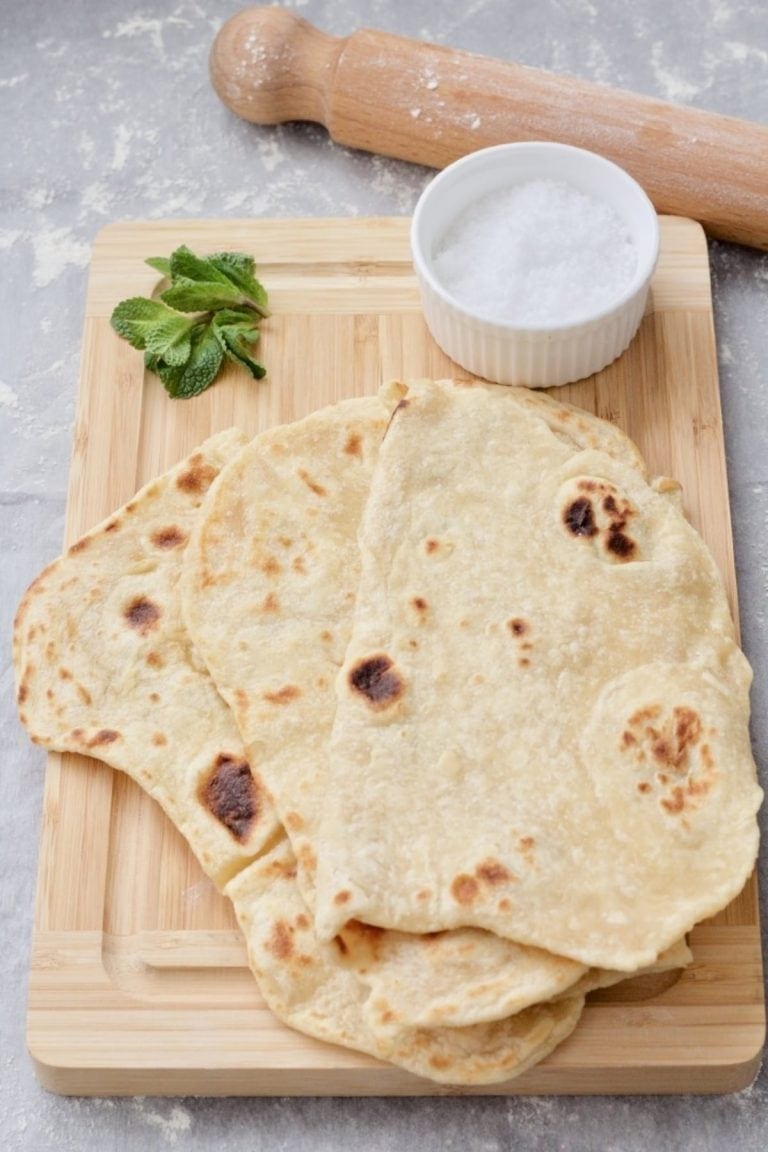 I must say that as a home bread baker I do love old fashioned, crusty loaves that require kneading and proving and there is room for these sort of bakes in my life, especially on weekends! However, on average weekday, I need my kitchen endeavours to be quick, easy and efficient and this Easy Flatbread recipe ticks all the boxes and it features on our menu as a side/accompaniment at least once a week. We do LOVE bread in this house!
You might remember my Easy Naan Bread Without Yeast recipe which is another favourite in our house and is as easy and as delicious as this one. These flatbreads, however, go that one step further with their softness and pliability.
Why is this Easy Flatbread so great?
It's really quick and easy to make so it makes perfect accompaniment to your midweek dinners
There is no fancy equipment required (you don't even need an oven).
There is no yeast involved so neither heavy kneading nor long proving are required.
It is super versatile and goes well with so many dishes.
It freezes beautifully so you can always make double batch and freeze for when needed.
Have I mentioned it tastes delicious?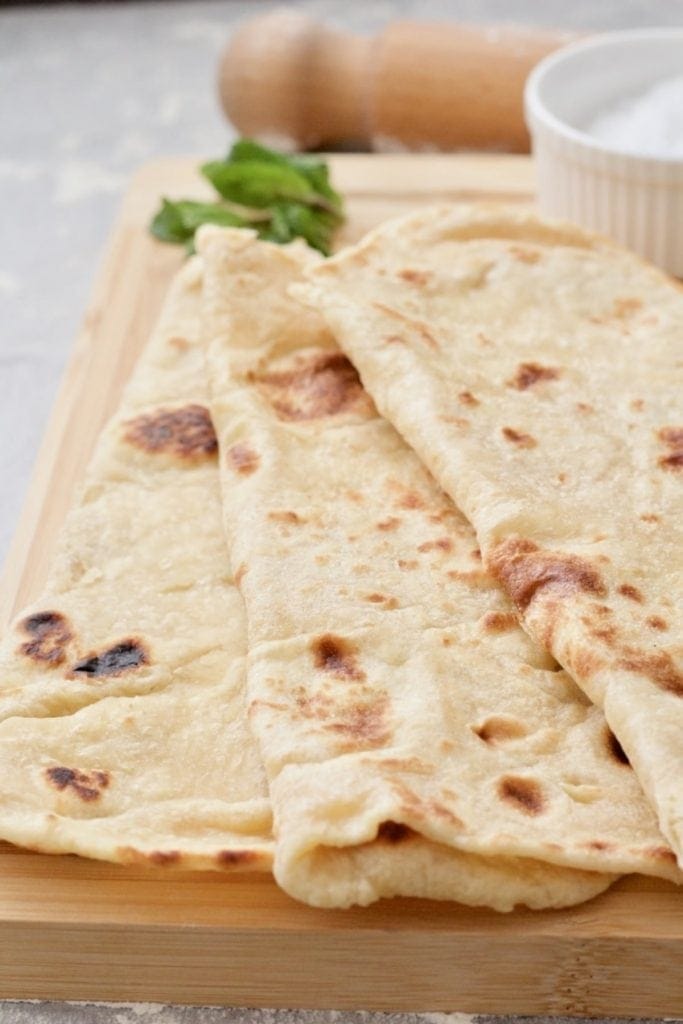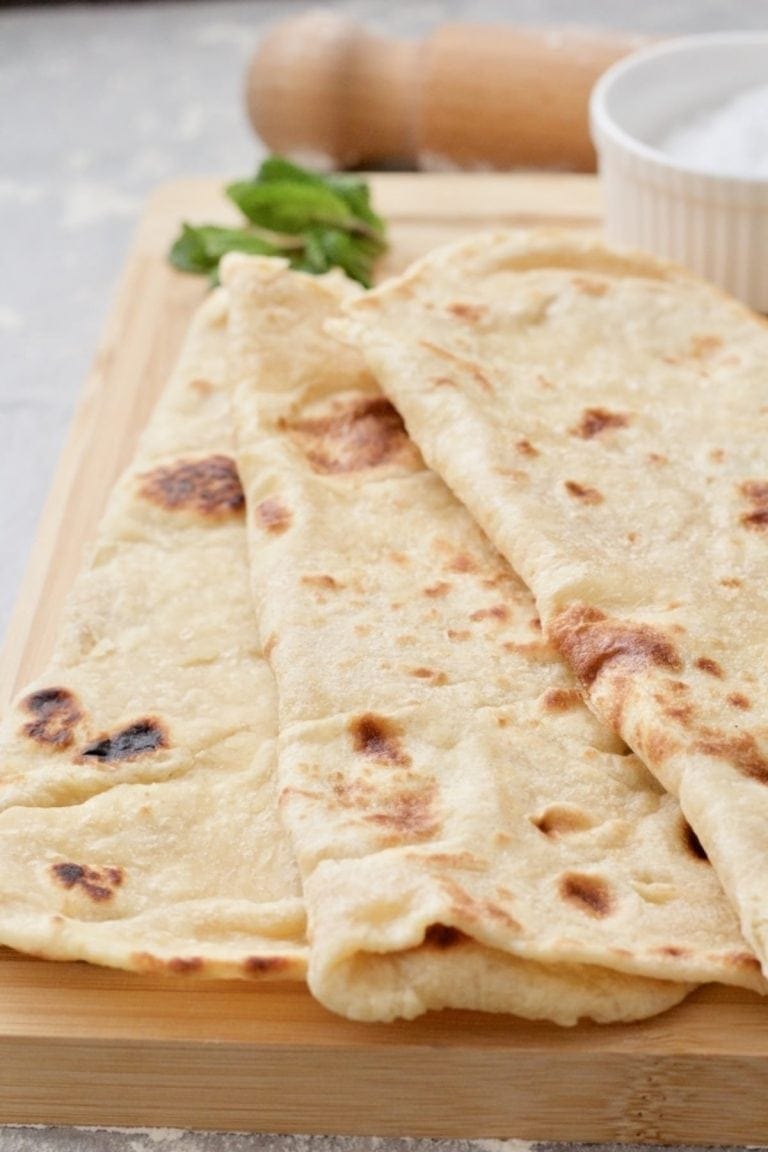 Can I adapt this recipe?
There are few ways you can adapt this recipe:
Gluten-Free - try substituting plain flour with your favourite gluten-free flour.
Vegan/Dairy-Free - Use 40ml/1.4 fl oz rapeseed/olive oil in place of butter and almond or oat milk instead of regular milk.
Healthier - Try swapping plain flour for wholewheat variety. These flatbreads work really well with my favourite white spelt flour.
How do I freeze these flatbreads?
Wrap them tightly in aluminium foil and pop inside plastic freezer bag for extra protection (freezer burn on bread is not nice). They will keep in the freezer for up to 3 months but they never had to wait that long in our house.
To defrost simply take them out onto the kitchen counter and leave at room temperature for an hour or so. I then usually pop them (still wrapped in aluminium foil) into the oven at 180C/350F/Gas Mark 4 for 5 min to warm up. You could put them into preheated oven still frozen but they will take a bit longer (check them after 10 min and see whether they are ready to go or not).
What's the best way to store Easy Flatbread?
Easy Flatbread is best when eaten straight away, there is no two ways about it! However, if you don't manage to eat it and don't want to freeze it, I find that it keeps best wrapped tightly in aluminium foil for a day or two at a push.
Usually, refreshing it in a toaster does the trick. I fold mine and toast it on one side (with a chunk sticking out) and then repeat from the other end. You could always make smaller flatbreads if you know you are likely to be reheating them using a toaster! Similarly, few seconds in a microwave will work too. Alternatively, sprinkle your flatbread with some water and pop in the preheated oven until nice and warm. It will only take few minutes so watch it closely if you don't want to end up with crispy instead of soft flatbread.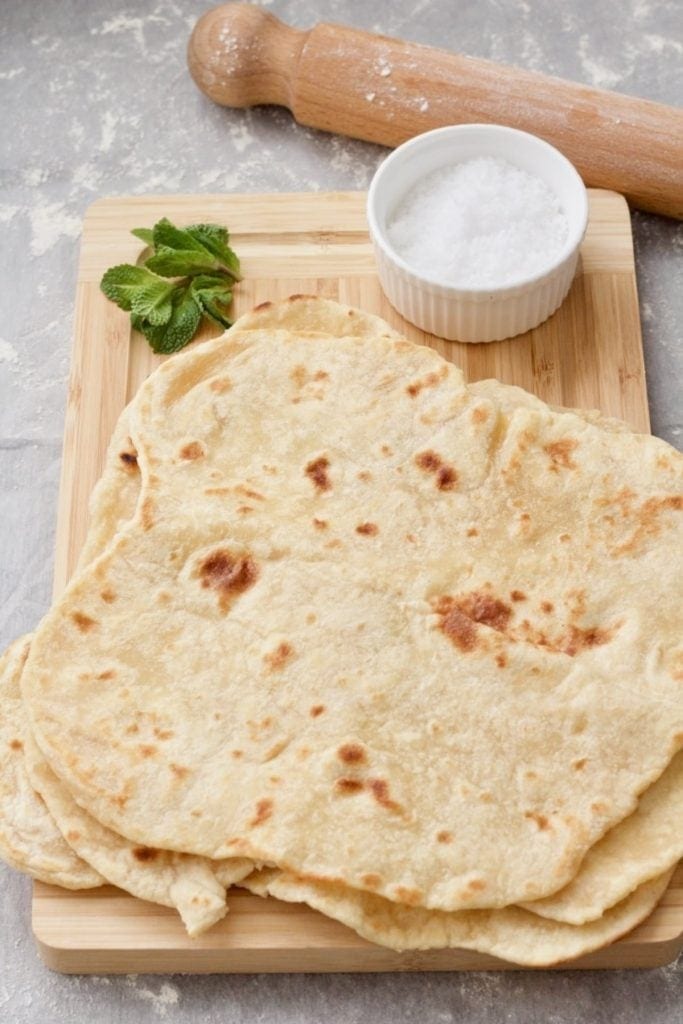 What can I serve Easy Flatbreads with?
The best thing about these easy flatbreads is their versatility. Not only do they go fantastically well with curries, koftas, kebabs and falafels but they make fantastic substitute for tortilla wraps. How about some scrambled eggs and smoked salmon breakfast burrito? They will go well with pretty much any filling and of course any dish with lots of sauce as they do make perfect bready mops.
Here are some easy and delicious meal ideas this Easy Flatbread is simply made for:
Easy Chickpeas & Carrot Falafel Burgers
Portobello Mushroom Burgers with Caramelised Onions (Vegan)
Jamie Oliver's Inspired Chicken Tikka Masala
Easy Cauliflower & Lentil Curry (Vegan)
Easy Lentil Ragu (Vegan)  - I know quite unusual but works so well!
Similarly,  you can try them with some dips, spreads, sauces and salads:
Smoked Mackerel Pate with Horseradish
Few helpful tips when making Easy Flatbread!
Make sure you don't skip 30 min dough resting time as it does make a big difference to the texture of your flatbread (tried and tested).
As you might have noticed my flatbreads are not really round. I'm not very good at rolling them out so decided not to worry too much and as long as they fit my frying pan we're good. I'm going for a bit of a rustic look lol.
Instead of using cling film to cover my bowl with dough when resting I use plastic shower cap! As silly as it sounds it works great and you can reuse it time and time again (I've been using the same one for over 3 years now). That's a lot of single use plastic I didn't have to use!
As soon as your flatbread is off the pan wrap it in a clean tea towel. It is a crucial if you want to retain the moisture in your bread and it's lovely softness and pliability.
Easy Flatbread - Step-By-Step
📋 Recipe
Easy Flatbread (No Yeast)
This Easy Flatbread (No Yeast) makes a superb side to anything from curries & falafels to koftas & kebabs. Soft, pliable & quick to make too with barely any kneading. It's everybody's favourite!
Servings
4
large flatbreads
Ingredients
300

g

plain flour

plus extra if dough needs adjusting

½

teaspoon

salt

50

g

unsalted butter

(see notes)

185

ml

semi-skimmed milk

(see notes)

4

teaspoon

rapeseed or olive oil for frying
Instructions
In a large bowl combine the flour and salt.

Put the butter in a small saucepan and melt it very gently over the low heat.

When it's almost completely melted, take it off the heat and add milk. Give it a stir.

Make a well in the middle of flour and pour in your melted butter/milk mixture.

Give it a quick mix with a spoon to bring all the ingredients together.

Once the dough starts coming together, use your hand and continue giving the dough a little knead in the bowl until it's no longer wet. There is very minimal kneading required (only to bring all the ingredients together into a ball). If the dough appears to sticky add a little extra flour.

Once finished, cover the bowl with some clingfilm and let it rest for 30 minutes or so.

Once the dough had time to rest, take it out onto the counter sprinkled with some flour and divide it into 4 equal pieces.

Take each piece and roll it out roughly to the size of your frying pan.

Heat up a little bit of oil on your frying pan (roughly a teaspoon per flatbread) and once your pan is really, really hot pop in your first flatbread.

Cook it for approx 1-2 minutes on your first side (your first flatbread will always take a bit longer then the following ones) and once you see the bubbles and the other side is getting nice and brown, flip the bread over. Continue to fry for another minute or so until nicely browned.

Once cooked, keep your flatbreads wrapped in clean tea towel to prevent them from drying and so that they remain nicely soft and pliable.

Repeat with remaining flatbreads.
Notes
Nutritional information is approximate, per flatbread and should be treated as a guideline only.
Don't be tempted to skip 30 minutes rest time. It really makes a massive difference in your flatbreads.
You can use salted butter if you prefer but I would then omit the salt.
Try substituting 40ml/1.4fl oz rapeseed or olive oil for butter and your favourite nut or oat milk for regular milk to make vegan/dairy-free version of the flatbread.
Nutrition
Nutrition Facts
Easy Flatbread (No Yeast)
Amount Per Serving
Calories 425
Calories from Fat 144
% Daily Value*
Fat 16g25%
Cholesterol 30mg10%
Sodium 315mg13%
Potassium 145mg4%
Carbohydrates 59g20%
Protein 9g18%
Vitamin A 360IU7%
Calcium 70mg7%
Iron 3.5mg19%
* Percent Daily Values are based on a 2000 calorie diet.
Recipe adapted from Julie Goodwin
Similar recipes you might enjoy:
Easy Indian Chapati (Only 2 Ingredients)
Easy White Sandwich Bread (Soft-Crust)
Wholemeal Bread Recipe (No Knead)
MAKE SURE YOU STAY UP TO DATE WITH ALL THE LATEST RECIPES FROM JO'S KITCHEN LARDER
Have you tried my Easy Flatbread (No Yeast) recipe? Leave a comment at the bottom of this post, I love reading them! You can also come and say hello over on my Facebook page, Twitter or  Instagram
PIN EASY FLATBREAD (NO YEAST) FOR LATER!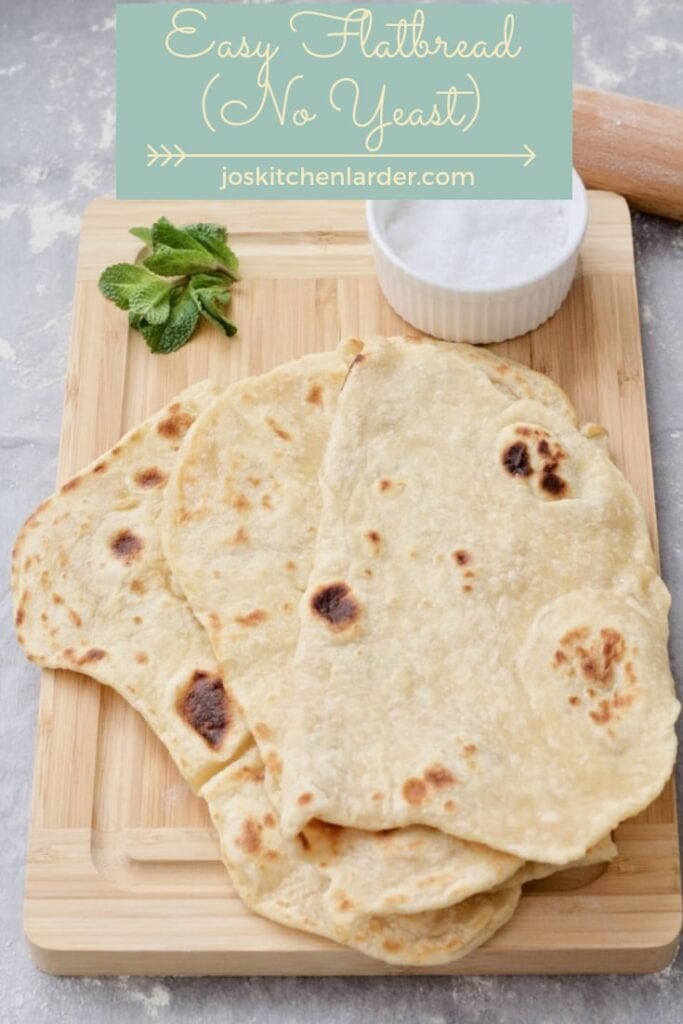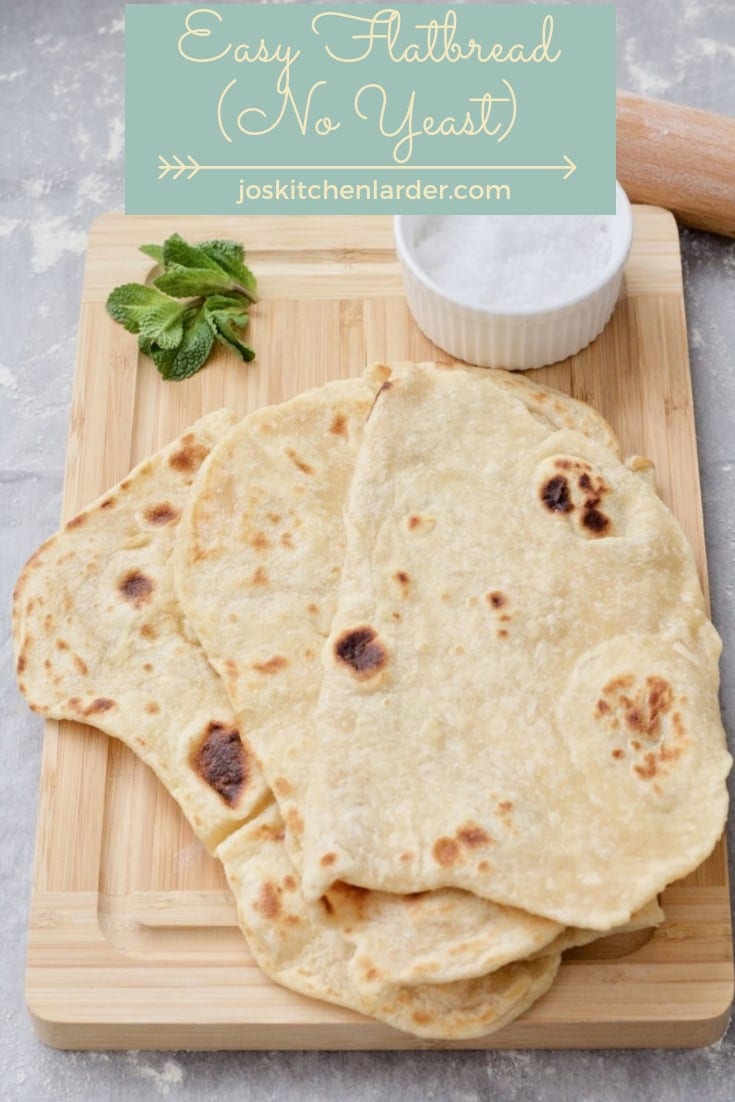 LINKIES:
I'm sharing my Easy Flatbread (No Yeast) recipe with Cook Blog Share.