Wild Garlic Hummus - One of the most popular dips in the world jazzed up with some gorgeous wild garlic. Perfect addition to any mezze platter, perfect with crudités, some toasted pitta bread or as a sandwich filling. Whatever you go for this hummus will most certainly wow you!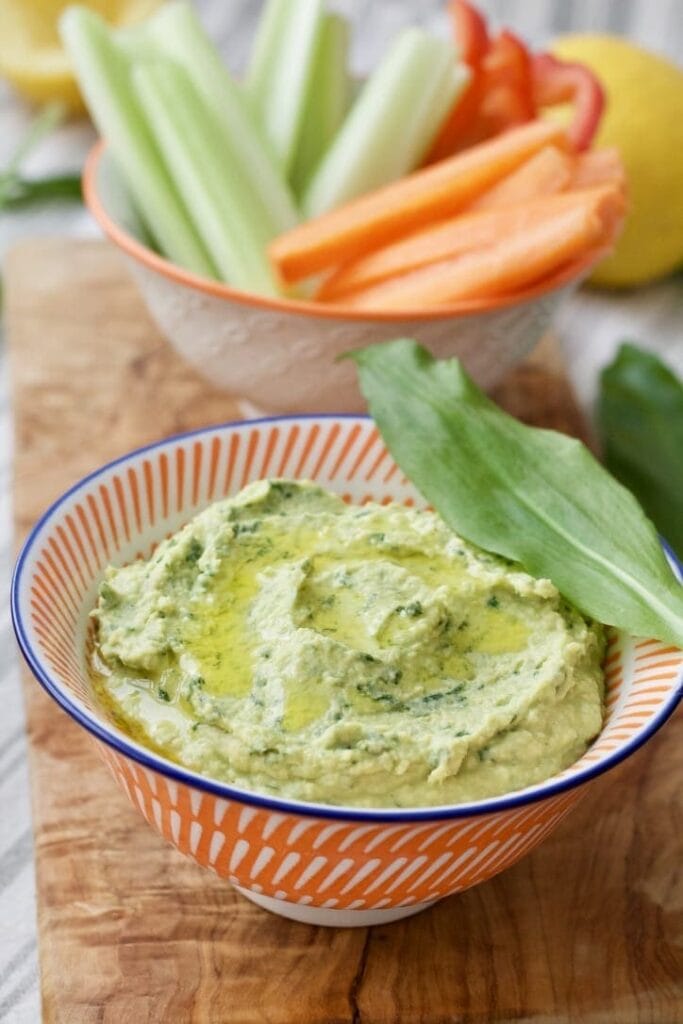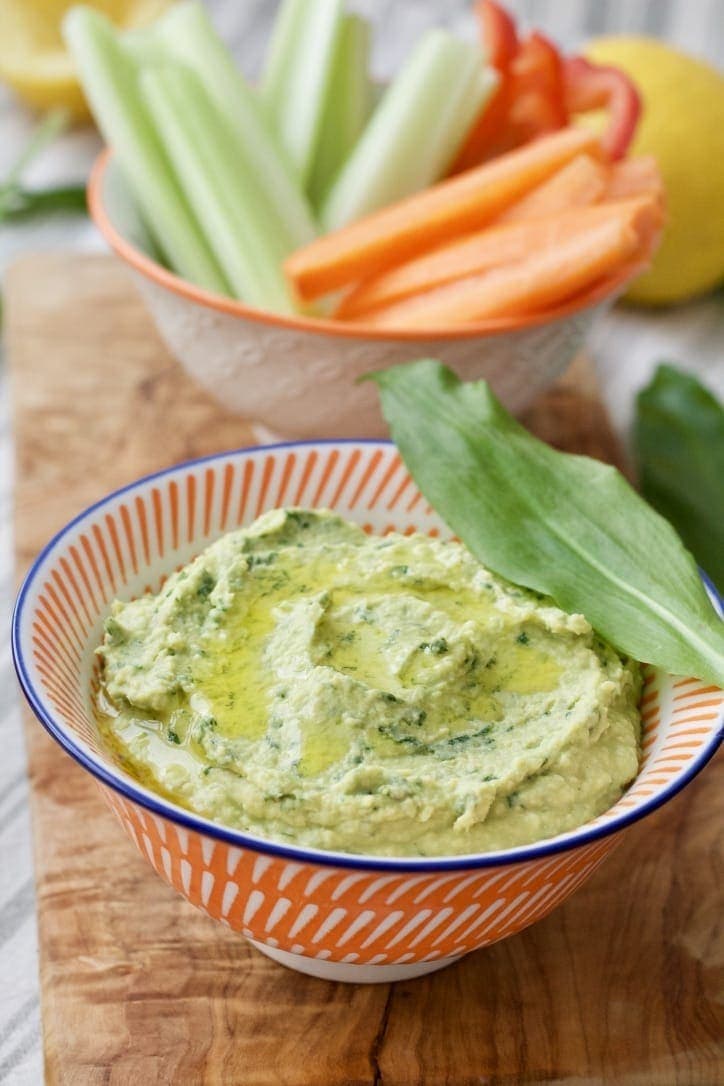 Wild garlic! My oh my! It's another delicacy I've discovered so far this year (next to blood oranges) and what discovery it was! Beautiful, green, almost baby spinach like and quite delicate too but don't let the appearance fool you as this baby packs a punch! If you are a garlic person like myself than you will most certainly love it. I've done some research and settled on couple of recipes which are simply perfect for wild garlic, one of which I'm sharing with you today. It is a variation on one of my favourite ever dips - Wild Garlic Hummus.
Super quick and easy (10 minutes prep is probably as quick as it gets) this hummus will not disappoint. Creamy, full of flavour from tahini and lemon and of course wild garlic kick. It's oh so good! I would really encourage you to make your own hummus as it's easy, cheap and there is no plastic packaging to throw out either. It is super versatile and freezer friendly so if it's only you who likes hummus in the family you can freeze it in small portions and take it out as and when you want it!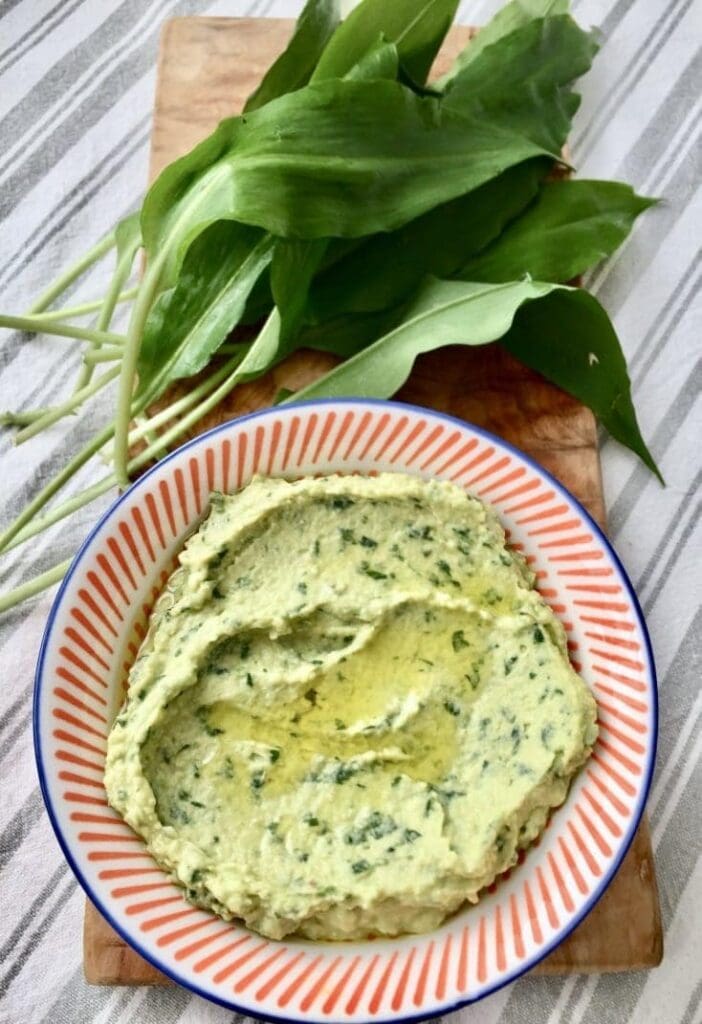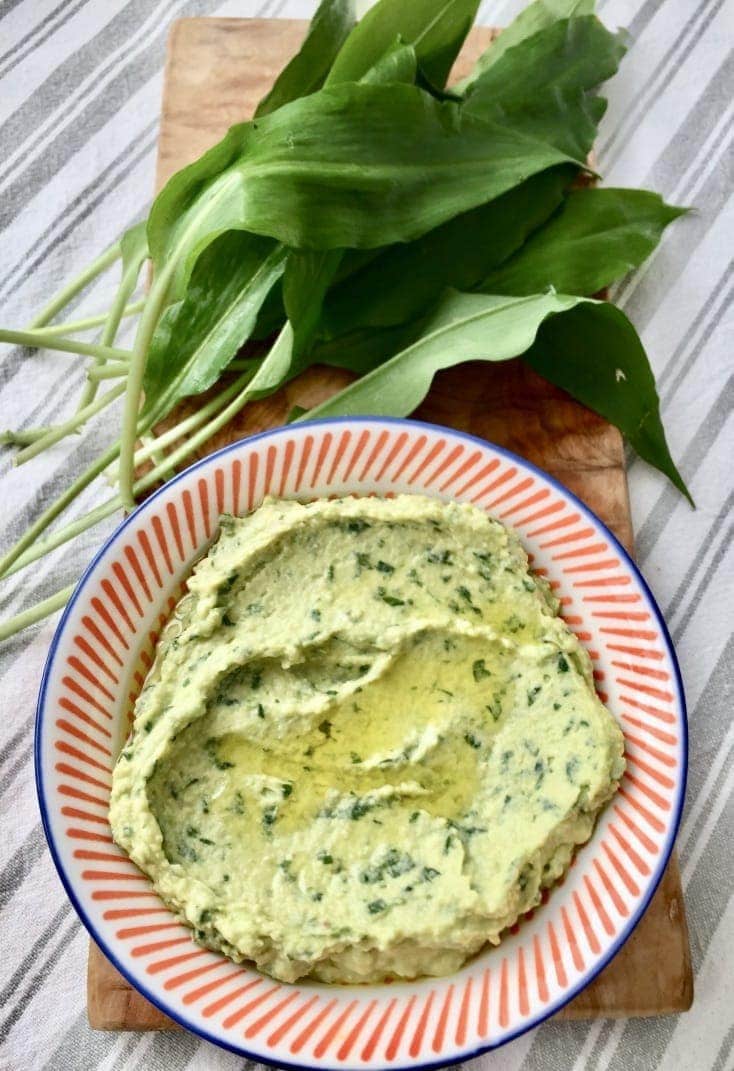 Tips for freezing hummus
Freeze it in small portions in freezer proof containers with small amount of olive oil poured over to preserve moisture.
Make sure you don't keep it in a freezer for too long (3-4 months max) as the longer you do the more likely it is going to affect its flavour and texture too. If you are hummus fiend, however, I'm sure it won't last that long in there anyway. 🙂
The best way to defrost it (like anything else really) is in the fridge so take it out well in advance and give it time to thaw. Don't you even think about popping it in the microwave!!!
Once defrosted, give it a good stir to mix in that olive oil you've poured on top before freezing and you are ready to go.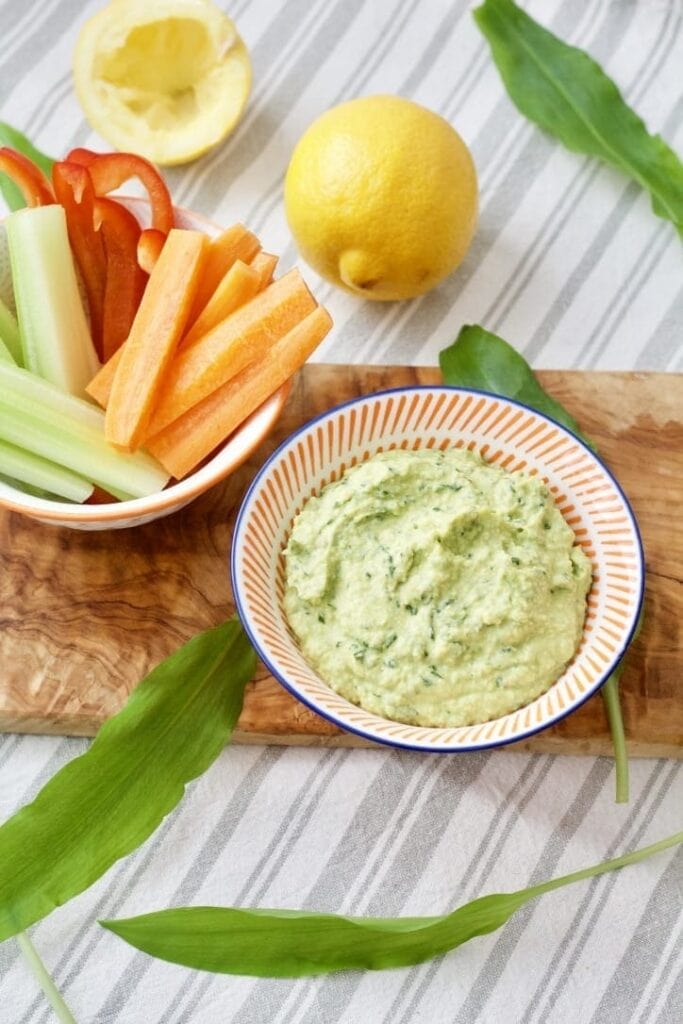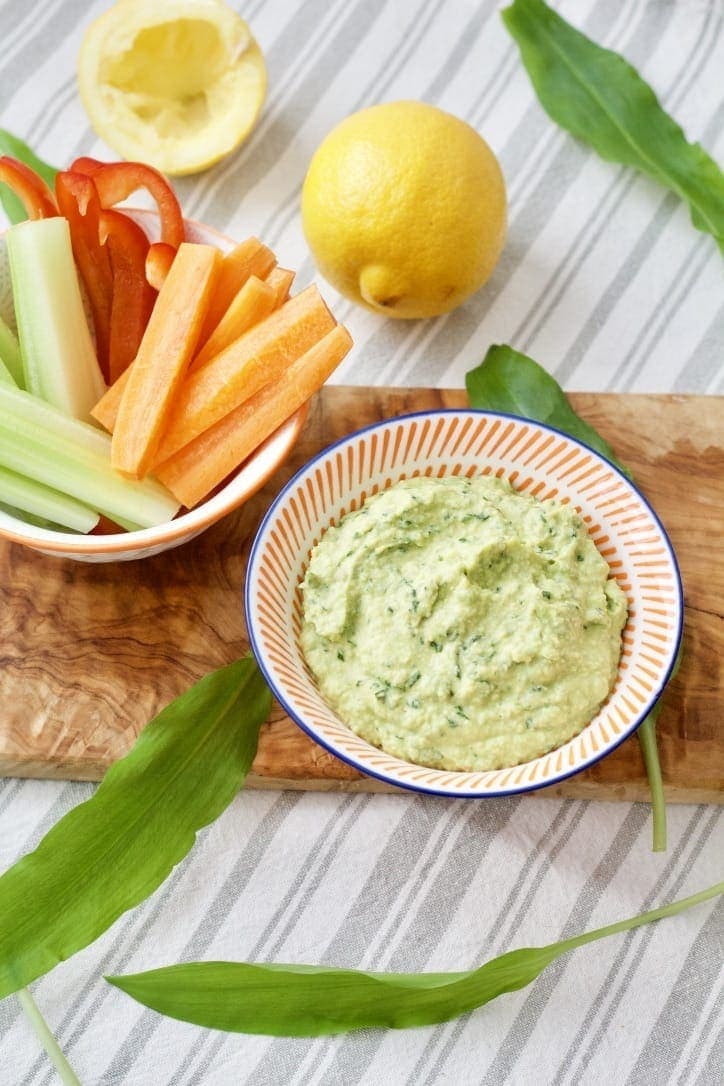 What if I don't have wild garlic? How can I adapt this hummus recipe?
If you don't happen to have wild garlic you can substitute it with couple of regular garlic cloves. That will produce lovely classic hummus which you can then pep up with some paprika or cumin  or leave it as is, classic and delicious!
If you can't say no to garlic and are fan of dips, you might want to check out my delicious if oh so garlicky Perfect Greek Tzatziki which is simply divine with all sorts of grilled meats (now the BBQ weather is hopefully on its way) and fantastic as a dip for anything from sausage rolls, scotch eggs to crisps. Simply delicious!
For slightly different type of spread try this Smoked Mackerel & Horseradish Pate. It is not only quick and easy to make but good for you and delicious too!
Wild Garlic Hummus - Step-By-Step Instructions
Some more wild garlic recipes you might enjoy:
Vegan Cheese Scones (with Wild Garlic)
Roast Chicken Traybake with Shallots & Wild Garlic Pesto
Wild Garlic Pesto Baked Salmon with Gnocchi
Wild Garlic Chicken Stew with Cheesy Dumplings
📋 Recipe
Wild Garlic Hummus
One of the most popular dips in the world jazzed up with some gorgeous wild garlic. Perfect addition to any mezze platter, perfect with crudités, some toasted pitta bread or as a sandwich filling. Whatever you go for this hummus will most certainly wow you!
Ingredients
400

g

tin of chickpeas (garbanzo beans)

drained and rinsed

2

tablespoon

Tahini paste

(sesame seeds paste)

3

tablespoon

Extra Virgin Olive Oil

Juice of 1 lemon

50

g

wild garlic

washed and dried

salt, pepper & some more olive oil for drizzling
Instructions
Pop rinsed and drained chickpeas in the food processor together with tahini paste, olive oil, lemon juice and some seasoning and blitz until smooth.

Add washed and dried wild garlic and blitz some more. Taste and adjust seasoning as necessary and serve with crudités, as part of mezze platter, with pitta bread or in a sandwich. Possibilities are endless. Enjoy!
Notes
Nutritional information is approximate and meant as a guideline only.
I don't mind a little bit of texture to my hummus but if you are after really silky smooth consistency then consider peeling the skin of your chickpeas. It might seem a bit laborious but you will get smoother texture so might be worth additional 10 min. 
I like to serve my hummus drizzled with some more olive oil. You might also want to rescue few chickpeas from blitzing and instead pop them on top of your hummus. Yum!
Nutrition
Nutrition Facts
Wild Garlic Hummus
Amount Per Serving (0 g)
Calories 167
Calories from Fat 99
% Daily Value*
Fat 11g17%
Cholesterol 0mg0%
Sodium 189mg8%
Potassium 118mg3%
Carbohydrates 13g4%
Protein 4g8%
Vitamin A 10IU0%
Vitamin C 3.8mg5%
Calcium 51mg5%
Iron 1.3mg7%
* Percent Daily Values are based on a 2000 calorie diet.
More recipes you might enjoy
Easy Chickpeas & Carrot Falafel Burgers
MAKE SURE YOU STAY UP TO DATE WITH ALL THE LATEST RECIPES FROM JO'S KITCHEN LARDER
Have you tried my Wild Garlic Hummus? Leave a comment at the bottom of this post, I love reading them!
You can also come and say hello over on my Facebook page, Twitter, Instagram or Pinterest.
Pin Wild Garlic Hummus For Later!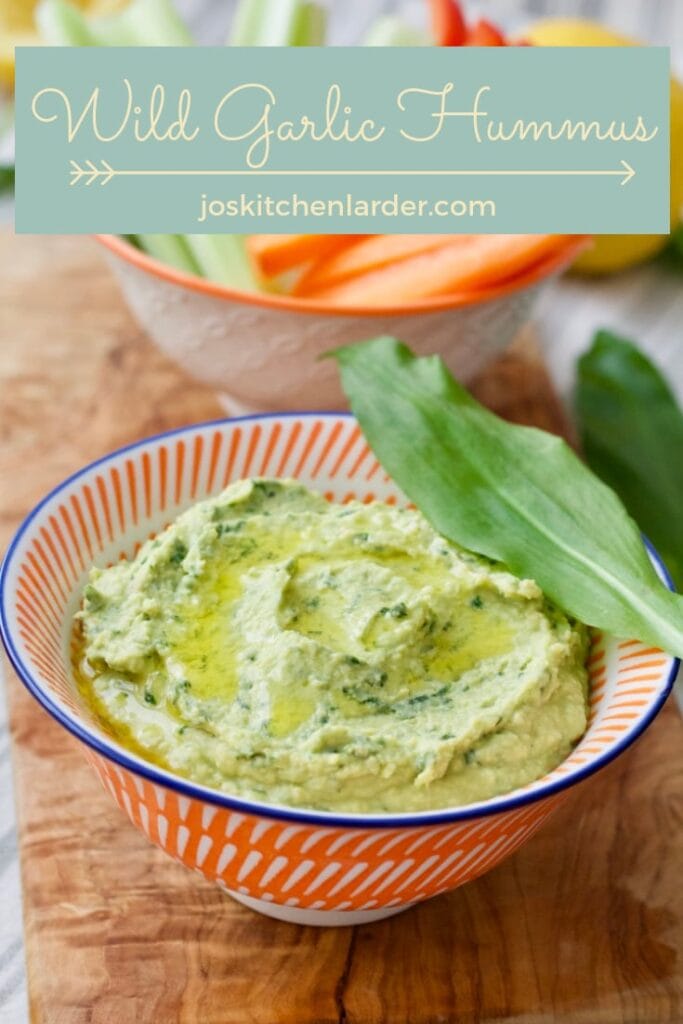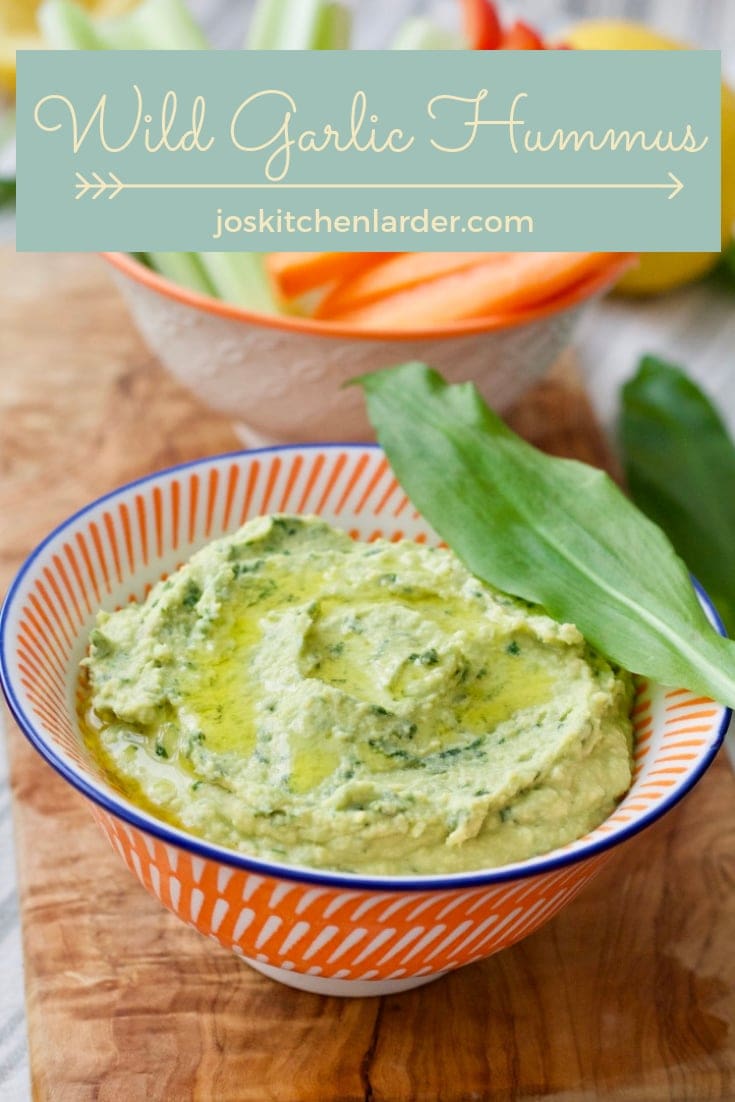 I'm linking my Wild Garlic Hummus with the following pages:
Cook Blog Share hosted by Monika at Everyday Healthy Recipes and Eb at Easy Peasy Foodie