Easy Lamb Kofta Meatballs are quick to make and bursting full of Middle Eastern flavours. These delicious, oven baked meatballs are popular with kids and adults alike and perfect as midweek family dinner, appetiser or part of bigger spread. Try them with some flatbreads and your favourite accompaniments. Super easy, super versatile!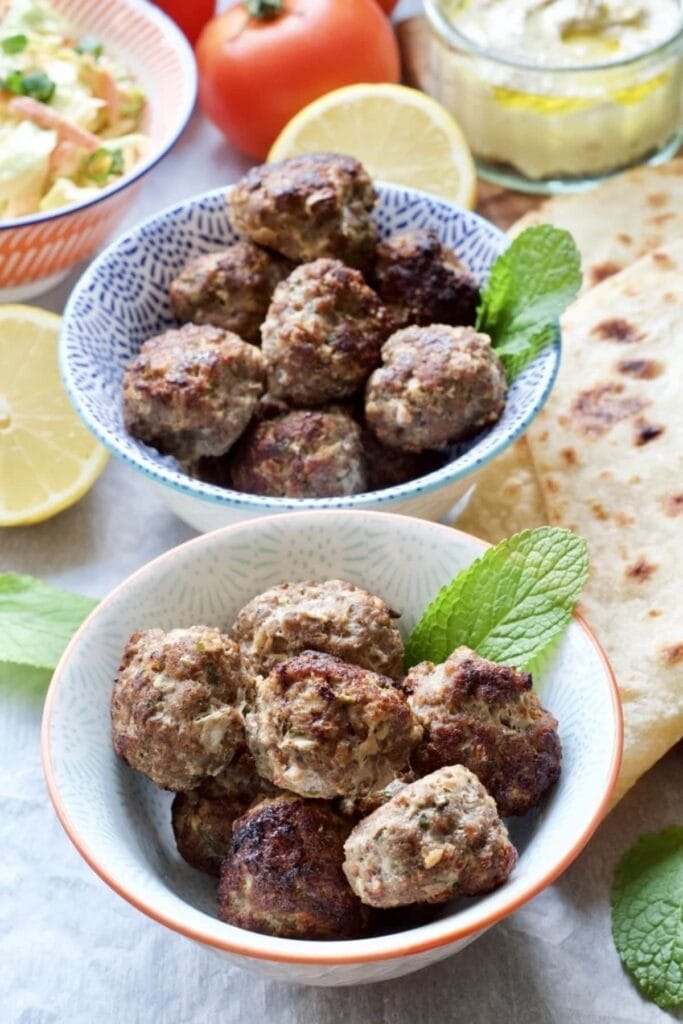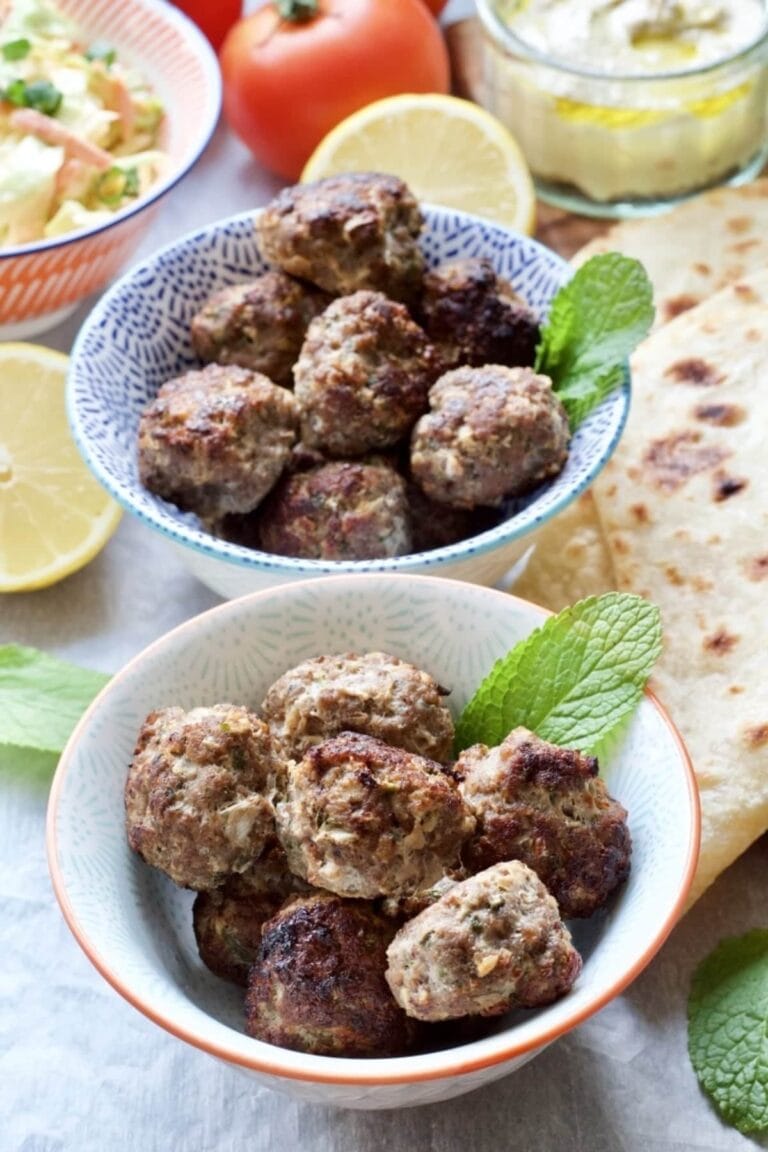 Meatballs are so fabulously versatile and really loved in our house. We love them in all their guises and don't mind if they are Swedish, Italian or as in this case Middle Eastern! Back in the day I would always make my lamb koftas in the classic shape of kebabs but have since found that my kids are less likely to reject things if they are shaped into meatballs or patties for that matter. Easy Lamb Kofta Meatballs here I come!
Quick & easy to make, super versatile, naturally gluten and egg free!
These meatballs take literally minutes to put together without the use of any fancy equipment as all you need is a bowl and your hands. What I also love about these little Easy Lamb Kofta Meatballs is their versatility as they work really well as a quick family meal over couscous or Middle Eastern pilaf or even pasta (trust me, it's kids approved)! We love them with my easy flatbreads and loads of hummus and my creamy coleslaw, so simple, so delicious!
As they are delicious both hot or cold, they will also make lovely bitesized appetiser or snack on a game night or as a part of larger mezze spread!
Some versions of lamb kofta have breadcrumbs (or stale bread soaked in milk) and eggs in them but I've kept mine naturally gluten and egg free!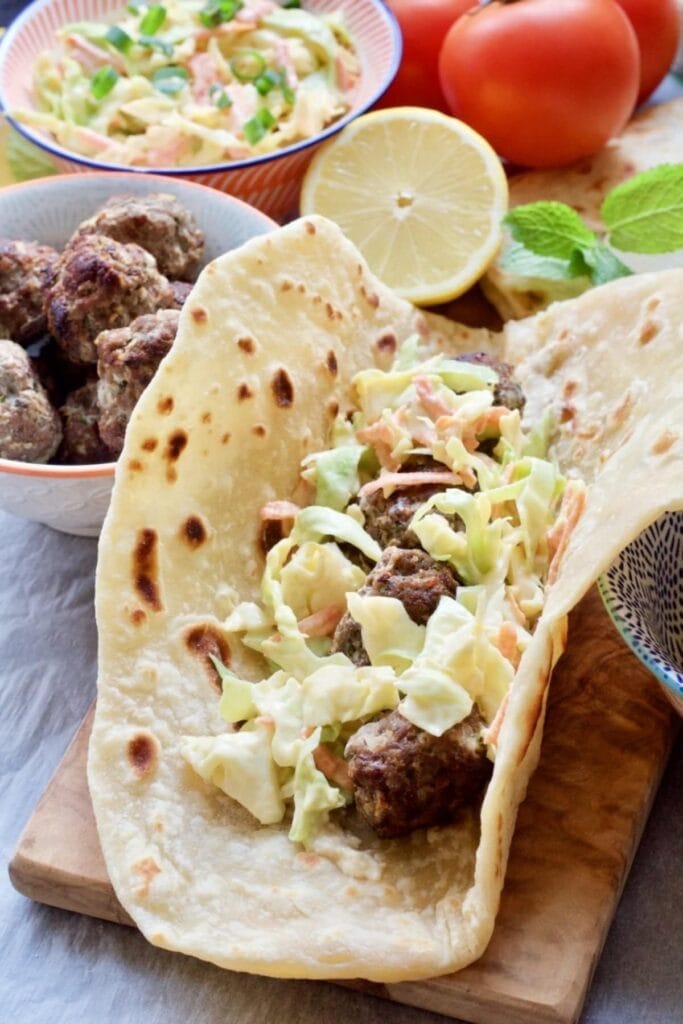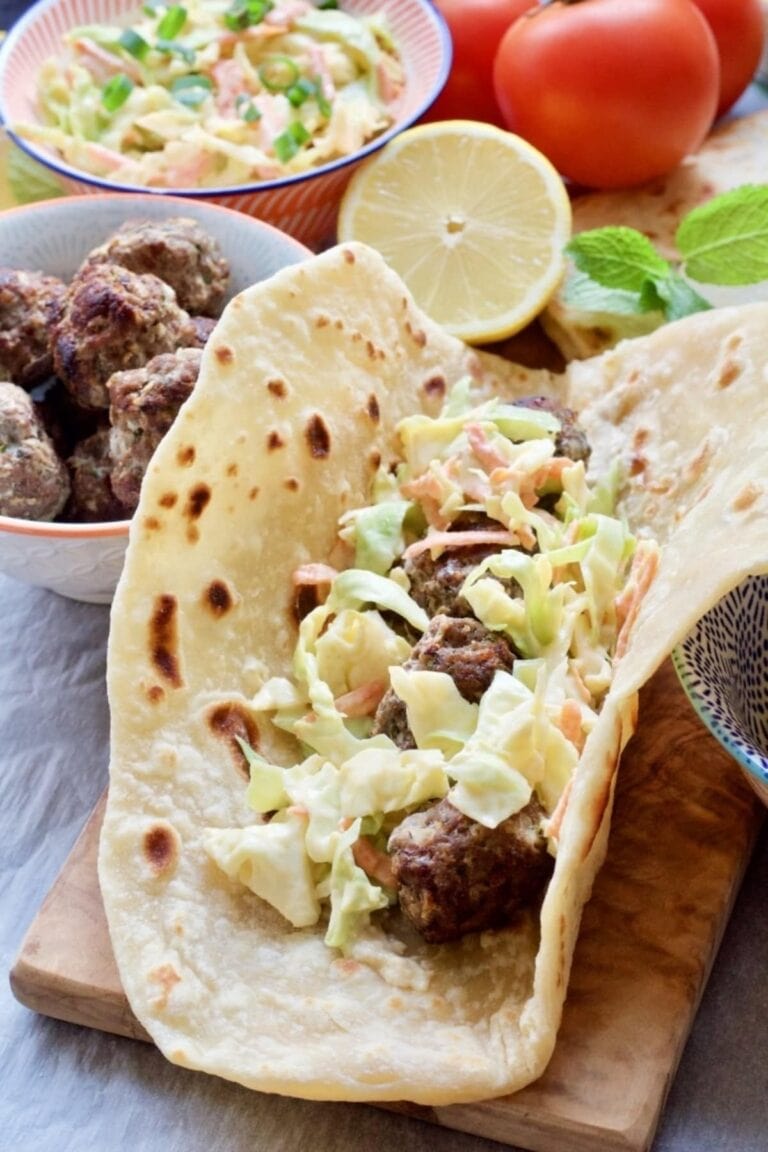 How can I adapt these Easy Lamb Kofta Meatballs?
There are number of ways you can adapt these already delicious meatballs:
Try swapping minced lamb for beef, pork or turkey.
Fresh mint goes particularly well in this recipe but if you are not a fan try using fresh coriander (cilantro) instead.
This recipe produces exceptionally flavoursome yet mild meatballs. Try adding some chopped red or green chilli or a pinch or two of chilli flakes for that extra kick!
Try adding tiny little pinch each of some ground cloves, allspice and cinnamon for that umami flavour.
How about adding some crumbled feta cheese to the mixture? Perfect combination if you ask me. If using make sure you adjust the amount of salt accordingly as feta is already quite salty.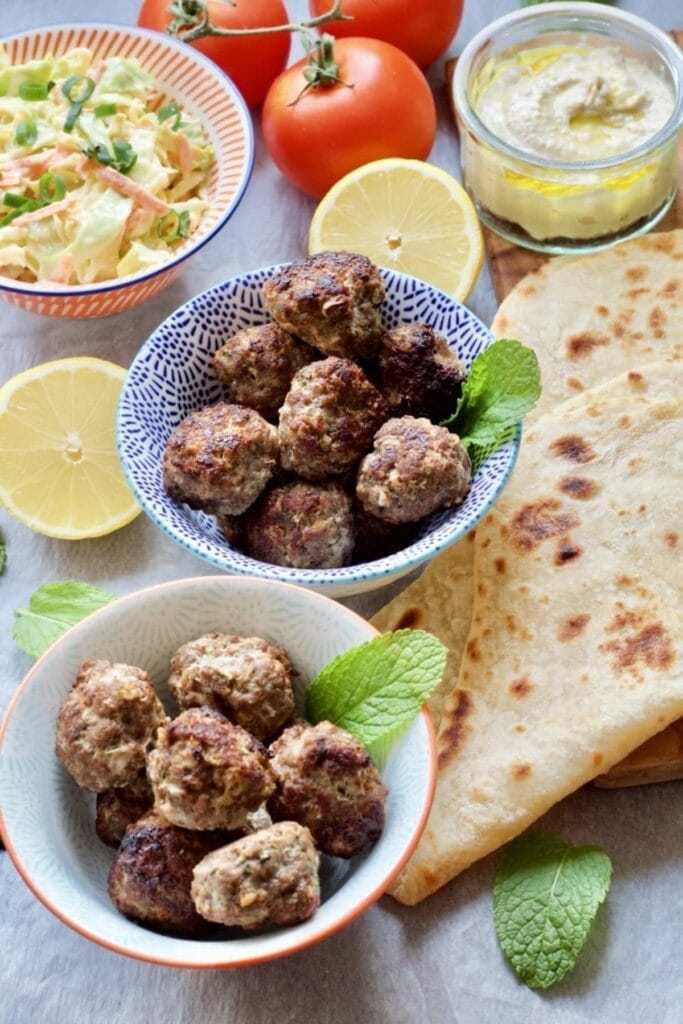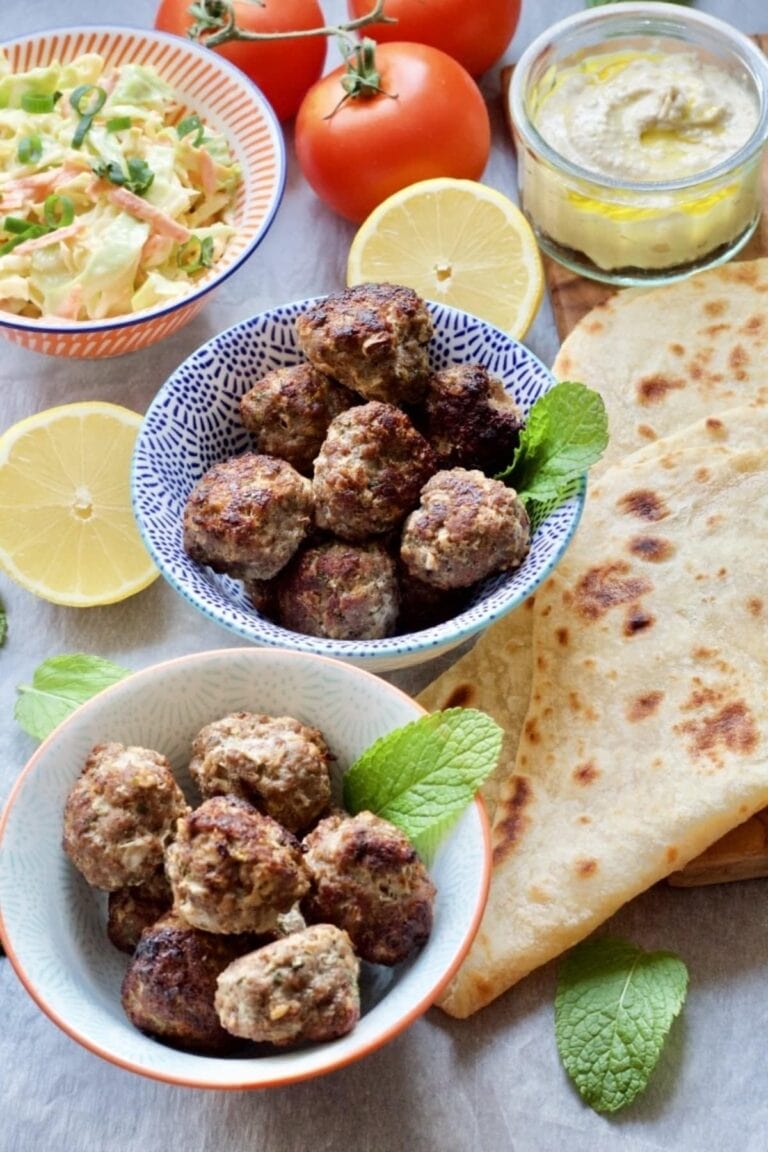 How can I cook Easy Lamb Kofta Meatballs?
If you follow the recipe you will sear/brown meatballs briefly in a frying pan first and then finish them in the oven (see recipe card below).
You could also:
Pan fry them without finishing them in the oven (or use griddle pan instead of frying pan). They will take anything between 8-10 minutes to cook. Make sure your pan is really hot and you keep moving meatballs around so that they cook evenly. Similarly to the searing/browning method, it's best to do it in 2 batches.
Bake them in the oven without searing/browning first. Make sure you spray them generously with olive oil and bake for approx 20 minutes so slightly longer.
Cook them under the grill. You could use wooden or metal skewers and put your meatballs on the skewers which will make turning them so much easier plus it will give you a serving utensil. If you are using wooden skewers make sure to soak them in the cold water for 30 minutes prior to prevent them from catching fire. Pop your skewers under the medium grill for approx 13-15 minutes turning them couple of times to ensure they cook evenly.
On the BBQ! There isn't a better way than that when you are in the midst of Summer and the weather is playing ball (reminiscing about the Summer 2018). Use the skewers as above and cook as you would under the grill for 13-15 minutes turning regularly.
Whichever method you decide to use make sure to let your lamb kofta meatballs REST for a few minutes before you dig in!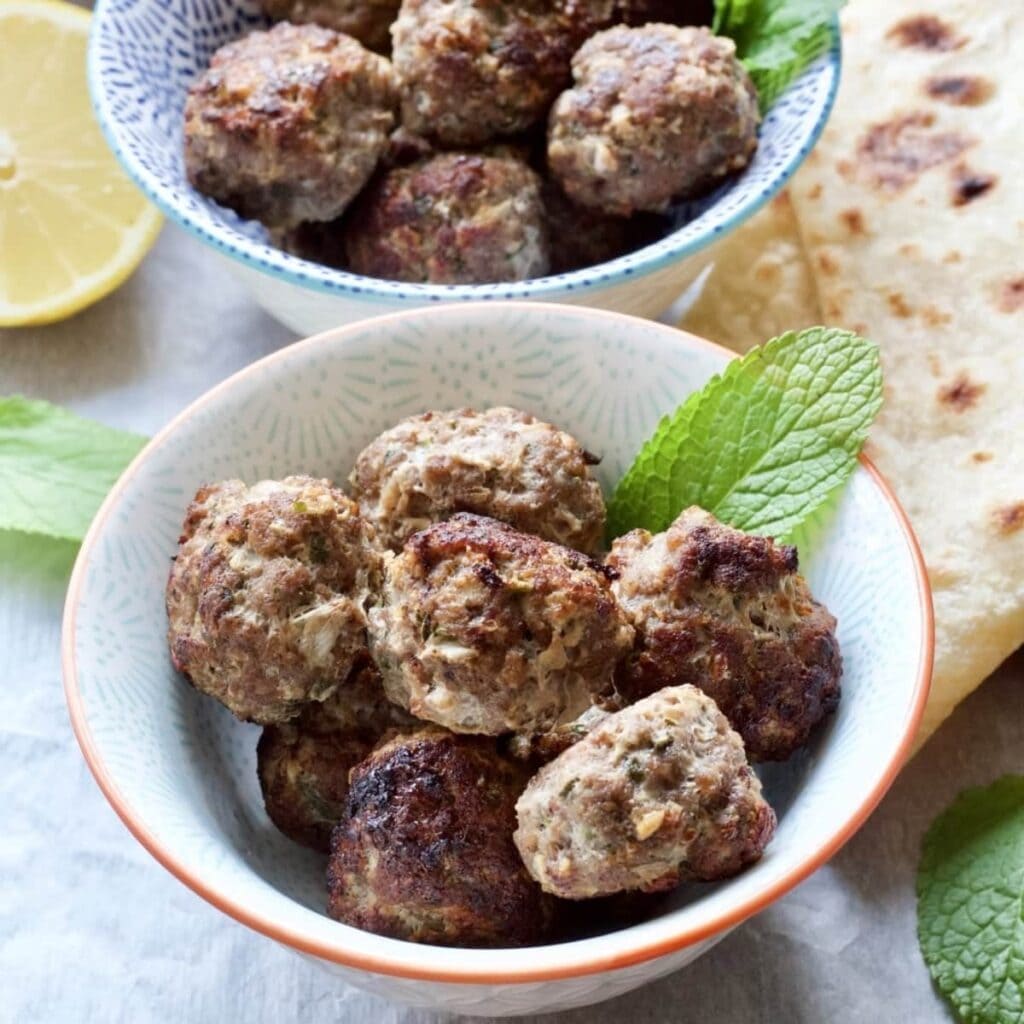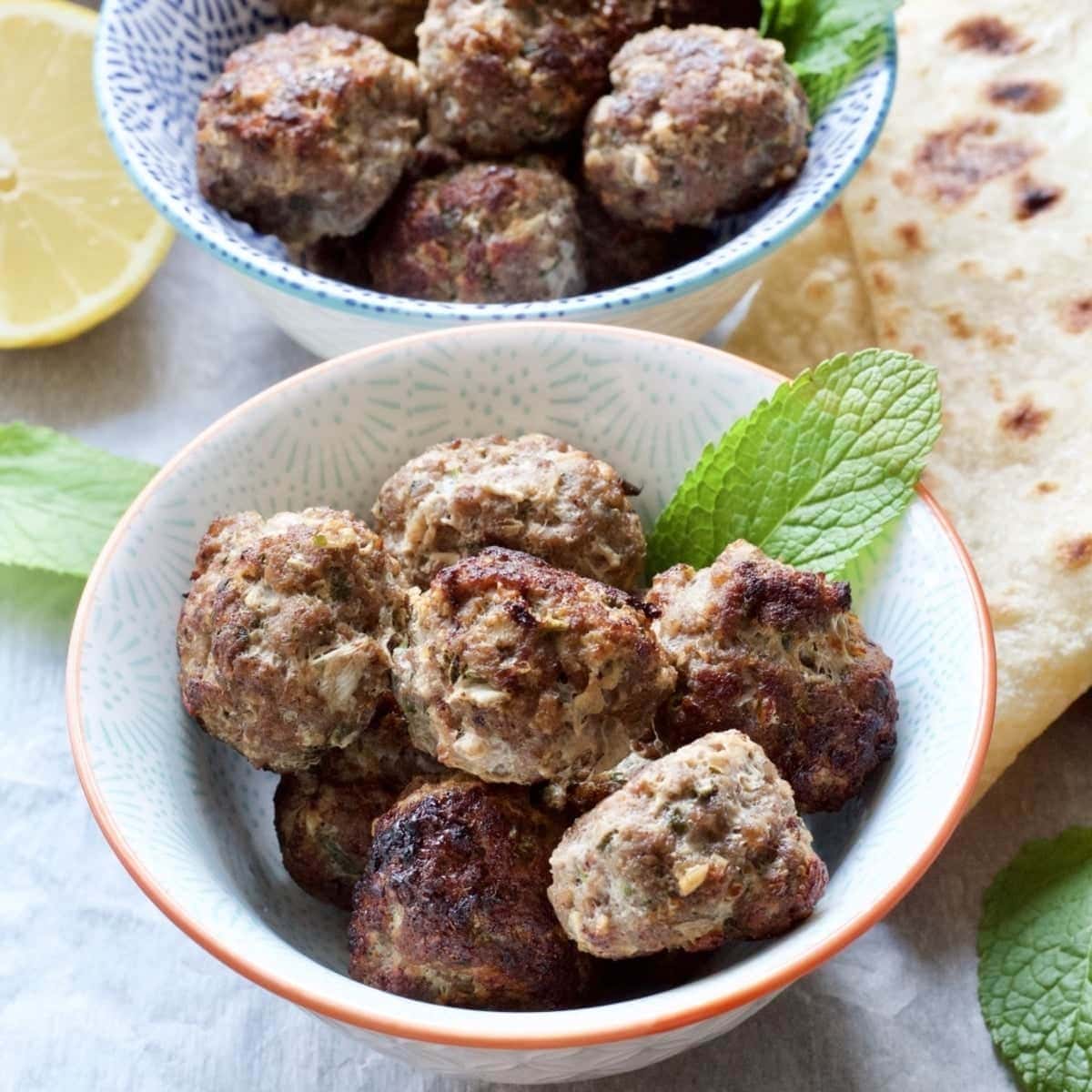 What to serve with Easy Lamb Kofta Meatballs?
There are so many things that go really well with these quick lamb meatballs and below you will find some suggestions but by no means let them limit you.
Tzatziki has been made for lamb kofta! Use it as a dip or sauce.
Cucumber Raita would work really well too. You can make it with coriander, mint or even both!
Already mentioned hummus. I do love my Wild Garlic Hummus when wild garlic is in season but it can also be easily adapted into classic hummus.
Simple couscous and roasted vegetables.
Homemade Fresh Tomato Salsa (Pico De Gallo)- even though Mexican in its origin, it really works here!
Middle Eastern rice pilaf.
Simple green salad and your choice of sliced tomato, cucumber, radishes, avocado etc.
Tabbouleh or quinoa salads
Steamed greens
Simple pasta with gently spiced tomato sauce as used in this recipe
I could go on...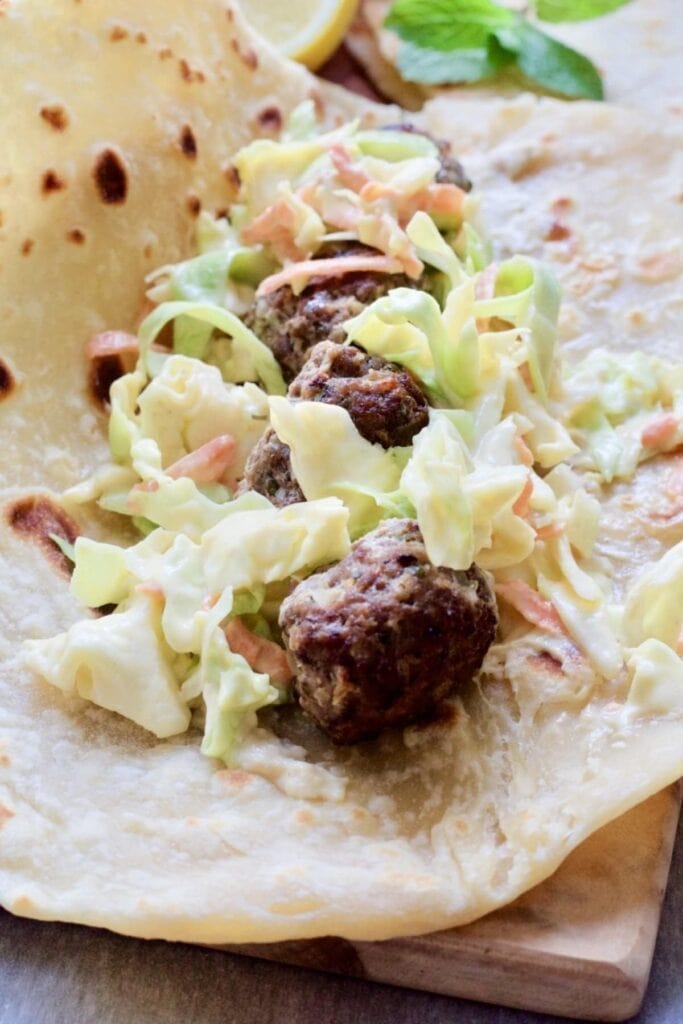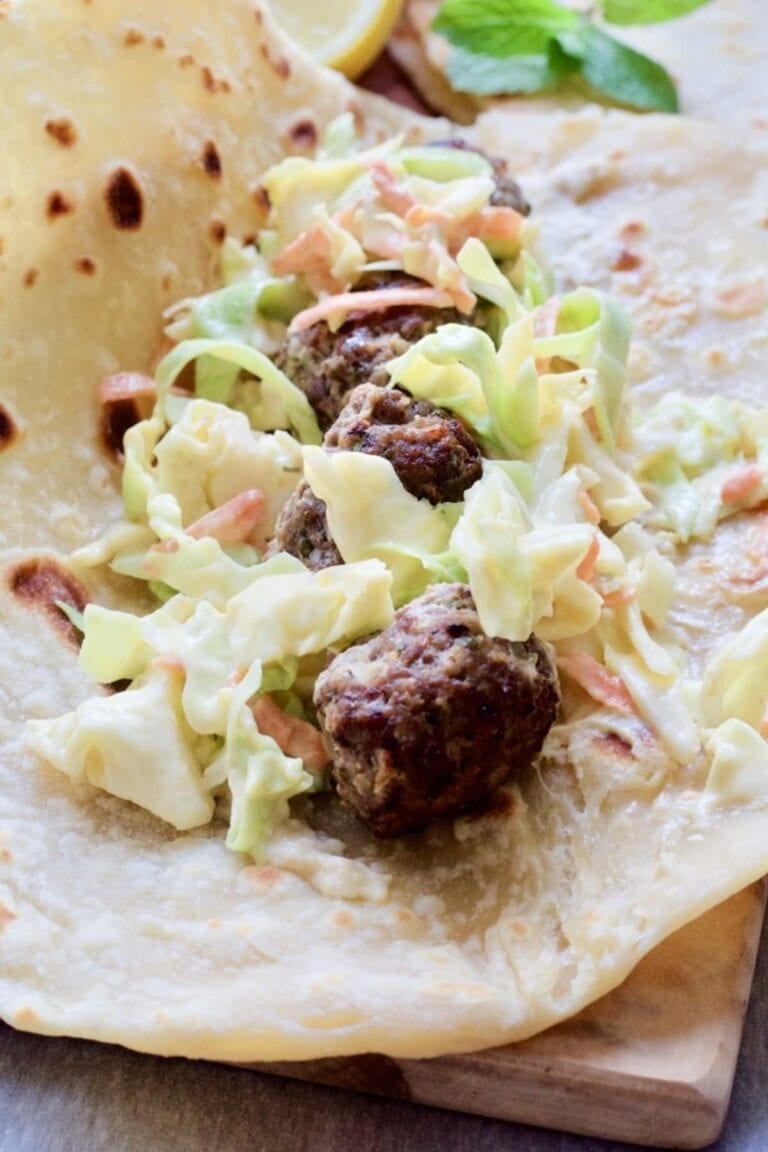 Can I make-ahead / freeze Easy Lamb Kofta Meatballs?
The answer is yes to both.
You can prepare the meat mixture in advance and keep it well covered in the fridge until you are ready to form the meatballs and cook them. Alternatively, you can go as far as shaping the meatballs which you will then again keep in the fridge (well covered) until you are ready to cook them. You can prepare them even a day in advance.
When it comes to freezing it is best to freeze them in single layer on top of small, lined baking tray (if you can fit one in your freezer) or even a lid of plastic tupperware type box if smaller and fits better. Cover the meatballs loosely with clingfilm and put in the freezer until frozen solid. You can then transfer them into freezer safe plastic container or bag for up to 3 months. Same rules apply to cooked meatballs.
To defrost lamb kofta meatballs simply take them out of the freezer and let defrost in the fridge overnight. You can also cook them from frozen (either on the pan or in the oven) adding allowing extra cooking time. Make sure they are piping hot and cooked in the middle.
EASY LAMB KOFTA MEATBALLS - STEP-BY-STEP
📋 Recipe
Easy Lamb Kofta Meatballs
Easy Lamb Kofta Meatballs are quick to make and bursting full of Middle Eastern flavours. These delicious, oven baked meatballs are popular with kids and adults alike and perfect as midweek family dinner, appetiser or part of bigger spread. Try them with some flat breads and your favourite accompaniments. Super easy, super versatile!
Ingredients
500

g

minced lamb

1

onion

finely chopped or grated

2

garlic cloves

finely chopped or minced/grated

2

teaspoon

ground cumin

2

teaspoon

ground coriander

1-2

tablespoon

fresh mint

chopped

1-2

tablespoon

fresh parsley

chopped

½

lemon (zest & juice)

1

tablespoon

olive/rapeseed oil

salt, pepper

as per your liking
Instructions
Put minced lamb into a large bowl and add finely chopped onion, garlic, spices, salt (I go with 2 teaspoon of sea salt flakes), some freshly ground pepper, fresh herbs and lemon zest and juice.

Mix well with your hand until all ingredients are well incorporated.

If you have time cover your meat and pop it in the fridge for half an hour or as long as you can to let the flavours develop and mingle. If you are short on time simply proceed to the next step.

Preheat the oven to 180C/350F/Gas Mark 4.

Divide the meat into four quarters and make 5 similar size meatballs out of each quarter. Put them onto the baking tray lined with baking parchment.

Heat up tablespoon of oil in a frying pan and fry the meatballs in two batches for couple of minutes to sear/brown them and pop them back onto lined baking tray. (see notes)

Bake in preheated oven for approx. 15 minutes.

Take them out onto the plate lined with paper towel to soak up the fat.

Serve in flatbreads with your favourite sauces and other accompaniments.
Notes
Nutritional information is approximate and should be treated as a guideline only.
You can skip searing/browning meatballs in a pan and pop them straight into the preheated oven. In such case I would spray them gently with some olive oil and increase baking time to 20 minutes. Alternatively, you can pan fry them without baking in the oven and they will take anything between 8-10 minutes. Make sure you watch them and turn regularly so that they are evenly cooked all over.
Nutrition
Nutrition Facts
Easy Lamb Kofta Meatballs
Amount Per Serving
Calories 403
Calories from Fat 297
% Daily Value*
Fat 33g51%
Cholesterol 91mg30%
Sodium 77mg3%
Potassium 346mg10%
Carbohydrates 4g1%
Protein 21g42%
Vitamin A 110IU2%
Vitamin C 3.8mg5%
Calcium 45mg5%
Iron 2.9mg16%
* Percent Daily Values are based on a 2000 calorie diet.
Similar recipes you might enjoy:
Easy Veggie Lentil & Bean Chilli (Vegan)
Shepherd's Pie with Roasted Garlic Mashed Potatoes
Chinese Style Braised Beef with Soy and Ginger
Easy Chickpea & Carrot Falafel Burger
MAKE SURE YOU STAY UP TO DATE WITH ALL THE LATEST RECIPES FROM JO'S KITCHEN LARDER
Have you tried my Easy Lamb Kofta Meatballs recipe? Leave a comment at the bottom of this post, I love reading them! You can also come and say hello over on my Facebook page, Twitter or  Instagram
PIN EASY LAMB KOFTA MEATBALLS FOR LATER!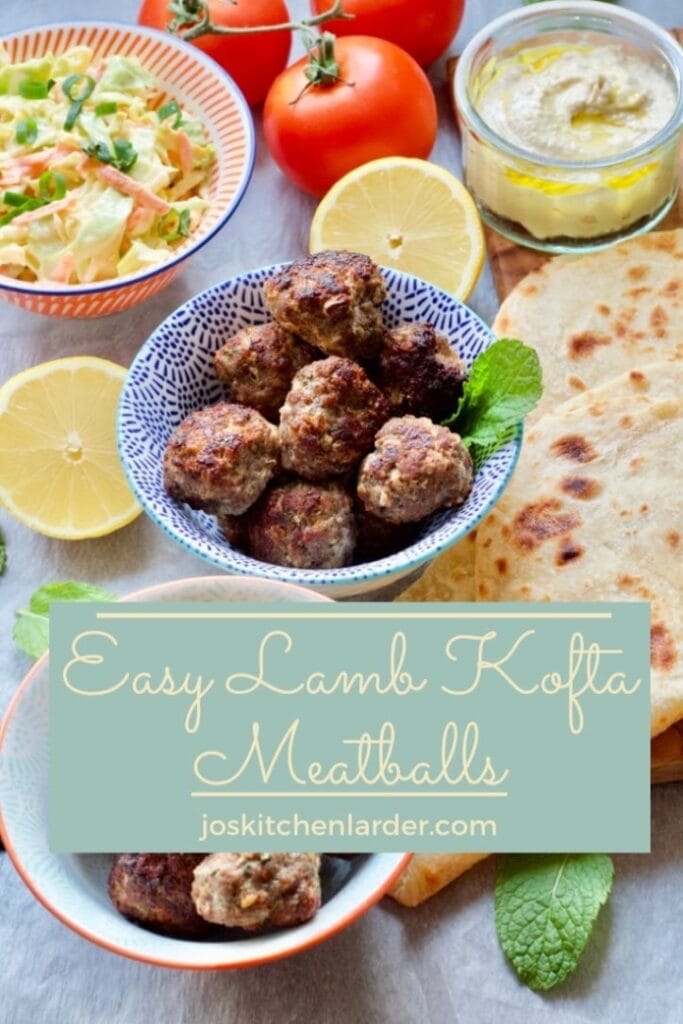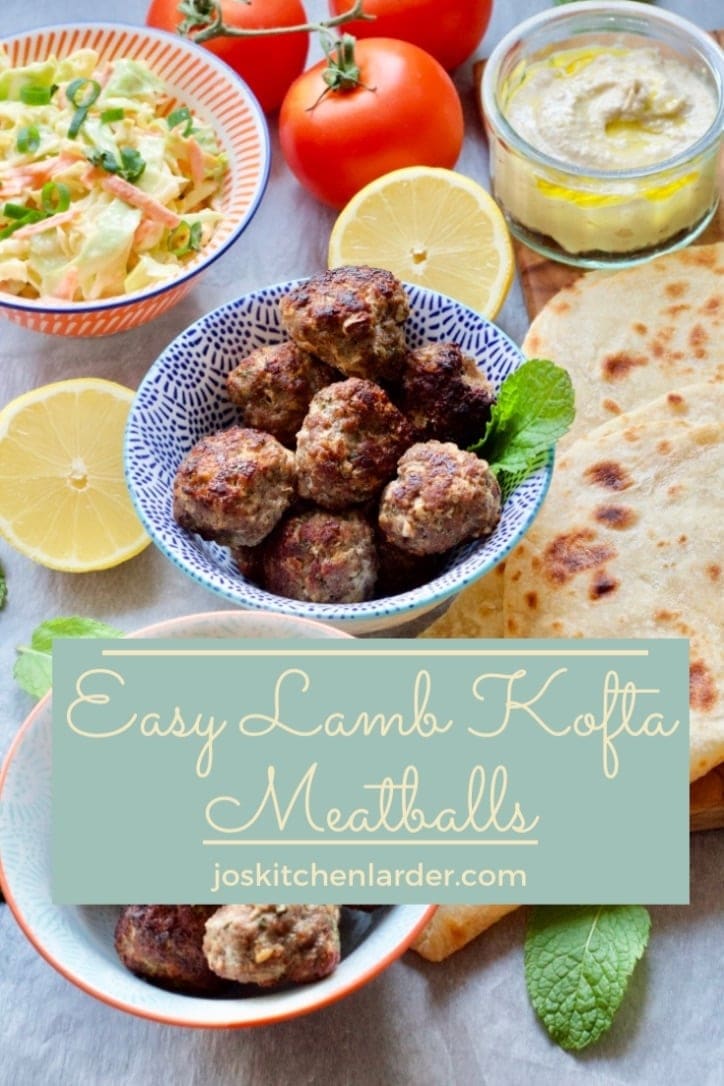 LINKIES:
I'm sharing my Easy Lamb Kofta Meatballs with Cook Blog Share.