I've been meaning to blog this recipe for absolute ages but for some reason haven't until now! My Roast Chicken Leftovers & Black Bean Enchiladas are firm favourite in our house and are perfect (as title suggests) for putting your Sunday roast chicken leftovers to a good use!
The great thing about these enchiladas is that they can be prepared in just under half an hour hands on time which makes them perfect for a midweek meal. Beside the leftover chicken they call for some store cupboard and fresh ingredients too but don't let them hold you a prisoner. Sweetcorn and black beans were my choice here but feel free to use any beans you've got (kidney beans would work well here). Fresh ingredients can be adapted to what you have available too.
I tend to use red bell pepper with my enchiladas, however I've been known to substitute it with some grated courgette or carrots before. I usually try and plan my meals in advance and have bell peppers ready and waiting in the fridge but sometimes life simply gets in the way lol. When things don't go to plan I tend to improvise a bit as mentioned. Of course you can also use yellow or green pepper as a substitute for the red one. Whichever one you've got, it'll do. 🙂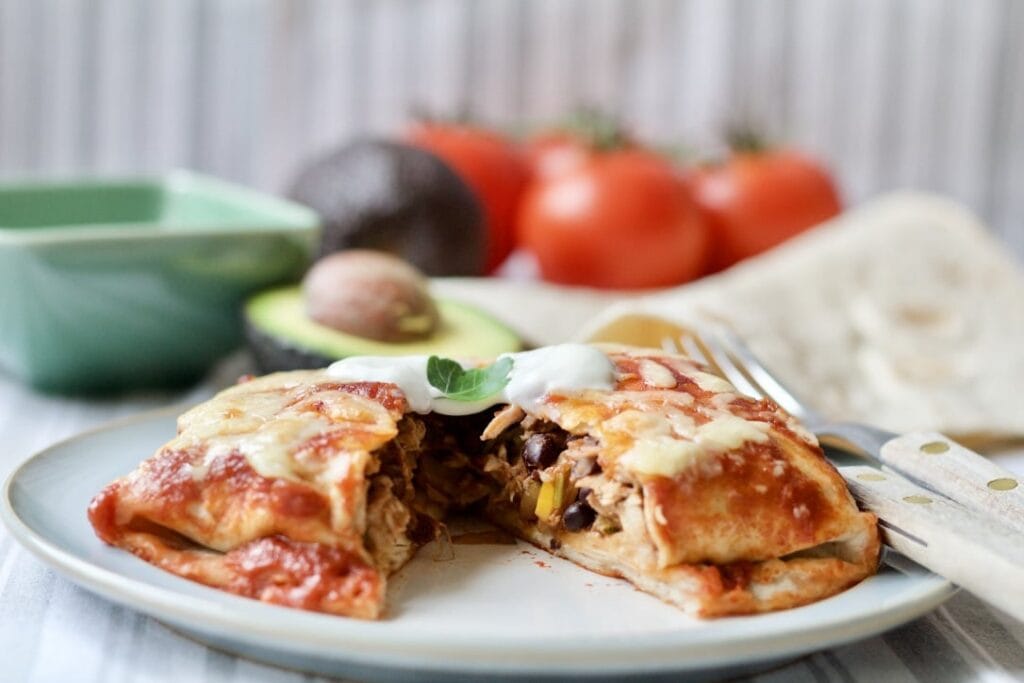 Chilli or no chilli?
Enchiladas are Mexican in origin and you would expect some serious heat in this dish and rightly so. However, I kept my version family friendly and chilli free. There is cumin and coriander (both ground and fresh) and lots and lots of flavour but no chilli. It means that this dish is indeed kids friendly!
If you simply need a little bit of heat, feel free to slice a bit of red chilli (or any chilli of your choice) and sprinkle it over finished dish - heat guaranteed. I have another couple of tricks I like to use. One is sprinkling a tiny bit of ground cayenne pepper over my portion or giving it a drizzle of chilli infused olive oil. Either way works really well and it keeps everybody happy! And that is what it's all about! 🙂
However, if you don't cater for the little ones or chilli wimps then simply include chopped red chilli in your filling from the get-go and add it to the frying pan at the beginning together with bell peppers. Job done!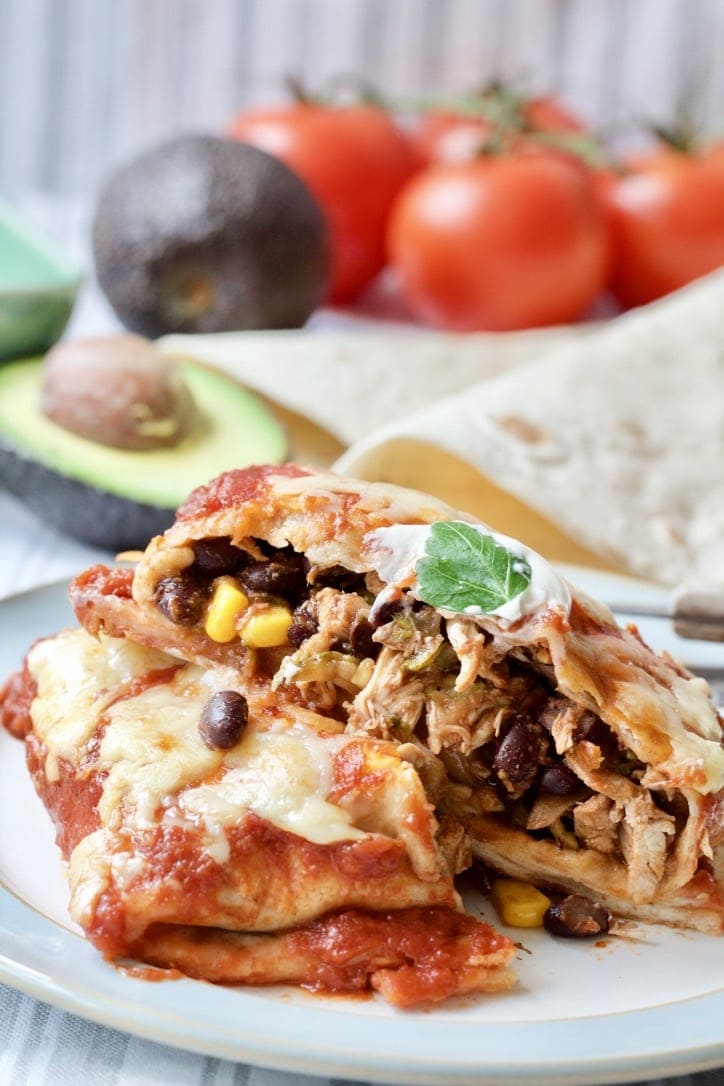 For slightly different take on Mexican cuisine, why don't you try my Pulled Pork Burritos!
If you are after more easy crowd pleasers which (to top it all off) require only one pot, then try my One Pot Beans & Meatballs Pasta or One Pot Smoked Sausage Jambalaya. Both soo good!
📋 Recipe
Roast Chicken Leftovers & Black Bean Enchiladas
Perfect family dinner allowing you to use up those roast chicken leftovers. Quick and easy enough for midweek meal too!
Ingredients
Spiced Tomato Sauce
500

ml

tomato passata

1

tablespoon

extra virgin olive oil

1

plump garlic clove

crushed

1

teaspoon

ground cumin

1

teaspoon

ground coriander

salt & pepper to taste
Enchilada Filling
300-350

g

leftover roast chicken

roughly chopped

1

onion

finely sliced

2

garlic cloves

crushed

1

red bell pepper

deseeded and roughly chopped

1

x 150g tin sweetcorn

drained

1

x 400g tin black beans

drained and rinsed

300

ml

passata or 1 x 400g tin chopped tomatoes

1

x 15g bunch of fresh coriander

cilantro- (leaves and stalks finely chopped)

1.5

teaspoon

ground coriander

1.5

teaspoon

ground cumin

juice of half a lemon

salt & pepper to taste

olive oil

6

large tortillas

100

g

mature cheddar cheese

grated

sour cream

avocado & more fresh coriander (cilantro) to serve
Instructions
Spiced Tomato Sauce
Gently heat up 1 tablespoon extra virgin olive oil in a medium pan with a lid and almost immediately add passata, garlic, coriander and cumin. Mix well.

Let it simmer on low heat for 10-15min partially covered with a lid (it will splatter) giving it occasional stir. Taste and season with salt and pepper.

Take off the heat and set aside.
Enchilada Filling
Pour a glug of oil onto a large frying pan and sautée sliced onion until it starts to soften 3-5 min.

Add chopped red pepper and sautée another 2 min.

Add crushed garlic and ground spices and sautee for another minute giving it a good stir.

Pour passata or tinned tomatoes together with a little splash of water to rinse the tin/carton. Add chopped fresh coriander (cilantro) and give it a good stir.

Add chopped chicken, black beans and sweetcorn, stir and let the mixture bubble for 5-10 minutes or until the chicken is warmed through and the sauce has thickened a bit.

Stir in lemon juice and season to your taste with some salt & pepper.
Assembly
Preheat the oven to 180C.

Pour half of your spiced tomato sauce onto the bottom of large baking dish and spread evenly.

Divide the enchilada filling evenly between 6 large tortillas and fold them into envelopes. Lay them (seam side down) on top of tomato sauce in your baking dish.

Pour the remaining tomato sauce over enchiladas and sprinkle generously with grated cheddar cheese.

Bake in preheated oven for 25-30min.

Serve hot straight from the oven dotted with some sour cream and sprinkled with fresh coriander (cilantro) leaves and some avocado if you wish.
Notes
If you don't have any roast chicken leftovers, simply pan fry 1-2 chicken breasts, shred the meat and proceed as per recipe above.
How to fold your enchiladas.
Have you tried my Roast Chicken Leftovers & Black Bean Enchiladas? Leave a comment at the bottom of this post, I love reading them!
If you don't want to miss new recipes and updates from me make sure to subscribe to new recipe alerts in the top right corner of this page or come and say hello over on my Facebook page, Twitter, Instagram.
Pin For Later!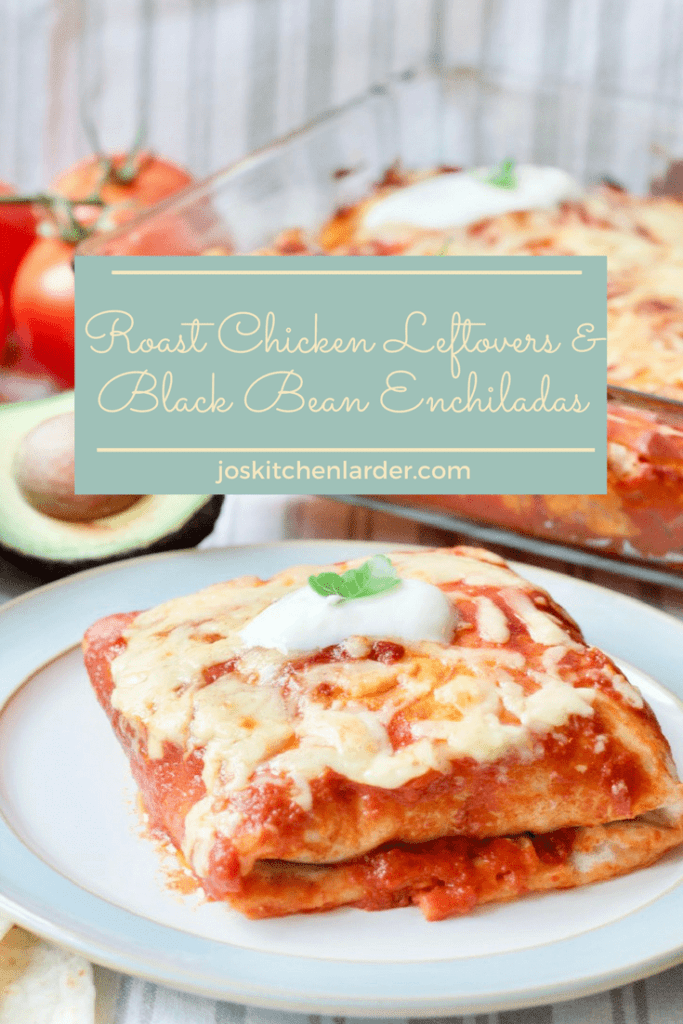 I'm linking my Roast Chicken Leftovers & Black Bean Enchiladas with the following pages:
Cook Blog Share hosted by Jacqui at Recipes Made Easy
Cook Once Eat Twice hosted by Corina at Searching for Spice
Bake of the Week by Helen at CasaCostello and Jenny at MummyMishaps