This Easy Grated Carrot Salad is a fantastic accompaniament to any meal. Super quick and easy to make it is loved by all including kids. Summertime must!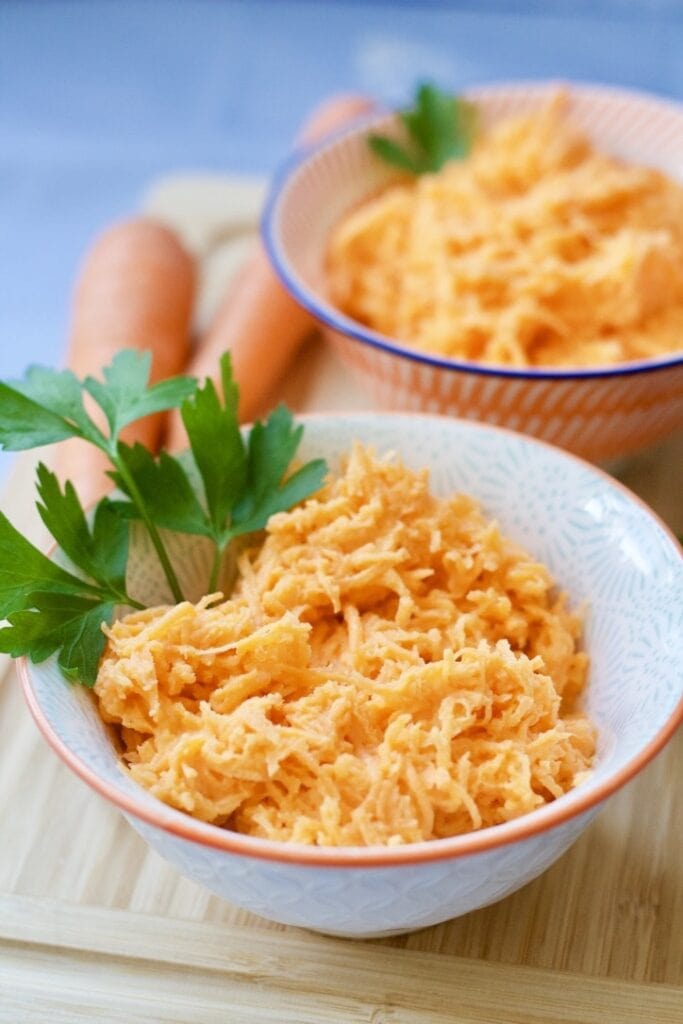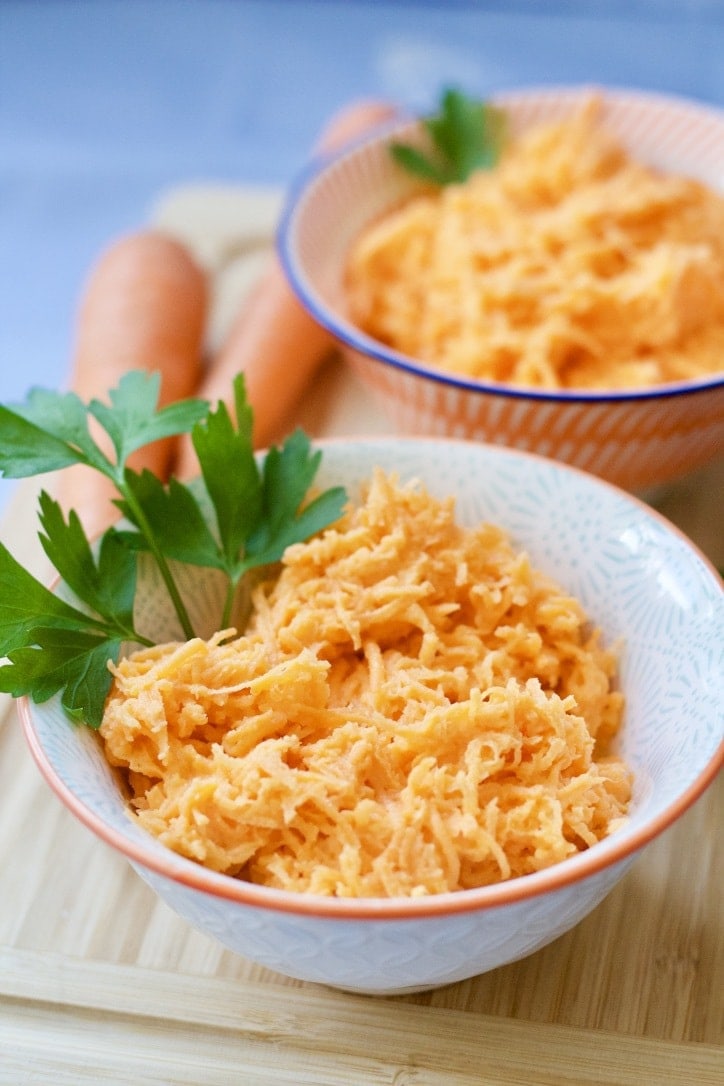 This Easy Grated Carrot Salad is the only raw veggie salad my children will eat and (wait for this) they will even ask for MORE! If that's not good enough incentive for you to give it a go then I will also add that it is (obviously) really delicious and if you are not a fan of coleslaw type of salads this may be a nice alternative.
Maybe you are one of the lucky ones and your children will happily snack on cherry tomatoes and cucumber sticks dipped in hummus at any given opportunity but my kids are not like that. They actually do love hummus of any kind but as far as any raw, salad type vegetables are concerned they consider them to be (and I quote) "disgusting". I have no idea where I went wrong during weaning years but there is no point to dwell on it now. There is hope for them yet I think but for now I'm simply thrilled that they love this Easy Grated Carrot Salad!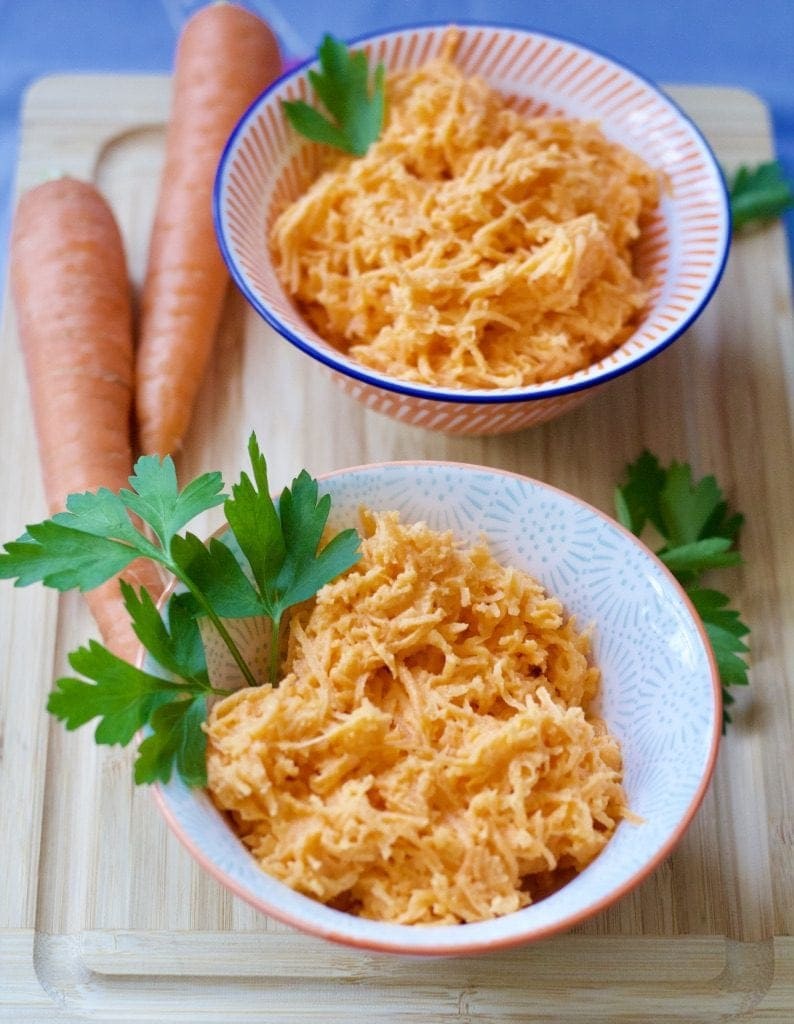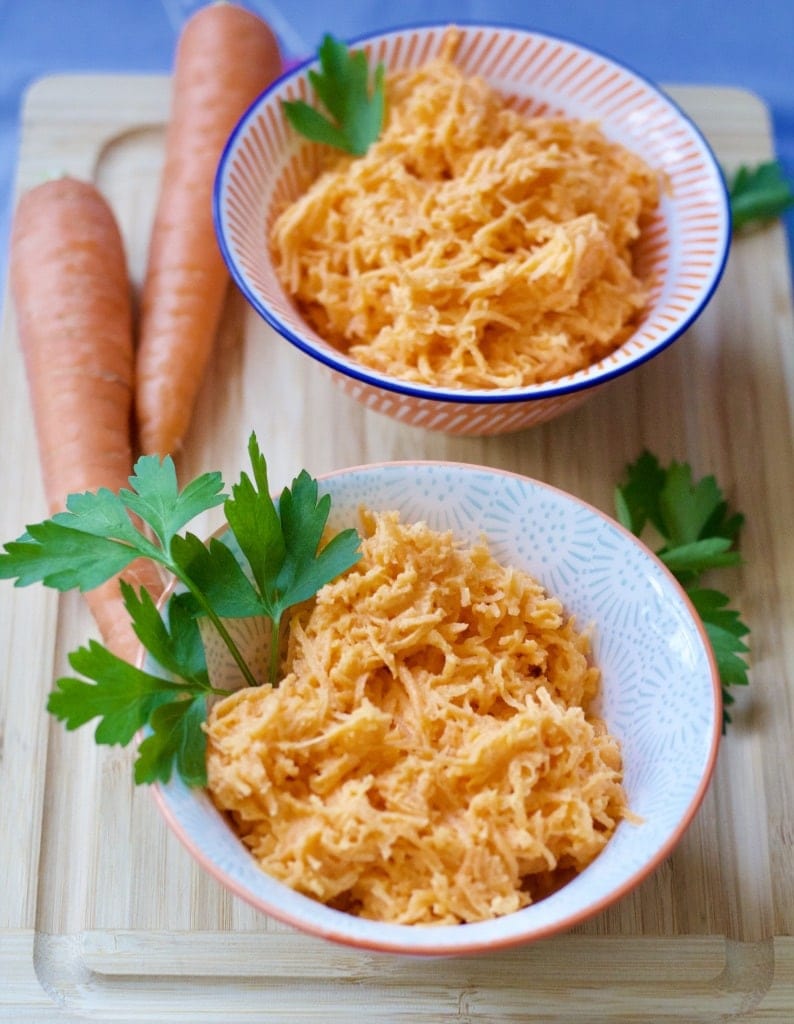 Family recipe
This is the salad I pretty much grew up eating and after introducing few little tweaks to my mum's recipe, this is the version I have been feeding my family.
This salad is quite sweet especially if you are using gorgeously and naturally sweet new season carrots or bunched carrots but I always add some more sugar to get it to the flavour I know and remember from my childhood. I would advise you to treat the quantities of the ingredients in this recipe more as a guide and use your own taste to get the flavour and most of all sweetness you will be happy with. This salad is definitely supposed to be sweet but we are all different when it come to our sweetness threshold so taste, taste, taste!!!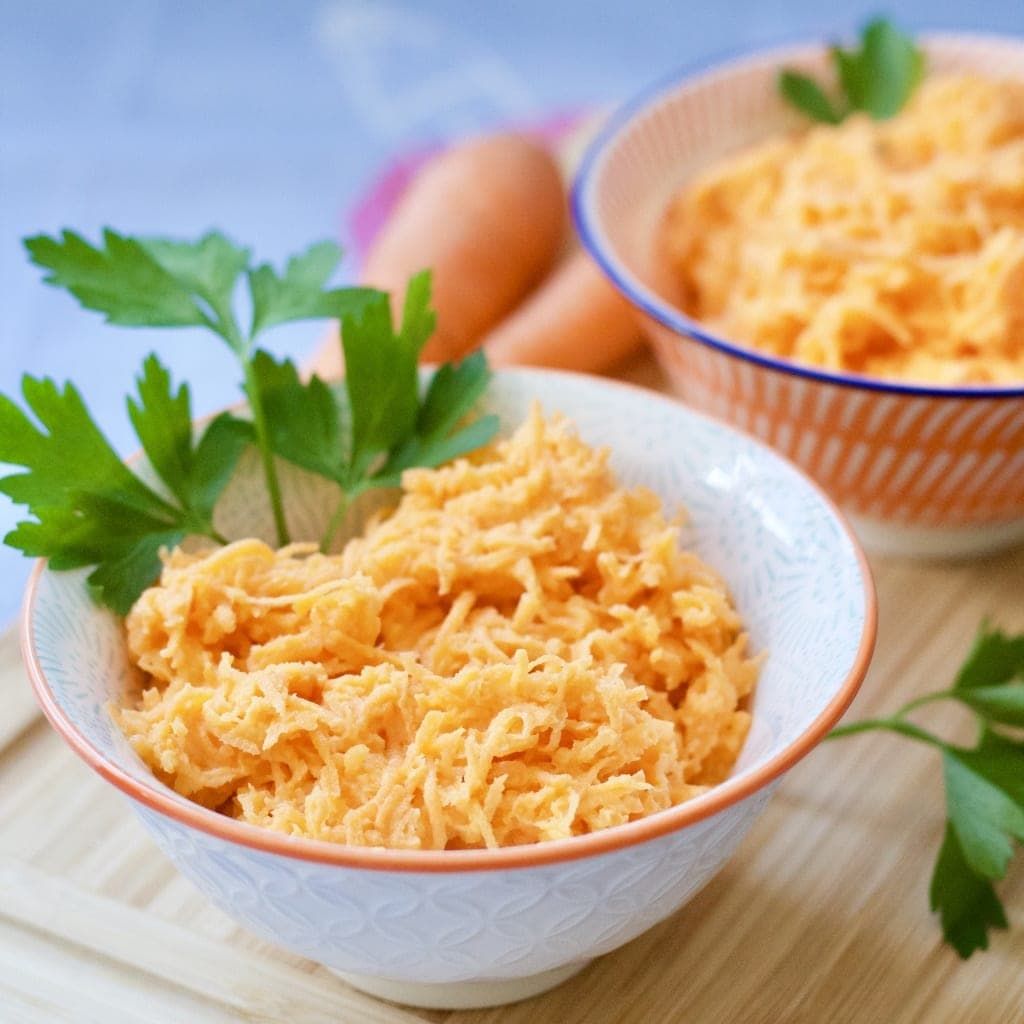 Easy Grated Carrot Salad variation
You could add a handful of raisins to this salad as well to make it that slightly bit different. Simply pop the amount you want in a small bowl and pour over some freshly boiled water (only to cover them). Let them stand for 5 minutes or so to plump up. Drain and mix in with your carrot salad. I like the version with the raisins a lot but unfortunately my kids will only eat raisins on their own, the ones that come in little boxes. 😉
I use my trusty Magimix
* food processor to do all the hard work grating but simple box grater would do an excellent job too. Use fine to medium side (not the coarse one) as that would completely change the texture of the salad and it wouldn't be the same. What you want is almost angel hair like carrot strands.
This salad will go marvellously with my Easy One-Pan Salmon & New Potatoes Bake and also this Roast Chicken with Wild Garlic Pesto & Shallots . Or try it alongside sliders made with my Instant Pot BBQ Pulled Pork or with these Vegetarian Sausage Rolls.
📋 Recipe
Easy Grated Carrot Salad
Super simple, super versatile and oh so tasty! Perfect accompaniment to variety of meals. Loved by all including the kids.
Ingredients
6

medium carrots (approx. 450g)

peeled

1.5-2

tablespoon

sugar

4

tablespoon

half-fat Creme Fraiche

0.5-1

teaspoon

cider vinegar
Instructions
Peel the carrots and grate them on a fine to medium side of your grater. You want nice and fine strands of carrots. Set aside.

In a small bowl mix together creme fraiche, cider vinegar and sugar and pour the mixture over grated carrots. Give the salad a good mix with a spoon tasting as you go. Don't be afraid to add more sugar or vinegar if you think it needs it to suit your taste. Serve and enjoy!
Notes
Feel free to use honey instead of sugar if you prefer however bare in mind that the flavour will be slightly different. 
Single cream or full fat yogurt could be used instead of creme fraiche.
Calories are approximate and as guideline only. 
Nutrition
Nutrition Facts
Easy Grated Carrot Salad
Amount Per Serving (0 g)
Calories 85
% Daily Value*
Fat 0g0%
Cholesterol 0mg0%
Sodium 0mg0%
Potassium 0mg0%
Carbohydrates 0g0%
Protein 0g0%
Vitamin A 0IU0%
Vitamin C 0mg0%
Calcium 0mg0%
Iron 0mg0%
* Percent Daily Values are based on a 2000 calorie diet.
More recipes you might enjoy
Warm Potato Asparagus Salad with Lentils
Buckwheat & Beetroot Salad with Chickpeas
Make sure you stay up to date with all the latest recipes from Jo's Kitchen Larder
Have you tried my Easy Grated Carrot Salad? Leave a comment at the bottom of this post, I love reading them! You can also come and say hello over on my Facebook page, Twitter, Instagram or Pinterest
Pin For Later!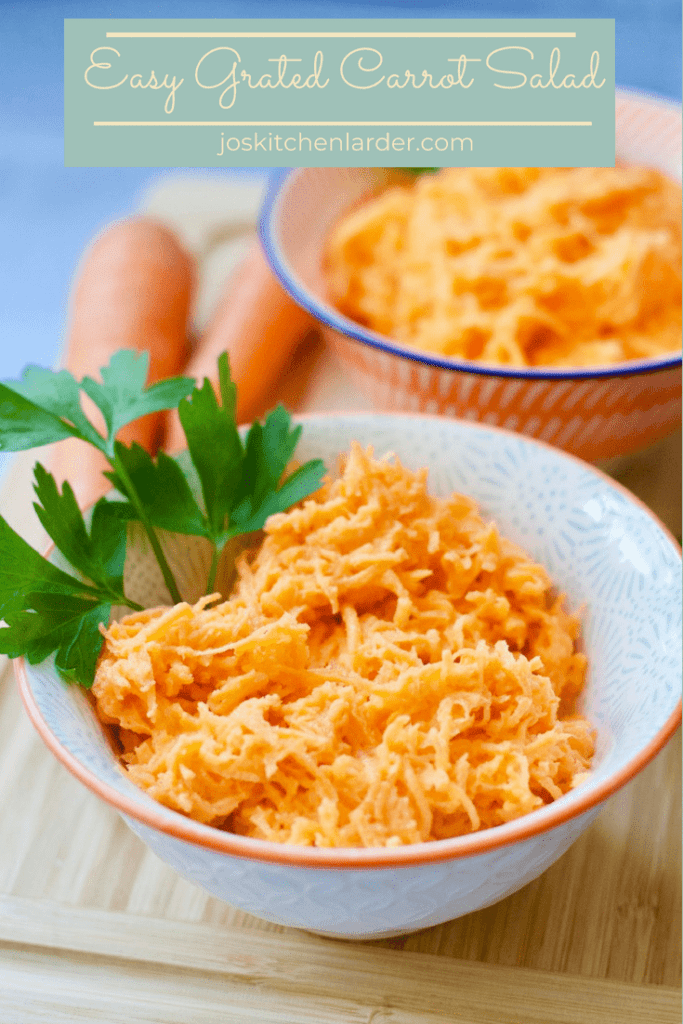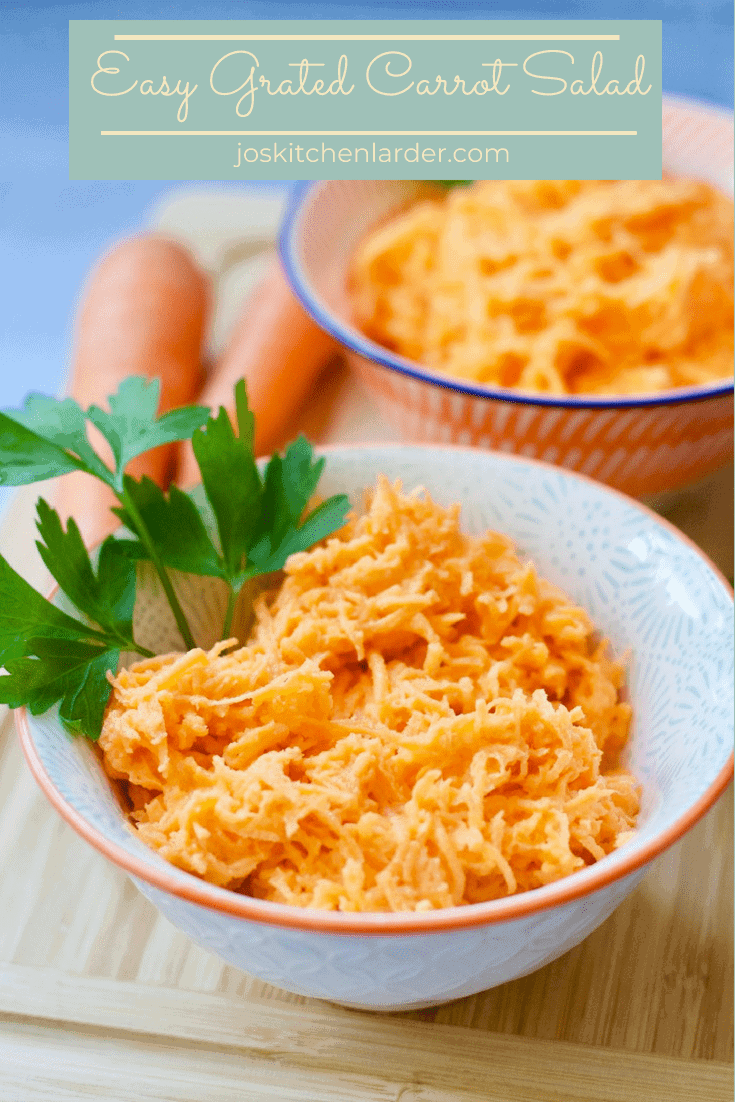 I'm linking my Easy Grated Carrot Salad post with the following pages:
Cook Blog Share hosted by Monika at Everyday Healthy Recipes
Cook Once Eat Twice hosted by Corina at Searching for Spice
Fiesta Friday hosted by Angie
Related products from Amazon*
*This post contains affiliate links, which means that if you click on a link and go on to buy the product I recommend, I will get a small commission, but you will not be charged a penny more. I only recommend products I own or really like and which caught my attention. Thanks in advance for supporting Jo's Kitchen Larder!