This packed full of goodness & colour Buckwheat & Beetroot Salad with chickpeas, spinach, nuts & seeds is satisfying & delicious. Enjoy it warm or cold depending on your mood and time of year! Naturally vegan & gluten-free too.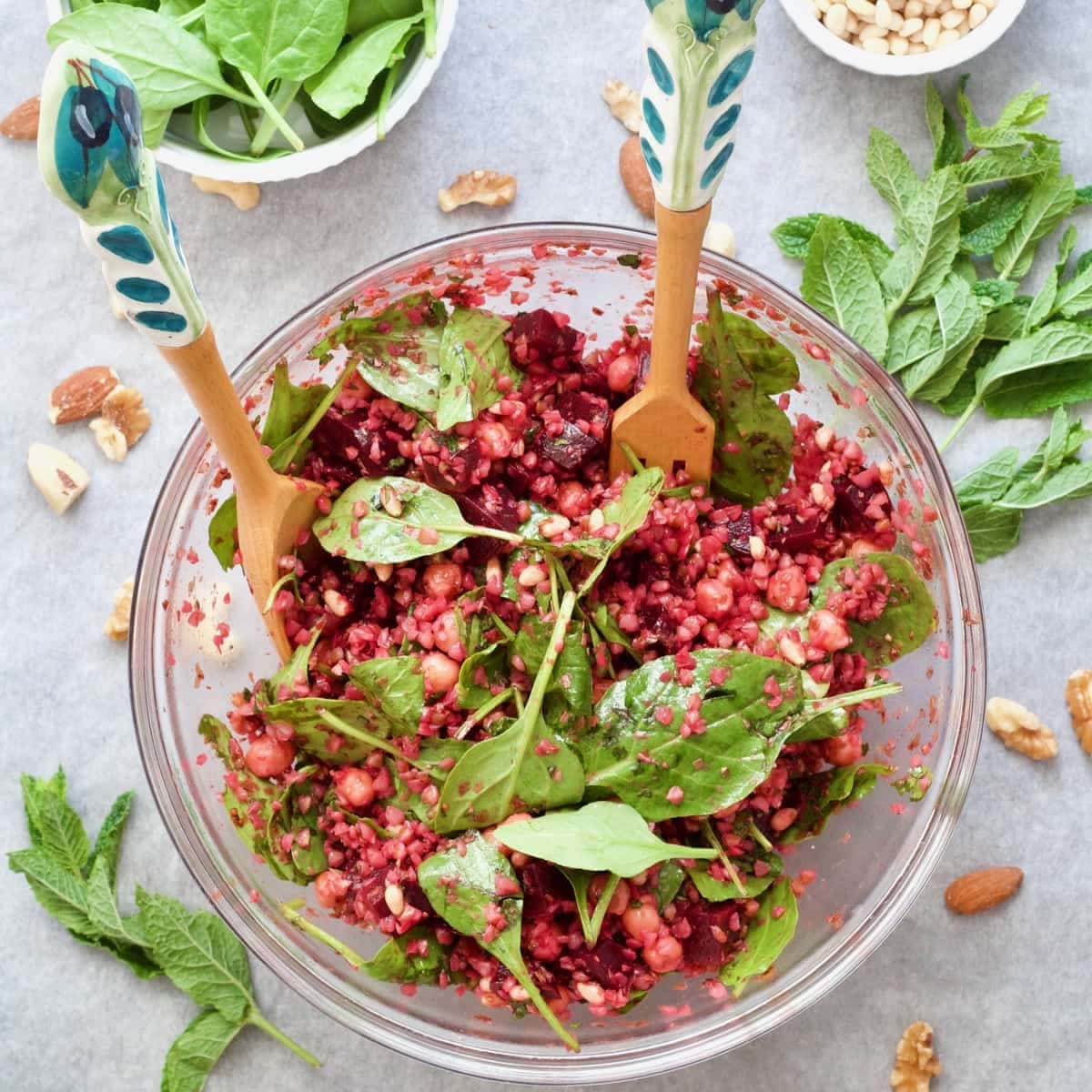 Oh how I love salads! Especially ones that are not only full of goodness but also filling enough to keep you fuller for longer than half an hour.
My delicious Buckwheat & Beetroot Salad delivers on both accounts! I can also assure you that once you've tried it you'll be making it on regular basis!
If you love beetroot, make sure to check out my Vegan Beetroot Risotto recipe as well!
Versatile salad for any time of year!
One of the things I really like about this salad is its versatility as well as how easy it is to adapt!
Enjoy it warm in autumn and winter and cold during the Summer months.
Have it as light lunch and keep it minimal or bulk it up with chickpeas or your favourite beans, roasted veg and nuts and enjoy with a side of soup and chunk of your favourite bread or homemade croutons when in need of more filling meal or when serving as dinner!
What is buckwheat?
Despite its name buckwheat has nothing at all to do with wheat and is in fact gluten-free grain-like seed that is related to rhubarb and sorrel. [source: Wikipedia]
Buckwheat is known to be a good source of fibre, rich in minerals and relatively high in good quality protein. [source: Healthline]
The most common and widely available form of buckwheat is buckwheat groats (used in this recipe) but you can also find buckwheat processed into flour (check out my delicious buckwheat pancakes recipe) or noodles.
You can buy buckwheat groats raw or roasted/toasted which are my favourite and are also known as kasha. You can use it as you would any other grain e.g. quinoa or rice. Buckwheat is great for bulking up your meals but also as a stand alone side dish.
I highly recommend you give it a go! There are lots of delicious buckwheat recipes available and I hope that my humble buckwheat salad will become one you keep coming back to!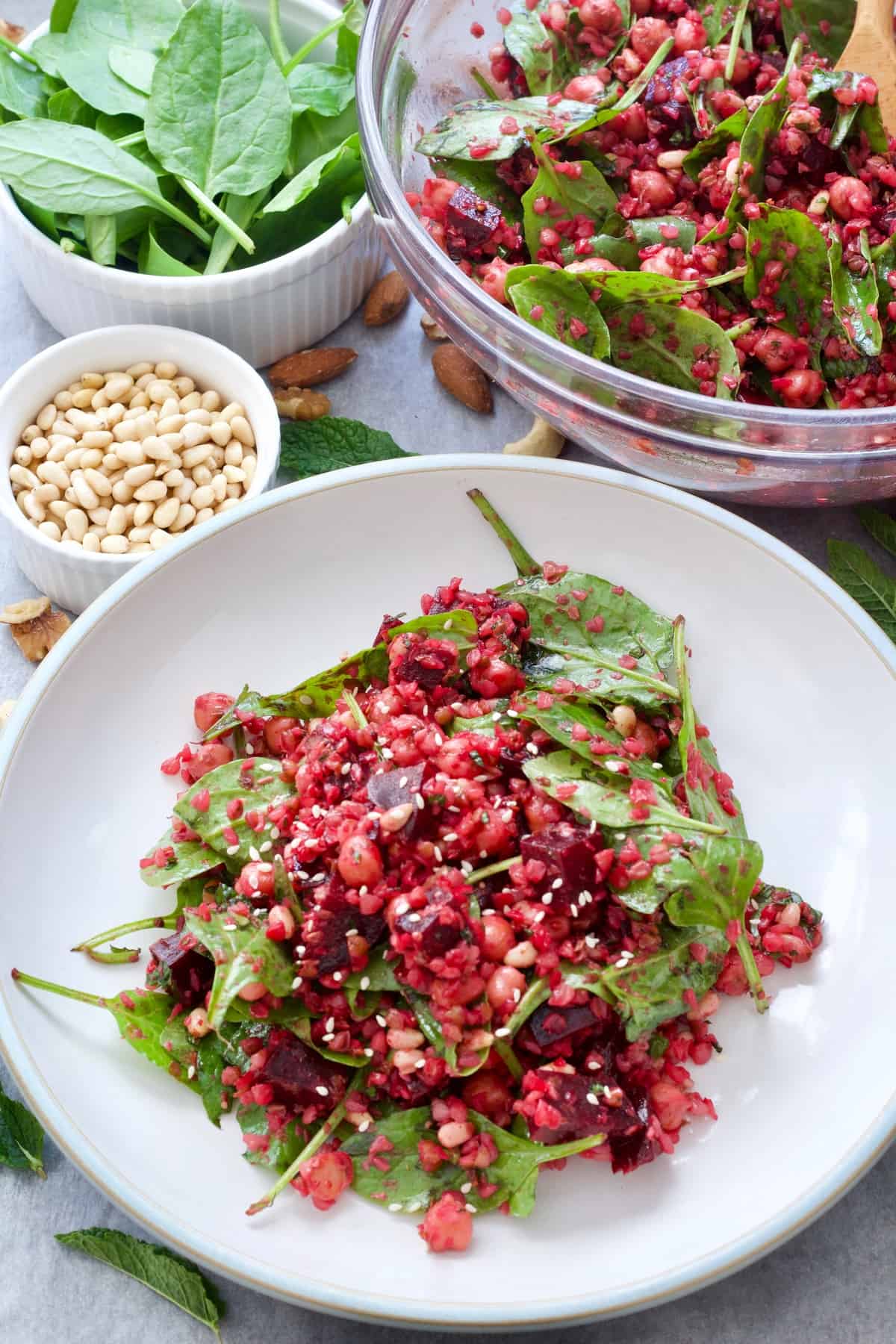 How to cook buckwheat?
Buckwheat groats are really easy to cook but remember to ignore the instructions on most packs which advise you to cook it for something silly like 20 minutes.
It really isn't necessary to cook buckwheat for that long as it will have a consistency of mushy baby food which is definitely not what you want in your buckwheat and beetroot salad.
You want your grain to be slightly al dente "to the tooth". Not only does it look way more appetising this way but tastes so much nicer too. It also allows for the grains to soak in delicious dressing.
The way I tend to cook buckwheat that results in tender yet firm grain is to simply add it to the pan with boiling water, turn the heat down and simmer for roughly 12 minutes (give or take), drain and enjoy.
I find 12 minutes to be a sweet spot but don't be afraid to find your perfect timing. Perhaps try giving it a little taste as early as after 10 minutes of cooking. Same applies if you find that 12 minutes wasn't long enough for your tastebuds. If that's the case, give it another minute or two but don't overdo it!
Few tips and suggestions regarding ingredients and substitutions for your Buckwheat & Beetroot Salad
This salad is really delicious and uses the simplest of ingredients which is what I like about it.
Buckwheat Groats* - See more details about buckwheat above. You can cook your buckwheat in advance or cook it and use it in your salad whilst still warm for that cosy feeling, especially during colder months.
Beetroot - We eat a lot of beetroot (I'm Polish after all) and I tend to cook my own (read my guide on "How to cook beetroot"). However, you can get already cooked beetroot in handy vacuum packs which you can use straight away (not the pickled type).
Chickpeas - I love chickpeas in salads, they are super tasty and versatile. However, if for some reason you don't like them or maybe don't have them to hand feel free to add any other beans. Try and use beans that hold their shape well, butter beans , pinto beans or perhaps kidney beans would go well here.
Nuts - I tend to use pine nuts* or walnuts* in this salad, sometimes both. Feel free to add more than suggested. You can also toast them for couple of minutes in a dry frying pan for more crunch and flavour.
Spinach - If you don't have spinach to hand, any salad leaves will do. You could try some gently steamed or even raw kale (I would tenderise it first by massaging some olive oil into it).
Fresh herbs - I think fresh mint works really well in this salad but you can substitute it with any other herb you like. Dill, parsley and basil would be my recommendations.
Extras - We do eat a lot of veg on a daily basis and I tend to have some leftover roast veg in the fridge most of the time. This salad loves some extra roasted veg thrown in. I like it with chunks of leftover roast potatoes, sweet potatoes, broccoli or cauliflower.
Serving and Storing Buckwheat & Beetroot Salad
This simple salad is delicious served both warm or cold.
When serving warm, simply put it together soon after you've cooked your buckwheat and beetroot. Alternatively, warm them up in the microwave before the assembly and combining with other ingredients.
This salad is best eaten on the same day, however, any leftovers can be stored in the fridge and eaten within 3 days. Bare in mind that your greens will start looking less vibrant and a bit wilted.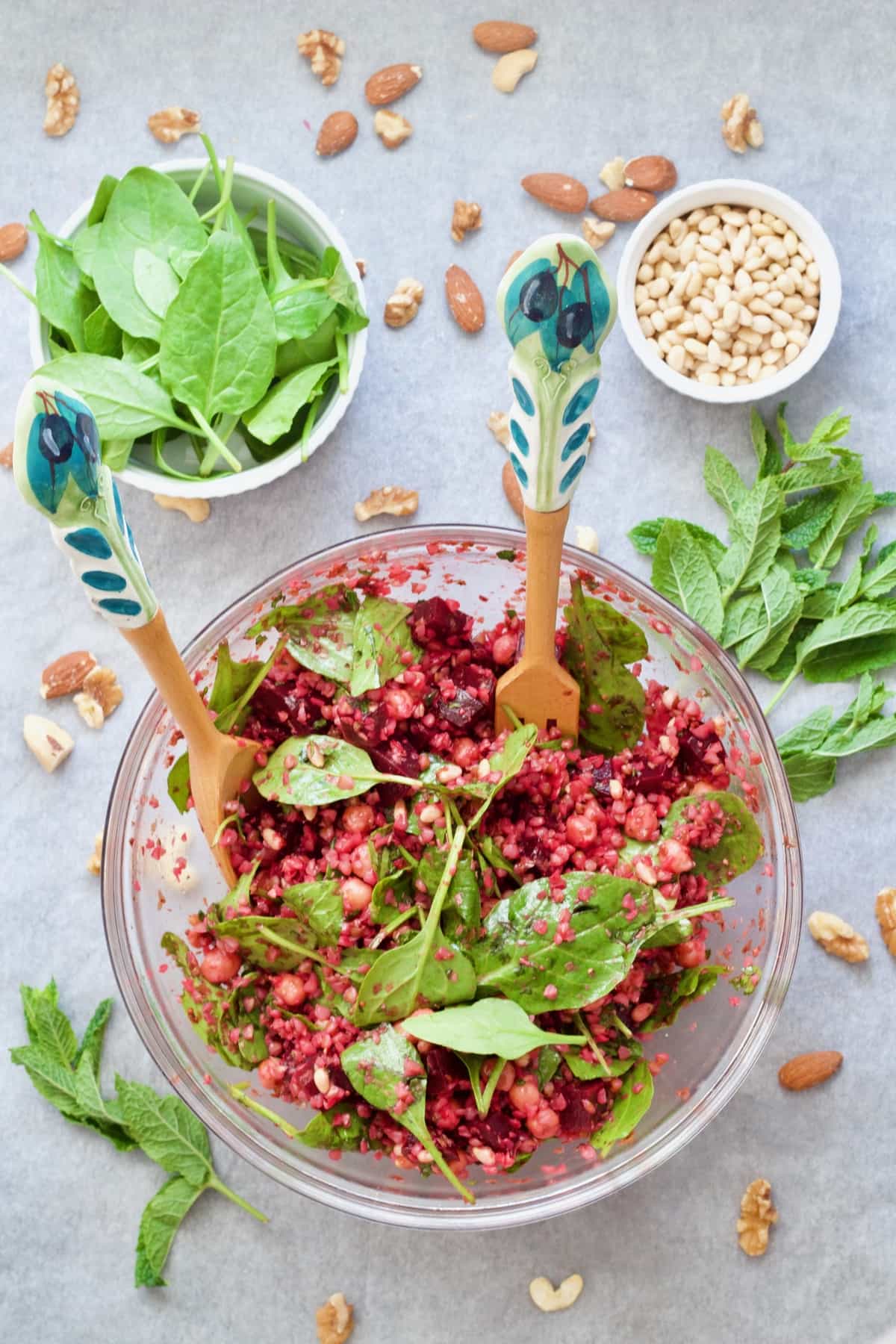 How to make Buckwheat & Beetroot Salad?
Providing you already have cooked buckwheat and beetroot to hand this salad is a doddle to put together!
Start with gathering all your ingredients (including any extras) and prepare dressing by simply whisking together olive oil, balsamic vinegar, maple syrup and seasoning it with salt and pepper to your liking.
Next, add cooked buckwheat, chunks of cooked beetroot, chickpeas (or other beans), pine nuts (or walnuts) and chopped herbs of your choice to a large bowl and pour over the dressing.
Mix well until combined and add baby spinach or any other salad leaves you are using and mix again.
Plate up and enjoy!
Have you tried my Buckwheat & Beetroot Salad with Chickpeas?
Please consider giving it ⭐️⭐️⭐️⭐️⭐️ rating in recipe card below and share your views or tips in the comments.
Subscribe to our newsletter!
More delicious salad recipes you might enjoy!
Vegan Potato Salad

Russian Salad or Olivier Salad (Vegan)

Tabbouleh Salad Recipe

Warm Potato Asparagus Salad with Lentils

Easy Grated Carrot Salad

Homemade Fresh Tomato Salsa (Pico De Gallo)

Creamy Coleslaw
📋 Recipe
Buckwheat & Beetroot Salad with Chickpeas
This packed full of goodness & colour Buckwheat & Beetroot Salad with chickpeas, spinach, nuts & seeds is satisfying & delicious. Enjoy it warm or cold depending on your mood and time of year! Naturally vegan & gluten-free too.
Ingredients
250-300

g

cooked buckwheat groats (kasha)

approx. 100g uncooked

200

g

cooked beetroot

cut into small chunks

150

g

cooked chickpeas

see notes

75

g

couple handfuls of baby spinach

see notes

30

g

pine nuts

walnuts work really nicely too

fresh herbs of your choosing (mint, parsley, basil)

chopped
Dressing
3

tablespoon

Extra Virgin Olive Oil

1

tablespoon

balsamic vinegar

2

teaspoon

maple syrup

salt and pepper

to taste
Instructions
Gather all your ingredients including already cooked buckwheat, beetroot chopped into chunks, chickpeas, nuts, herbs, spinach (salad) and any extras (see suggestions in the post above).

Prepare salad dressing by whisking together olive oil, balsamic vinegar and maple syrup and season to taste with salt and pepper.

Next, add all your ingredients (with the exception of spinach) into a large bowl and pour over the dressing.

Mix well until really well combined and coated in dressing and add baby spinach or any other salad leaves you are using and gently mix again.
Notes
Nutritional information is approximate, per serving and should be treated as a guideline only.
Salad preparation time of 10 min is based on assumption that your buckwheat, beetroot and chickpeas have already been cooked. 
Feel free to substitute chickpeas with any other beans you like but look for ones that hold their shape well. Butter beans, pinto beans and kidney beans would go really nicely here. 
Spinach can be substituted with any salad you've got handy. Gently steamed or raw kale would be lovely too. If using raw kale I would massage the leaves with a little bit of olive oil first to tenderise them.
Can be eaten warm or cold. Any leftovers should be stored in a fridge and consumed within 3 days.
Nutrition
Nutrition Facts
Buckwheat & Beetroot Salad with Chickpeas
Amount Per Serving
Calories 273
Calories from Fat 153
% Daily Value*
Fat 17g26%
Sodium 162mg7%
Potassium 421mg12%
Carbohydrates 27g9%
Protein 6g12%
Vitamin A 1775IU36%
Vitamin C 8mg10%
Calcium 48mg5%
Iron 2mg11%
* Percent Daily Values are based on a 2000 calorie diet.