Learn how to make homemade croutons in your own kitchen. Perfect for soups, stews and salads, they're crispy, quick and easy to make and simply the best!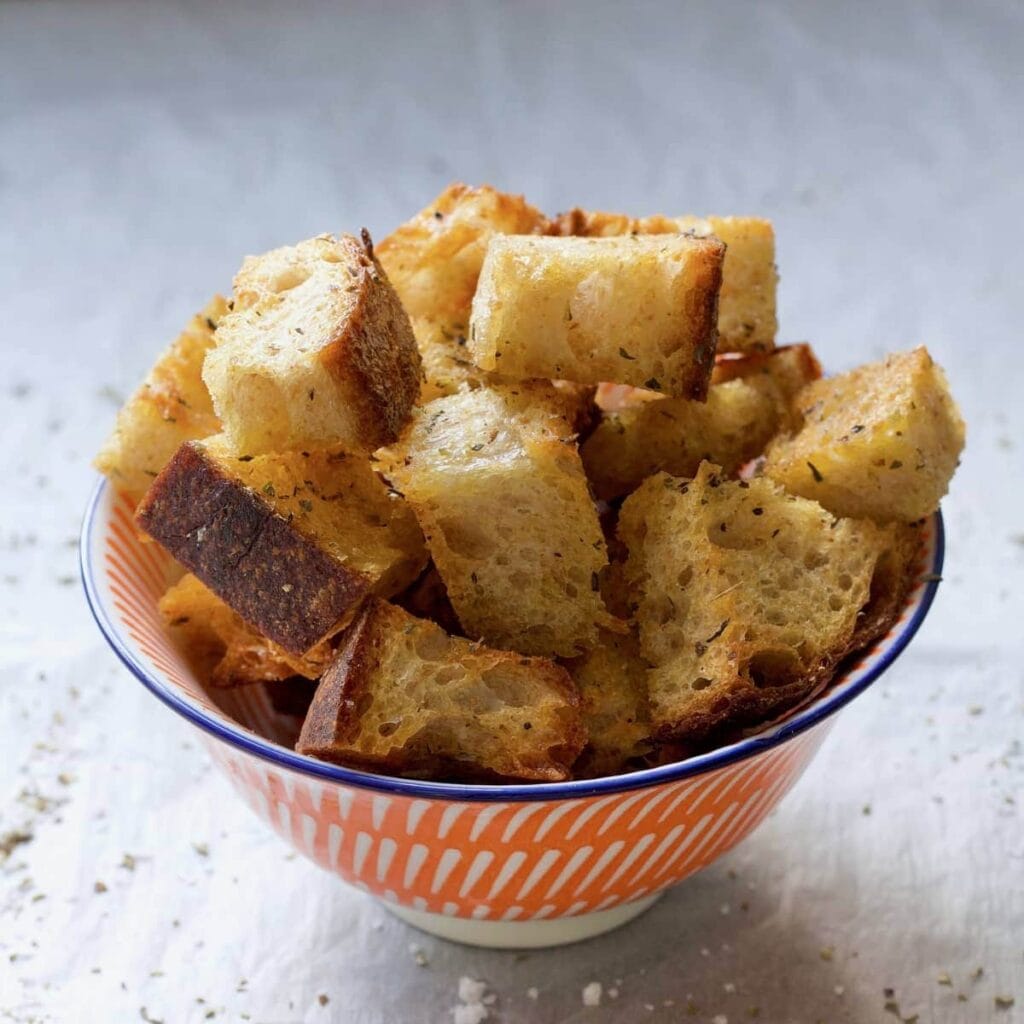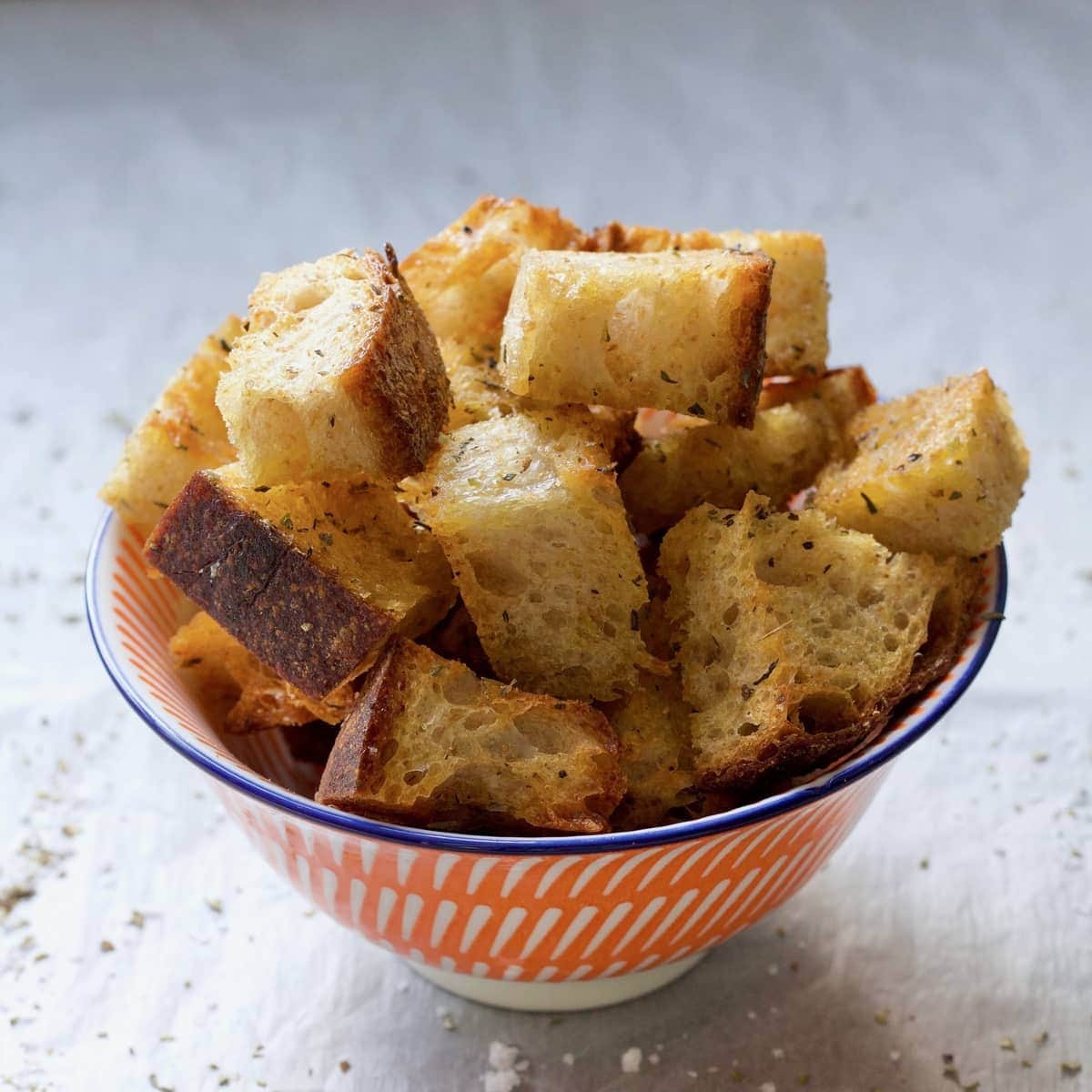 Homemade croutons - genius and delicious way of using up some stale bread!
If you've ever wondered what to do with bread that is past its best beside freezing and using for toast or making breadcrumbs, homemade croutons are your answer. Follow my simple recipe and you will never buy croutons again!
Quick and easy to make, they'll transform most stale loaves into perfect crunchy addition to your soups, stews and salads!
What bread is best for homemade croutons?
Most breads are suitable for making croutons, however, I would stick to rustic, crusty loaves rather than soft, pre-sliced ones you buy in supermarket.
I tend to favour sourdough bread for croutons but any crusty type bread (in this case even supermarket one from in-store bakery) will do. I have made croutons out of my homemade Irish Soda Bread and Easy Wholemeal Bread before and they were really nice as well.
Recently, I have used my Christmas focaccia leftovers to make my croutons. They were super tasty!
Having said all that, if soft, sliced bread is all you've got or can afford, use it. Make sure you watch your croutons as you bake them though, as supermarket bread slices tend to be quite thin so you will most likely need to reduce the time in the oven.
Pro Tips
For best results try and use slightly stale bread when making croutons whenever possible.

We hardly ever have any stale bread in the house so I need to remember to save some up just for croutons.
In the event I fail to do so, I slice my bread couple of hours before making croutons and let it sit on the kitchen counter uncovered to dry out a bit!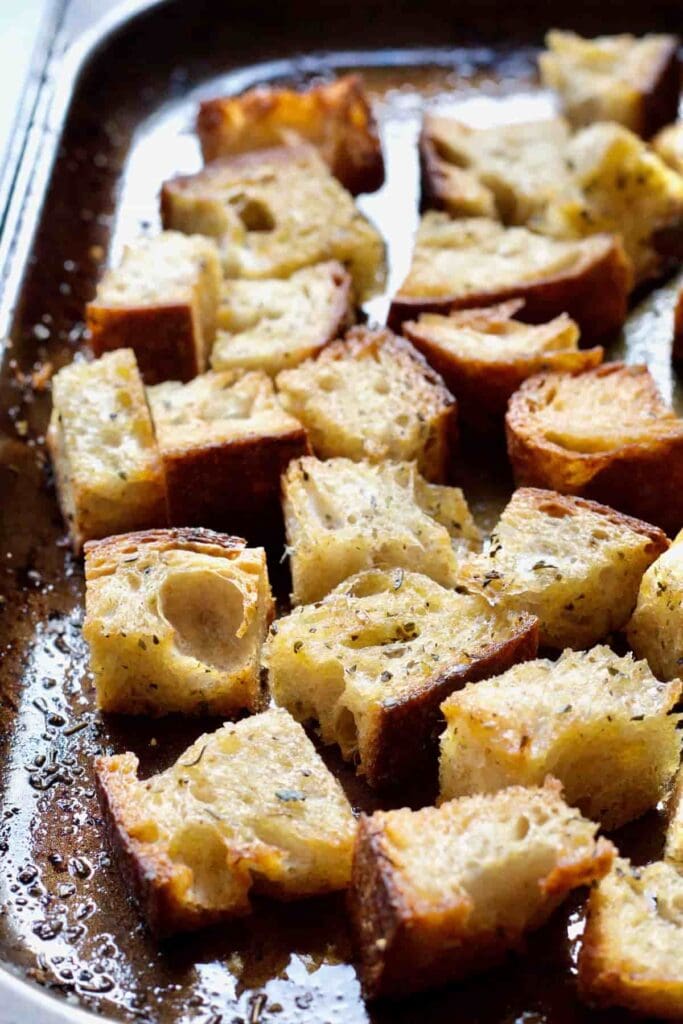 Flavour variations
Where do I start?
I must say my all time favourite is combination of dried mixed herbs and garlic powder. Super simple and delicious.
Sometimes I go for some smoked paprika, fresh thyme and freshly pressed garlic which is really delicious too.
Some other herbs that will work well include rosemary, oregano, Italian seasoning and sage. Oh and don't forget good sprinkle of quality salt* and freshly ground pepper!
How to store homemade croutons?
If you don't use your croutons all up straight away, you can store them in the airtight container for up to 2 days. Make sure they've cooled down completely before you put them away.
You could store them for a bit longer but they will most certainly start going stale and lose their crunch!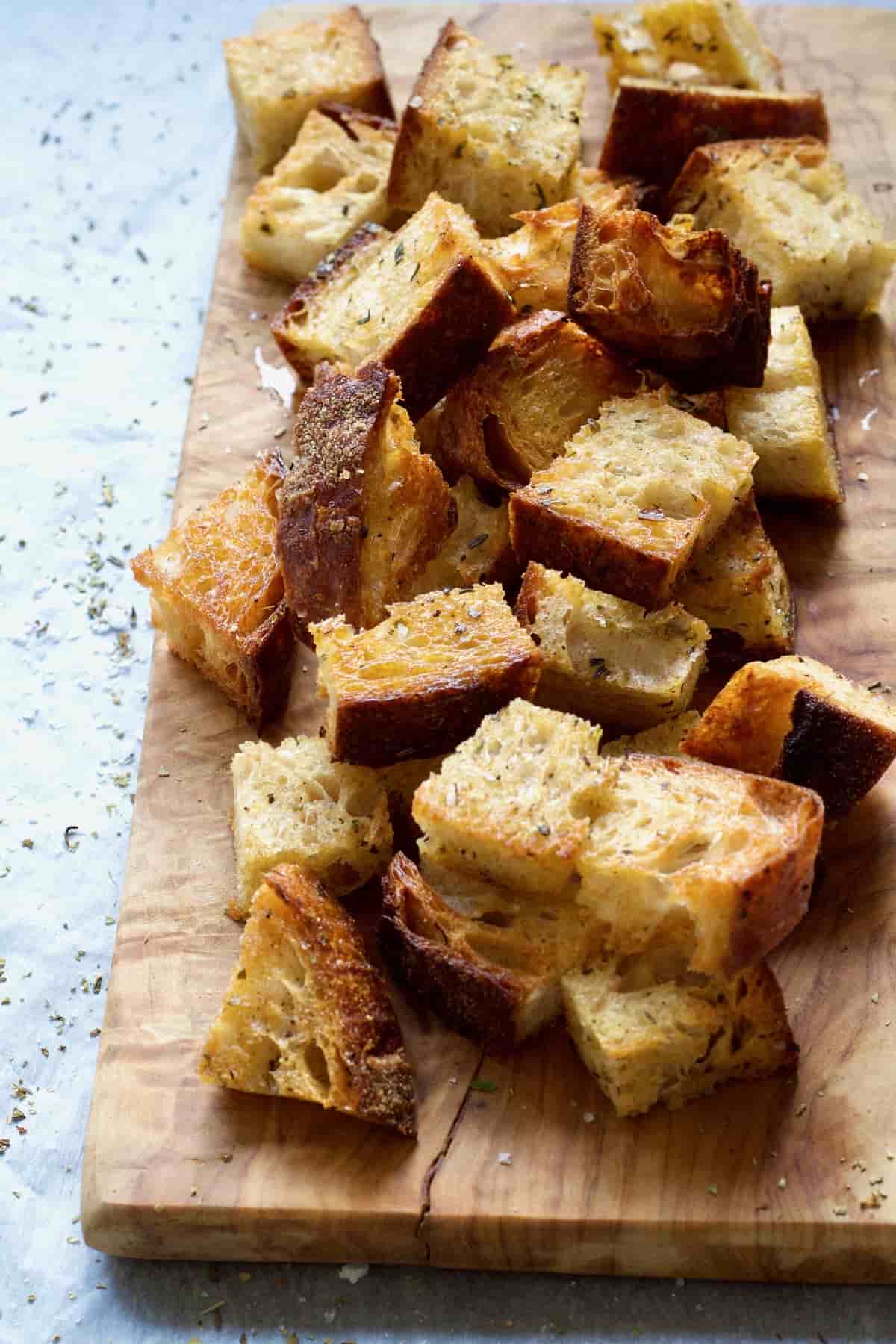 Can I freeze homemade croutons?
Yes, they are freezer friendly. However, they will not defrost to their initial crunchy selves and you will need to give them a quick refresh bake in the oven, which is why I like to make fresh batch each time as it takes me similar amount of time.
If you do freeze them, I would suggest laying them out in a single layer on a tray or baking sheet that will fit in your freezer and open freezing them first before moving to freezer friendly bag. This way they will stay separate and not clump together in one big ball, which will make them easier to take out and defrost later.
To defrost, simply take them out of the freezer and onto a baking tray and pop in the preheated oven (180C/350F/Gas Mark 4) for a few minutes or until fully thawed and crispy again.
You can use the same method to refresh slightly stale croutons.
Can I make my croutons in a frying pan?
Yes of course! Simply heat up some oil in a non-stick frying pan (I love my carbon steel pre-seasoned pan*) and fry your bread chunks with seasoning of your choice until crisped up and golden, making sure to move them around in the pan as you go.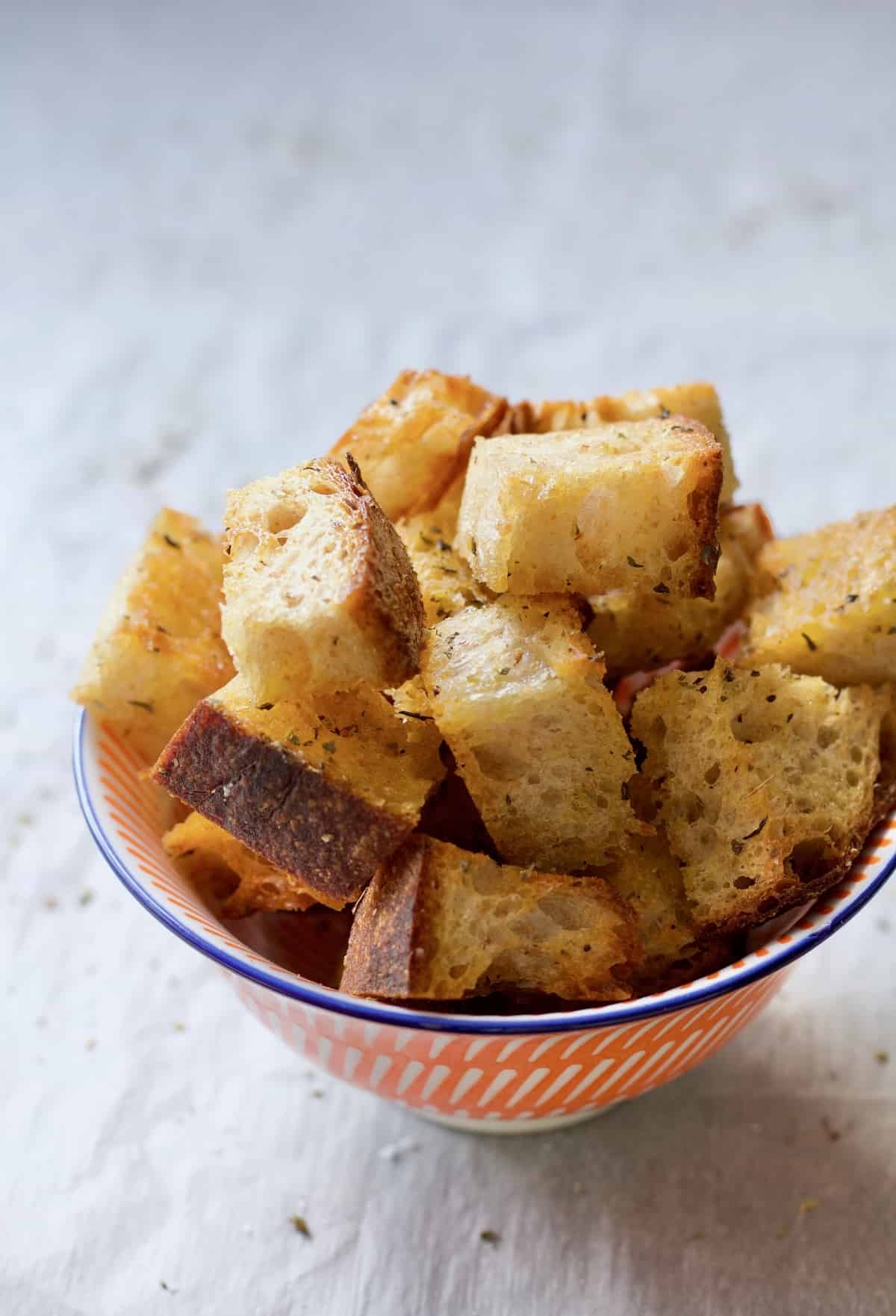 Serving suggestions
Homemade croutons are great for adding extra texture and substance to your dishes.
Serving them with soups and salads is an obvious choice but they also go wonderfully well with hearty winter stews and even casseroles.
Below you'll find some of my favourite recipes to use your croutons in.
Soups
Roasted Celeriac & Sweet Potato Soup

Creamy Courgette Soup with Peas and Mint

Broccoli Stalk Soup (Vegan)

Vegan Split Pea Soup

Carrot and Swede Soup

Curried Parsnip Soup

Butternut Squash & Chestnut Soup

Wild Garlic Soup

Spiced Pumpkin Soup

Easy Leek & Potato Soup with Celeriac

Curried Swede Soup
Salads
Buckwheat & Beetroot Salad with Chickpeas

Tabbouleh Salad

Warm Potato Asparagus Salad with Lentils

How to make homemade croutons?
1. Preheat your oven to 180C/350F/Gas Mark 4.
2. Cut nice, chunky slices out of bread of your choice (I've used thick sourdough slices below). The amount of bread you should use will depend on the amount of croutons you require, there are no real rules here.
3. Cut the slices into chunks with skin on or off according to your preference.
4. Spread the chunks of bread evenly on a baking tray*, drizzle over some rapeseed or olive oil and mix well. Don't be afraid to use your hands here.
5. Sprinkle over herbs of your choice, salt, pepper and mix again until all the bread cubes are evenly covered.
6. Bake in preheated oven for approximately 10-15 minutes until crunchy and golden brown.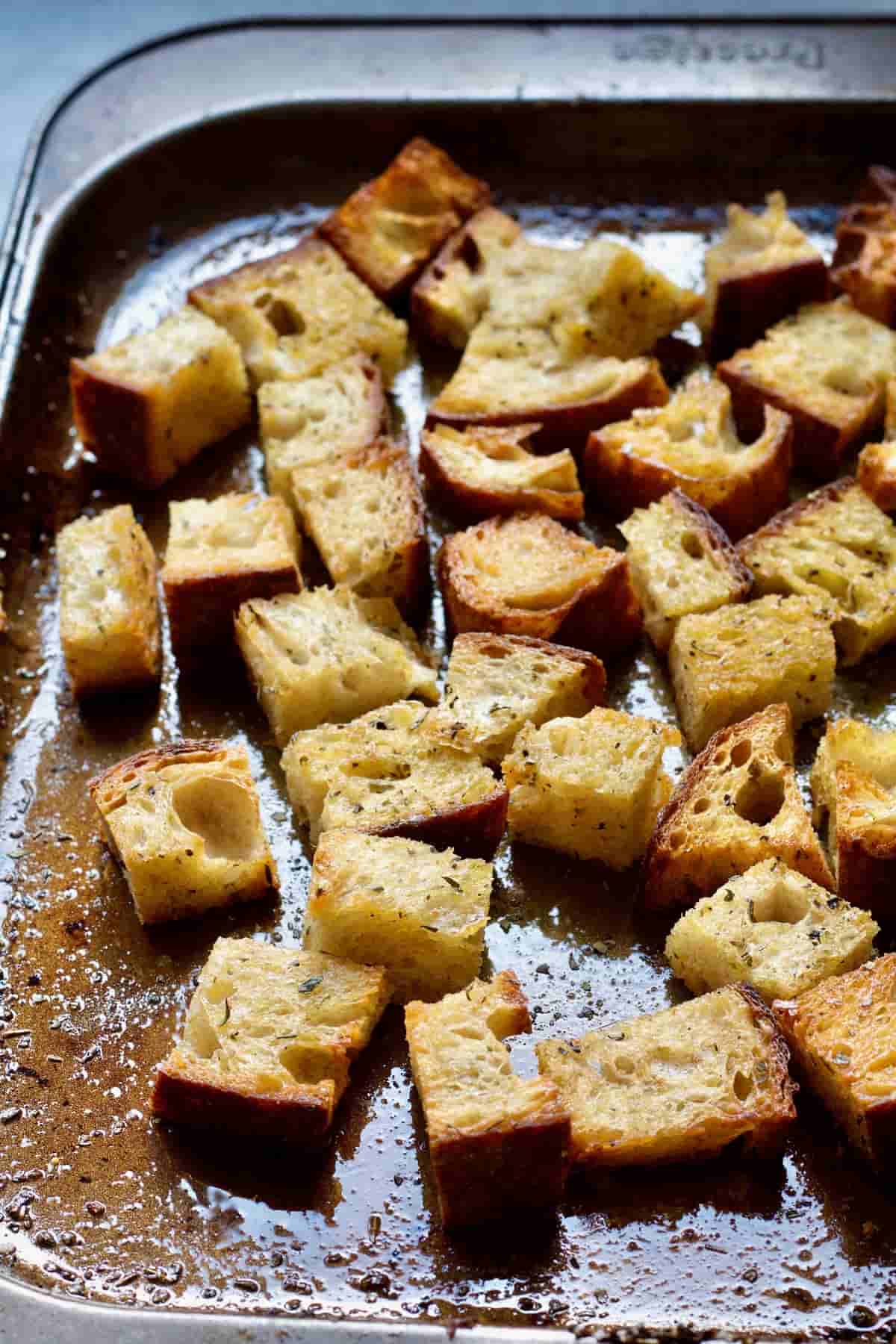 Have you tried my Homemade Croutons?
Please consider giving it ⭐️⭐️⭐️⭐️⭐️ rating in recipe card below and share your views or tips in the comments.
Some more helpful how-to guides you might enjoy
How to Cook Broad Beans (Fava Beans)

How To Make Lemon Curd

Orange Marmalade (Step-By-Step)

How To Make Perfect Pancakes

How To Roast Pumpkin Seeds

Air Fryer Chickpeas
📋 Recipe
How To Make Homemade Croutons
Learn how to make homemade croutons in your own kitchen. Perfect for soups, stews and salads, they're crispy, quick and easy to make and simply the best!
Ingredients
4

large

slices of sourdough or any other bread, preferrably day or two old

see notes

mixed herbs

see notes

garlic powder or pressed fresh garlic clove

salt, pepper
Instructions
Preheat the oven to 180C/350F/Gas Mark 4.


Cut nice, chunky slices out of your slightly stale bread loaf.

Cut the slices into nice chunks with skin on or off as per your liking.

Spread the chunks of bread evenly on a baking tray, drizzle with some olive oil and mix well. 

Sprinkle over herbs of your choice and some salt and pepper. The quantity will depend on your preferences but don't be afraid to get some flavour in there. If you fancy some garlic, sprinkle some garlic powder or add some freshly pressed/minced garlic clove. Mix well with your hands making sure that your bread is nicely and evenly covered. 

Bake in preheated oven for approx. 10-15 minutes or until golden brown.

They are ready to use straight away or cool them completely and store in airtight container for up to 2 days. They are freezer friendly too! 

Enjoy on soups, stews and salads!
Notes
Nutritional information is approximate, per serving and should be treated as a guideline only.
You can use any bread you like but preferably not a sliced supermarket loaf unless fresh/bakery type. Slightly stale loaf would be preferable although fresh will do to. Leave few slices of bread out on the cutting board uncovered an hour or two before making croutons to dry them out a bit.
I really like using mixed herbs for my croutons as they are very versatile but any herbs of your choice will do. Alternatively, keep it simple with just salt, pepper and perhaps some fresh garlic or garlic powder.
Store in the airtight container for up to 2 days. 
Freezer friendly!
Nutrition
Nutrition Facts
How To Make Homemade Croutons
Amount Per Serving
Calories 125
Calories from Fat 36
% Daily Value*
Fat 4g6%
Sodium 164mg7%
Potassium 46mg1%
Carbohydrates 18g6%
Protein 4g8%
Calcium 14mg1%
Iron 1mg6%
* Percent Daily Values are based on a 2000 calorie diet.