Lemon Curd is by far one of my favourite breakfast spreads. I love its tangy sweetness on my toast in the morning or as a filling for pancakes – it's pure heaven. The best thing about it is that it's super quick and easy to make. All it takes is 4 ingredients and under half an hour of your time. Once you've tried this homemade delight you will never go back to shop bought version. Knowing exactly what's in it has got to be a good thing too! How to make lemon curd you ask? Well, read on!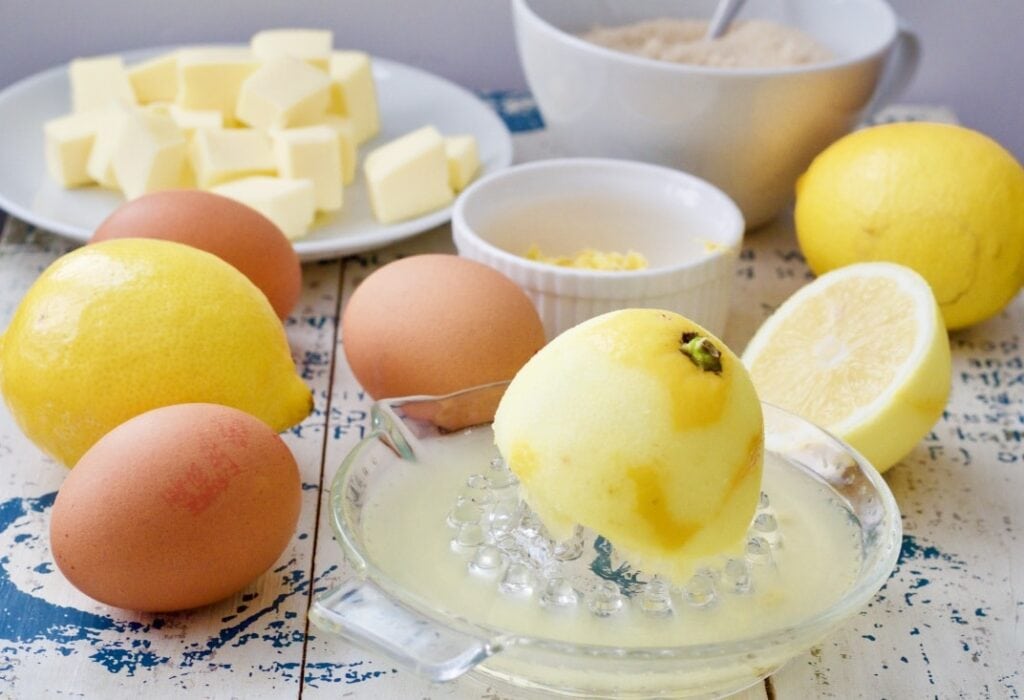 Lemons
When you embark on your lemon curd journey make sure you pay attention to the quality of your lemons. Look out for nice, juicy ones. How to pick those out? I found that lemons which look really impressive with thick skin and not much "give" when you gently squeeze them are the ones with the least juice. Whereas the smaller ones, with thinner skin and slightly squashier when gently squeezed will yield you more juice. Not strictly very scientific but I think I'm onto something with this observation. 🙂
To get as much juice out of them as possible make sure to let your lemons come to the room temperature and give them a little roll with the palm of your hand before squeezing, to get their "juices going". In case you forgot to take your lemons out of the fridge in time but want to get on with making lemon curd, you can pop them in the microwave for 15-20 seconds to warm them up. Once out of the microwave, let them stand for a minute or so, give them a roll and you are ready to squeeze.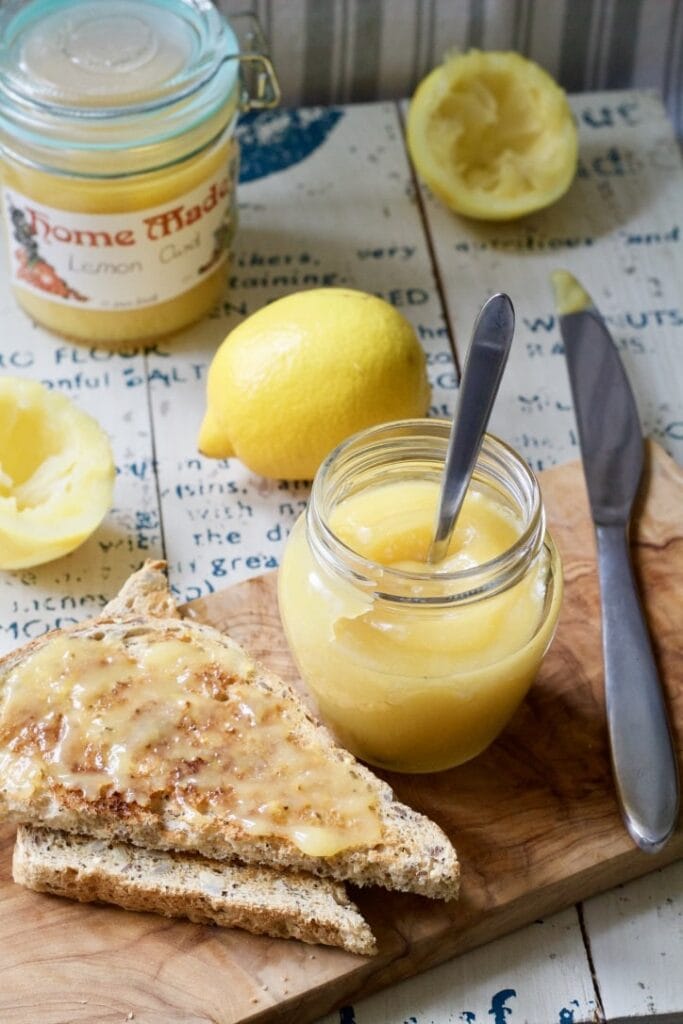 Technique
Once all your ingredients are ready it's time to get serious. For lemon curd success you will need 100% focus or else you will end up with scrambled gloop and it will all be lost!
I usually make my lemon curd in a pan over the low heat and it works for me. I know I cannot leave the mixture unattended and stop whisking for a split second. However, if it's your first time making lemon curd or you simply want to be on a safe side, use bain-marie method (heatproof bowl set over the pan of simmering water) to make your curd.
When whisking your mixture you are looking for consistency of slightly thicker custard which should take 12-15 minutes to achieve. Once you're there, quickly pour your curd into hot, sterilised* jars. Make sure you've got good oven gloves to handle the jars as even asbestos hands can get badly burnt here.
I like to make my lemon curd in smaller batches hence this recipe only yields 350mls but it is super easy to double if you require bigger quantity. With Shrove Tuesday only few weeks away it is a great pancake spread to have handy. I find it superior to lemon juice and sugar and it's my favourite pancake accompaniment ever! It is also perfect to use in baking and I have just a recipe for you to try. It's my Baked Lemon Curd Cheesecake and if you love lemon curd and cheesecakes you will love it too!
How to Make Lemon Curd
Ingredients
Juice and zest of 2 lemons

2

large eggs

lightly beaten

1

egg yolk

150

g

caster or golden caster sugar

100

g

unsalted butter

cubed
Instructions
Place all ingredients in a pan over a low heat or alternatively in a heatproof bowl placed over a pan with simmering water (bain-marie). Make sure the bowl doesn't touch the water.

Stir all ingredients together continuously until all combined and butter melted using balloon whisk or wooden spoon.

From this point keep whisking the mixture gently for 12-15 minutes until it starts to thicken. It should have consistency of slightly thicker custard and it will thicken even more once cooled.

Remove from the heat and pour into hot, sterilised jars* and put-on the lid whilst still hot.

It will keep in a fridge for good few weeks.
*To sterilise jars simply wash them in hot soapy water and dry stood up in a clean baking tray in the oven preheated to 150°C for 10-15 min. The jars should be straight from the oven when you pour in your hot lemon curd.
If you found my little guide on How to Make Lemon Curd useful please leave me a comment at the bottom of this post. I love reading them!
If you don't want to miss new recipes and updates from me make sure to subscribe to new recipe alerts in the top right corner of this page or come and say hello over on my Facebook page, Twitter or Instagram
Pin For Later!
I'm linking my How to Make Lemon Curd with the following pages:
Cook Blog Share hosted this week by Jacqui at Recipes Made Easy and Monika at Everyday Healthy Recipes
Cook Once Eat Twice hosted by Corina at Searching for Spice
Brilliant Blog Posts hosted by Vicki at Honest Mum Blog
Recipe of the Week hosted by Emily at A Mummy Too