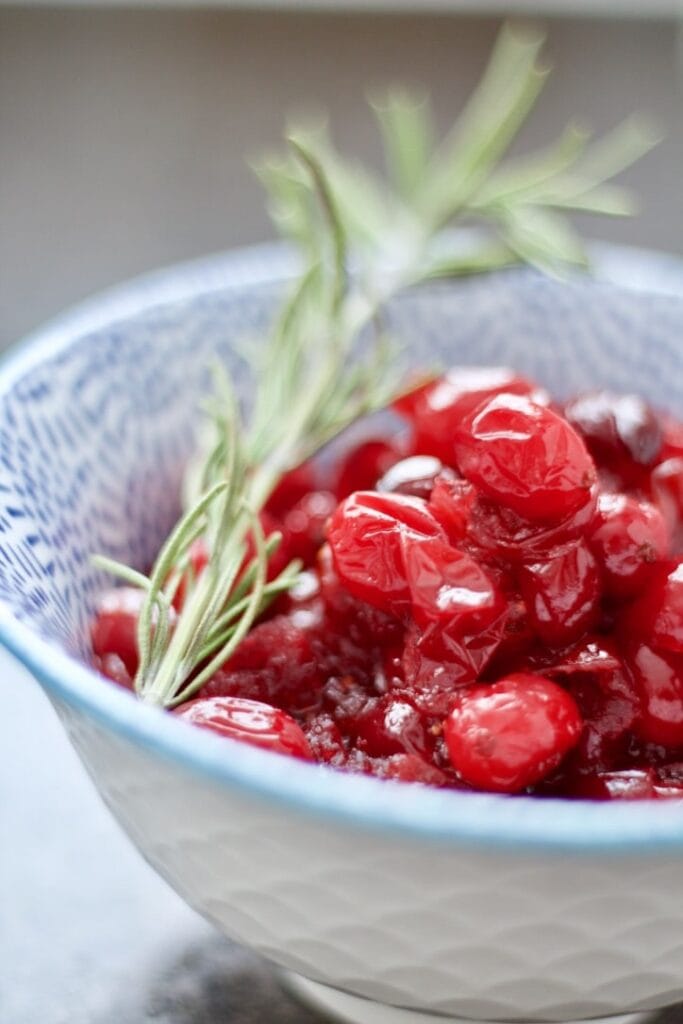 With fresh cranberries now widely available in the shops and markets, there really is no excuse not to give this super easy, Quick Cranberry Compote with Rosemary a go. Four ingredients and 20 minutes of your time is all it takes for this fabulous and beyond tasty Christmas side dish! However, bare in mind that this delightful take on cranberry sauce is not only for Christmas, oh no! It is a perfect accompaniment well beyond the festive season and as it happens, it is perfect with not only savoury but also sweet delights!
This recipe is so easy and so delicious that you will think twice before cracking open that shop bought sauce you've got in the cupboard. It is simply beyond compare despite its simplicity. The season in which you can source fresh cranberries in the UK is very short but fret not as this recipe can also be made using frozen fruit which is widely available.
Can I adapt recipe for Quick Cranberry Compote with Rosemary and how?
When making this cranberry compote I decided to go for simplicity and let both cranberries and that umami hint of rosemary shine through.
I've gone for orange juice to cook the cranberries in but feel free to use just water or half water and half juice. You could even use some cranberry juice! If you want things a bit more zesty you might want to add an orange peel or two, or maybe even a splash of port?
The citrusy tang of orange juice and woodiness of rosemary comes through ever so subtly and then it hits you! It really is delicious! Make sure you don't put rosemary in too early though as it can make your compote quite bitter (trust me, I've been there, done that).
Storing and freezing tips!
When it comes to storing, this little festive side dish is perfect if you are preparing things in advance. Once cooked it can be stored, well chilled, in the fridge for up to 14 days.
It also freezes really well in freezer safe bags or containers for up to 3 months. To defrost, simply take it out of the freezer and pop into the fridge overnight and enjoy the following day.
Serving suggestions for Quick Cranberry Compote with Rosemary!
If you are wondering what you can serve this delight with beside the obvious choice of Christmas turkey, I would highly recommend it as accompaniment to any Sunday roast (chicken and duck in particular), cold meats and of course sweet delights! Yes I know, Cranberry Compote with Rosemary might not be associated with desserts in particular but I encourage you to give it a go. I absolutely love it on crepe style pancakes, very simple yet so delicious (you can find my foolproof classic pancakes recipe HERE).
I have used this lovely compote in my delicious, easy and super impressive dessert Pancakes (Crepes) with Mascarpone Cream & Cranberry Compote. Perfect for Pancake Day and Valentine's Day too!
SOME MORE FESTIVE RECIPES YOU MIGHT ENJOY:
Easy Roasted Butternut Squash Veggie Wellington
Roasted Brussels sprouts with Parmesan & Garlic
Brussels sprouts, Bacon & Chestnuts Macaroni Cheese
Easy Chocolate Gingerbread Biscuits
Melt In Your Mouth Almondy Mince Pies
Quick Cranberry Compote with Rosemary
Super easy, super versatile this Quick Cranberry Compote with Rosemary is not only for Christmas! Pair it with cold meats or roasts for savoury fare or try on pancakes or with ice cream for a delightful treat!
Servings
1
Medium size jar
Ingredients
250

g

fresh or frozen cranberries

100

g

light brown sugar

100

ml

orange juice

1

sprig of fresh rosemary
Instructions
Rinse cranberries (only if using fresh) in some cold water and drain.

Put sugar and orange juice in a medium pan and bring to gentle boil stirring to help sugar dissolve.

Add cranberries and simmer on low heat (stirring from time to time) for about 12-15 min until the fruit starts to soften and burst but still holds its shape (it will take less time if using frozen fruit). For mushier consistency cook for longer.

Towards the end of cooking time for last 2-3 minutes add one sprig of rosemary and make sure it is immersed in the fruit.

At the end of cooking time and once you are happy with the consistency of your compote take the pan off the heat and discard rosemary.

Enjoy!
Notes
Nutritional information is approximate, for entire jar of the compote and meant as a guideline only.
Well chilled, the compote will keep in the fridge for 10-14 days.
Freeze in a freezer safe bag or container for up to 3 months. Defrost in the fridge overnight.
Nutrition
Nutrition Facts
Quick Cranberry Compote with Rosemary
Amount Per Serving (0 g)
Calories 541
% Daily Value*
Fat 0g0%
Cholesterol 0mg0%
Sodium 34mg1%
Potassium 545mg16%
Carbohydrates 139g46%
Protein 1g2%
Vitamin A 350IU7%
Vitamin C 83.2mg101%
Calcium 114mg11%
Iron 1.5mg8%
* Percent Daily Values are based on a 2000 calorie diet.
MAKE SURE YOU STAY UP TO DATE WITH ALL THE LATEST RECIPES FROM JO'S KITCHEN LARDER
Have you tried my Quick Cranberry Compote with Rosemary? Leave a comment at the bottom of this post, I love reading them! You can also come and say hello over on my Facebook page, Twitter, Instagram or Google+
Pin Quick Cranberry Compote with Rosemary For Later!
I'm linking my Quick Cranberry Compote with Rosemary post with the following pages:
Cook Blog Share hosted this week by Monika at Everyday Healthy Recipes and Eb at Easy Peasy Foodie
Cook Once Eat Twice hosted by Corina at Searching for Spice
Brilliant Blog Posts hosted by Vicki at Honest Mum Blog
Recipe of the Week hosted by Emily at A Mummy Too
***This post has been first published in February 2018 and updated in December 2018***