Soft & chewy these Dark Chocolate Cranberry Chestnut Cookies are simply delightful. Perfect Christmas/Winter cookies that won't last long in the cookie jar!
Chocolate chip cookies are absolutely adored by everyone in our house and these Dark Chocolate Cranberry Chestnut Cookies are my festive, wintery take on this all time favourite!
When it comes to chocolate chip cookies, soft and chewy are the ones that we tend to love the most. They are also the most requested bake in our house. Usually, I don't tend to tinker with my favourite recipe. I might swap milk chocolate chips for dark chocolate or mixture of both or perhaps add some white ones for good measure as well, but that's it! However, considering the time of year and feeling rather festive I thought I could give our favourite cookies a little seasonal makeover and I must say I am super pleased with the result!
I love dark chocolate a lot and will always favour it over other varieties plus it goes beautifully with cranberries. The addition of chestnuts was more of a happy accident or rather me being frugal and trying to use up the pack of chestnuts I had opened when making my Brussels Sprouts, Bacon & Chestnuts Macaroni Cheese (I highly recommend these Merchant Gourmet* ones which are widely available in most supermarkets and online).
Chestnuts add a bit of crunch (even though they are lighter and softer than other nuts) and a bit of gentle sweetness too. I must say that dark chocolate and cranberries definitely prevail in flavour department though and what a delicious flavour it is!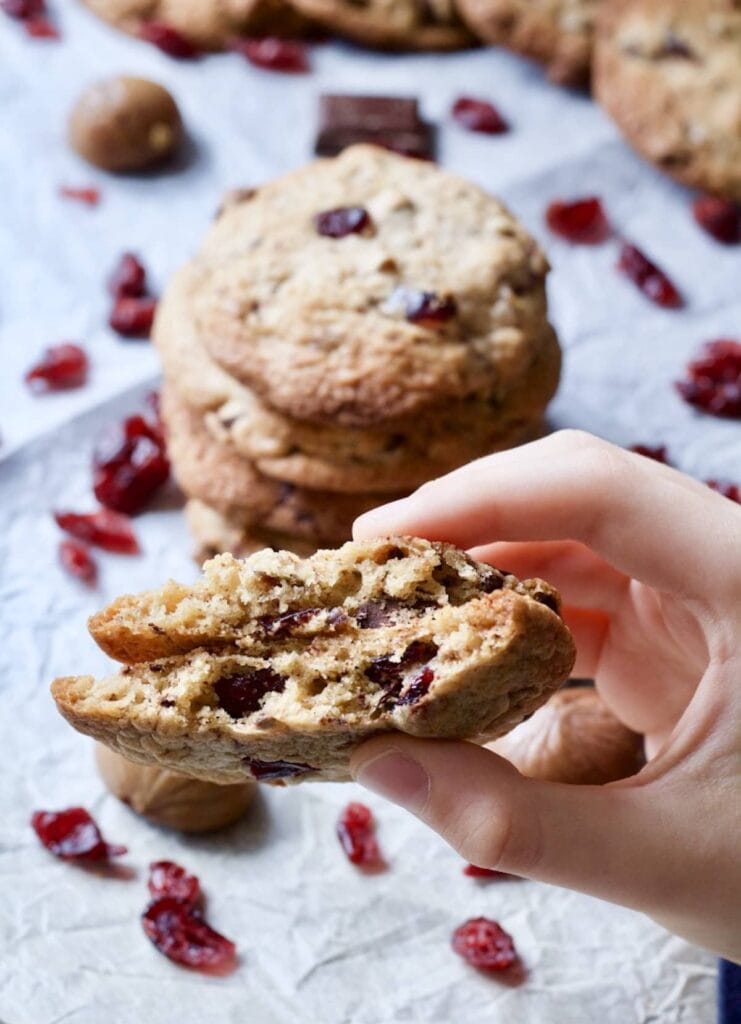 Few Baking Tips!
These Dark Chocolate Cranberry Chestnut Cookies are super quick and easy to make and don't even require a mixer! Single bowl is all you need! That makes them perfect for when unexpected guests pop in, bake sales, or even late night munchies lol. Don't we all get them sometimes?
These cookies like to spread a bit during baking so make sure to leave enough space in between them to allow for that.
Make sure you bake them on a non stick baking sheet or failing that the one covered with baking/greaseproof paper or these reusable silicone mats* to prevent them from sticking. When you first take them out of the oven after 8-10 minutes of baking, let them sit on the baking sheet for a couple of minutes to give them a chance to firm up a bit as they will initially be very prone to breaking. After couple of minutes of resting time you can safely move them onto the cooling rack to cool completely.
As ever, feel free to make substitution according to your taste. If you don't like chestnuts feel free to use any other nuts you like - either walnuts or pecans would go really nice here. I would stick to dark chocolate with these cookies though but if you are really not a dark chocolate fan, white chocolate and cranberries go really well together too.
Dark Chocolate Cranberry Chestnut Cookies - Step-By-Step Instructions
📋 Recipe
Dark Chocolate Cranberry Chestnut Cookies
Soft & chewy these Dark Chocolate Cranberry Chestnut Cookies are simply delightful. Perfect Christmas/Winter cookies that won't last long in the cookie jar! They are a doddle to make too!
Ingredients
150

g

plain or white spelt flour

150

g

light brown sugar

100

g

unsalted butter

½

teaspoon

baking powder

2

teaspoon

vanilla extract

1

large egg

lightly whisked

100

g

dark chocolate chips

50

g

dried cranberries

50

g

chestnuts

roughly chopped

pinch of sea salt
Instructions
Preheat the oven to 180C/350F/Gas Mark 4. Prepare your baking sheets by lining them with baking/greaseproof paper or silicone liners.

Melt the butter (in a microwave or in a small pan on the hob/stovetop) and pour it into the large bowl.

Add the sugar and beat it in vigorously with a wooden spoon.

Add vanilla extract and lightly whisked egg and beat some more.

Add the flour, baking powder and a pinch of sea salt and mix well until all combined.

Add chocolate chips, dried cranberries and chopped chestnuts and mix them all well until incorporated evenly throughout the cookie mix.

Use a heaped tablespoon (the measuring one) of cookie mixture for every cookie and scoop it onto the baking sheet leaving enough space in between the cookies to allow them to spread as they bake.

Bake for 8-10 minutes until they start to turn light brown. Once out of the oven let the cookies sit on the baking sheets for couple of minutes to firm up a bit. Transfer them onto the cooling rack to cool completely. Enjoy!
Notes
Nutritional information is approximate and for guideline only.
You could replace dark chocolate chips with milk or white ones if you prefer.
Nutrition
Nutrition Facts
Dark Chocolate Cranberry Chestnut Cookies
Amount Per Serving
Calories 135
Calories from Fat 45
% Daily Value*
Fat 5g8%
Cholesterol 18mg6%
Sodium 11mg0%
Potassium 77mg2%
Carbohydrates 19g6%
Protein 1g2%
Vitamin A 135IU3%
Vitamin C 1mg1%
Calcium 30mg3%
Iron 0.6mg3%
* Percent Daily Values are based on a 2000 calorie diet.
SOME MORE BAKES YOU MIGHT BE INTERESTED IN:
Chocolate Oatmeal Cookies (No-Bake, Vegan, Gluten-Free)
Gingerbread Cake (Traybake) - Vegan
Easy Chocolate Gingerbread Biscuits
Melt In Your Mouth Almondy Mince Pies
Chocolate Fork Biscuits (Vegan)
Chocolate Shortbread Biscuits with Mini Eggs
Chewy Cranberry Flapjacks (Granola Bars)
MAKE SURE YOU STAY UP TO DATE WITH ALL THE LATEST RECIPES FROM JO'S KITCHEN LARDER
Have you tried my Dark Chocolate Cranberry Chestnut Cookies? Leave a comment at the bottom of this post, I love reading them! You can also come and say hello over on my Facebook page, Twitter, Instagram or Pinterest
Pin Dark Chocolate Cranberry Chestnut Cookies for later!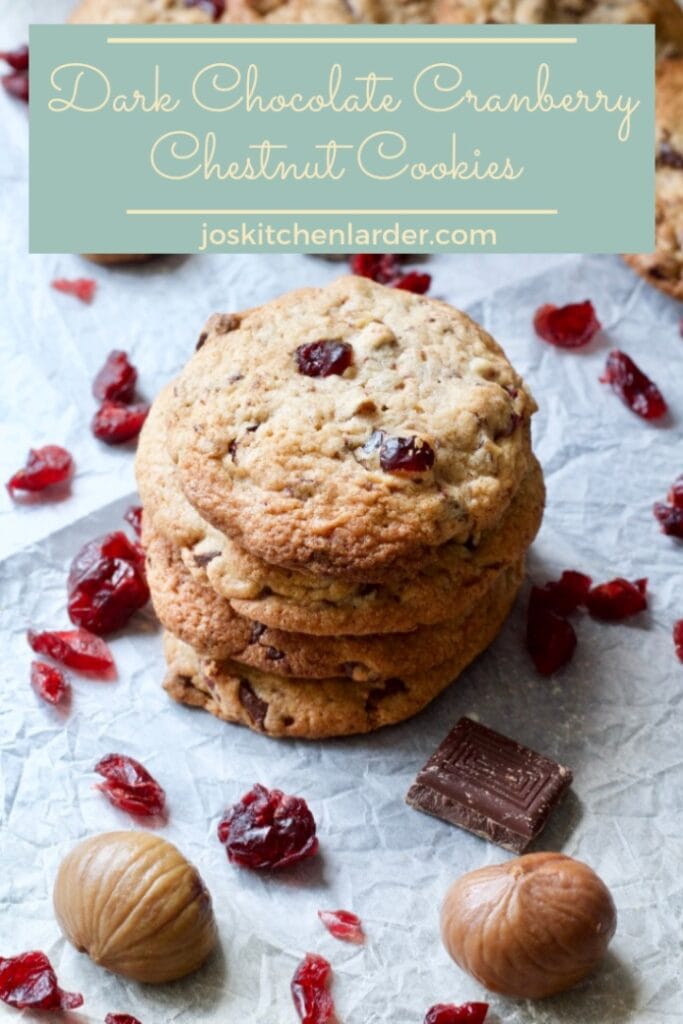 I'm linking my Dark Chocolate Cranberry Chestnut Cookies recipe with the following pages:
Cook Blog Share hosted this week by Eb at Easy Peasy Foodie
Cook Once Eat Twice hosted by Corina at Searching for Spice
Bake of the Week hosted by Jenny at Mummy Mishaps and Helen at Casa Costello
Baking Crumbs hosted by Jenny over at Apply To Face Blog
Fiesta Friday hosted by Angie and Jhuls at The Not So Creative Cook and Diann at Of Goats and Greens
*This post contains affiliate links, which means that if you click on a link and go on to buy the product I recommend, I will get a small commission, but you will not be charged a penny more. I only recommend products I own or really like and which caught my attention. Thanks in advance for supporting Jo's Kitchen Larder!