Making traditional English pancakes doesn't have to be daunting. It is in fact one of the easier cooking skills you can learn. Try my basic, easy and foolproof recipe for perfect pancakes and you will soon start making most delicate and light pancakes imaginable and not only on Pancake Day!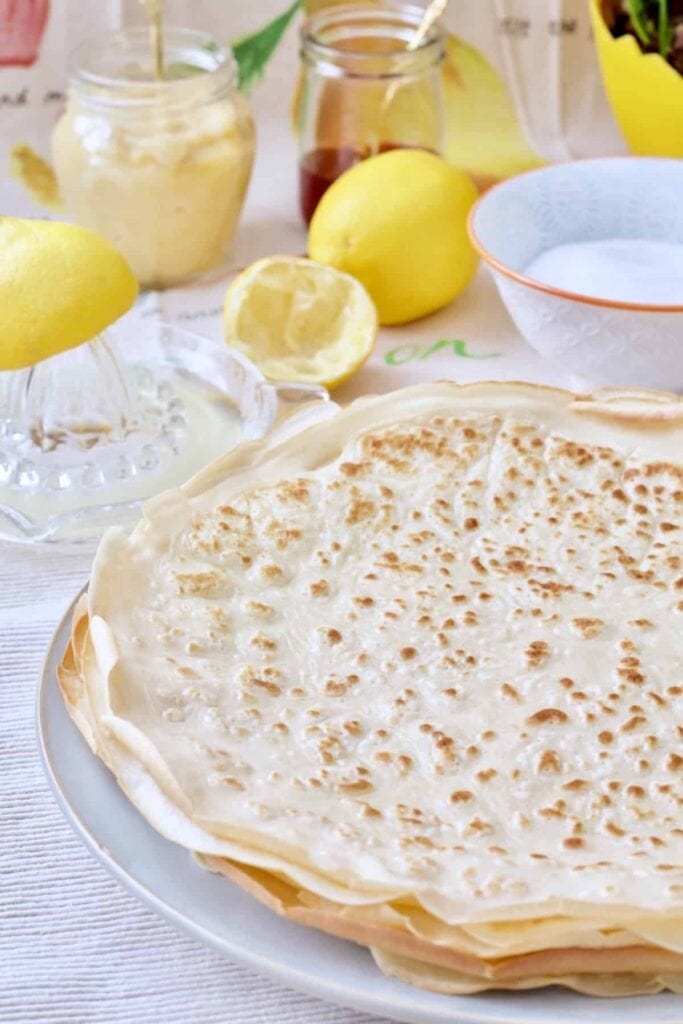 We do love pancakes in our house. Whether it's a traditional recipe for classic English pancakes or fluffy, American style ones, they are generally favourited by all.
It's also quite interesting to see that traditional pancake recipe is very much an international affair. I grew up eating these in Poland and have some very fond memories of my mum making them and not following any recipe at all. Forget the scales or measuring jugs, it was all done on "more or less" basis and the main aim was to achieve desired consistency of single cream. It always worked and they were (and still are) delicious. My perfect pancake recipe is based on my mum's method with little modification that I shall reveal below.
How to Make Perfect Pancakes?
I've done a bit of experimenting with pancakes to see whether there were any recipes that would beat this one but I always go back to this little classic as I genuinely find it the most foolproof and by far the tastiest.
Originally, my mum's method of making pancakes used half milk and half water which already gives you lighter pancakes than those made with milk only which I personally find more difficult to get nice and thin. I thought that mum's "half and half" recipe was IT, but then I read somewhere about using sparkling water, tried it and was converted.
Using sparkling water in your batter aerates it more and pancakes themselves come out lighter and more delicate, no chance of rubbery disaster. Perfect pancakes for sure!
Helpful Tips!
I like to add either oil or melted butter directly to my pancake batter instead of a frying pan. This way you avoid greasy pancakes and they still won't stick to the pan!
Good, non-stick pan approx. 24-25cm will give you nice big pancakes. I really like this one from Kitchen Craft* and if you make pancakes regularly it is definitely worth investing in one although regular, large, non-stick frying pan will do the job too! Make sure you have your pan really, really hot before you start frying. Don't try to rush and get that batter on the pan before it reaches right temperature as your pancakes will fall apart and end up in the bin.
I know that letting your pancake batter rest for 30 min might seem like a step not worth bothering with. I can assure you it's got to be done! This rest gives gluten a bit more time to chill which will affect the texture of your pancakes so in my eyes well worth waiting half an hour for. Unless you don't mind chewy pancakes?
And couple more tips!
This one is related to personal preference but I find a simple, plastic or glass measuring jug* with pouring spout that bit easier to use for pouring my batter onto the pan. If you have one with the lid you can store your batter in the fridge until you are ready to use it. However, if you prefer good, old-fashion ladle, by no means use it. It's got to work for you!
As you are on a roll frying away, keep piling your pancakes up on a plate and keep them covered with a clean tea towel to prevent them from drying. You don't need to separate them with baking paper, don't worry, they won't stick.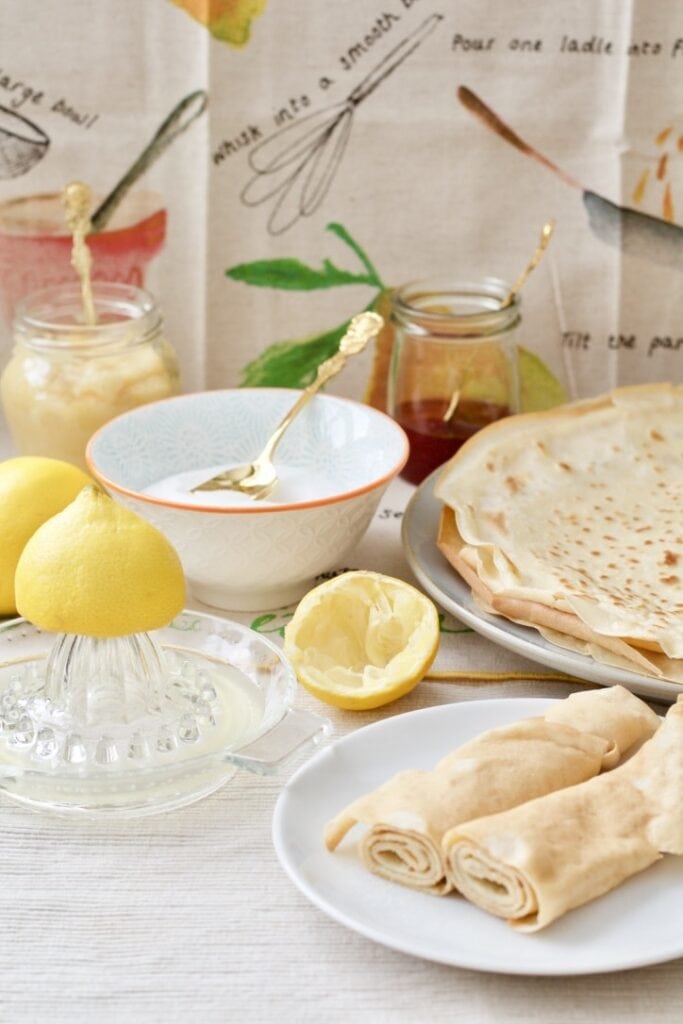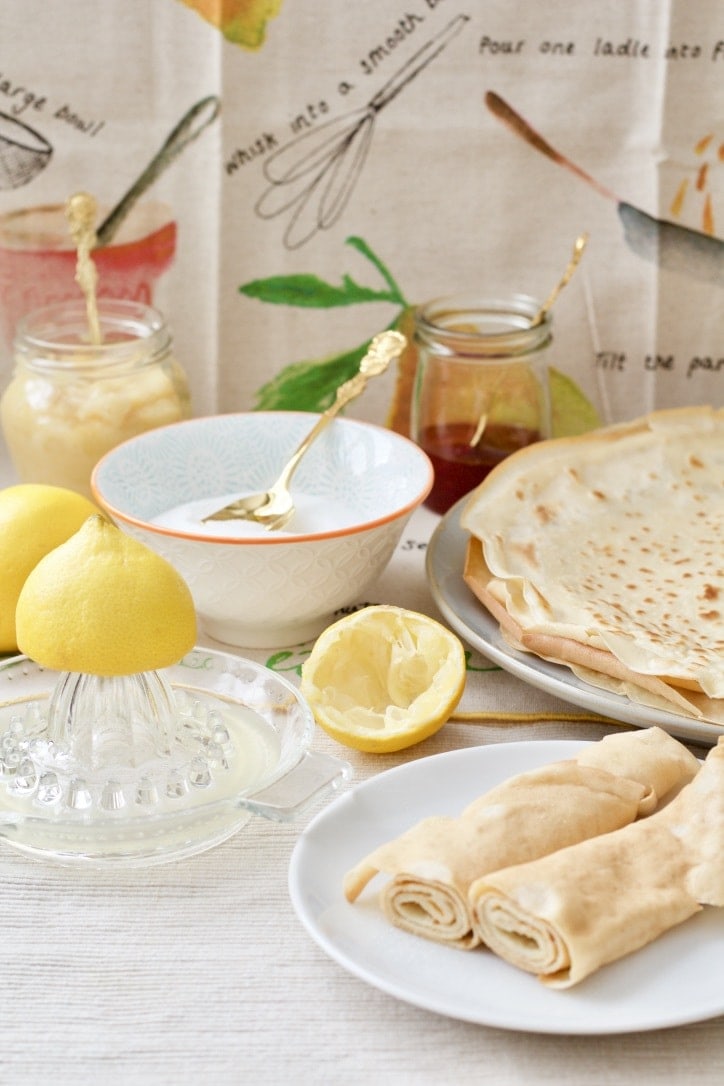 Is first pancake always bad?
Not necessarily! If you follow my tips above regarding temperature of the pan as well as letting your batter rest you should be ok. Having said that, if you are just starting your pancake journey it might happen that the first and sometimes the second pancake will be a bit hit and miss, funny shape, tearing etc. Don't give up as you will definitely get a hang of it!
Can I make my pancakes in advance?
Absolutely! Simply cover them tightly with cling film and/or aluminium foil and pop in the fridge for up to 2 days. I found that the best way of reheating them would be on a frying pan with a tiny bit of butter but you could also try a microwave (literally a few seconds and one at a time or they will turn rubbery).
You can also prepare your pancake batter in advance and if you like fresh pancakes every time, simply keep it covered in a fridge for up to 2 days! Your batter might need loosening up a bit with a drop of milk or water as the longer it sits the thicker it gets. Simply give it a good mix with a whisk or spoon to check consistency and add more liquid if required.
Do these pancakes freeze well?
They do! Simply pile them up separated with baking/greaseproof paper, wrap really well in aluminium foil and freeze for up to 2 months. I have previously frozen these pancakes without separating them at all and as long as you let them defrost fully in the fridge overnight or on the kitchen counter, you should have no issues with them sticking.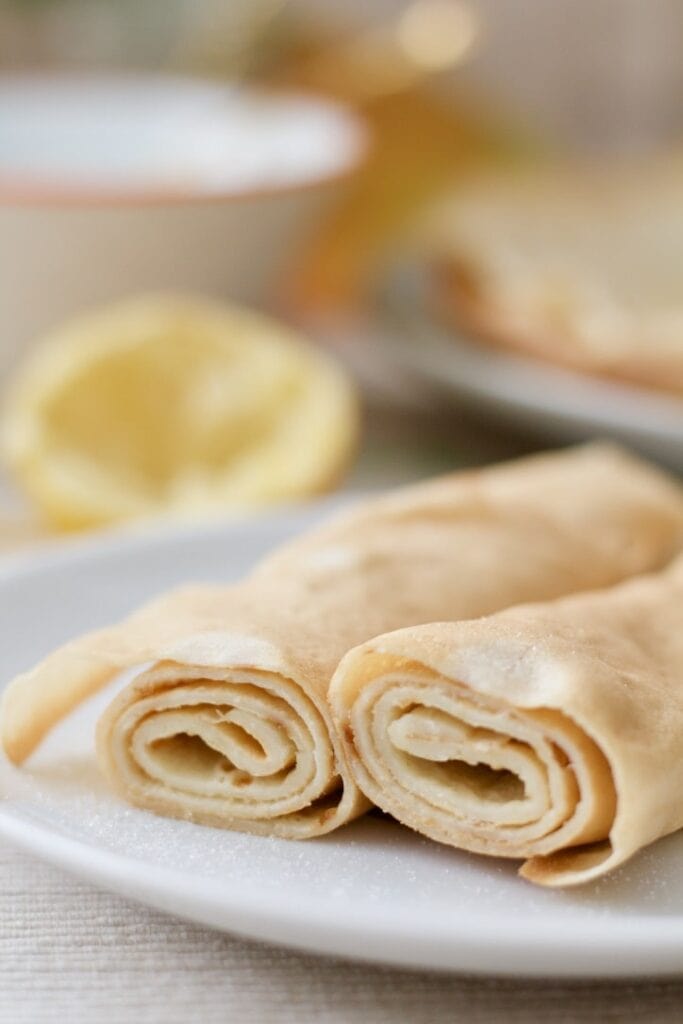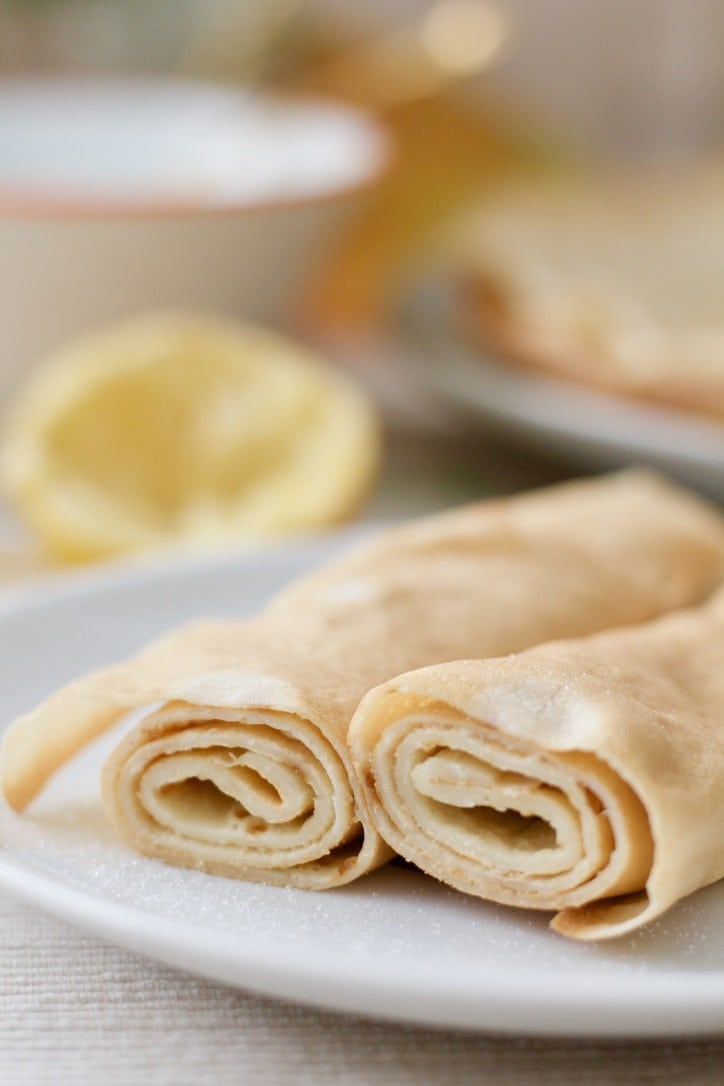 Perfect Pancakes Serving Suggestions!
Once you have your pancakes all piled up and ready, the hardest bit is to decide on the filling. Are you lemon and sugar, jam, Nutella person? Or perhaps you have some other preferences? For me pancakes wouldn't be the same without my Lemon Curd which is simply perfect for pancakes. Give it a go and just lemon and sugar will no longer quite cut it!
If citrus based preserves are your thing, try a dollop of my homemade Orange Marmalade with your pancakes. Soo good!
Our other favourites are my Strawberry Coulis, Easy Blackberry Jam & Plum Jam with Chocolate, you've got to try them!
If you enjoy stewed fruit you will love my stewed rhubarb and stewed pears with cinnamon and vanilla recipes.
For something a bit more controversial, how about topping your pancakes with some Cranberry Compote (Sauce) with Rosemary?  You will be surprise how wonderful these two are together!
Pancakes are also perfect ingredients for creating some exciting desserts like these Pancakes (Crêpes) with Mascarpone Cream & Cranberry Compote. Simply divine! Dessert with wow factor that will definitely impress yet is so simple to make!
If pancakes are your guilty pleasure, try my American style Easy Healthier Pumpkin Pancakes which would be a delicious alternative to the traditional English ones!
For all of you with dairy and/or egg allergies or on plant based diet I've also got these perfect Vegan Crepes to try!
How to Make Perfect Pancakes - Step-By-Step Instructions
📋 Recipe
How to Make Perfect Pancakes
Try this easy and foolproof recipe for perfect pancakes and you will soon start making most delicate and light pancakes imaginable and not only on Pancake Day!
Ingredients
175

g

plain flour

3

large eggs

200

ml

milk

200

ml

sparkling water

or regular water

pinch

of salt

3

tablespoon

oil or melted butter

unsalted
Non-stick frying pan or pancake pan. I use 24cm/9.5inch one.
Instructions
Sift the flour into a mixing bowl, add pinch of salt and make a well in the middle. Instead of sifting you can simply give your flour a little whisk in the bowl instead.

In a separate bowl or large jug mix together eggs, milk, water and oil.

Pour the wet mixture onto the the centre of the flour well and start mixing using hand mixer, a whisk or balloon attachment of your standing mixer. Keep mixing until your batter is smooth, lump free and it should have a consistency of single cream.

Set aside for 30 minutes.

Heat up the frying pan until nice and hot. There is no need for oil or butter on the pan, pancakes won't stick!

Using a ladle or pouring jug, pour small amount of batter onto a hot pan and swirl around until the pan is fully coated. You might need to "patch" little holes with tiny drops of batter.

Fry on one side for approx 1 min until lightly browned. Flip it over with spatula and fry for another minute (see notes below).

Transfer pancake to a plate and cover with clean tea towel while you fry remaining ones, adding the new ones on top.

Enjoy with the filling of your choice!
Notes
Nutritional information is approximate, per pancake and should be treated as a guideline only.
Depending on the amount of batter used per pancake and whether you prefer thin or slightly thicker ones, the frying time might differ slightly. Minute per side is for slightly thicker pancakes. Make sure you watch them and adjust the time accordingly, difference won't be huge and you will soon know when to flip! 
If your batter has been standing for a while or you made it in advance and kept in the fridge you might need to add a splash of milk or water to loosen it up a bit. Give it a quick mix with a fork or spoon to check the consistency first. 
Keep your pancakes well covered in the fridge for up to 2 days. 
Freezer friendly for up to 2 months. 
Nutrition
Nutrition Facts
How to Make Perfect Pancakes
Amount Per Serving (0 g)
Calories 125
Calories from Fat 45
% Daily Value*
Fat 5g8%
Cholesterol 60mg20%
Sodium 62mg3%
Potassium 63mg2%
Carbohydrates 14g5%
Protein 4g8%
Vitamin A 210IU4%
Calcium 34mg3%
Iron 1mg6%
* Percent Daily Values are based on a 2000 calorie diet.
Update Notes: This post was originally published on 31 January 2018, but was republished with new recipe card, step-by-step process photos, tips and other useful info in February 2019.
MAKE SURE YOU STAY UP TO DATE WITH ALL THE LATEST RECIPES FROM JO'S KITCHEN LARDER
Have you tried my Perfect Pancakes recipe? Leave a comment and rating at the bottom of this post, I love reading them!
You can also come and say hello over on my Facebook page, Twitter or  Instagram
Pin How to Make Perfect Pancakes For Later!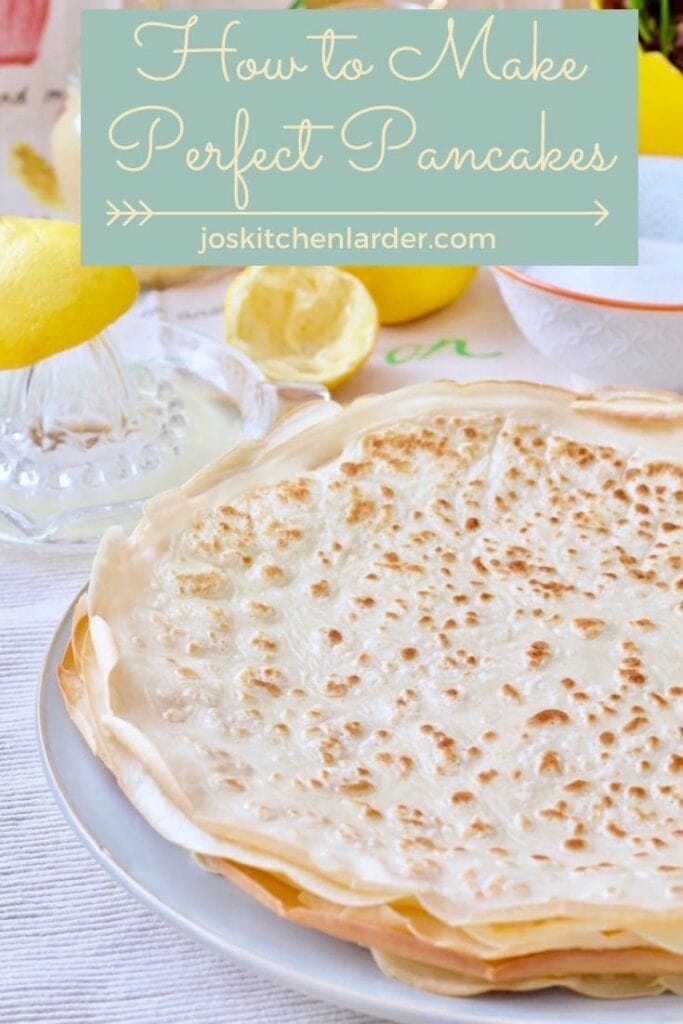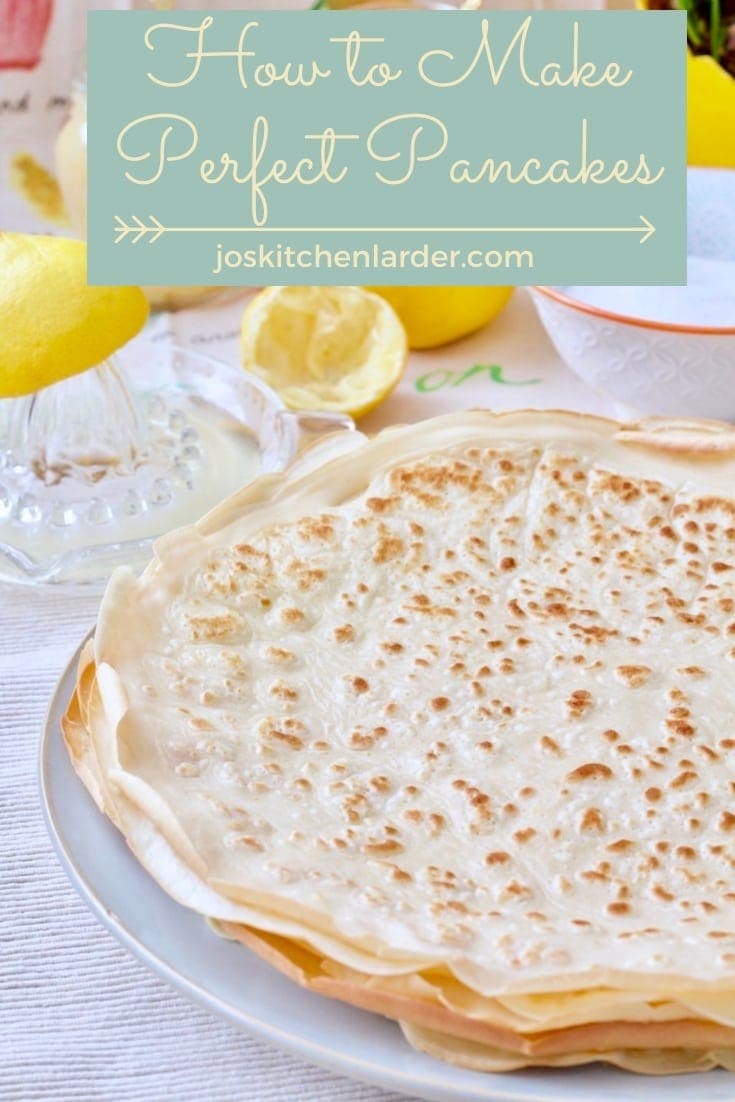 Linkies:
Cook Blog Share with Everyday Healthy Recipes and Easy Peasy Foodie, Cook Once Eat Twice
*This post contains affiliate links, which means that if you click on a link and go on to buy the product I recommend, I will get a small commission, but you will not be charged a penny more. I only recommend products I own or really like and which caught my attention. Thanks in advance for supporting Jo's Kitchen Larder!