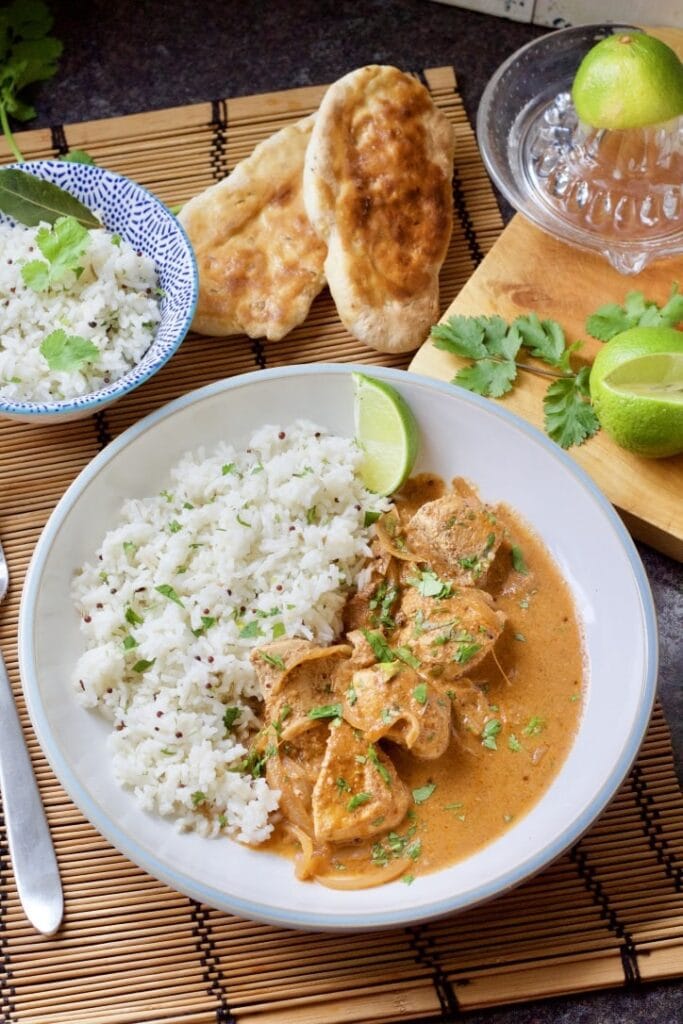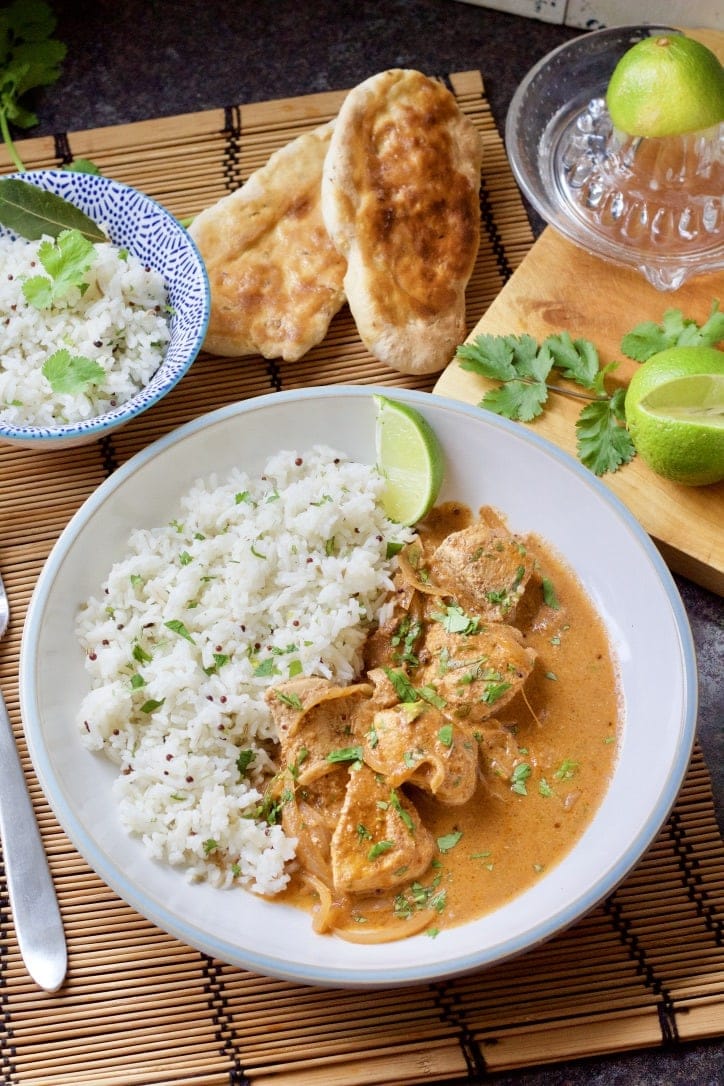 Chicken Tikka Masala, Britain's favourite curry? I don't know about you but I absolutely love Ruby Murray. 😉 Being Polish I was introduced to amazing Indian cuisine some 14 years ago and it was love from the first sight or taste rather!
Chicken Tikka Masala is considered by some a part of British cuisine or, dare I say it,  British national dish even! It was invented to suit Western palates not used to the heat of traditional curries. Well, say no more, I love it no matter what. One thing I really love about it is that it is fairly quick and definitely easy to prepare in the comfort of your own home. I would definitely recommend it if you are on a budget but still fancy some take-away. This curry is your answer.
This recipe was one of the very first ones posted on my blog and I felt it needed to be brought to light with new photos as it's simply too good to go unnoticed.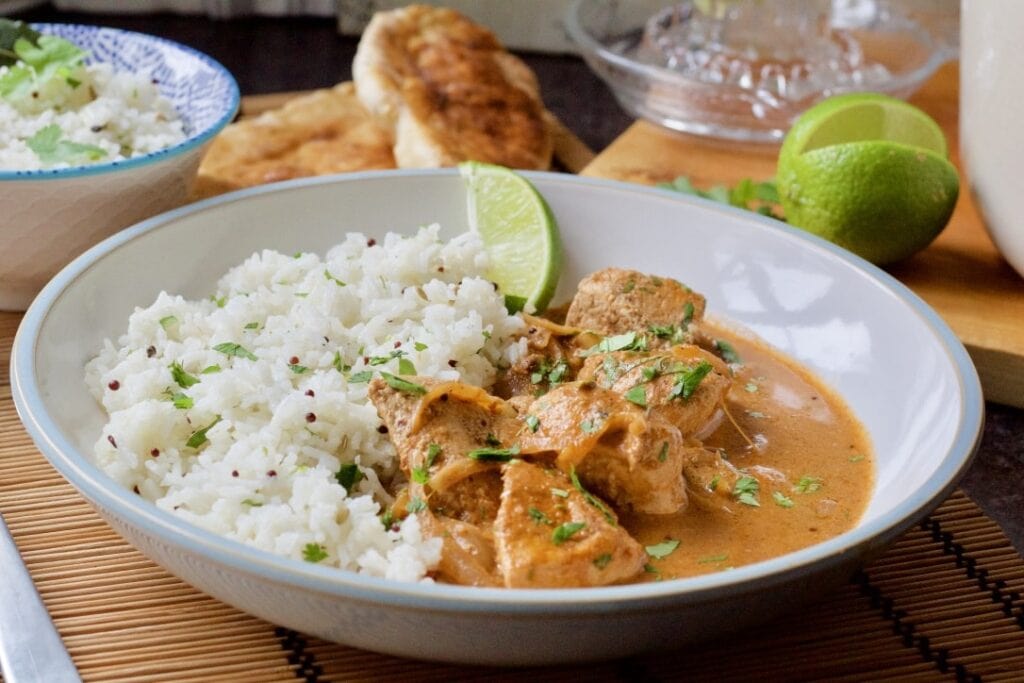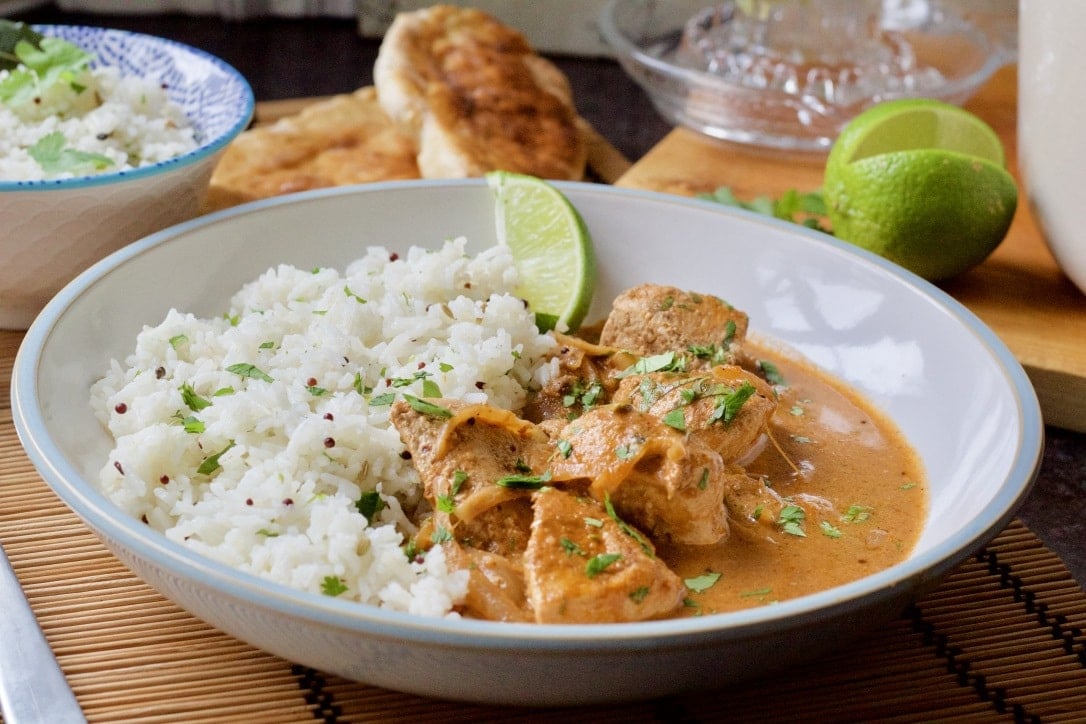 The recipe itself is based on one by Jamie Oliver of whom I'm a bit of a fan. The Chicken Tikka Masala page in his Jamie's Dinners *book looks really tatty, stained and well used. I say that is definitely a compliment for good old Jamie. 😉
Overtime I have adapted the recipe to suit us as a family but overall  haven't changed it much but why would you reinvent the wheel? If something works then simply say "Hallelujah" and get cooking. 😉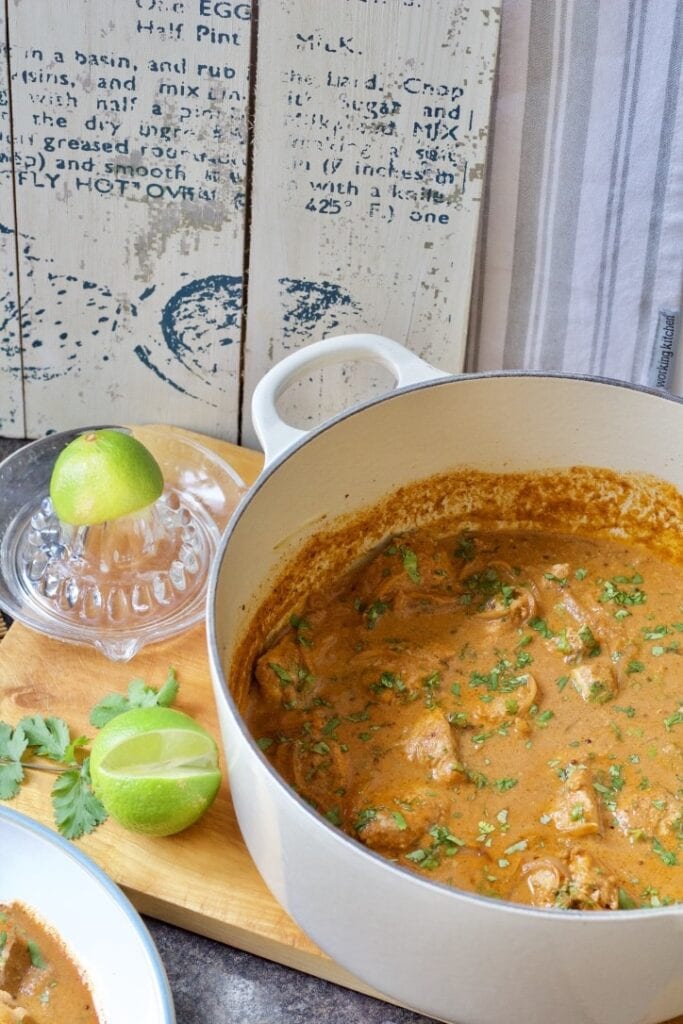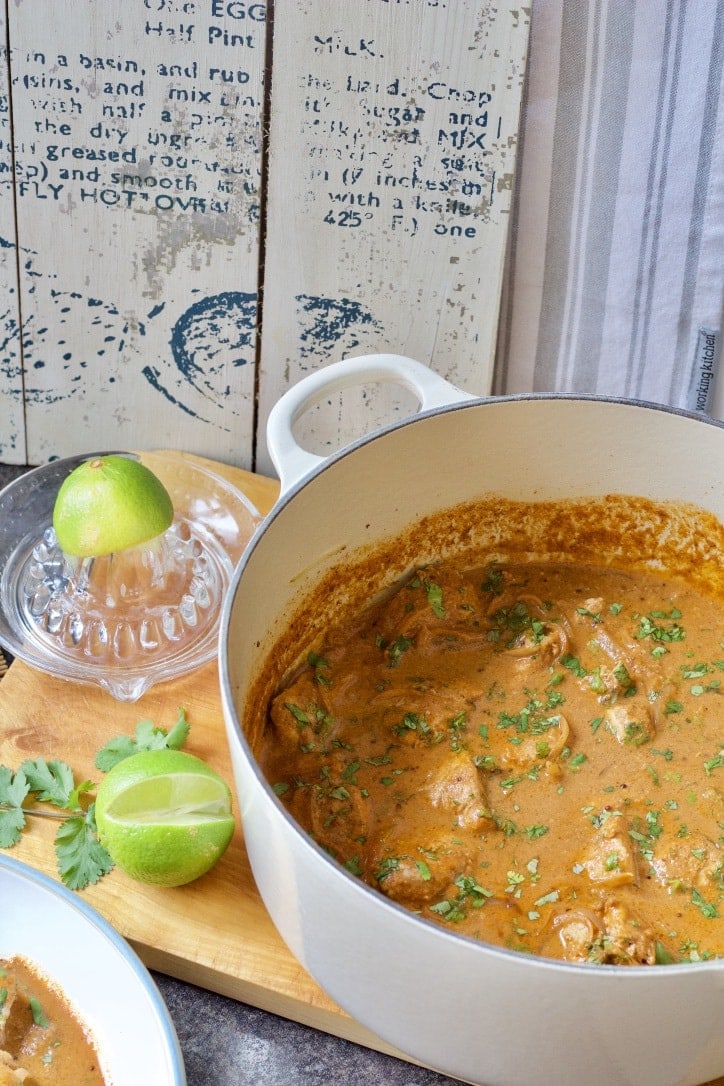 *If you're cooking for family with kids*
If you have been put off cooking curries because your kids don't like spicy food,  feel free to use my method. I prepare the spice mix without any fresh chilli whatsoever. This will give you dish which is still very fragrant, full of flavour and delicious but without the heat. We then simply use good quality chilli oil and drizzle it over our dished up portions. It doesn't spoil the dish but gives us a good kick from the chilli we are after. I use Filippo Berio Chilli Oil* which is readily available and utterly delicious. You could sprinkle some dried chilli flakes instead if you'd rather, decision is yours.
You can of course enjoy this curry with simple basmati rice but you might want to try my recipes for Easy Indian Spiced Basmati Rice or Easy Turmeric Rice which can be prepared in well under half and hour and are utterly delicious. Add to it this Easy Naan Bread Without Yeast or my Easy Flatbread and your feast will be complete. If you are planning on the entire Indian banquet then add my Easy Butter Chicken Curry, Tarka Dhal with Spinach (Vegan) and Easy Cauliflower & Lentil Curry to your spread, both are family friendly and soo good.
In the meantime if you love cooking dishes from different parts of the world why not try my Roast Chicken Leftovers & Black Bean Enchiladas or One Pot Smoked Sausage Jambalaya? Admittedly, these couldn't be further away from Indian curry lol but will give you a taste of other world cuisines for sure.
📋 Recipe
Jamie Oliver's Inspired Chicken Tikka Masala
Chicken Tikka Masala, Britain's favourite curry? Try my take on Jamie Oliver's Chicken Tikka Masala and how easy it is to make your own. You'll love it!
Servings
4
large servings
Ingredients
Spice Mix
6

cloves

of garlic

finely grated

1

thumb size piece of fresh ginger

peeled & finely grated

1-2

fresh red chillies

deseeded and finely chopped (see notes below)

1

tablespoon

of mustard seeds

black or brown are fine

2

heaped tsp

ground cumin

2

heaped tsp

ground coriander

1

tablespoon

sweet paprika

optional

2

tablespoon

garam masala
Curry
3-4

chicken breasts 500-600g cut into large chunks

200

g

natural yoghurt

1

tablespoon

garam masala

1-2

tablespoon

ghee (clarified butter) or unsalted butter

2

medium onions

peeled and thinly sliced in half moons

2

heaped Tbsp

tomato puree

20

g

ground almonds

½

teaspoon

sea salt

500

ml

boiling water

2

heaped Tbsp

creme fraiche or good glug of double cream

Juice of 1 lime + more to serve

small bunch of fresh coriander chopped
Instructions
Start off by toasting your mustard seeds in a pan with a glug of oil. Once they start to pop remove them from the pan onto the food processor or pestle and mortar and add all the other ingredients for the spice mix. Mix thoroughly. If you do not have food processor or pestle and mortar you can prepare the spice blend in a bowl by mixing all the spices and adding finely chopped chillies (if using) and garlic and ginger (grated on fine grater).

Once your mix is ready, put half of it aside and mix another half with yoghurt. This is your marinade. Mix it with chicken chunks and set aside for minimum half an hour but the longer the better.

Melt the butter in a large saucepan, add sliced onions and the remaining half of the spice mix then fry gently for good 10-15 minutes until onions start getting soft.

Add tomato puree, ground almonds, remaining garam masala, 500 ml of boiling water and 0.5 teaspoon of sea salt. Stir well and let it simmer until it visibly reduces and thickens (approx. 5 min), set aside.

Now it's time to cook your chicken. I have tried cooking it on the griddle pan, under the grill and simply browning it in the frying pan which is my personal favourite as it's the quickest way and gives me the most control. Cook your chicken until nicely browned all over and cooked through. Remember not to overcrowd the pan so that it sears instead of stewing. You will have to do it in small batches.

As soon as chicken is cooked, warm up the sauce, add creme fraiche/double cream and stir well. Once it boils, take it off the heat, add your cooked chicken, lime juice and freshly chopped coriander. Adjust seasoning if necessary.

Serve with basmati rice, naan bread, some extra lime and sprinkle of coriander.

Enjoy!
Notes
Calories are approximate, per 1 serving of curry without accompaniments and should be treated as a guideline only.
If you want this dish to be kids friendly, you might want to omit fresh chilli altogether when preparing spice mix and use chilli oil to drizzle over your dished up portion instead. Alternatively, sprinkle over some dried chilli flakes. It works a treat and keeps everybody happy.
Nutrition
Nutrition Facts
Jamie Oliver's Inspired Chicken Tikka Masala
Amount Per Serving (0 g)
Calories 346
Calories from Fat 117
% Daily Value*
Fat 13g20%
Cholesterol 123mg41%
Sodium 542mg23%
Potassium 899mg26%
Carbohydrates 14g5%
Protein 41g82%
Vitamin A 1160IU23%
Vitamin C 23.9mg29%
Calcium 117mg12%
Iron 2.1mg12%
* Percent Daily Values are based on a 2000 calorie diet.
MAKE SURE YOU STAY UP TO DATE WITH ALL THE LATEST RECIPES FROM JO'S KITCHEN LARDER
Have you tried my Jamie Oliver's Inspired Chicken Tikka Masala? Leave a comment at the bottom of this post, I love reading them! You can also come and say hello over on my Facebook page, Twitter or  Instagram
Pin Jamie Oliver's Inspired Chicken Tikka Masala For Later!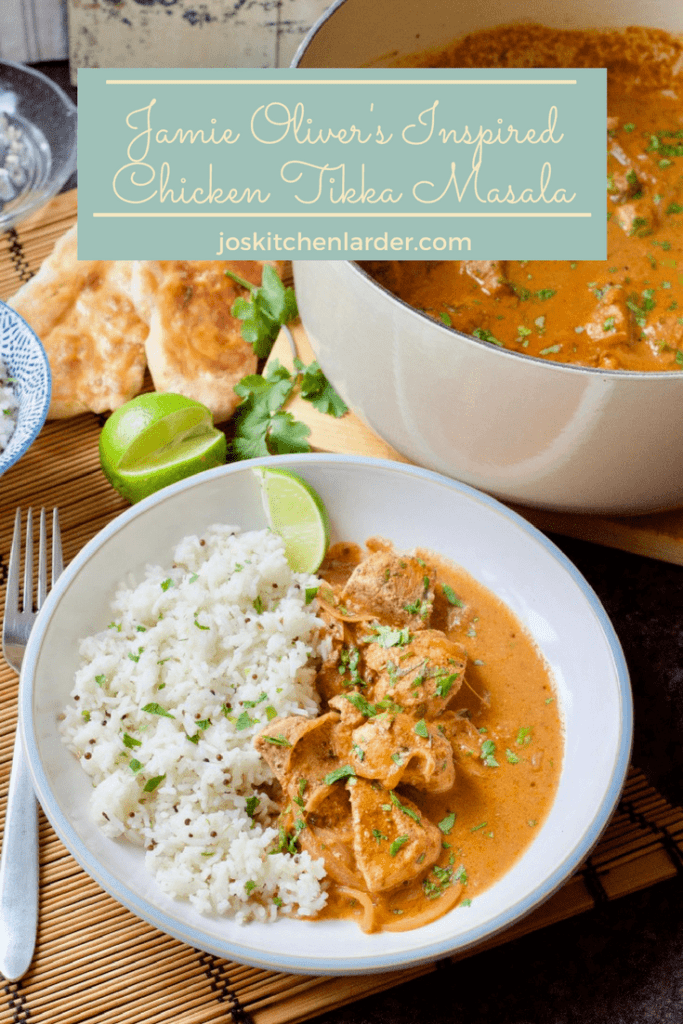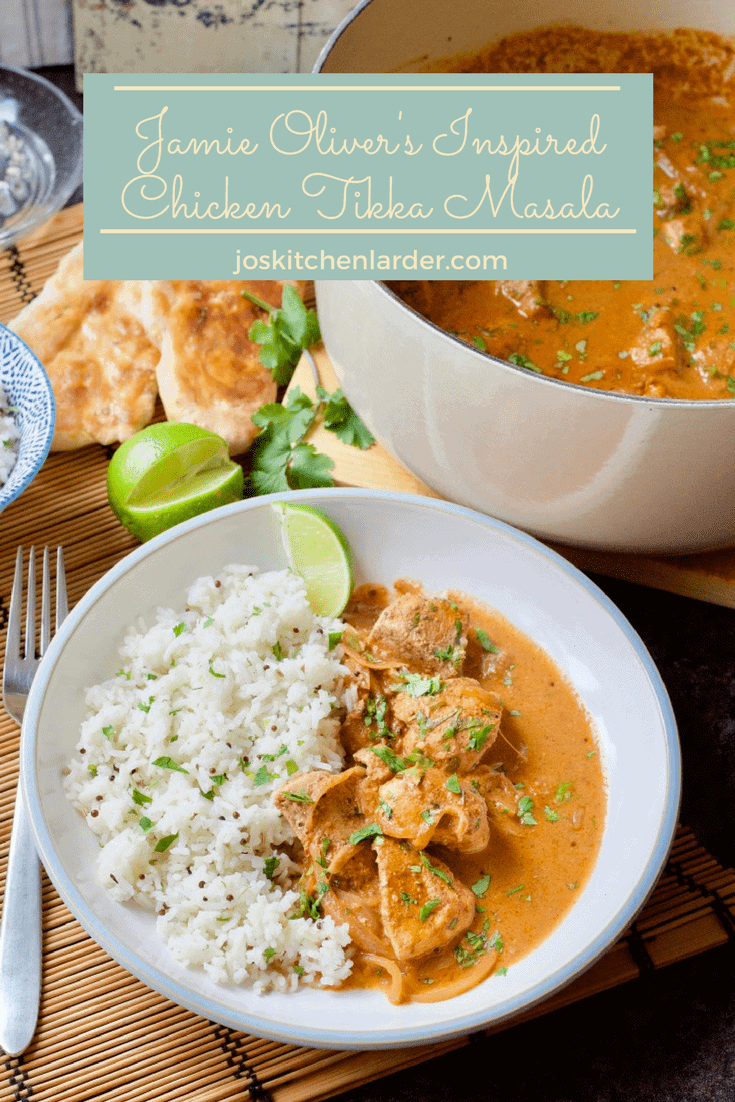 I'm linking my Jamie Oliver's Inspired Chicken Tikka Masala with the following pages:
Cook Blog Share hosted by Monika at Everyday Healthy Recipes and Jacqui at Recipes Made Easy
*This post contains 
affiliate links
, which means that if you click on a link and go on to buy the product I recommend, I will get a small commission, but you will not be charged a penny more. I only recommend products I own or really like and which caught my attention. Thanks in advance for supporting Jo's Kitchen Larder!