This Rhubarb & Ginger Cooler is a refreshing soft drink perfect for keeping you hydrated on those hot Summer days. Serve well chilled with mint & lemon!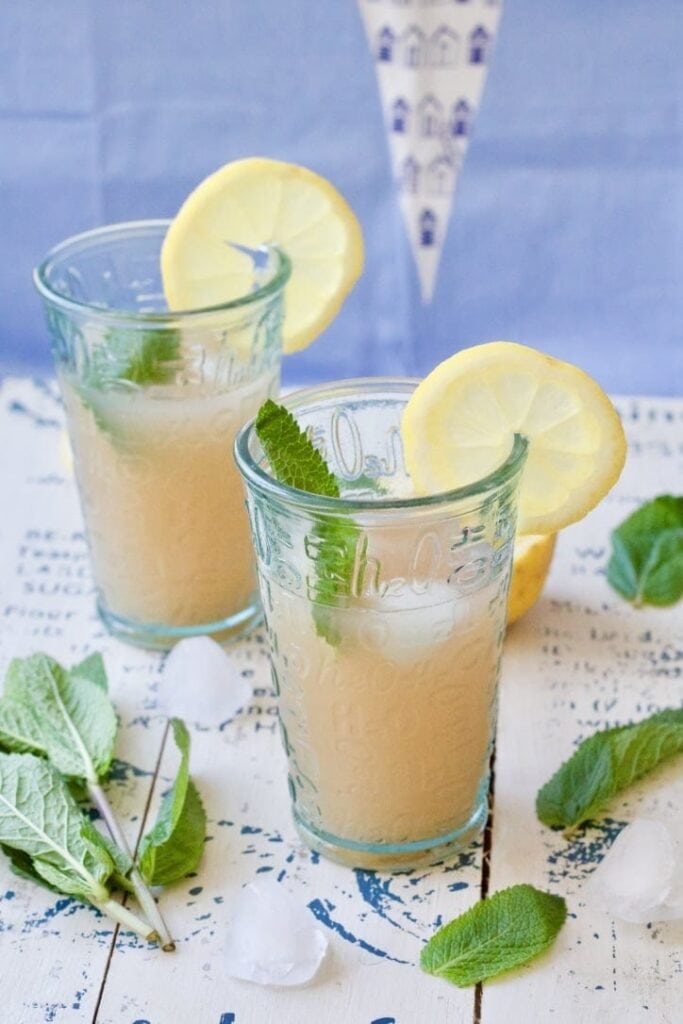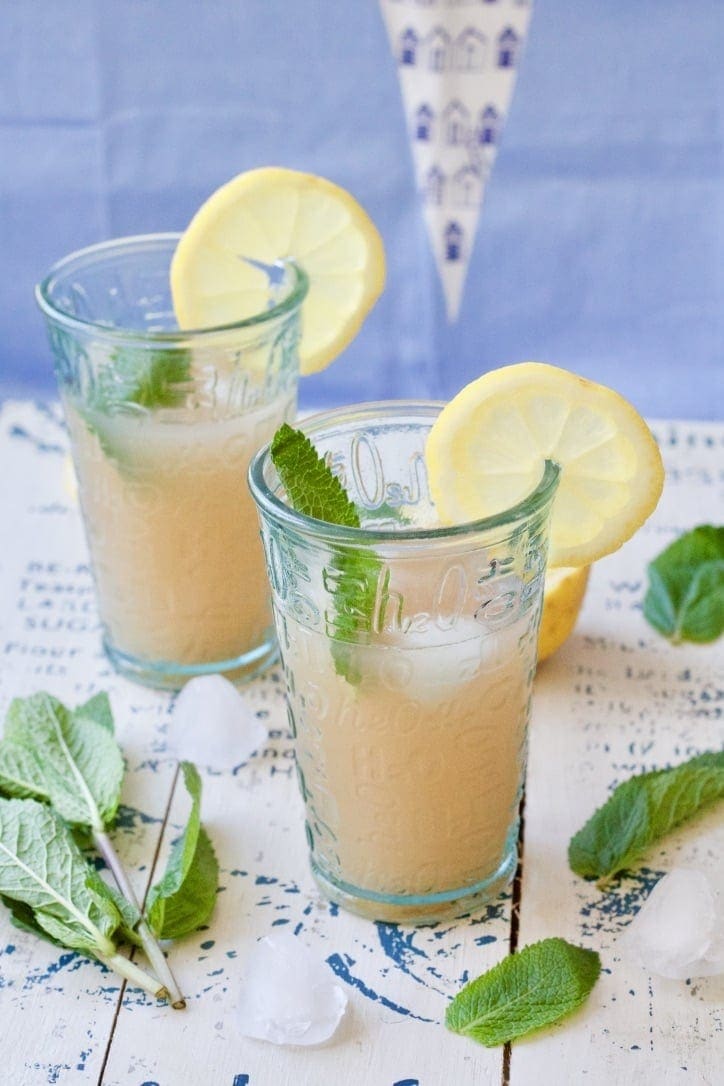 Rhubarb & Ginger Cooler – refreshing Summer drink!
Let me introduce you to one of my childhood drinks – Rhubarb & Ginger Cooler! It is a fantastically refreshing soft drink for when weather is glorious and proper hydration becomes priority. It's quick, uncomplicated and makes a nice change from water.
If you like rhubarb you will definitely like this delicious cooler. Tartness and tanginess of rhubarb is counteracted by sugar & vanilla. Gentle hit of ginger adds to its refreshing qualities with its subtle spice really nicely. Yes, this cooler contains sugar but it is definitely required here to cut through the tartness of the rhubarb and as far as soft drinks go this one does not include anything artificial that we'd rather not subject our bodies to. This is the sort of drink I grew up drinking in Poland although funny enough never the rhubarb one.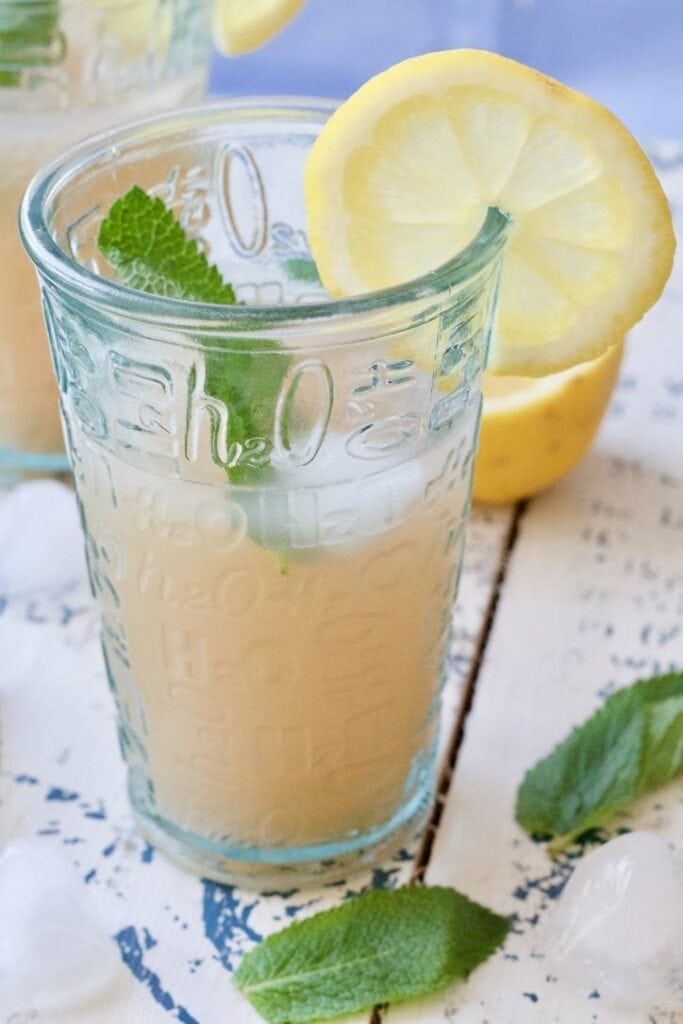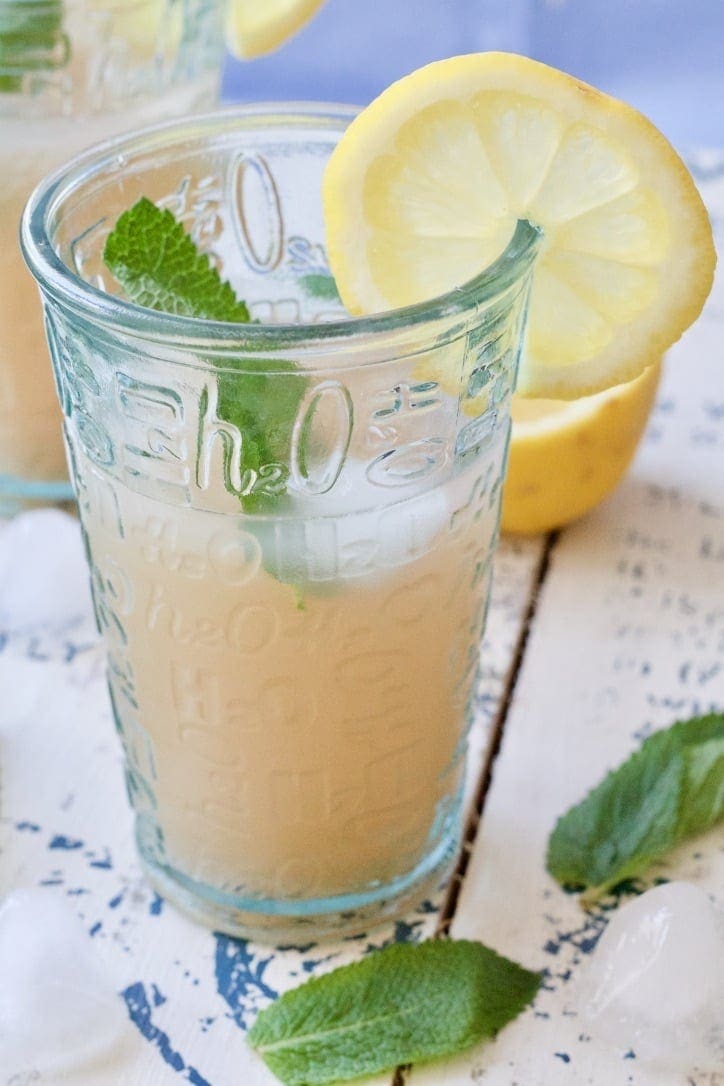 Little bit of background!
I'm a recent rhubarb convert and I must admit I really enjoy it now. Better late than never! Polish equivalent of this drink is known as "kompot" and has nothing to do with what you would know as compote (stewed fruit). It is basically a non-alcoholic beverage prepared by cooking fruit of your choice in a large amount of water with sugar to taste. My favourite one as a child was Strawberry Kompot which both my grandma and my mum used to preserve large quantities of to enjoy throughout the year. Refreshing served really cold in the Summer and beautifully warming when served warm in Winter – perfect concoction if you ask me.
Few tips!
This drink is relatively quick to make although it does require quite substantial chilling time (I would say 2 hours would be absolute minimum) as it really is most refreshing when properly chilled. It might not be as quick as opening a can of fizzy pop but it's definitely healthier and (if I dare to add) tastier. You don't necessarily need to caramelise sugar before adding the fruit but I went for this method just to add a little bit of extra caramel like flavour to this cooler. If you'd like to skip that step simply put all ingredients in the pan and put on a low to medium heat and bring slowly to a slow boil stirring couple of times to help sugar dissolve. Simmer covered for approx. 20-25 minutes and proceed as per recipe below.
Mint and lemon are highly recommended and not only as garnishes as they really round the whole drink off nicely.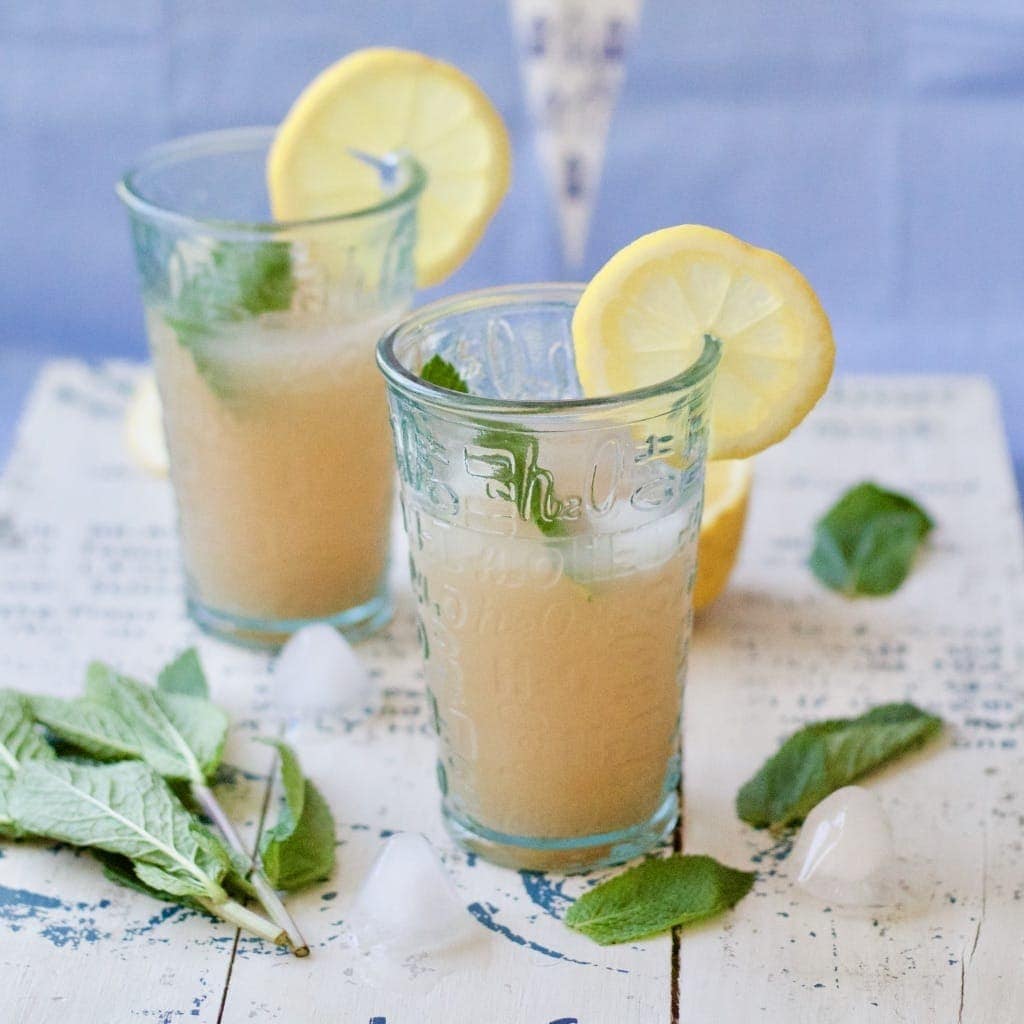 How to make Rhubarb & Ginger Cooler – Step-By-Step
1. Clean the rhubarb and cut it roughly into 2cm long pieces.
2. Put sugar(s) in a large, dry pan and distribute it evenly. Put the pan on a low heat and let the sugar melt but watch it carefully and don't let it burn as things do happen quickly.
3. Add chunks of rhubarb and grated ginger and fry them for couple of min together with caramelised sugar which will now form little hard clusters which is to be expected. Pour in the water and give it a mix. You might need to scrape hard cluster of caramelised sugar off your spoon. Cover the pan and let it come to gentle boil (it will take roughly 20-25 min). Give it a stir now and again to prompt those sugar clusters to melt. They should be completely dissolved by the end of cooking. Taste and adjust the amount of sugar as required.
4. Strain your cooler through the sieve (you can keep rhubarb pulp if you want to top your yoghurt or overnight oats with it) and chill really well. It is the best when really cold.
5. Serve chilled with ice cubes, lemon and mint leaves for natural and refreshing summery drink!
Update Notes: This post was originally published on 10 May 2018 and updated in May 2019 with some useful info and updated recipe card.
SOME MORE RECIPES YOU MIGHT ENJOY
Blood Orange & Ginger Smoothie
Easy Rhubarb Crumble (Rhubarb Crisp)
Easy Rhubarb Tart Recipe (Vegan)
Stewed Rhubarb (Rhubarb Compote)
MAKE SURE YOU STAY UP TO DATE WITH ALL THE LATEST RECIPES FROM JO'S KITCHEN LARDER
Have you tried my Rhubarb & Ginger Cooler? Leave a comment at the bottom of this post, I love reading them!
You can also come and say hello over on my Facebook page, Twitter, Instagram or Pinterest
Pin Rhubarb & Ginger Cooler For Later!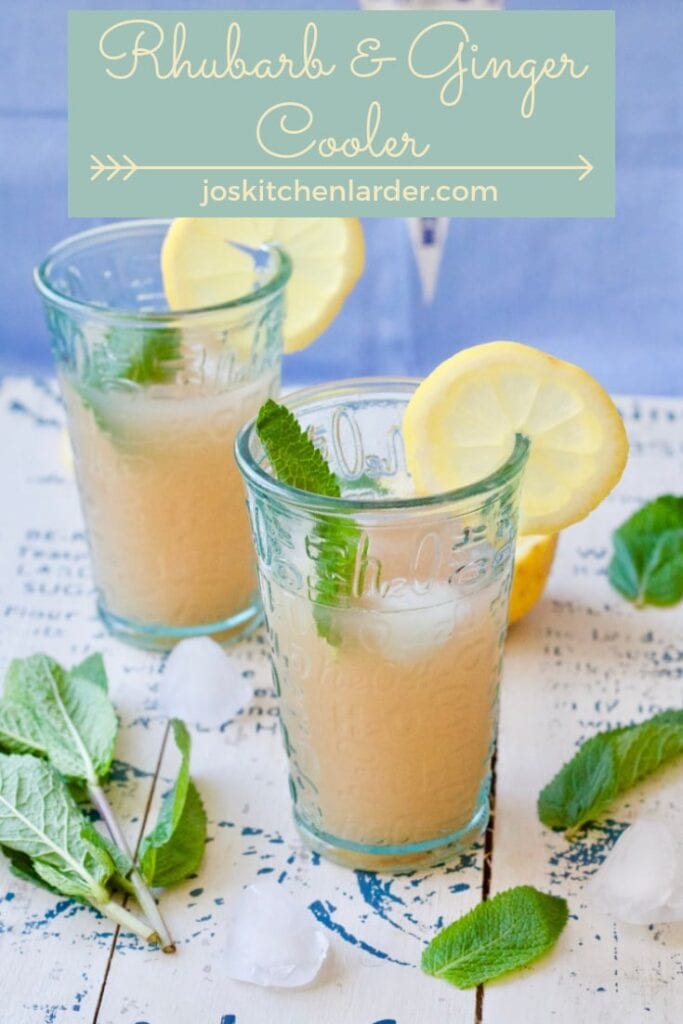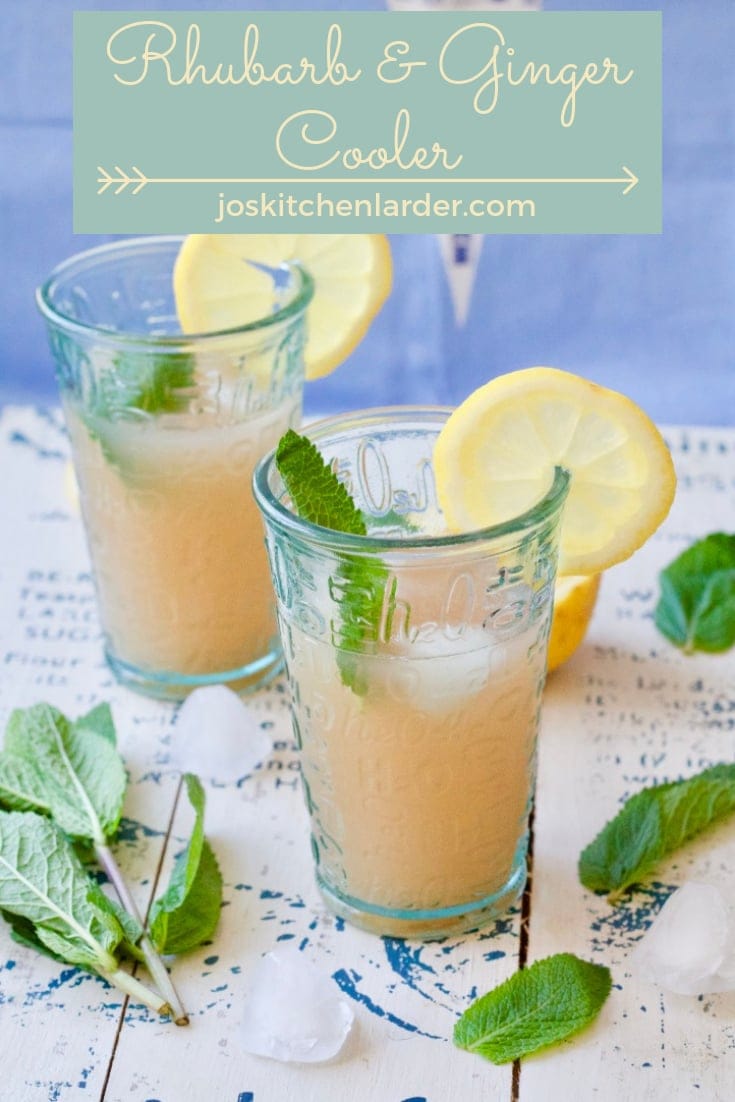 LINKIES
Cook Blog Share hosted Hijacked By Twins and Recipes Made Easy, Cook Once Eat Twice, Brilliant Blog Posts, Fiesta Friday hosted by Angie and Mollie @The Frugal Hausfrau