Ready in minutes, delicious and nutritious this Blood Orange & Ginger Smoothie makes a good use of seasonal citrus! Enjoy for breakfast or as a quick snack at any time of day!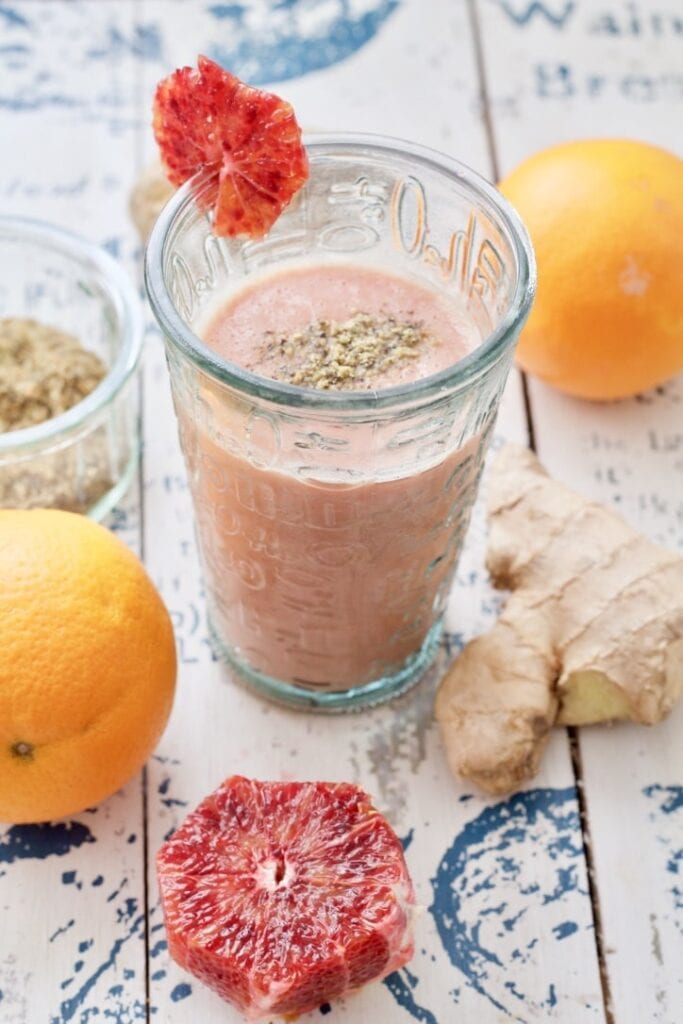 Blood Oranges - my favourite citrus of all time!
My name is Jo and I'm addicted to blood oranges! I've been getting them in my fruit/veg box every week since the beginning of this year and simply can't get enough! They've been consumed by me pretty much daily as per "an apple a day keeps the doctor away" phrase only swapped an apple for blood orange lol. I can't believe I went 39 years without them! Yes, that's right, I have never had one before until this year!  Well, I'm definitely making up for it now. This Blood Orange & Ginger Smoothie is another way to enjoy this lovely fruit if (like me) you've already eaten shedload of them and fancy a bit of a change!
Why is this Blood Orange and Ginger Smoothie so great + few helpful tips!
It really doesn't get any quicker and easier than this smoothie! If you are a proud owner of one of the powerful nutri blenders like Nutribullet than definitely use it here. Unfortunately, I only have a good, old stick blender, which actually worked really well here. It even managed to process all of the ginger to a smooth puree. Result!
If, however, you find your blender cannot handle entire piece of fresh ginger, you can always chop it up slightly first to help it out a bit or simply grate it using fine microplane grater.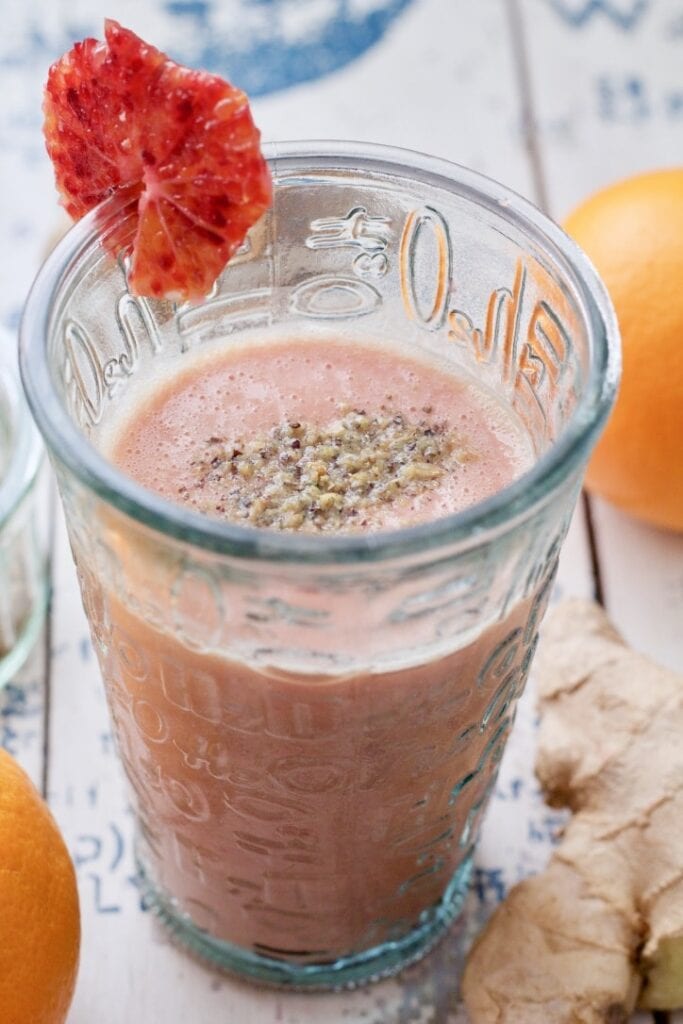 Is Blood Orange and Ginger Smoothie Vegan Friendly?
Absolutely! First of all I've used vegan friendly oat milk here, however feel free to substitute it with any nut milk of your liking instead. Non-vegans can use regular dairy milk or a yogurt for slightly thicker consistency.
I've married blood orange with really ripe banana for some added sweetness and fresh ginger for that bit of heat! I haven't used any additional sweetener as my oranges and banana provided enough sweetness for my liking. Feel free to add a touch of honey or vegan friendly sweetener  if you wish though (agave nectar or maple syrup would work nicely here).
The quantities in this recipe serve one but are easily doubled.  I've also added a spoonful of super seed mix for a bit of extra fibre and because I like it.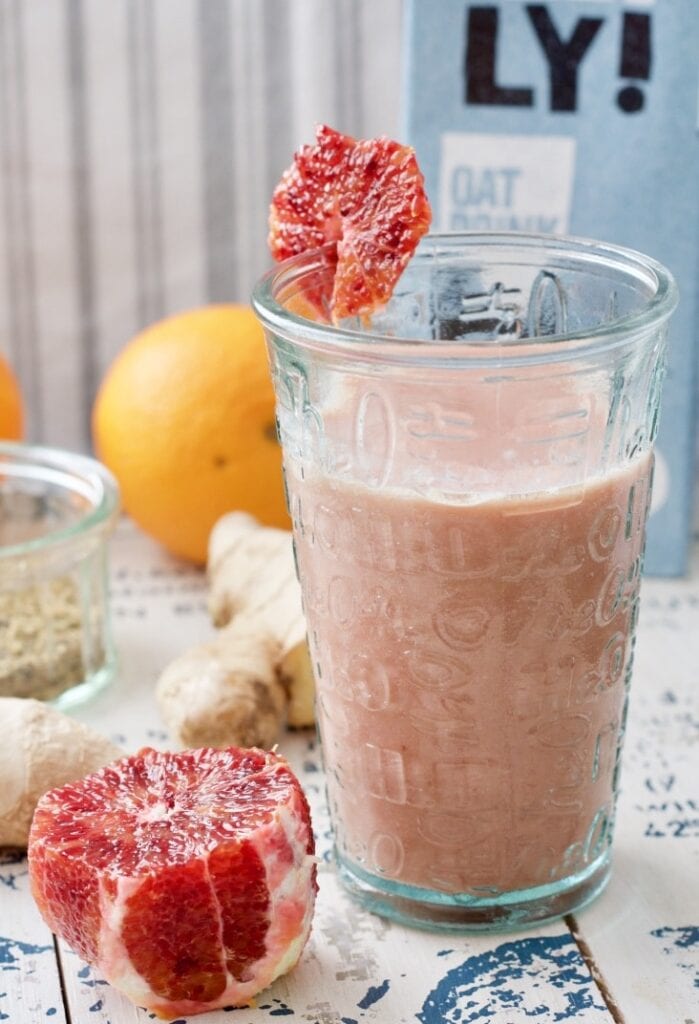 Make sure that you peel your blood orange in a way to completely get rid of bitter, white pith! All you want to put in your smoothie is the gorgeous red flesh itself.  If you are not sure how to peel your orange properly and easily, take a look at this super easy step-by-step tutorial I've posted with my Easy Blood Orange Upside-Down Cake.
📋 Recipe
Blood Orange & Ginger Smoothie
Ready in minutes, delicious and nutritious this Blood Orange & Ginger Smoothie makes a good use of seasonal citrus! Enjoy for breakfast or as a quick snack at any time of day!
Ingredients
1

blood orange

peeled

½

a ripe banana

½

thumb size piece of fresh ginger

peeled

100

ml

oat milk

or any milk of your choice

Honey to taste (or vegan substitute)

optional

Super Seeds mix

optional
Instructions
Peel the orange making sure you get rid of all the white pith.

Put prepared orange in a blender together with half a banana, peeled ginger and oat milk.

Blend together until nice and smooth.

Taste and add some honey if required.

Enjoy immediately as is or with a sprinkle of some ground super seeds for extra nutritious boost!
Notes
Nutritional information is approximate and should be treated as a guideline only.
To make it vegan substitute honey with agave nectar, maple syrup or any vegan friendly sweetener of choice.
Nutrition
Nutrition Facts
Blood Orange & Ginger Smoothie
Amount Per Serving (0 g)
Calories 179
Calories from Fat 9
% Daily Value*
Fat 1g2%
Cholesterol 0mg0%
Sodium 48mg2%
Potassium 261mg7%
Carbohydrates 25g8%
Protein 2g4%
Vitamin A 210IU4%
Vitamin C 12mg15%
Calcium 146mg15%
Iron 0.8mg4%
* Percent Daily Values are based on a 2000 calorie diet.
Update Notes: This post was originally published on 1 March 2018 and updated in March 2019 with some more useful info and updated recipe card.
If you are after some more breakfast ideas, why not try my delicious Strawberry Fields Overnight Oats or these super scrummy Breakfast Muffin Frittatas which are ideal if you need brekkie to go! This Beetroot Smoothie  will energise and set you up for the day too! Choices, choices!
Some more blood orange recipes you might enjoy
Easy Blood Orange Upside-Down Cake
Gluten-Free Orange and Almond Cake
Easy Blood Orange Drizzle Cake
And couple of extra ones from my friendly bloggers
Blood Orange & Chocolate Upside Down Cake - by Angela (Only Crumbs Remain)
Blood Orange Posset by lovely Jacqui from Recipes Made Easy
I can vouch for both of these recipes as I've made them myself in the recent weeks and absolutely loved them!
MAKE SURE YOU STAY UP TO DATE WITH ALL THE LATEST RECIPES FROM JO'S KITCHEN LARDER


Have you tried my Blood Orange & Ginger Smoothie?  Leave a comment at the bottom of this post, I love reading them!
You can also come and say hello over on my Facebook page, Twitter ,  Instagram or Pinterest
Pin Blood Orange & Ginger Smoothie For Later!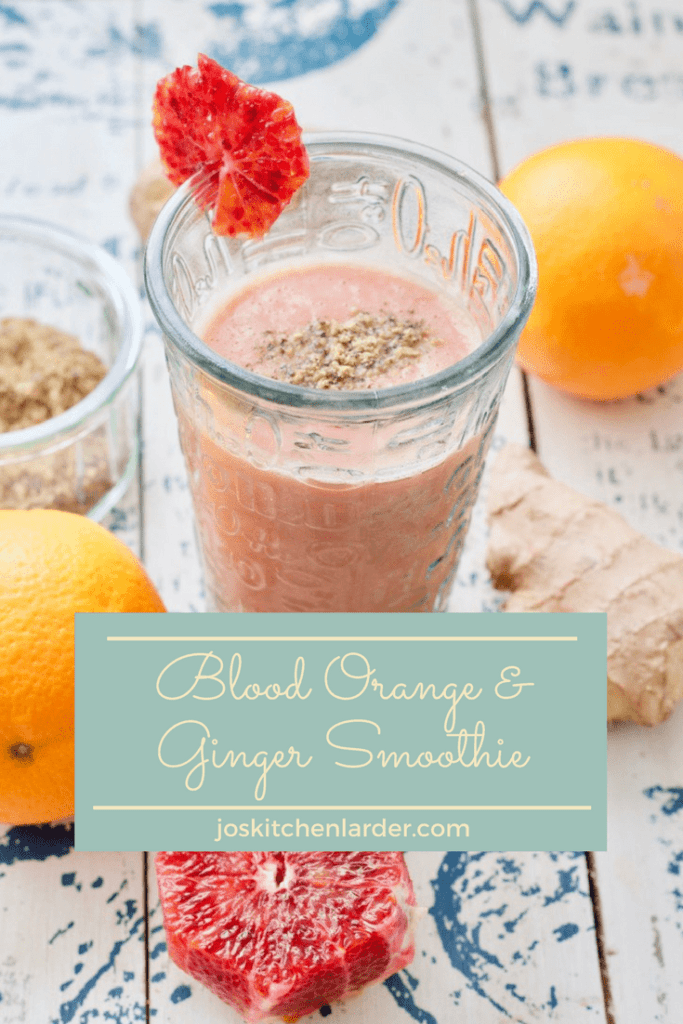 I'm linking my Blood Orange & Ginger Smoothie post with the following pages:
Cook Blog Share hosted this week by Monika at Everyday Healthy Recipes and Eb at Easy Peasy Foodie
*This post contains affiliate links, which means that if you click on a link and go on to buy the product I recommend, I will get a small commission, but you will not be charged a penny more. I only recommend products I own or really like and which caught my attention. Thanks in advance for supporting Jo's Kitchen Larder!