Healthy Beetroot Smoothie packed full of goodness with added apple, celery, banana, dates, ginger & more. Nutritional powerhouse, energising & invigorating liquid breakfast!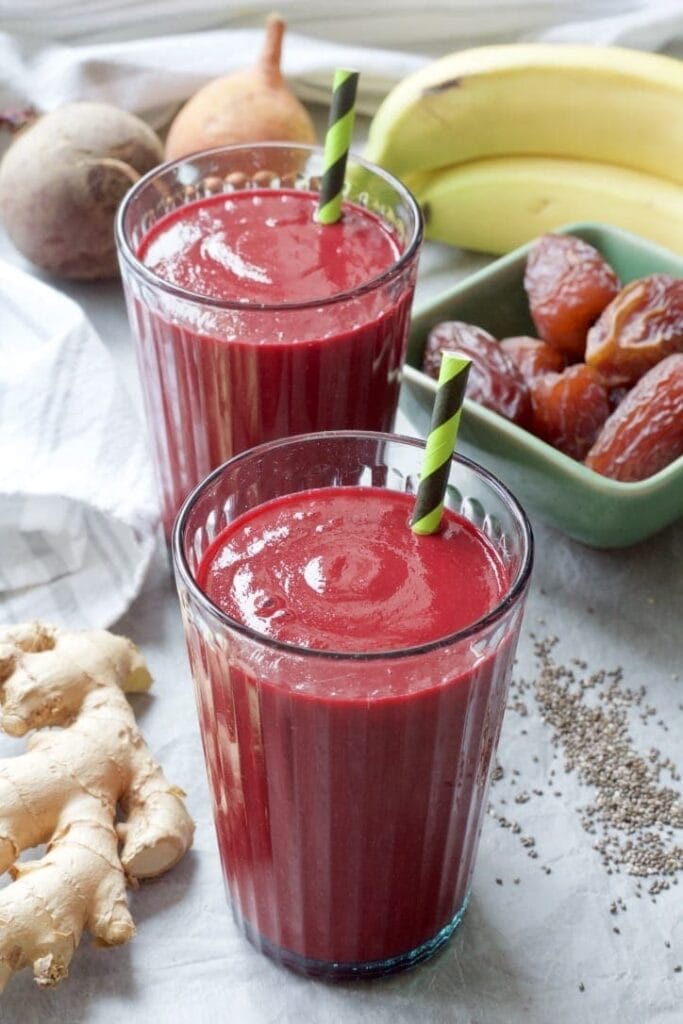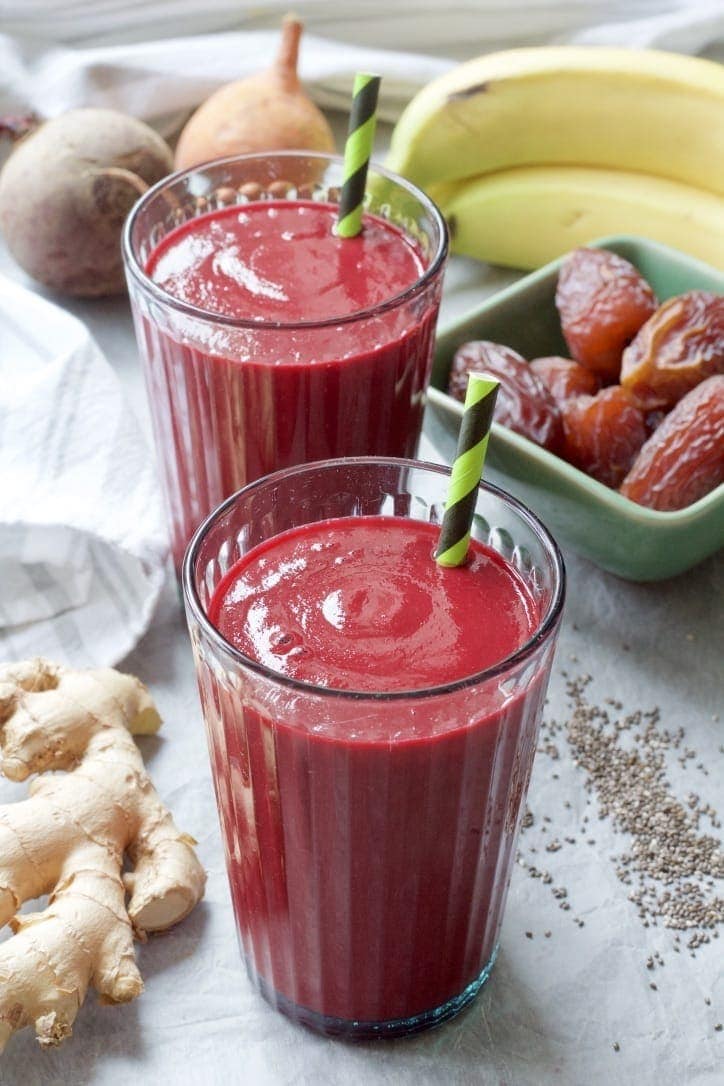 This post contains affiliate links.
Smoothie in winter I hear you say? Well, it's cold and flu season after all and drinking smoothies boosts your immunity the easy way (please note that I am not a nutritionist and don't provide nutritional advice).
The best thing about having this healthy and super simple Beetroot Smoothie for breakfast is that it tastes fantastic and it definitely fills you up. It really works for me not being a huge "proper" breakfast person. On a typical weekday smoothie, porridge or overnight oats are my go to breakfast choices with occasional vegan buckwheat pancakes thrown into the mix although these are usually saved for Sundays.
If you enjoy this smoothie, take a look at my fruity smoothie alternative - Oat Milk Smoothie with Blueberries, Banana & Pear!
Beetroot Smoothie - Ingredients & optional extras
Even though this gorgeous smoothie gets its lovely colour from beetroot, there is a bunch of other yummy ingredients involved.
Beetroot - Use small to medium size beetroot. I went for red one here but there are other varieties available if you're feeling adventurous.
Apple - Any eating apple will do. I kept skin on my apple for extra fibre but cut out the core.
Celery - Feel free to add more than a single stalk. I was after a bit of a boost without too much of celery flavour.
Ginger - My favourite ingredient of all time! I do love gentle heat that it gives this smoothie not even mentioning its health benefits.
Banana - Go for a really ripe one for extra sweetness.
Date - Another sweetener. Use Medjool* dates if you can as they are simply the best.
Chia Seeds - Feel free to substitute with seeds of your choice like flax or linseeds.
Oat Milk - Use any plant based milk of your choice. If you prefer dairy, it's fine too.
Optional Extras - You can always add a handful of kale or spinach for some green goodness or even some beet greens. I find this smoothie sweet enough but if you don't then simply add a bit of honey, maple syrup or any other sweetener you like. For a bit of extra bulk and to make this beet smoothie even more filling you can add handful of oats too.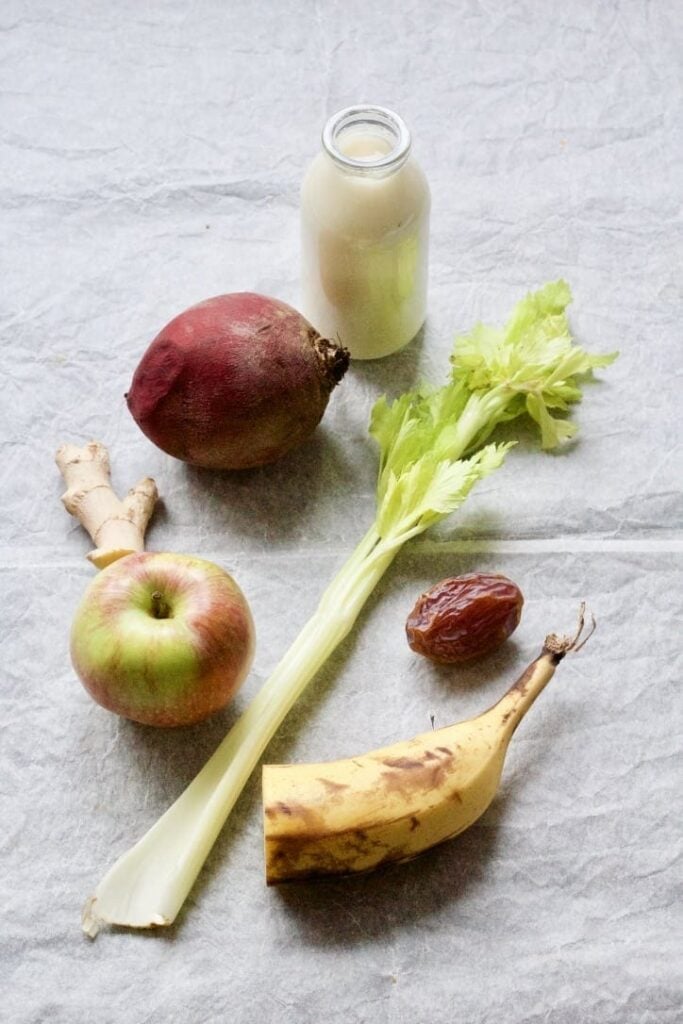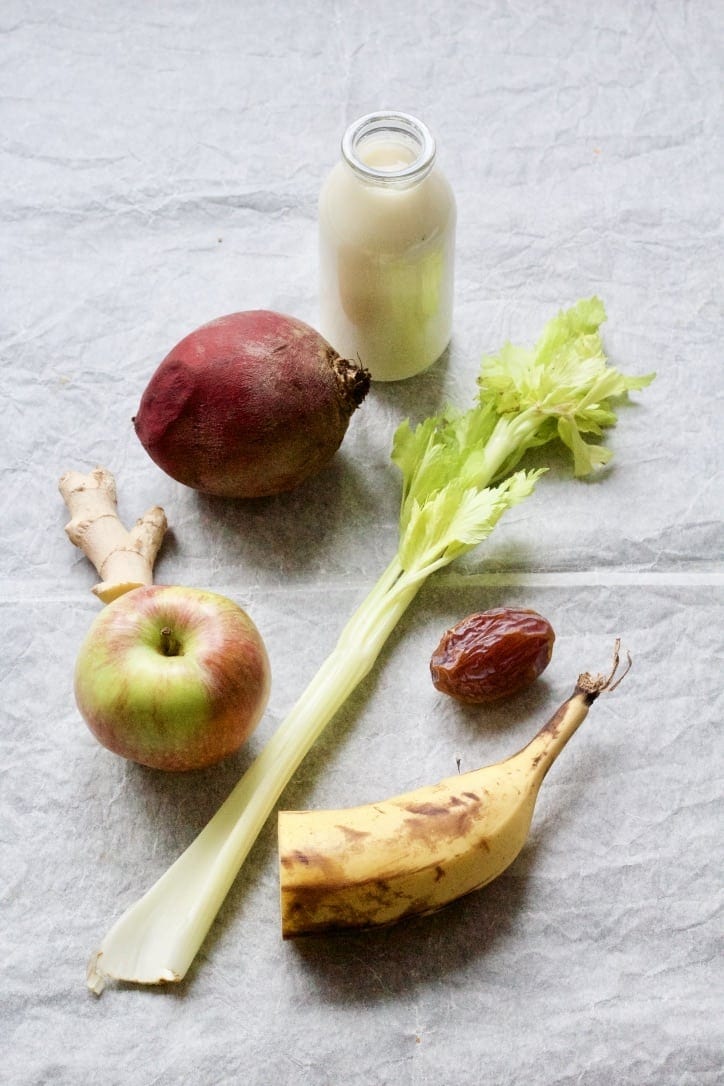 Beetroot Smoothie Health Benefits
Beet is a proper nutritional powerhouse that is rich in fibre which can help improve your digestive health and loaded with vitamins and minerals (Vit C, Iron, Folate, Manganese, Potassium and more). It is also said to lower blood pressure, reduce inflammation and improve athletic performance or simply make you feel invigorated and energised. If you like the taste then including it in your diet is a no brainer. Check out my Ginger Spiced Betroot Soup for warming alternative to smoothie.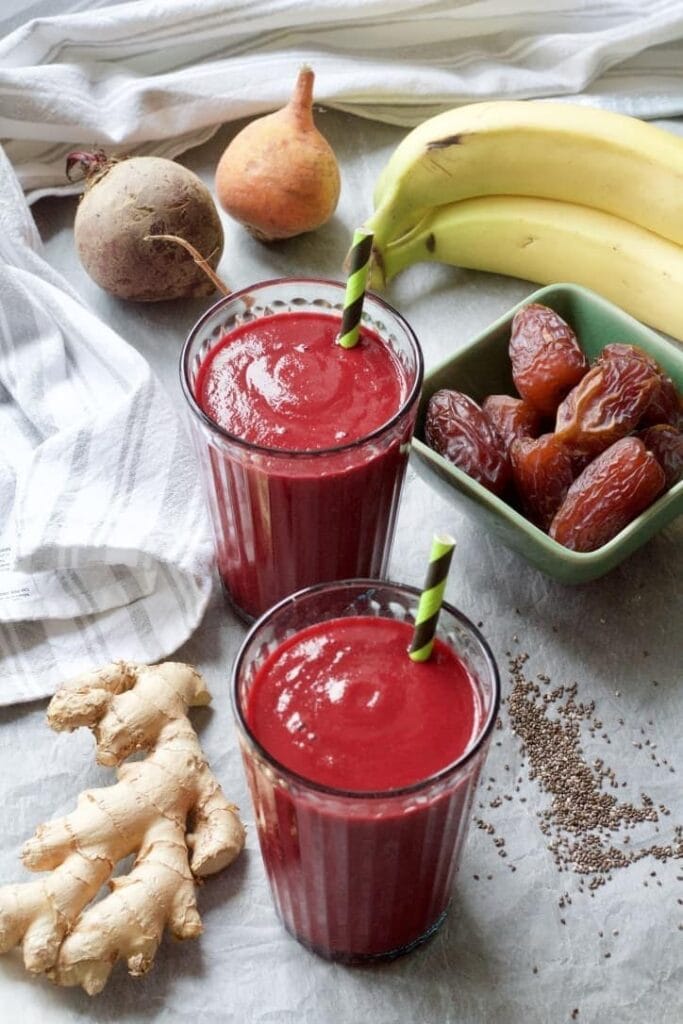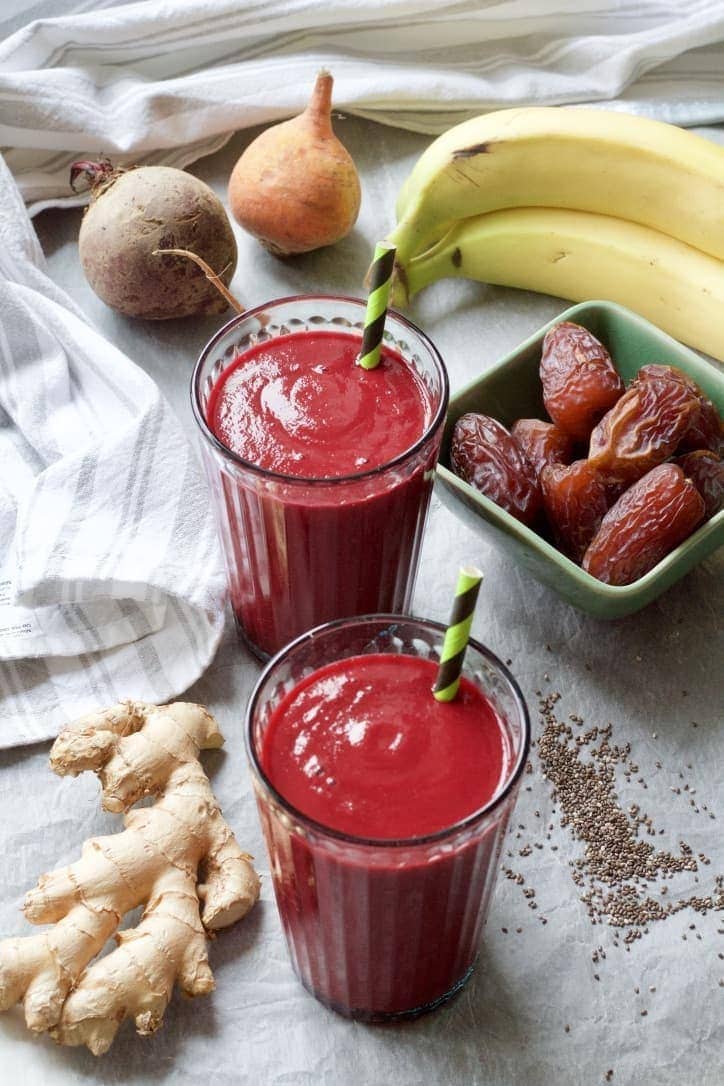 How to make Beetroot Smoothie
Since I've become a proud owner of my super powerful Froothie Evolve blender, smoothie making has been a real doddle. One of the coolest features of this blender is vacuum function which by sucking all the air out of the jug prior to blending helps retain all the nutrients and prevent discolouration and separation. I can now make more than a single smoothie at a time and store leftovers in the fridge without the loss of nutritional goodness. Check out my full review of Froothie Evolve here.
I left the skin on all my produce with the exception of banana of course but it's up to you whether you want to peel or not too peel. If all you've got is a simple stick blender than I would definitely go for peel option as it might not cope very well with the skin.
As with any smoothie you simply pop all the ingredients in your blender or a jug (if using stick blender) and blend until smooth. With Froothie Evolve however, you instruct it to do the work for you by saying "Hey Froothie, make my smoothie". How brilliant is that?
***If you are using less powerful blender or stick blender, make sure you chop your ingredients into smaller chunks to make it easier on your appliance.***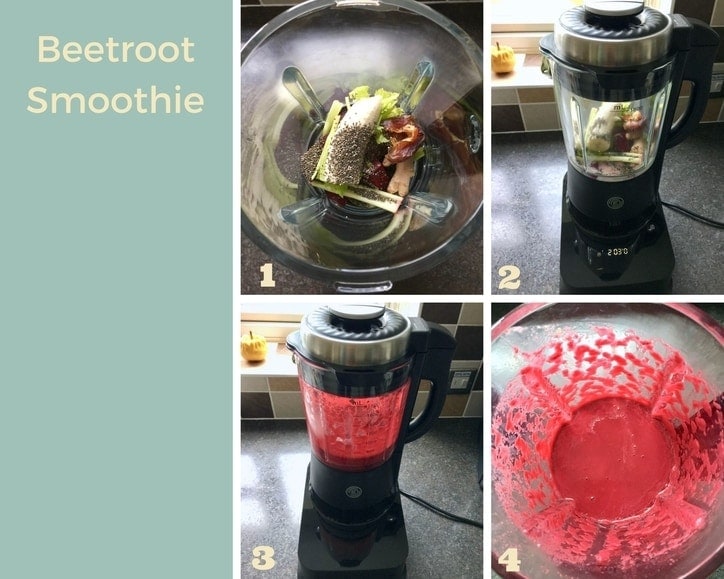 FROOTHIE EVOLVE HIGH SPEED BLENDER – READERS' OFFER
As an ambassador for Froothie I'm super excited to be able to pass on to you this great offer when purchasing Froothie Evolve High Speed Blender.
Make sure you follow one of my Evolve blender links to check out the latest offer on this fantastic machine on Froothie website. To add to this, if you buy this fantastic blender following one of my affiliate links, you will get extra 2 years warranty worth £45 (taking it up from very generous 5 to extremely generous 7 years)!
Froothie Evolve High Speed Blender is a fantastic, new generation smart blender I've been recently putting through its paces to bring you a thorough review you can check out here!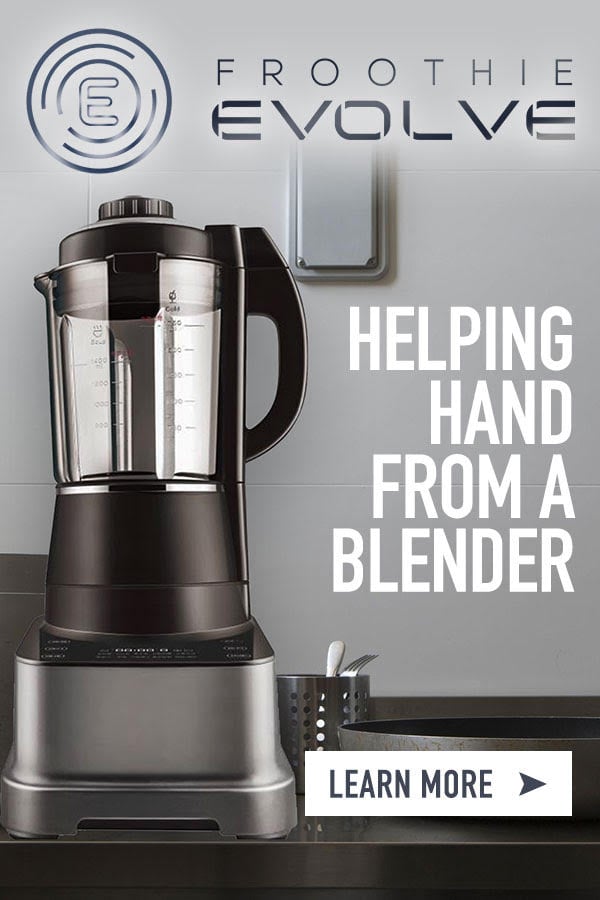 📋 Recipe
Beetroot Smoothie
Healthy Beetroot Smoothie packed full of goodness with added apple, celery, banana, dates, ginger & more. Nutritional powerhouse, energising & invigorating liquid breakfast!
Ingredients
1

small to medium beetroot (beet)

see notes

1

eating apple (skin on)

washed and cored

½

banana

peeled

1

celery stalk

washed and roughly chopped

8

g

piece of fresh ginger

see notes

1

tablespoon

chia seeds

250

ml

oat milk

or any other milk of your choice
Instructions
Prepare all the ingredient by washing as required & cutting them into small chunks (see notes below regarding peeling beetroot and ginger).

Put all the ingredients in the blender or a jug (if using stick blender) and process until smooth.
Notes
Nutritional values are approximate, per serving and should be treated as a guideline only.
If you are using powerful, high speed blender you can leave the skin on both beetroot and ginger. However, if stick blender is all you've got I would advise you to peel them as your blender might struggle to cope. 
Nutrition
Nutrition Facts
Beetroot Smoothie
Amount Per Serving
Calories 192
Calories from Fat 36
% Daily Value*
Fat 4g6%
Sodium 96mg4%
Potassium 423mg12%
Carbohydrates 39g13%
Protein 4g8%
Vitamin A 309IU6%
Vitamin C 9mg11%
Calcium 232mg23%
Iron 2mg11%
* Percent Daily Values are based on a 2000 calorie diet.
Some more delicious beverages you might enjoy
Blood Orange & Ginger Smoothie
Rhubarb & Ginger Cooler with Mint & Lemon
MAKE SURE YOU STAY UP TO DATE WITH ALL THE LATEST RECIPES FROM JO'S KITCHEN LARDER
Have you tried my Beetroot Smoothie? Leave a comment at the bottom of this post, I love reading them!
You can also come and say hello over on my Facebook page, Twitter, Instagram or Pinterest
Pin Beetroot Smoothie For Later!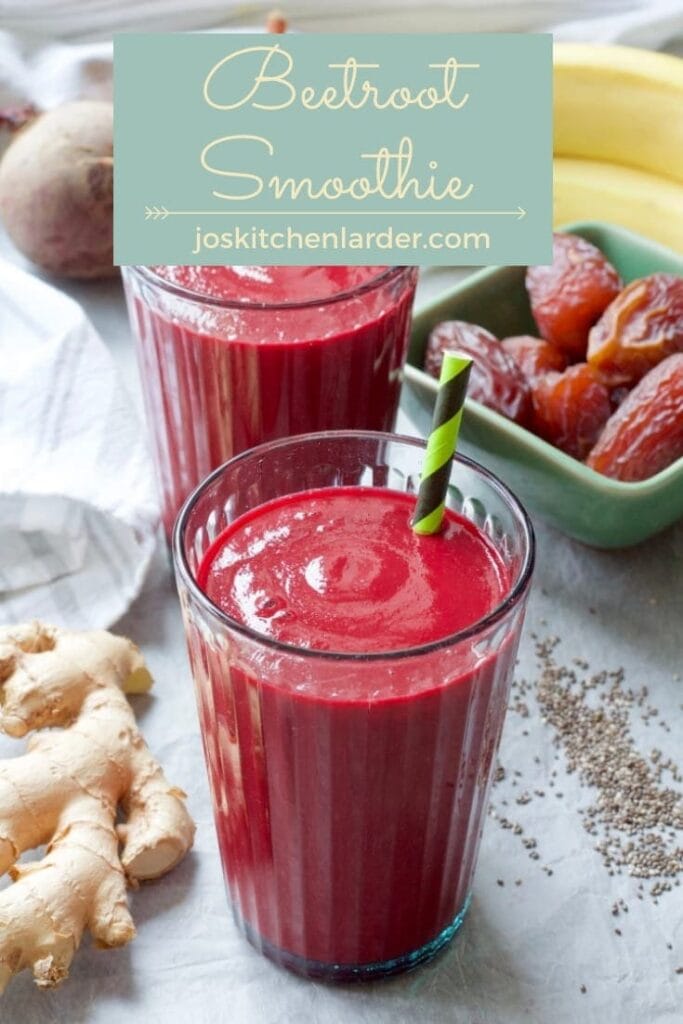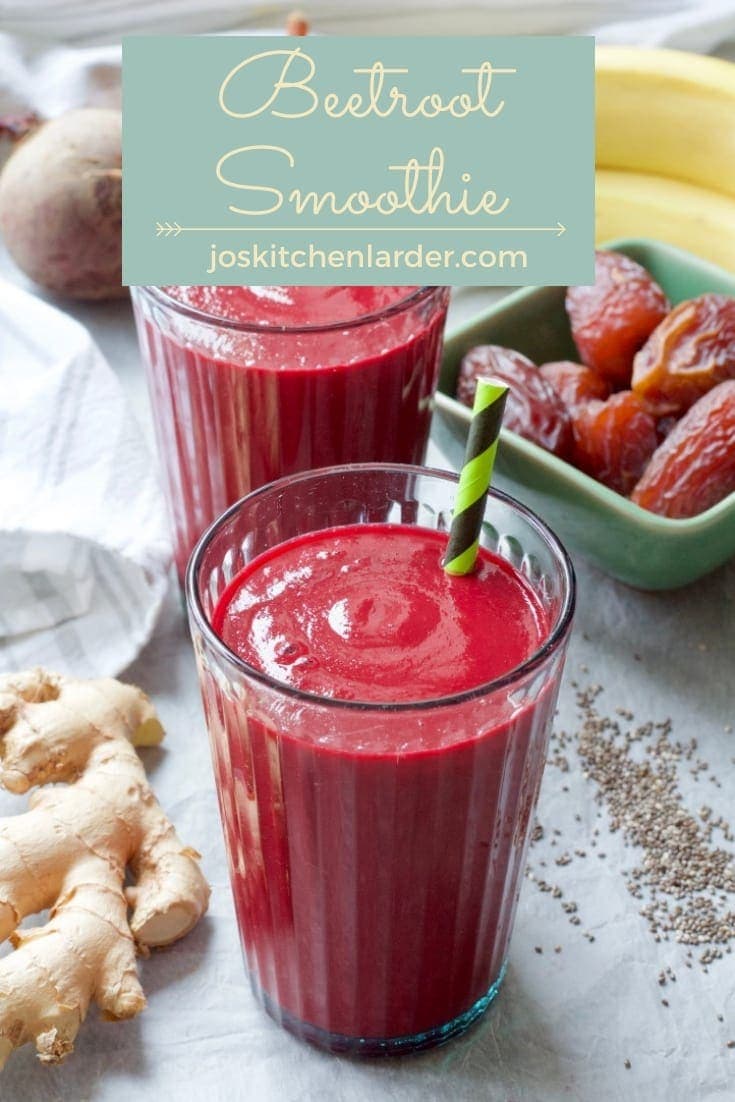 Linkies
*This post contains affiliate links, which means that if you click on a link and go on to buy the product I recommend, I will get a small commission, but you will not be charged a penny more. Please rest assured I only recommend products I own or really like and think my readers will like too. For more information please read my Privacy Policy.