What if your blender could do so much more than just blend? What if it could cook, steam, puree, make nut butters, smoothies and more plus clean itself afterwards? Oh and did I mention voice activation, yes you can tell it what to do without pressing a single button. Check out my Froothie Evolve Review and see for yourself!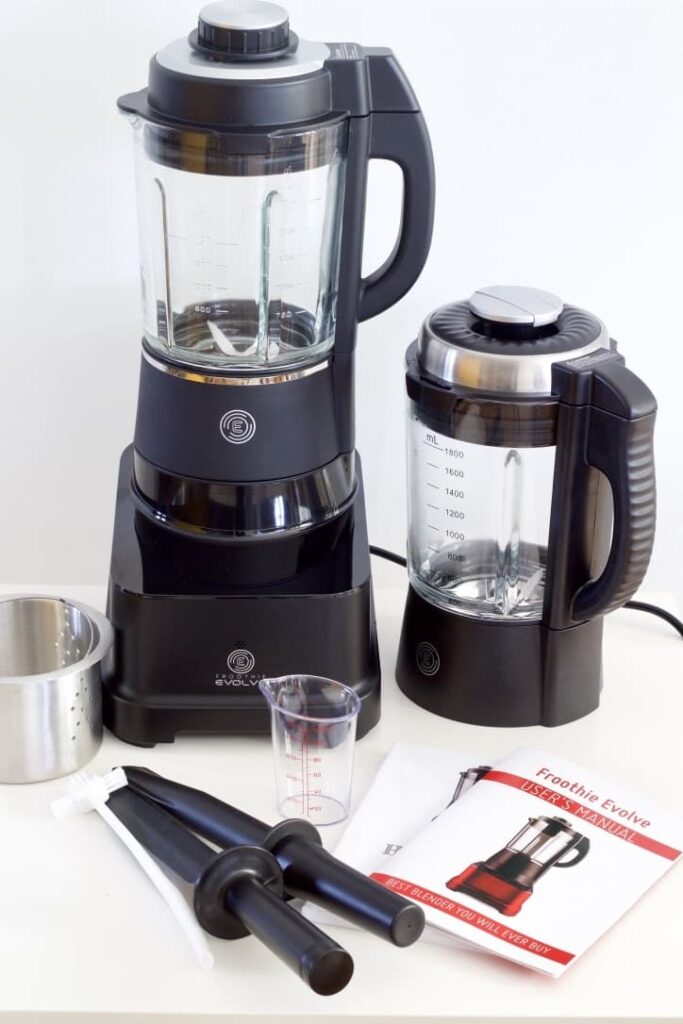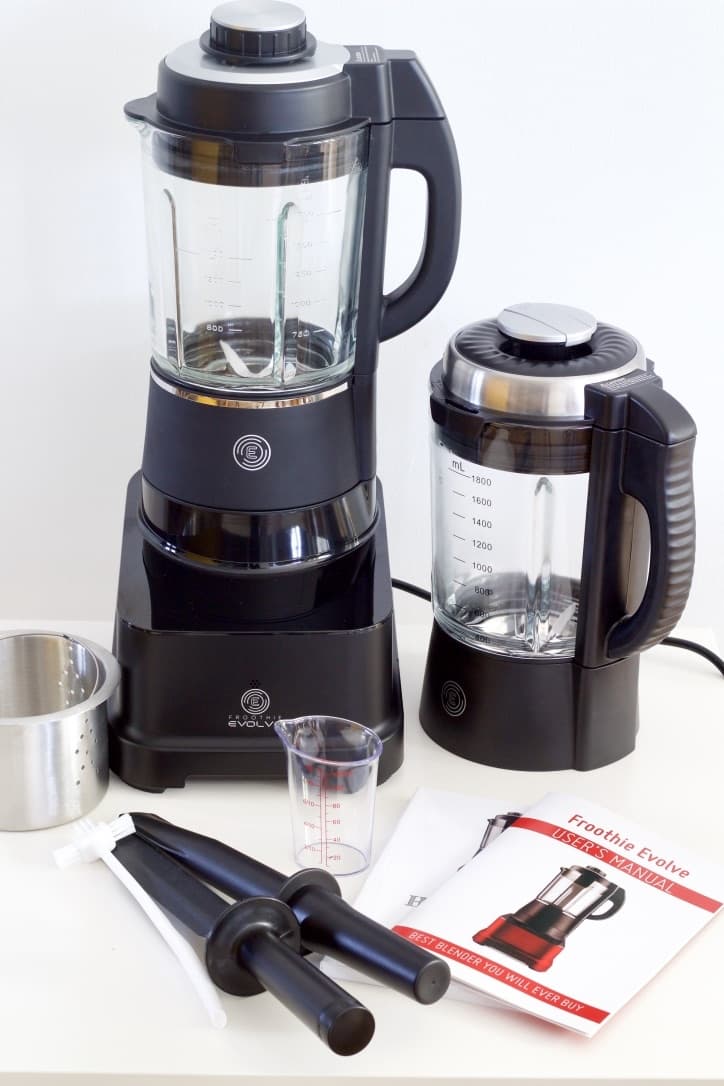 AD – This post contains affiliate links.
When I was first contacted by Froothie UK to become the ambassador for their latest baby high speed blender with steam and cook function - Froothie Evolve I was over the moon. A swanky new gadget to test out in my kitchen? Yes please!
What's so great about Froothie Evolve?
Froothie Evolve is not your standard blender as it is way more powerful (1800W max blending power & 900W heating power) and has a number of other functions too. Take a look at the table below explaining what Froothie Evolves has got on offer and also how it compares to similar high power blenders on the market.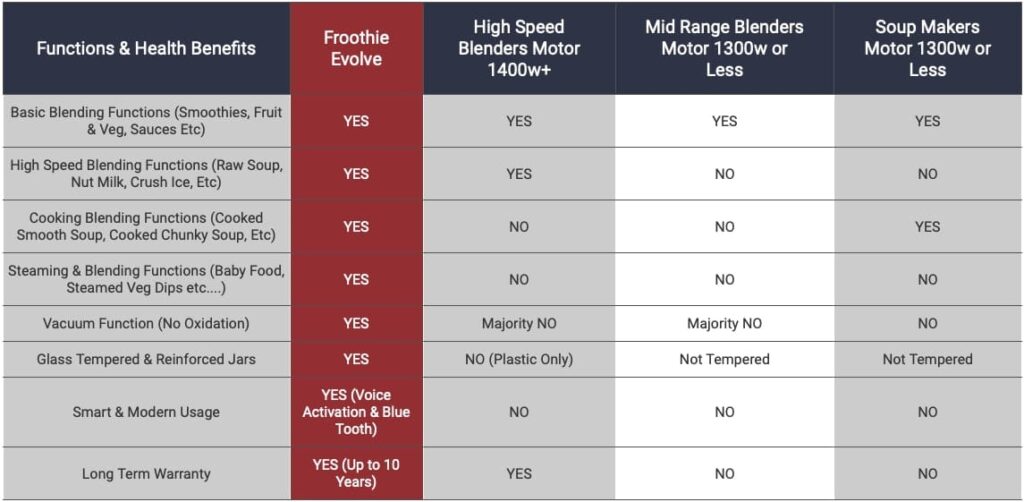 ***Make sure you read till the end of the post as I have got a fantastic readers' offer for you.***
Two reinforced glass jugs
Froothie Evolve comes with two large, reinforced glass jugs:
Cooking Jug has a heating element which allows you to cook & blend or steam & blend if you use the steaming function and the stainless steel basket. This jug should be used to make your soups, baby food, sauces etc.
Vacuum jug which is a high speed blender jug with 6 blades to give you the smoothest blending result possible. It's perfect for your smoothies, fruit and veg, sorbets, ice cream, crushing ice and nut butters.
Soup making in Froothie Evolve
I must say, before I had tried Froothie Evolve I never thought I would need a soup maker. I always thought they are a bit of a gimmick and definitely not a kitchen essential. Well, I've changed my mind now! This is by far one of the best features of Froothie Evolve as far as I'm concerned.
You get two preset soup making functions to choose from: smooth or chunky. I'm in a smooth camp most of the time and this blender made the smoothest soup I have ever had. It's super silky and so creamy that you don't need any dairy enhancements like milk or cream. Check out my Butternut Squash & Chestnut Soup recipe to see for yourself. Prep time when soup making is minimal as you don't need to chop your veg really small (rough chunks will do). You don't really need to peel it either (although I did peel my butternut squash out of habit). 30 minutes from start to finish! Result!
More functions I've used...
To bring you this review I did put my blender through its paces and made the following:
Peanut Butter - The blending power of Froothie Evolve makes nut butter much quicker than my usual food processor. I would advise you to make larger batch of your nut butter as due to the size of the jug it deals better with larger quantities. It's not a problem for me as I usually make it in larger batches as we tend to go through a lot of it.
Pasta sauce - I've used sauce function to make super healthy and very green broccoli and kale pasta sauce. This particular function does not cook your vegetables as such but power of blending makes your sauce quite hot nevertheless retaining all the goodness in your veg. All it took was 6 minutes and it was done. It was very green indeed but kids devoured it anyway asking for seconds. Result!
Smoothie - Now, there is something else I am super excited about and it's a vacuum option! It's to be used with your smoothies and fruit and veg (vacuum jug) to achieve the healthiest smoothies possible with zero oxidation, as air is removed from the jug prior to blending. In essence what it means is that your smoothies are healthier and you can also store them for longer without the loss of nutrients. I made super delicious Beetroot Smoothie and it was fantastic! As I made two portions and had a second one the following day I could tell that there was no loss of colour and no separation. The smoothie looked and tasted just like the day before when I made it. Again, result!
Voice activation & bluetooth option
I found voice activation really cool and easy to use. All you need to do is to make sure you follow the commands exactly as stated in your User's Manual. First of all to activate the machine all you need to do is say "Hey Froothie" and follow with your chosen command like " Make my smoothie". It really is that simple! In the age of voice activated devices this really seems like a very natural next step for your kitchen appliance.
As for bluetooth activation option, it was fairy straightforward to install the app on my phone (iPhone) however it is not something that I will require in my day to day use of this blender. I like to be in full control of my appliances while I'm in the kitchen and voice activation will suffice as far as I'm concerned. However, I'm sure it will be useful for some of you.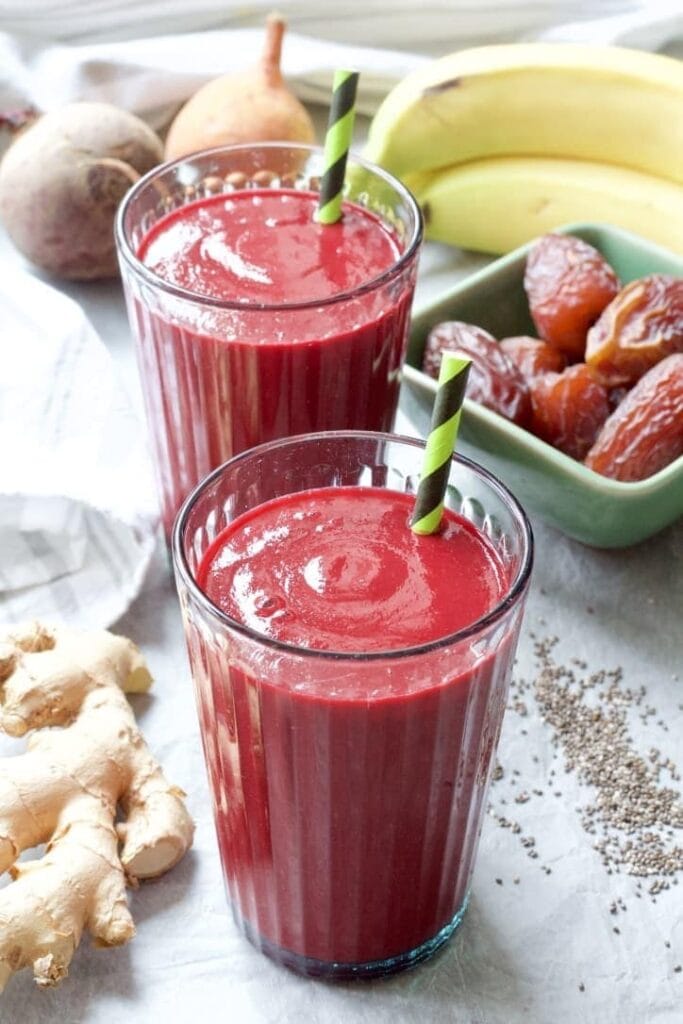 Cleaning your Froothie Evolve
Cleaning Froothie Evolve is a real breeze as to clean your vacuum jug all you need to do is pour in some water with a bit of washing up liquid and instruct Froothie to start the clean function by saying - "Hey Froothie, clean blender". The automated cleaning setting takes only a minute and it will soften and release all food debris in the jug ready to rinse. With certain foods you might struggle to get all the food out at first especially if you let your jug sit around for a while before washing it out. You can always repeat the cleaning process and for really stubborn pieces of leftover food there is a handy brush that will help you clean around the blades.
Unfortunately, you cannot use voice activation to clean the cooking jug but you can do it via app or simply by using pulsing mode to the same effect.
Remember to NEVER immerse either of your jugs in water as heating and vacuum elements at the bottom of each jug would get damaged.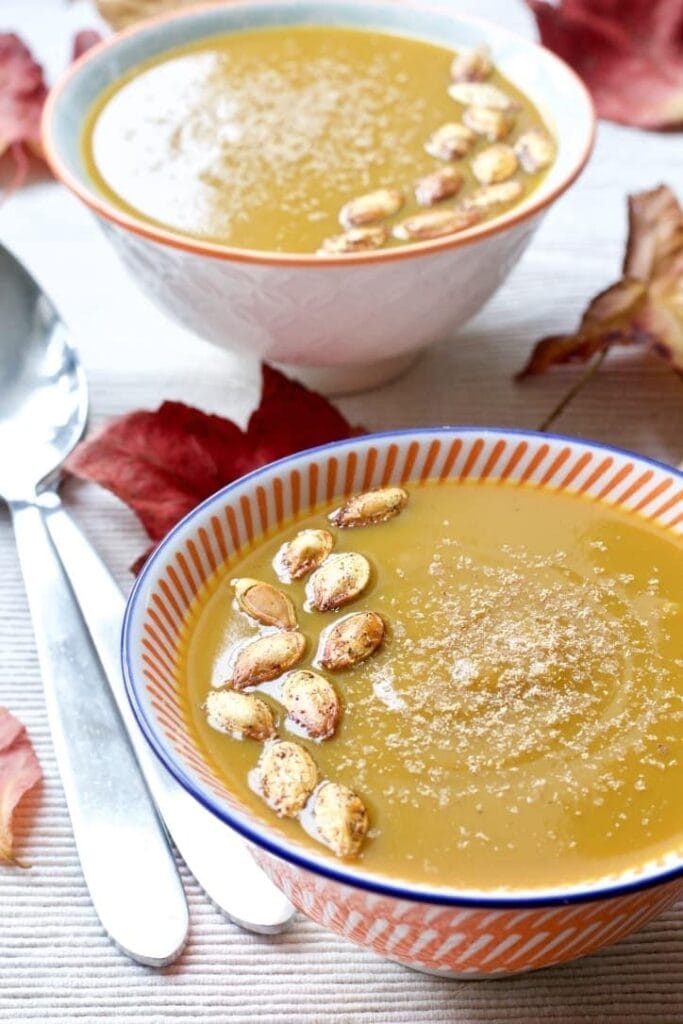 Final verdict - Pros & Cons
I must say I love Froothie Evolve and will be using it in my kitchen a lot predominantly for soup and smoothie making which are by far my two favourite functions. I am still to try sorbet/ice cream making and steaming in my Froothie Evolve which I will try and rectify very soon.
What are the biggest pros of this blender?
The number of different functions in single piece of equipment
Great quality
It looks fantastic and there are more colours available to suit your kitchen
High power
Heavy duty glass jugs (no plastic)
Voice activation
Any cons?
It's a bit loud but that's to be expected from such a powerful machine
Glass jugs being so well made are a bit heavy
No cleaning function via voice activation or led display panel unless you use the app or pulsing mode
You need to be really careful not to get water access the base of either jug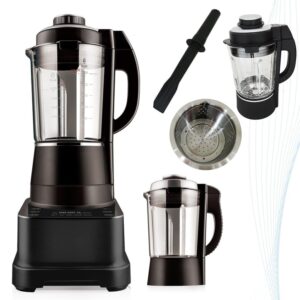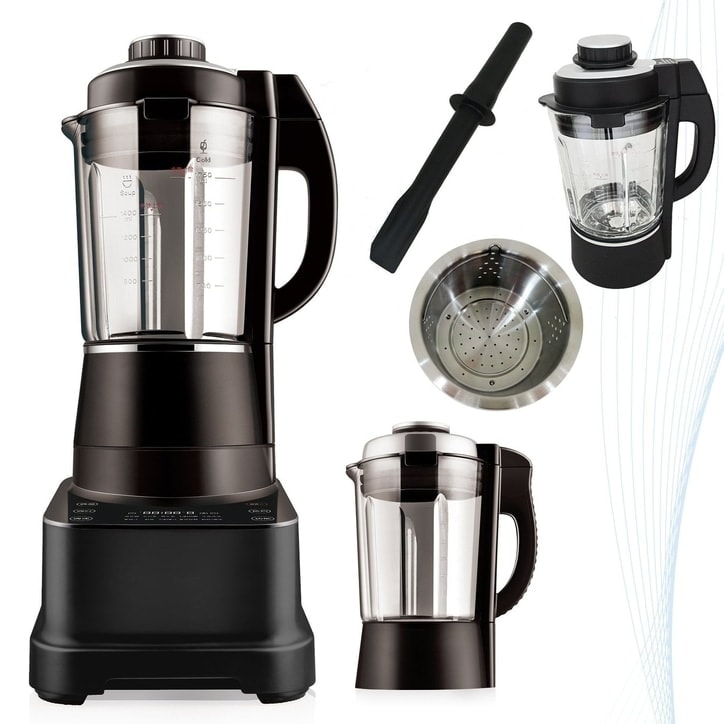 BUY FROOTHIE EVOLVE HIGH SPEED BLENDER – READERS' OFFER
As an ambassador for Froothie I'm super excited to be able to pass on to you this great offer when purchasing Froothie Evolve High Speed Blender.
Make sure you follow one of my Evolve blender links to check out the latest offer on this fantastic machine on Froothie website. To add to this, if you buy this fantastic blender following one of my affiliate links, you will get extra 2 years warranty worth £45 (taking it up from very generous 5 to extremely generous 7 years)!
Froothie Evolve is definitely an investment. However, Froothie offers 0% finance deal which makes it easy to break the cost of the blender into manageable monthly payments with no extra cost.

Disclosure
*This post contains affiliate links, which means that if you click on a link and go on to buy the product I recommend, I will get a small commission, but you will not be charged a penny more. Please rest assured I only recommend products I really like and think my readers will like too. For more information please read my Privacy Policy. I've been given Froothie Evolve free of charge to test and review but I was not expected to provide a positive write up. I was not paid to write this review and all opinions are my own.