This Gluten-Free Orange and Almond Cake is simply sensational! Moist, nutty and with strong orange flavour this cake is also flourless, dairy and oil free. Serve simply with coffee or with Orange Whipped Cream as an indulgent dessert.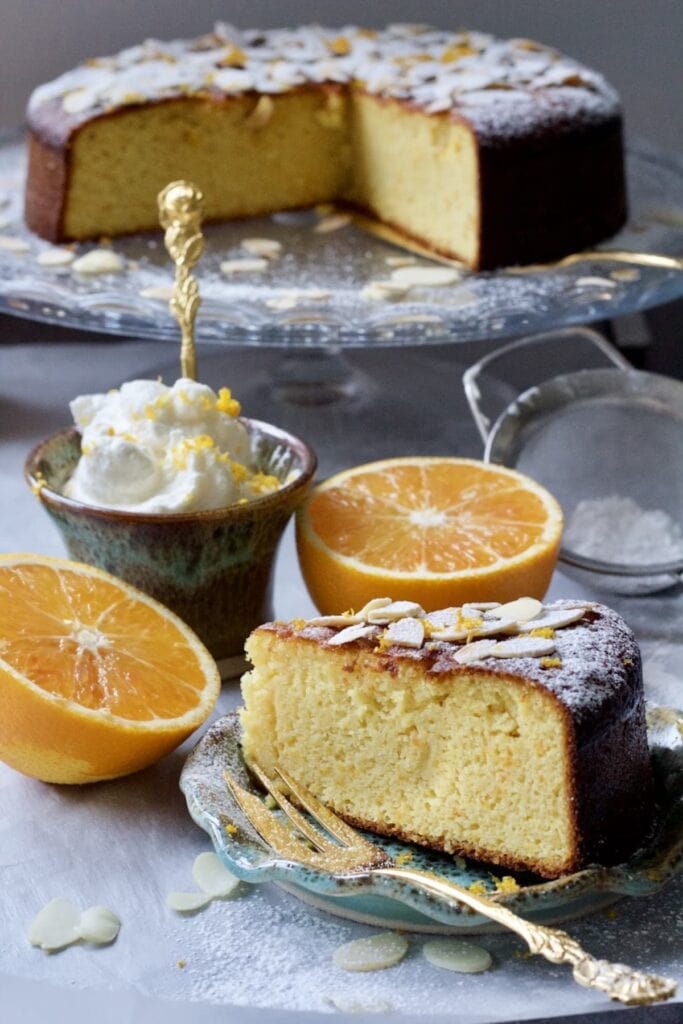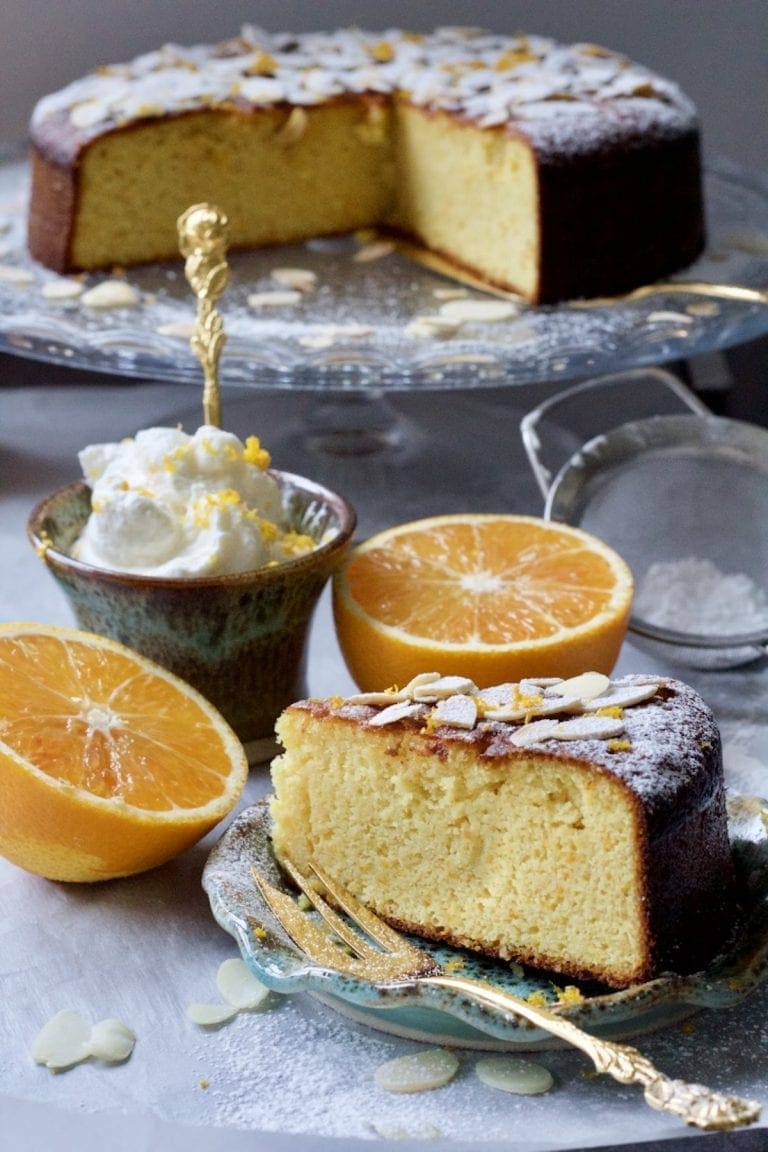 Blood Oranges
With my favourite blood oranges currently in season I simply couldn't help myself but to use them in baking yet again (you might remember my delicious Easy Blood Orange Drizzle Cake). Blood Oranges are in season from December through to March (some varieties even through to May). I must say I tend to add them to my weekly organic fruit/veg order religiously. I know what you are going to say, these oranges don't look too "bloody". Well, it all depends on the variety and you can get some that are almost crimson red or the ones that look like your standard oranges. Don't worry though as it really is all about the flavour! You can of course use regular oranges here as well.
Gluten-free Orange and Almond Cake (Boiled Orange Cake) - a back story
I came across the recipe for this cake on numerous occasions and it appears it's widely known throughout the interweb. Originally, this particular cake is known as Passover dessert but also in Moroccan and Spanish cuisines and generally across Mediterranean.
One very popular thing about this cake is the use of entire oranges (skin and all) which are boiled until soft and then pureed in their entirety. Majority of the recipes I've come across don't use any regular flour or fat (oil, butter) at all which makes this lovely cake naturally gluten and dairy free and with no added fat.
This cake (or take on it) has been very popular with a number of celebrity chefs including Nigella who's recipe for Clementine Cake can be found in her book How to Eat*.
I have, however, based my recipe on Claudia Roden's A New Book of Middle Eastern Food: The Essential Guide to Middle Eastern Cooking* which is an incredible collection of simple, everyday recipes which (if you are a fan of Middle Eastern cooking) you will love.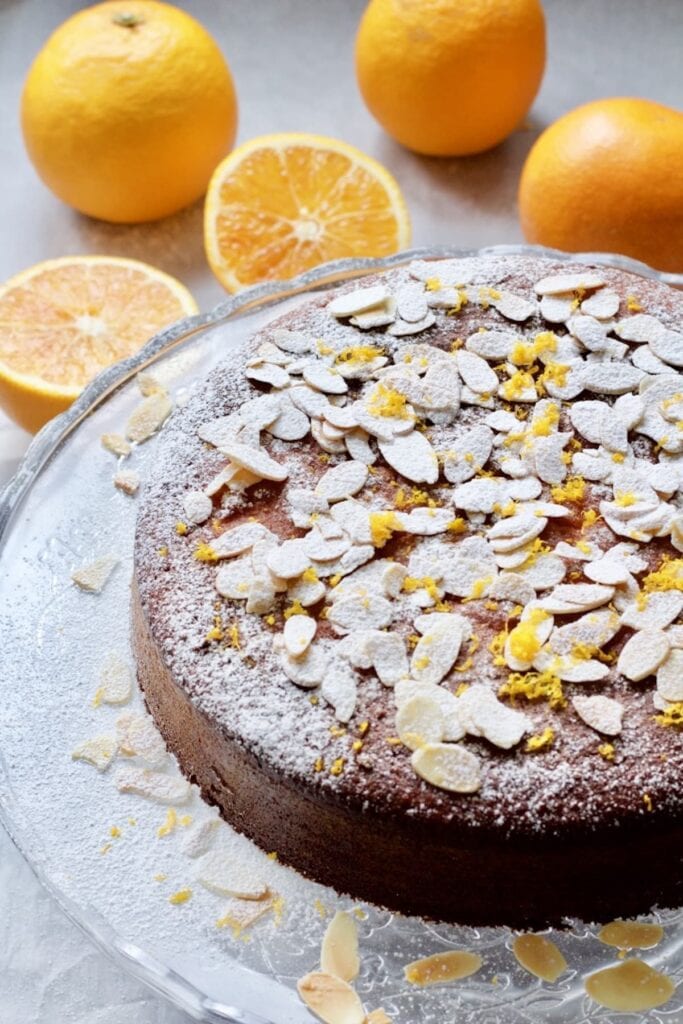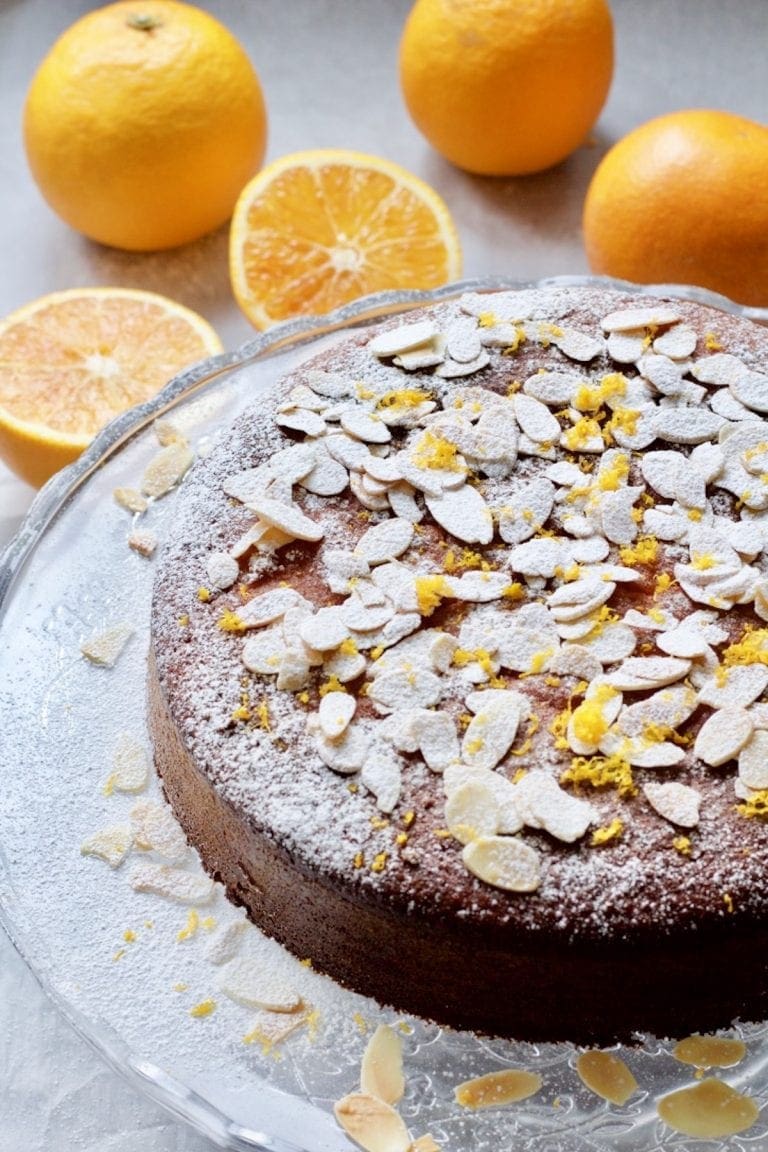 Tips & Tricks and how to successfully make this Gluten-Free Orange and Almond Cake
As already mentioned, the original recipe requires boiling whole oranges on the stove for a couple of hours until tender. I don't know about you but as I'd rather get this done quicker then that I decided on using microwave instead. Simply pierce your oranges few time with a knife or fork or cut a little cross on top of each orange (to prevent them from bursting) and put them in a large microwavable bowl with a little bit of water. Microwave on high for approx 10 minutes et voila! You could also use your Instant Pot*here if you prefer and get it done in 30 minutes using Manual setting.
I would highly recommend using organic fruit here due to using skin as well and therefore consuming whatever there is on it.
Once your oranges are cooked cut them into chunks and try and fish out any pips that might be lurking inside them as they might add slight bitterness to your cake.
When baking, pay attention to your cake and cover it with some aluminium foil if it starts browning too much on top.
I only line the bottom of the cake tin but if the one you are using is slightly unpredictable and might stick, then I would also line the sides.
I baked cake plain and decorated it with lightly toasted almond flakes and icing sugar after. However, you could sprinkle some almond flakes on the top of the cake prior to baking, it will save you toasting your almond flakes later.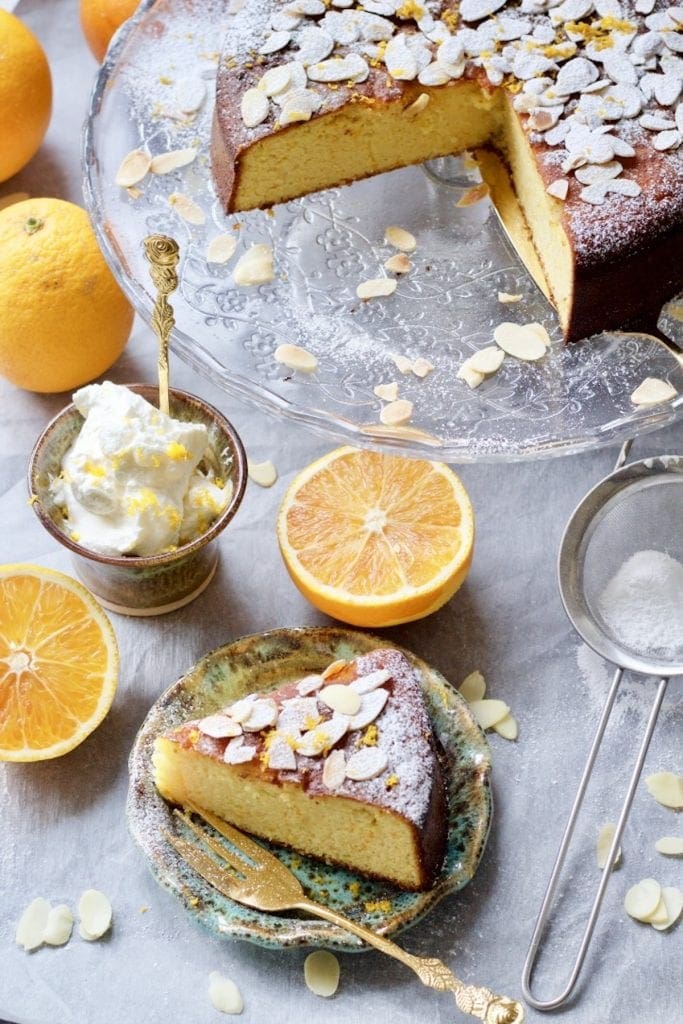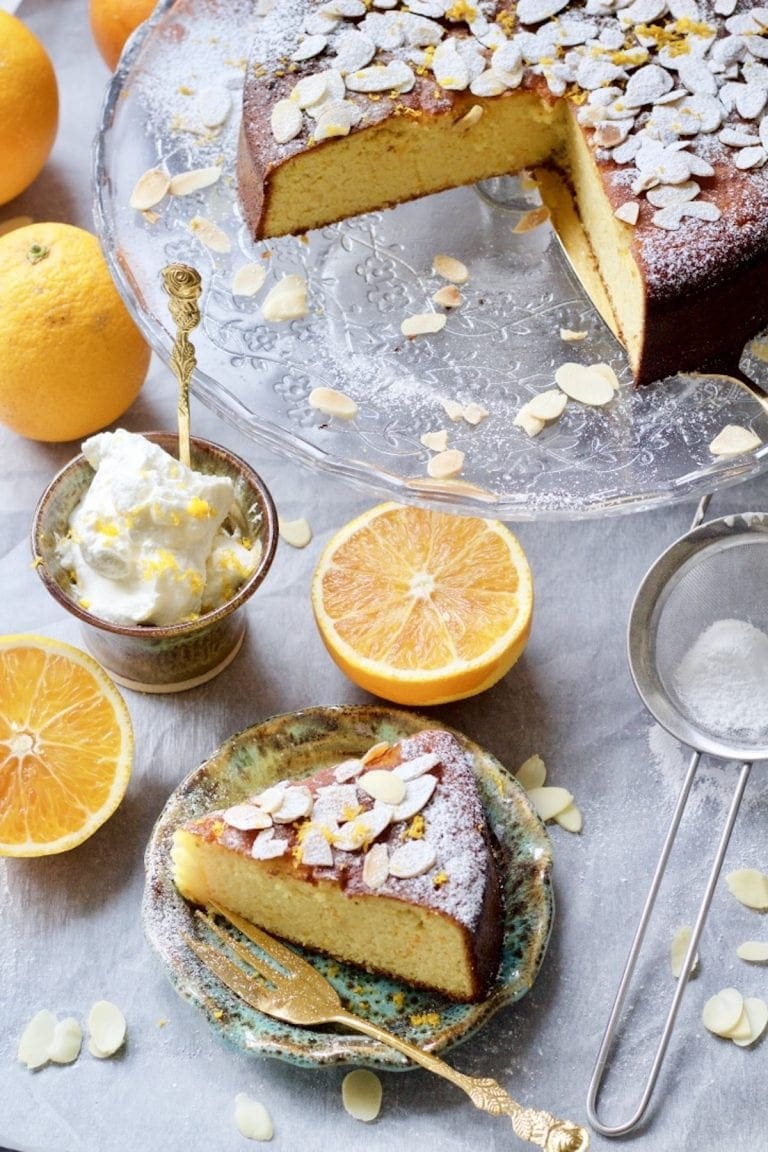 Serving Suggestions
This cake is perfect as is or sprinkled with toasted almond flakes and some icing sugar but if you would like to turn it into more elaborate and fancy dessert for a special occasion (think Valentine's Day maybe?) you might want to serve it with this gorgeous Orange Whipped Cream the recipe for which I've included below. This whipped cream with a touch of orange liqueur compliments the cake beautifully! It can be also prepared in advance as it keeps really well when chilled in the fridge for up to 3 days.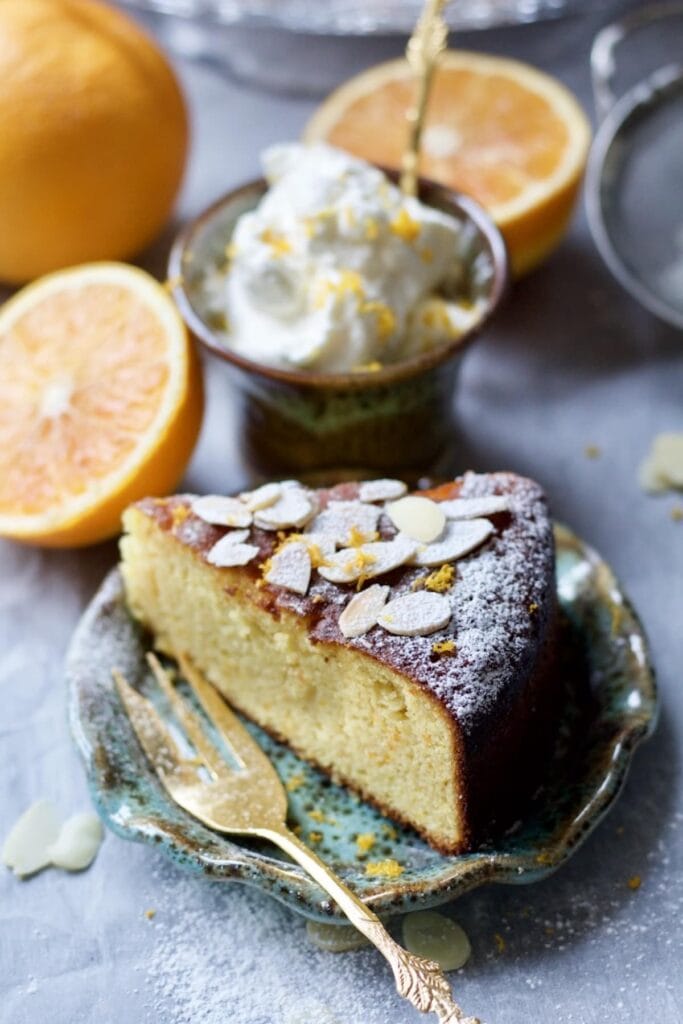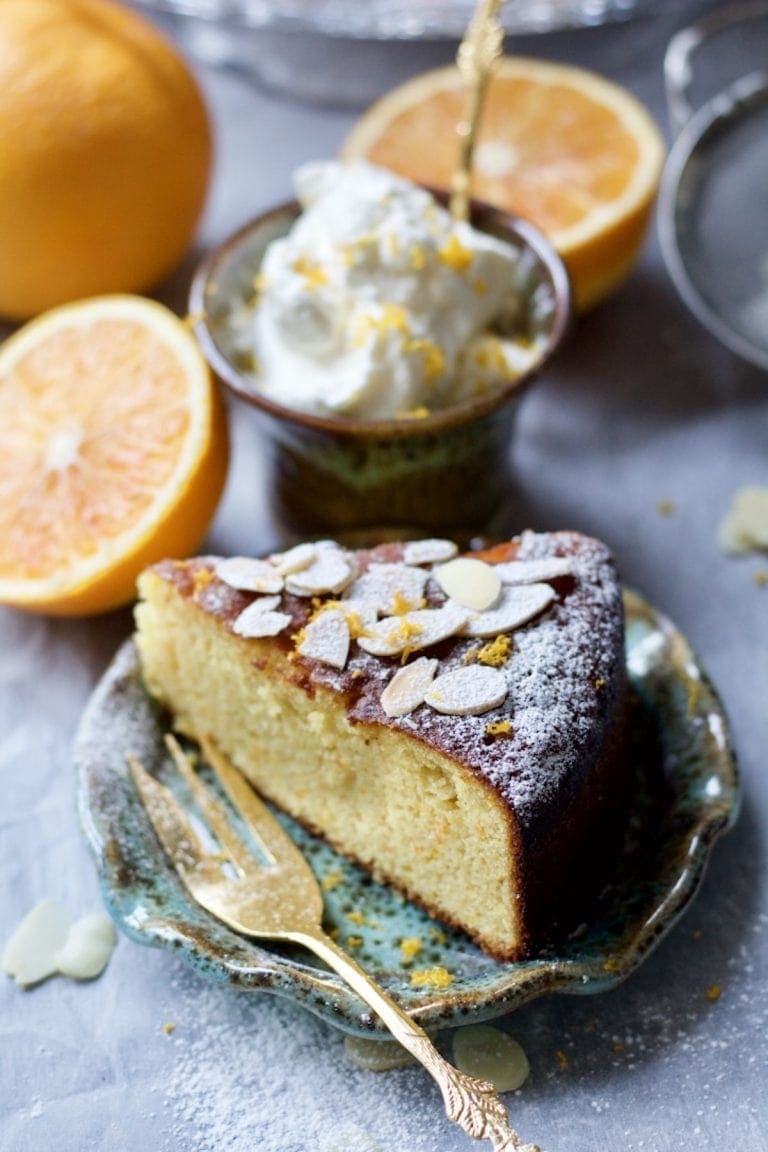 Can I freeze this cake?
You absolutely can! Make sure your cake is completely cool first then take the piece you wish to freeze and wrap it tightly in a piece of clingfilm and then aluminium foil. Make sure to label it too if you don't want to play "Freezer Roulette" later! Pop it in the freeze for up to 3 months. To defrost simply leave out on the kitchen counter and once defrosted decorated with almond flakes and icing sugar if you wish.
📋 Recipe
Gluten-Free Orange and Almond Cake
This Gluten-Free Orange and Almond Cake is simply sensational! Moist, nutty and with strong orange flavour this cake is also flourless and dairy & oil free. Serve simply with coffee or with Orange Whipped Cream as an indulgent dessert.
Ingredients
Gluten-Free Orange and Almond Cake
2

large oranges (mine were approx 390g/13 ¾oz)

preferably organic

5

large eggs

200

g

caster sugar

225

g

ground almonds/almond meal/almond flour

1 ½

teaspoon

gluten-free or regular baking powder

3

tablespoon

toasted almond flakes to decorate

optional

icing sugar to decorate

optional
Orange Whipped Cream
250

ml

whipping or double cream

3

tablespoon

icing sugar

2

tablespoon

Grand Marniere liqueur or any other orange liqueur
20cm/8inch spring form cake tin, buttered or oiled and bottom lined with baking paper
Instructions
Cake
Put oranges in a large microwavable bowl. Pierce them few times with the knife/fork or cut a small cross on the top of each orange. Pour in tap water half way up the oranges and microwave (covered) for 10 min on high until soft and knife goes in easily.

Take cooked oranges out of the bowl with water and put them on a clean plate/chopping board to cool slightly. You can do this step ahead of time and simply keep cooked oranges in the fridge until you need them.

Once cooled, cut the oranges into chunks (unpeeled) and remove any pips you can see.

Preheat the oven to 180C/350F/Gas Mark 4

Put orange chunks in your food processor and blitz them until you get smooth orange puree. Add eggs and sugar and blitz some more until you get pale and foamy mixture.

Finally, add ground almonds and baking powder and give it all last final blitz until all ingredients are mixed in and you've got a smooth and quite thick liquid batter.

Pour the batter into prepared tin and bake for 40 minutes or until the skewer inserted in the centre of the cake comes out clean. Depending on the size of the cake tin you're using you might need to extend baking time. Feel free to cover the tin with some baking parchment or aluminium foil to prevent top browning too much.

Once out of the oven, let the cake cool in the tin for a bit before taking it out onto the cooling rack to cool completely. Serve sprinkled with toasted almond flakes and dusting of icing sugar and accompanied by Orange Whipped Cream if you wish.
Orange Whipped Cream
If you have time, put the bowl you want to whip your cream in in the freezer for half an hour. This will make whipping the cream process a bit quicker.

Pour whipping or double cream into your bowl and with an electric mixer or whipping attachment of your standing mixer beat the cream until it starts to form soft peaks.

Sieve through icing sugar and pour in the liqueur you're using and continue beating until cream reaches desired consistency of stiff peaks. Take care not to overbeat as cream will turn into butter. Serve immediately with your orange cake or store in the fridge until needed.
Notes
Nutritional information is approximate and should be treated as a guideline only. It doesn't include Orange Whipped Cream which is optional and calorific but oh so worthy!
Nutrition
Nutrition Facts
Gluten-Free Orange and Almond Cake
Amount Per Serving
Calories 332
Calories from Fat 162
% Daily Value*
Fat 18g28%
Cholesterol 102mg34%
Sodium 40mg2%
Potassium 218mg6%
Carbohydrates 36g12%
Protein 10g20%
Vitamin A 220IU4%
Vitamin C 17.4mg21%
Calcium 138mg14%
Iron 1.8mg10%
* Percent Daily Values are based on a 2000 calorie diet.
MAKE SURE YOU STAY UP TO DATE WITH ALL THE LATEST RECIPES FROM JO'S KITCHEN LARDER
Have you tried my Gluten-Free Orange and Almond Cake? Leave a comment at the bottom of this post, I love reading them! You can also come and say hello over on my Facebook page, Twitter, Instagram or Google+
Some other seasonal bakes you might enjoy:
Easy Blood Orange Upside-Down Cake - oh yes! Another blood orange cake!
Easy Pear and Fresh Ginger Cake
Pumpkin & Cinnamon Pull Apart Bread
Pin Gluten-Free Orange and Almond Cake For Later!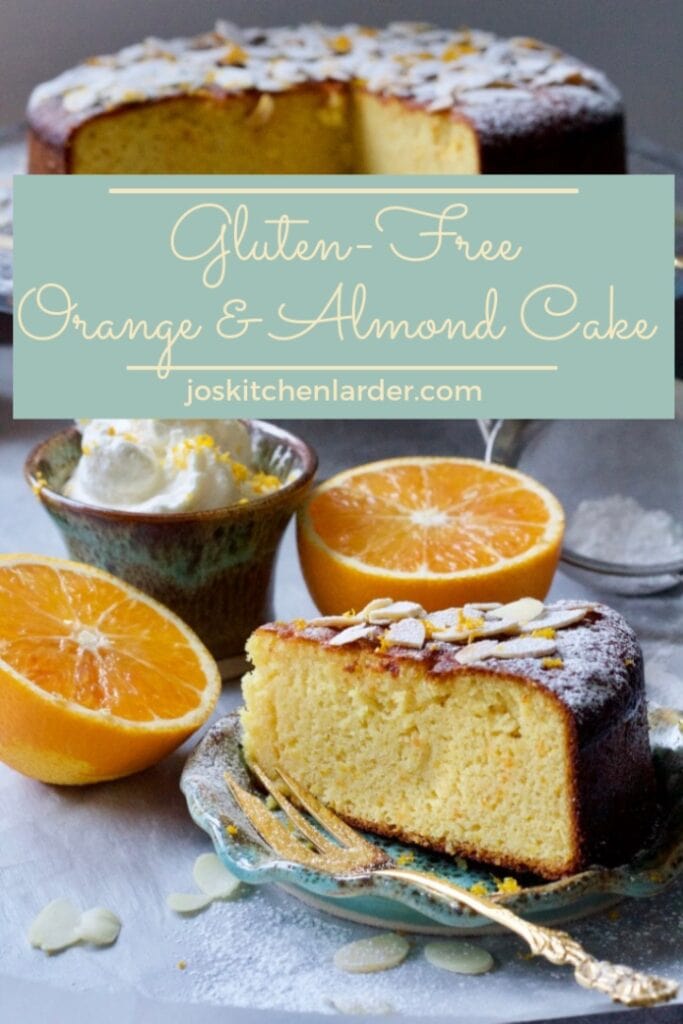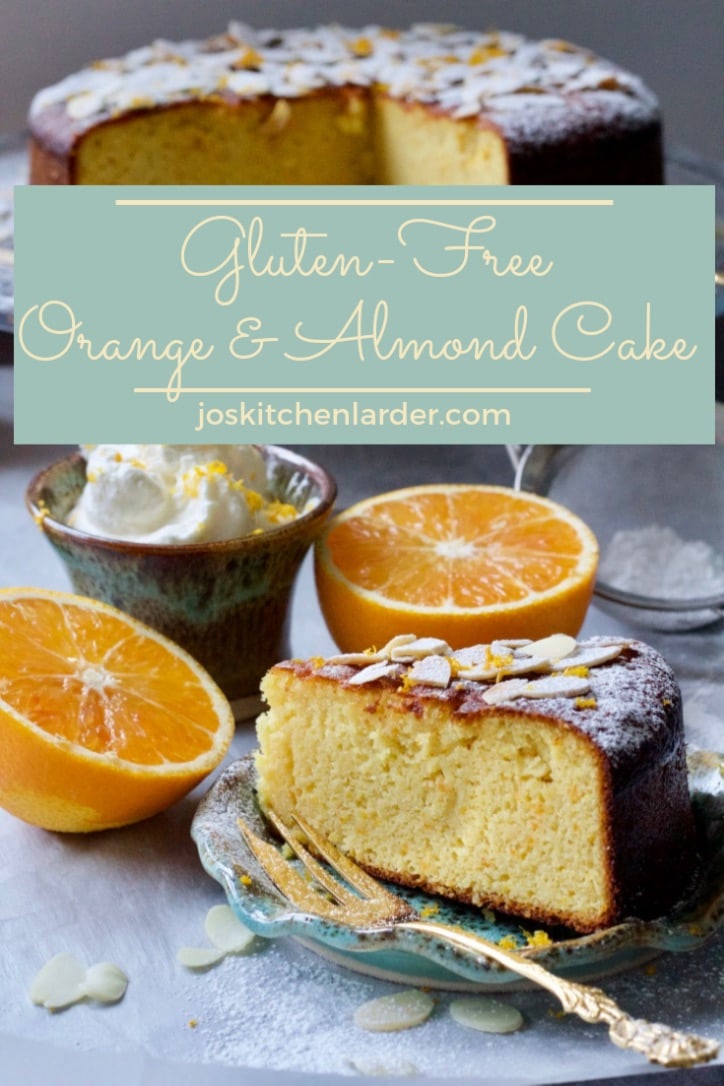 I'm linking my Gluten-Free Orange and Almond Cake with the following link parties:
Cook Once Eat Twice hosted by Corina at Searching for Spice
Bake of the Week hosted by Jenny at Mummy Mishaps and Helen at Casa Costello
Fiesta Friday hosted by Angie and co-hosted by Mollie at Frugal Hausfrau and Diann at Of Goats and Greens
*This post contains affiliate links, which means that if you click on a link and go on to buy the product I recommend, I will get a small commission, but you will not be charged a penny more. I only recommend products I own or really like and which caught my attention. Thanks in advance for supporting Jo's Kitchen Larder!