Would you believe that we are half way into September? As far as I'm concerned Autumn has properly settled in already. It's all comfort cooking and baking from now on. 🙂 Oh how I love this turn of the seasons. All the wonderful glut of fruit and veg available and then there are APPLES! Gorgeous apples which are a bit overlooked as technically available all year round but they never taste as good at any other time. Now is their proper time to shine!

I am such a huge apple pie/cake fan. It is one of my all time favourite autumnal bakes ever. As soon as temperature starts to drop, I know that the apple pie baking time is on the horizon. 🙂
Funny enough this year it was my Italian Plum & Almond Cake with Amaretti Crunch which was my first bake of new season. However, this absolutely gorgeous Best Buttery Apple Pie with a Twist followed straight after!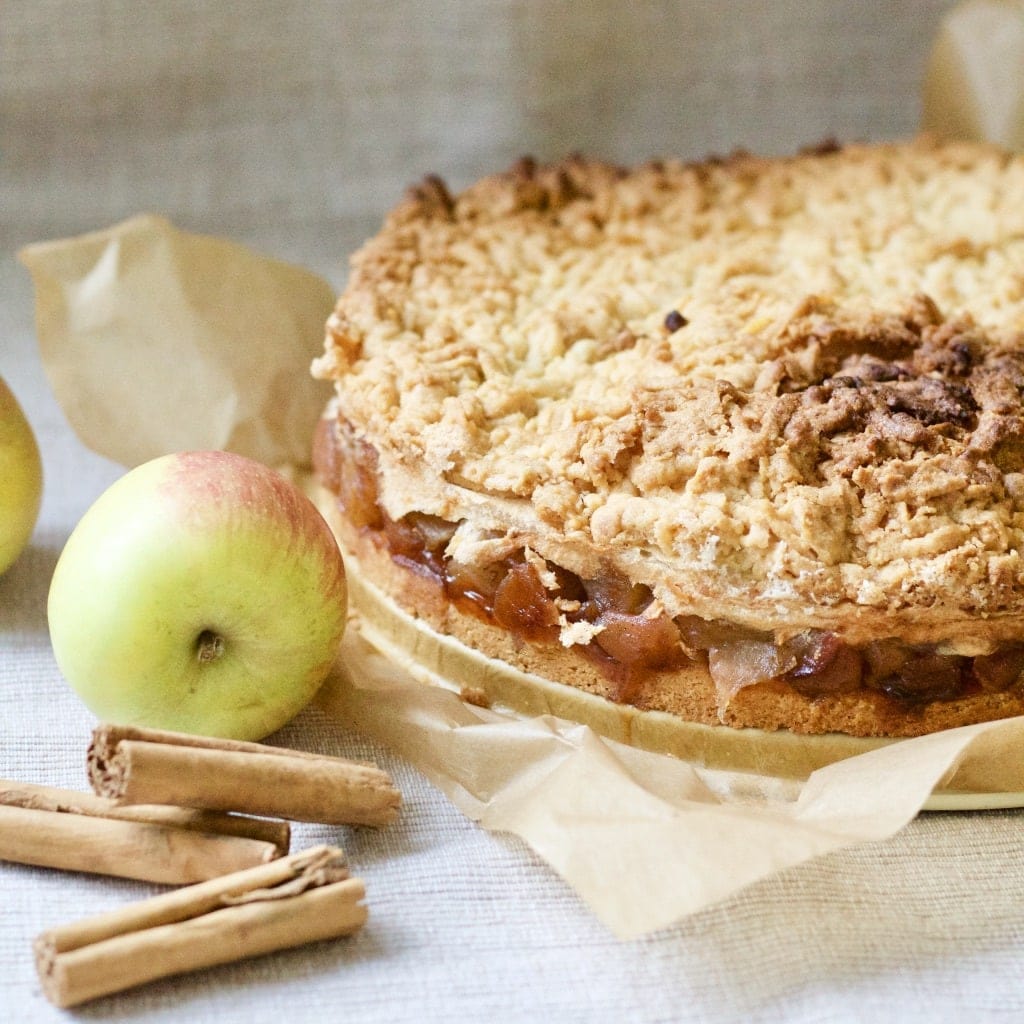 What is "the twist" I hear you ask? Well, it is delicate layer of soft meringue on top of the apples! It's very subtle but oh so good. The main reason why the meringue made an appearance was to use up the egg whites leftover from the pastry making and as it worked really nicely, it stayed for good. Speaking of pastry, there is a lot of it but that's how we like it. Having said that, the quantity of pastry yielded from this recipe always leaves me with a bit leftover as I tend to use less of it on top of the pie. Worry not and waste not though as this gorgeous buttery pastry can be refrigerated and used to bake some jam tarts which are always a huge hit with my boys.
You will also notice that I prefer grating my pastry to rolling it. It is a bit easier and gives slightly rustic final effect as well. I tend to put the half of the pastry destined for the top of the pie in the freezer as the colder it is the easier it is to grate. It doesn't matter as much with the half used for the bottom  of the pie as you will be pressing it down with your fingers anyway.
Beside the cinnamon which is simply a perfect match for apples, I tend to use homemade vanilla sugar which is so simple to make! Never made your own? Here is my simple how to!
Vanilla Sugar How-To!
If you are just starting take one vanilla pod, split it in half, scrape all the lovely seeds out of both halves and pop them together with a pod itself onto a glass jar (rather large) which you then half fill with caster sugar. Give it a bit of a mix and that's it. All you need to do from now on is to pop any "used" woody vanilla pods you use for baking, desserts etc. onto the jar and add some more sugar. You add, you use, add, use, you catch my drift 🙂
If you don't bake frequently enough and would't really have a use for vanilla sugar but don't want to miss out on a hint of vanilla in this gorgeous Best Buttery Apple Pie with a Twist, simply add a teaspoon of vanilla extract to the pastry or apples or both. 🙂 It will work just as well.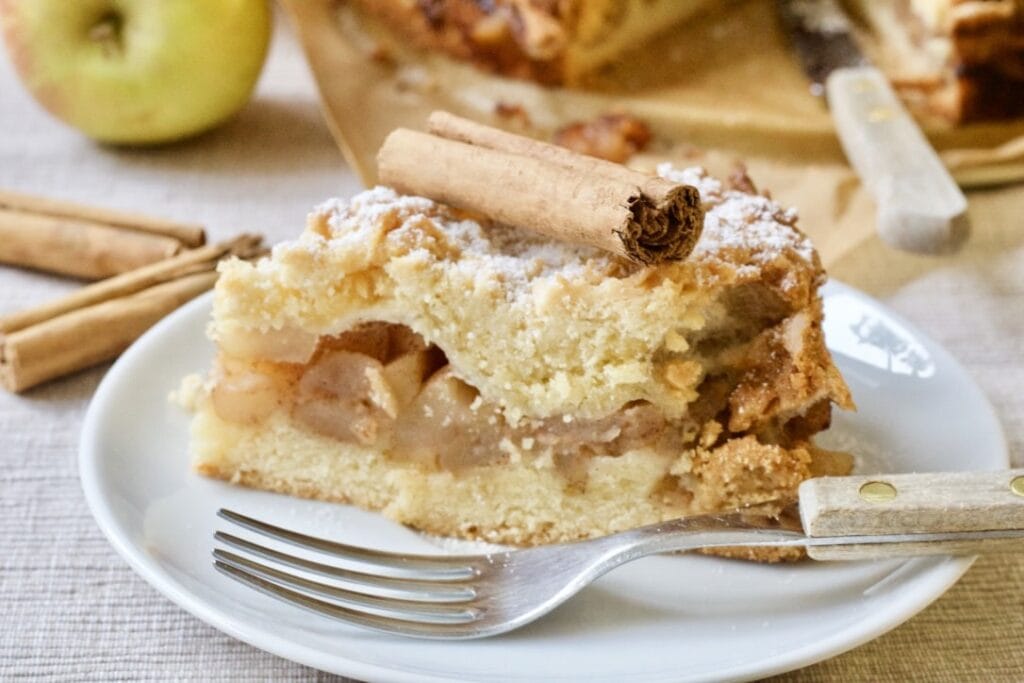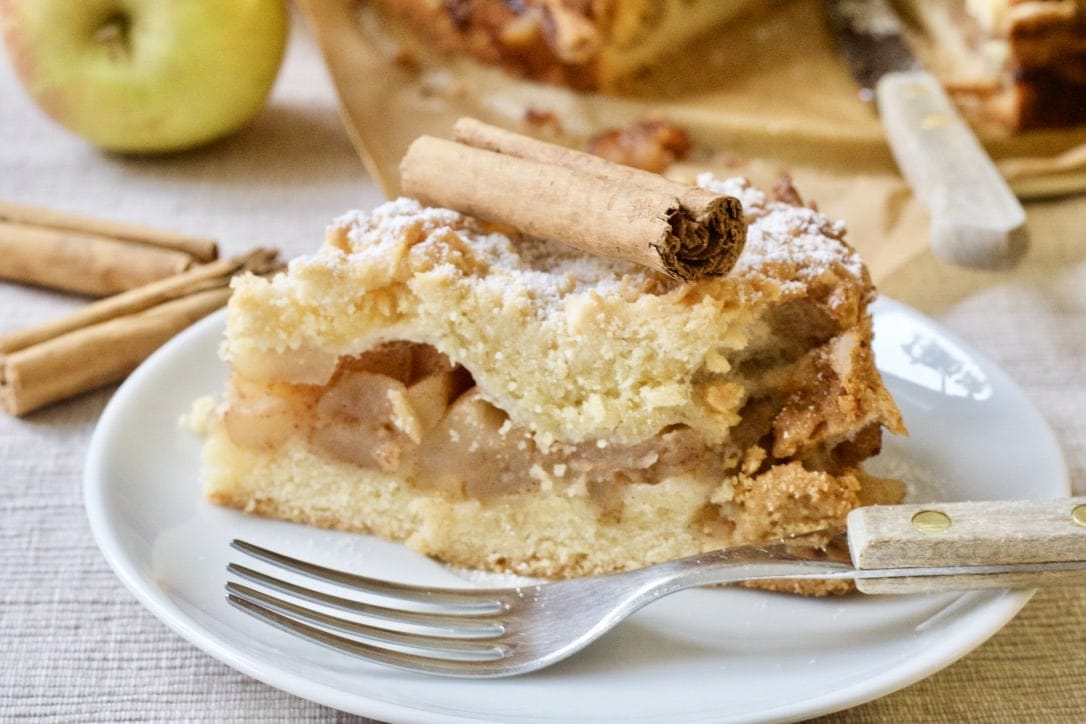 If you are into seasonal baking don't forget to take a look at my Best Ever Chocolate Courgette Cake
Now, without further ado, the recipe itself. It is so easy and I really hope it will become your favourite too!
📋 Recipe
Best Buttery Apple Pie with a Twist
Ingredients
Pastry
450

g

plain flour

1

teaspoon

baking powder

140

g

caster sugar

250

g

cold unsalted butter

3

egg yolks

1

whole egg
Meringue
3

egg whites

50

g

vanilla sugar or caster sugar

1

teaspoon

cornflour
Apples
1.5

kg

Granny Smith Apples

50

g

vanilla sugar or caster sugar

2

generous teaspoon cinnamon

small knob of butter

1

round cake tin

approx 25cm in diameter or equivalent
Instructions
Peel and core the apples then cut them into small chunks.

Fry them in a large pan with butter, sugar and cinnamon until fragrant and softened but still holding their shape approx 15-20 min. Set aside.

Sieve the flour and baking powder together, add sugar and butter. Rub all the ingredients in together with your fingers or using food processor until you get consistency of fine breadcrumbs. Add one egg and the egg yolks and knead or process in the processor until the dough comes together.

Divide the dough into two, cover in cling film and put one half in the fridge and another one in the freezer for about an hour.

Line bottom of the cake tin with baking paper. Take half of your pastry out of the fridge and grate over the bottom of the tin pressing it in with your fingers and flattening it lightly (you can also roll the dough out to fit your tin but I find my method easier). Put the tin lined with pastry in the fridge.

Whisk the egg whites until stiff and then slowly start adding sugar while still whisking. At the very end add the cornflour and whisk a bit more until incorporated. You will get nice and shiny meringue.

Take the cake tin out of the fridge. Put the apples on top of the pastry and follow with the meringue which you spread gently and evenly over the apples.

Take another half of the pastry out of the freezer and grate over the top of the meringue. You might not need to use the whole lot for the top, it all depends on how thick would you like your top pastry layer to be.

Bake at 180C for an hour. After half an hour of baking cover the top of your pie gently with a piece of aluminium foil to prevent it from browning too much.

Cool slightly and sprinkle with icing sugar. Serve with some delicious vanilla ice cream or lashings of custard.

Enjoy!
Pin For Later!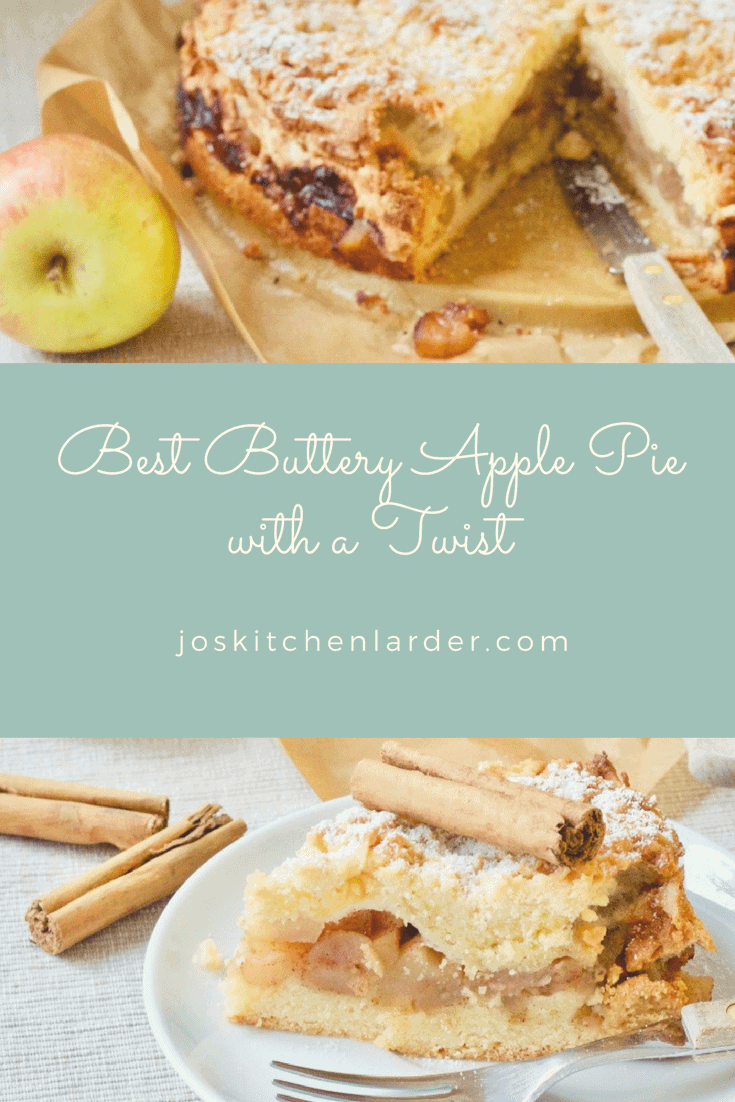 I'm linking my Best Buttery Apple Pie with a Twist with the following pages:
Cook Blog Share hosted by Easy Peasy Foodie
Cook Once Eat Twice hosted by Corina at Searching for Spice
Simple and in Season hosted by Katie at Feeding Boys