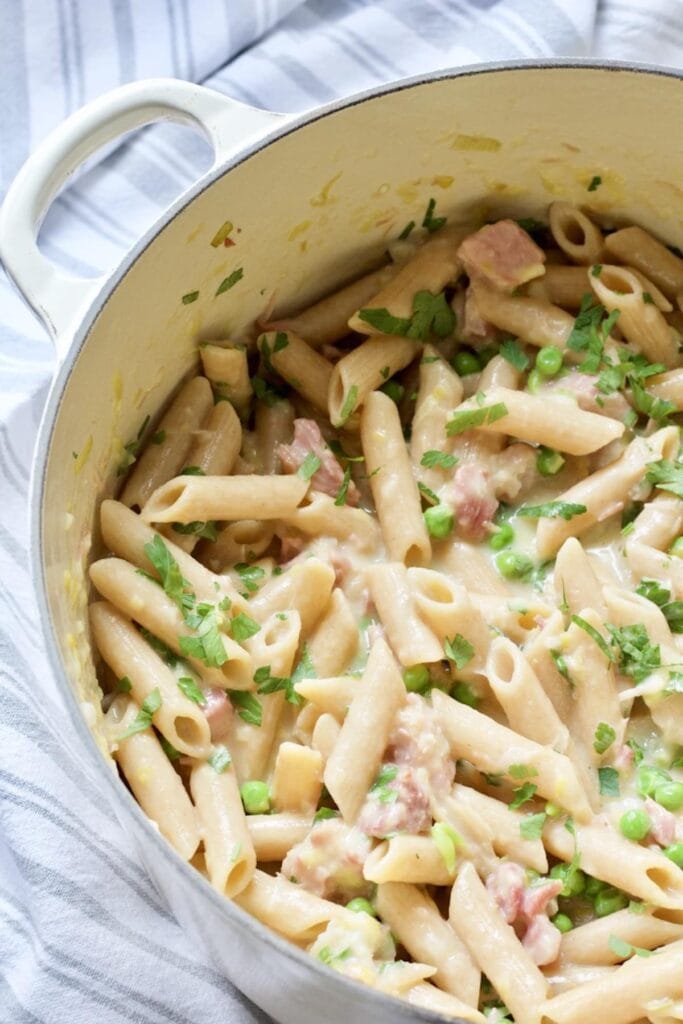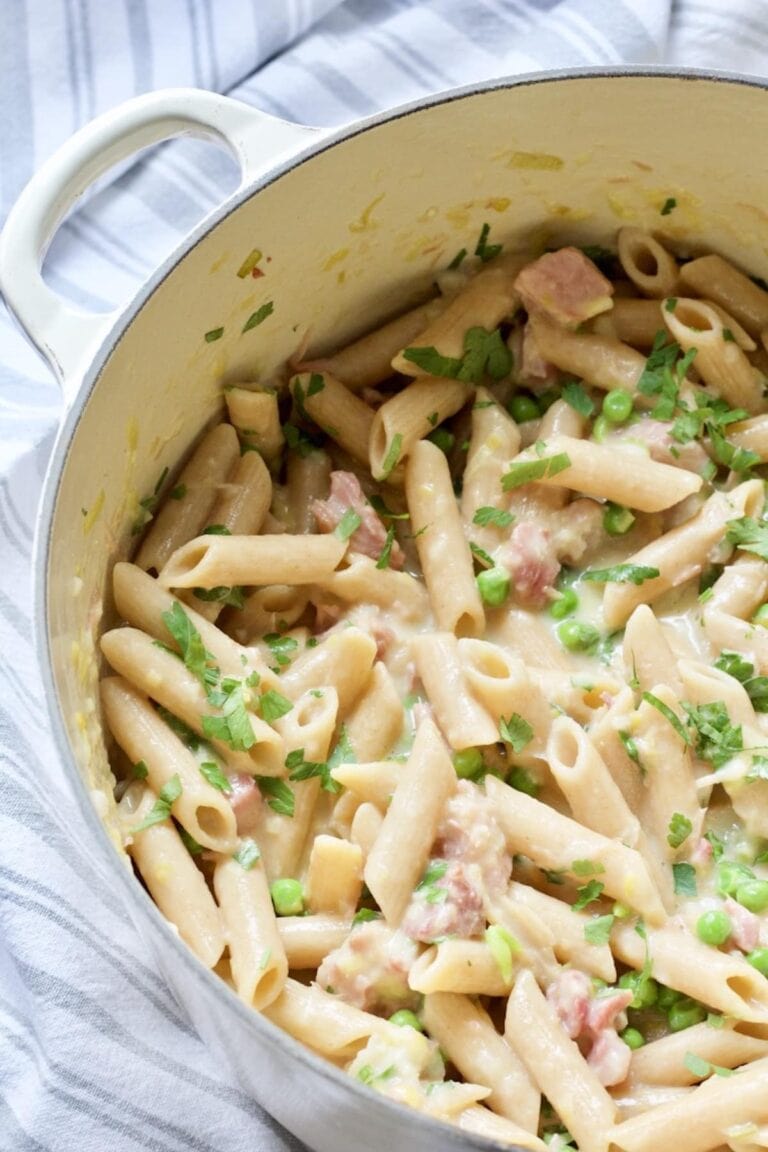 Who doesn't like quick, easy and delicious dinners with minimum hassle and washing up? What if they also helped you clean your fridge of any leftovers? This One Pot Leftover Ham and Pea Pasta ticks all of those boxes plus it will be on your table in mere 30 minutes!
I must say I am quite partial to a lovely gammon joint once in a while.  Main reason for that is that it gives us not only delicious dinner on the first day but also substantial amount of delicious leftovers we can use throughout the week. Think sarnies, salads or, above all, pasta dishes like this one.
I bought a small gammon joint before Christmas which was thoroughly enjoyed by all on New Year's Day! Even with smaller joint we were still left with hefty amount of leftovers to use up which, in my book, is always a good thing!
Helpful tips when cooking One Pot Leftover Ham and Pea Pasta
I don't know about you but I always poach my gammon or cook it in the Instant Pot first, only to finish it off in the oven if I feel like having it glazed. The huge plus of this approach is lovely, salty poaching liquid you are left with which you can then use in soups, gravies, pastas...  You name it! I would highly recommend using said poaching liquid instead of water when making this pasta. It will elevates the flavours to another level! As a word of warning though, make sure you are careful when it comes to salt as ham, poaching liquid and cheese provide quite a bit of it already so TASTE, TASTE, TASTE!
Leeks can be a bit of a pain hiding fair bit of grit in between their top layers. The best way to sort them out is to get rid of very top, dark green, woody part which can be saved to use in stocks. All you want here is white and light green part of the leek. The best way to clean your leek is to cut it in half (lengthwise) and run it under the cold tap. Separate the layers but only enough to wash out the grit, otherwise leaving the leek intact. Once clean, go ahead and slice each half nice and thin.
I like using Gruyere cheese in this pasta as it's not as strong as cheddar plus it has got wonderfully nutty flavour and it also melts into the sauce really well. Cheddar is not really a substitute for Gruyere but if that's the only one you've got, by no means go for it. However, any other Swiss cheese, Norwegian Jarlsberg or French Comte, would be better substitutions if possible.
My favourite piece of kit to cook one pot pastas in
I found my heavy duty, cast iron, 26cm/5 ½ Qt Le Creuset casserole *to be the best for one pot pastas. It provides ample room for all the ingredients, stirring and, most importantly, nothing sticks to the bottom either.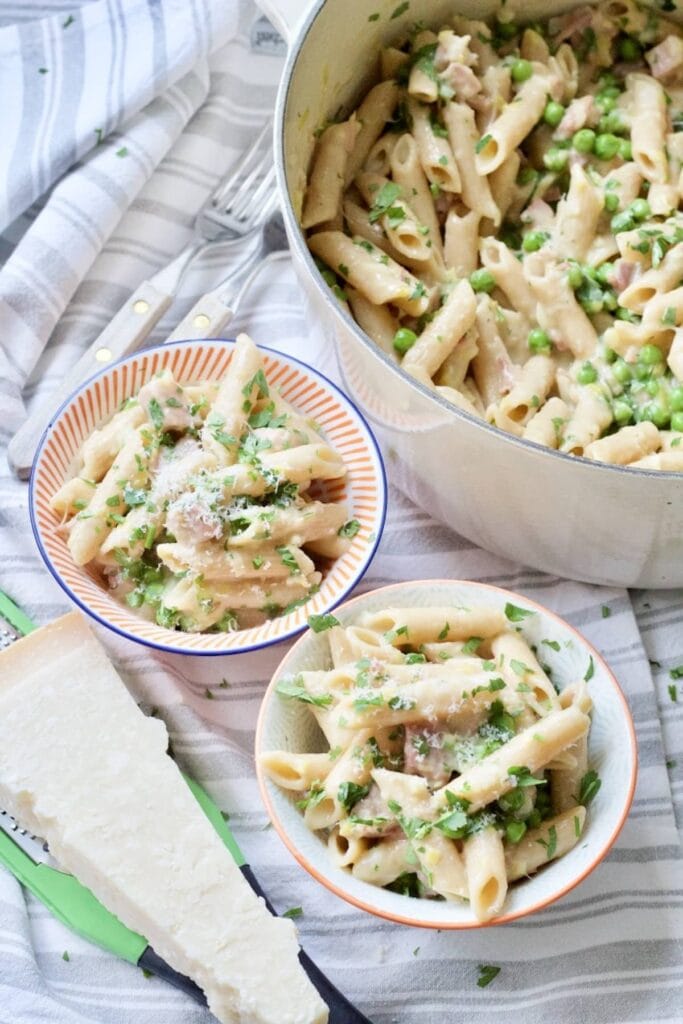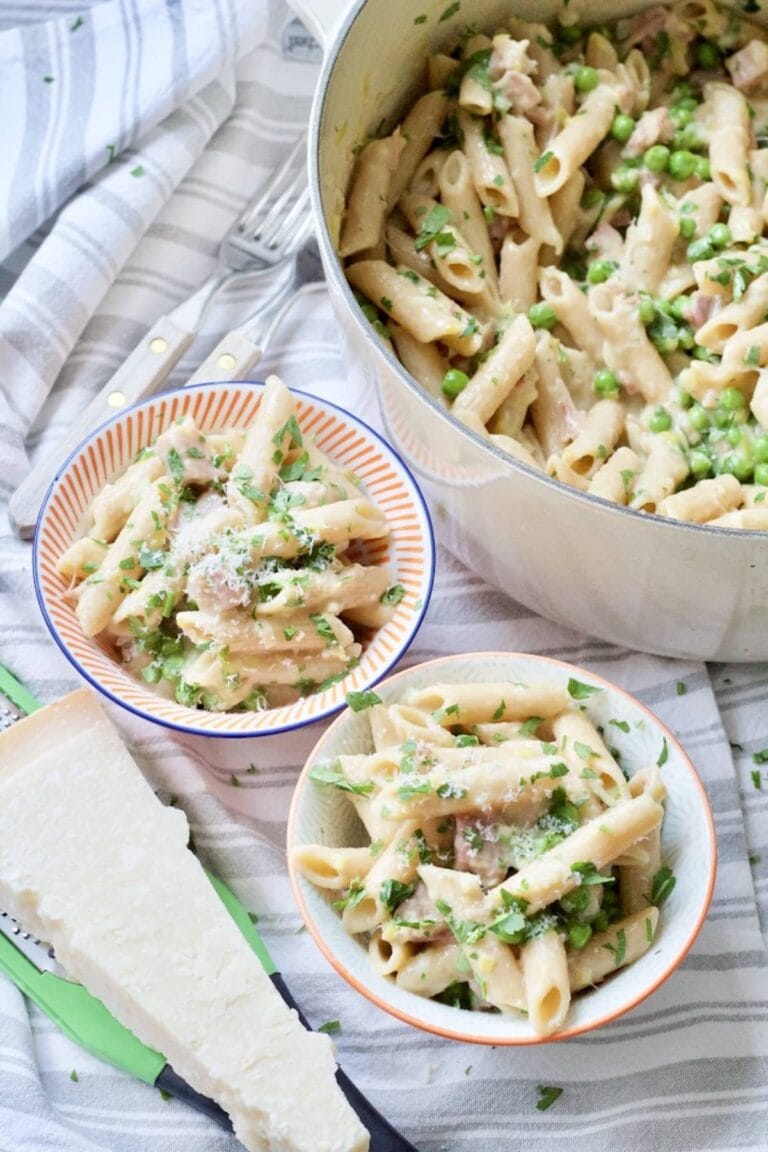 How can I adapt this One Pot Leftover Ham and Pea Pasta?
I've used wholewheat penne here but you could use any pasta shape and type you want. If using regular, white pasta, however, make sure to check doneness after 10 minutes as it cooks quicker than wholewheat variety.
This pasta would work really well with leftover chicken instead of ham. Simply swap water or ham poaching liquid for chicken stock instead.
Instead of frozen peas you could use  frozen sweetcorn or even better - a mixture of both.
Sliced button mushrooms would work really well with this pasta. Clean and roughly slice 200g/7oz of mushrooms and sautéed them together with leeks.
Feel free to add a splash of single cream or tablespoon of creme fraiche at the end for extra creaminess.
Sprinkle of fresh parsley never goes amiss.
One Pot Leftover Ham and Pea Pasta Step By Step Instructions
📋 Recipe
One Pot Leftover Ham and Pea Pasta
This quick and easy pasta puts your Sunday roast leftovers to a good use with minimum effort on your part. Perfect midweek meal with all the flavour and minimum washing up.
Ingredients
350

g

wholewheat penne pasta

or any pasta type you like

1

large leek (white and light green part)

cleaned and thinly sliced

2

large garlic cloves

finely chopped/ minced

25

g

unsalted butter

250-300

g

leftover ham or gammon

roughly chopped/cubed

200

g

frozen peas

1

tablespoon

dijon mustard

170-200

g

Gruyere cheese

grated

1

ltr

water or ham poaching liquid

parmesan (to serve)

optional

freshly parsley (to serve)

optional
Instructions
Prepare the leek by cutting it in half (lengthwise) and running it under the cold tap. Separate the layers but only enough to wash out the grit, otherwise leaving the leek intact. Once clean, go ahead and slice each half nice and thin.

Melt butter in a large, casserole style pot and add sliced leeks. Fry them gently on a medium heat until softened but not coloured stirring frequently approx 8-10 min.

Add chopped/minced garlic and fry for another minute or so stirring.

Add pasta and ham followed immediately by ham poaching liquid or water and dijon mustard. Season to taste with salt and pepper.

Give everything a good stir, increase the heat to high and bring it to boil.

Pop the lid on, lower the heat and simmer gently for 12 minutes.

When the time is up, take the lid off and give the pasta a good stir (it will be quite saucy). Add frozen peas and cook for a couple of minutes until defrosted.

Follow with grated gruyere cheese and mix well.

Serve with more cheese sprinkled over if desired and some freshly chopped parsley.
Notes
Nutritional information is approximate and should be treated as a guideline only.
Feel free to use any shape of pasta you like. You could also use regular pasta instead of wholewheat but make sure to check doneness of your pasta at around 10min to prevent overcooking (you want pasta to have a slight bite to it, be al dente).
Substitute Gruyere with any other Swiss cheese, French Comte, Norwegian Jarlsberg. If you don't have any of the above, cheddar will do (preferably not the mature one on this occasion). 
Nutrition
Nutrition Facts
One Pot Leftover Ham and Pea Pasta
Amount Per Serving
Calories 454
Calories from Fat 189
% Daily Value*
Fat 21g32%
Cholesterol 93mg31%
Sodium 1011mg42%
Potassium 234mg7%
Carbohydrates 35g12%
Protein 31g62%
Vitamin A 1315IU26%
Vitamin C 23.1mg28%
Calcium 471mg47%
Iron 2.7mg15%
* Percent Daily Values are based on a 2000 calorie diet.
OTHER ONE POT AND EASY MIDWEEK RECIPES YOU MIGHT ENJOY
One Pot Beans & Meatballs Pasta
One Pot Smoked Sausage Jambalaya
Easy One-Pan Salmon & New Potatoes Bake
Cheat's Jerk Chicken with Rice & Peas (Beans)
Easy Butternut Squash & Chorizo Gnocchi
MAKE SURE YOU STAY UP TO DATE WITH ALL THE LATEST RECIPES FROM JO'S KITCHEN LARDER
Have you tried my One Pot Leftover Ham and Pea Pasta? Leave a comment at the bottom of this post, I love reading them! You can also come and say hello over on my Facebook page, Twitter, Instagram or Pinterest
PIN ONE POT LEFTOVER HAM AND PEA PASTA FOR LATER!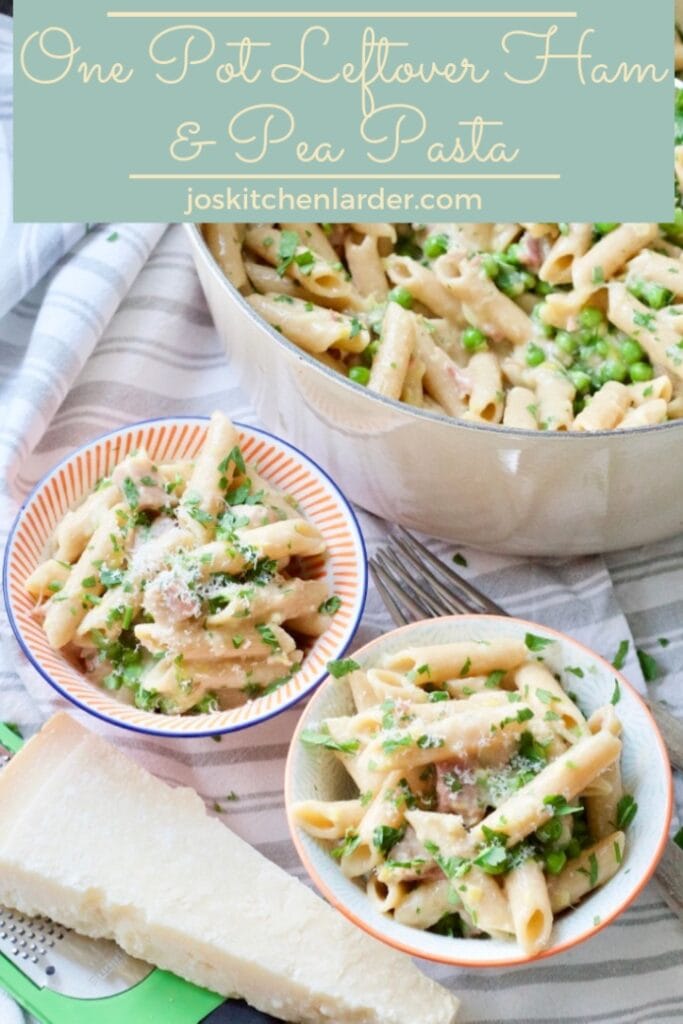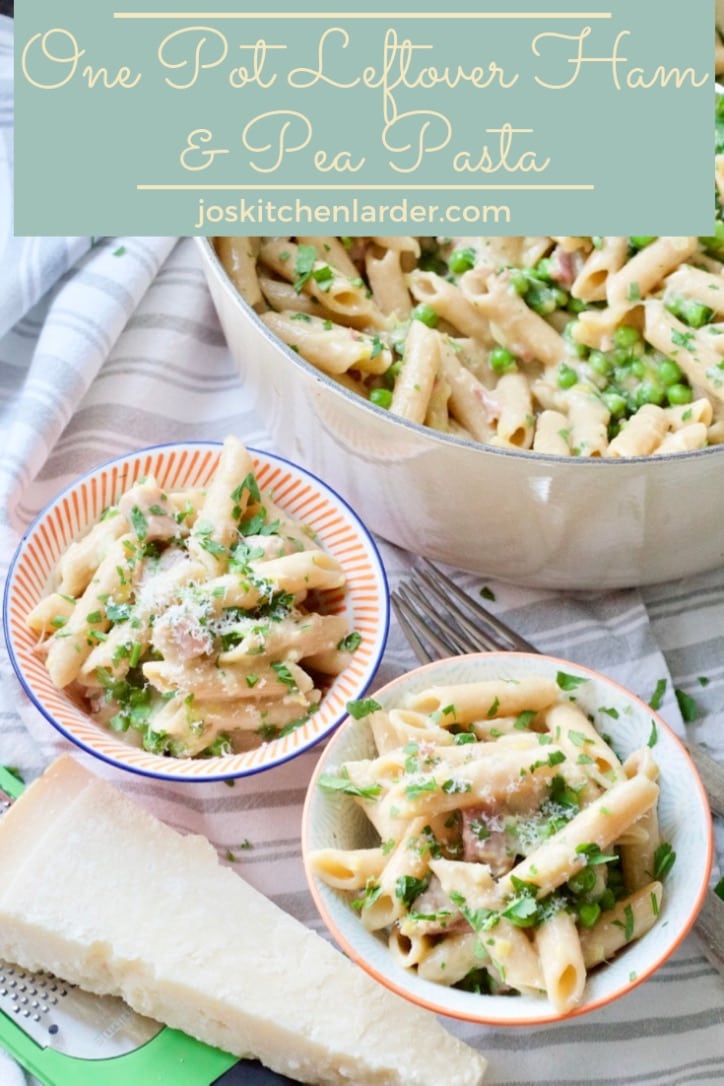 I'm linking my One Pot Leftover Ham and Pea Pasta with the following pages:
Cook Blog Share hosted this week by Midge at The Peachicks' Bakery
Cook Once Eat Twice hosted by Corina at Searching for Spice
Fiesta Friday hosted by Angie and co-hosted by Ai at Ai Made It For You and Jhuls at The Not So Creative Cook
This Christmas leftovers recipe is featured in Twinkl's 12 Days of Eco-Christmas campaign. Why not check out other creative, family-friendly recipes on their website?
*This post contains affiliate links, which means that if you click on a link and go on to buy the product I recommend, I will get a small commission, but you will not be charged a penny more. I only recommend products I own or really like and which caught my attention. Thanks in advance for supporting Jo's Kitchen Larder!