Easy & naturally vegan Roasted Tomato & Basil Pasta makes perfect midweek family dinner that celebrates tomatoes at the peak of their season. Ready in 30 minutes and loved by kids & adults alike this Summery pasta is bound to be a winner!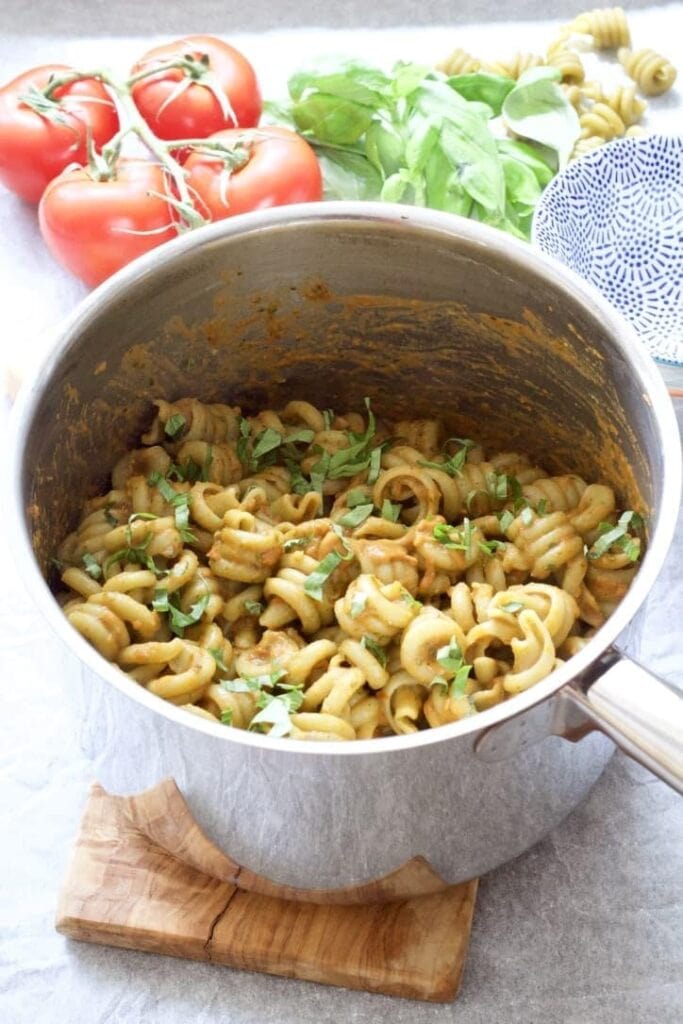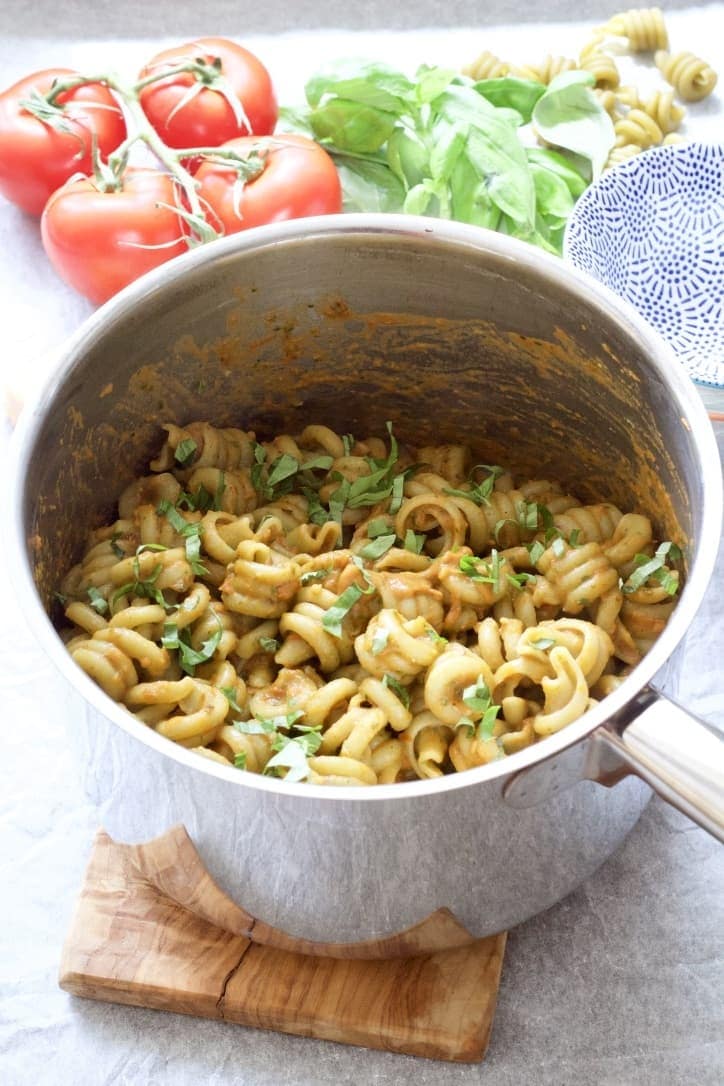 This simple pasta has become one of my kids firm favourites and also my midweek saviour! It's quick and easy to make yet delivers on that delicious flavour that only low and slow roasting could? As it turns out the roasting process doesn't have to be low and slow (there is time for that too but not with this recipe) but rather high and quick! Add couple of flavour enhancers like garlic and basil and you will get yourself the most divine midweek family dinner! You will be laughing at how quick and easy it was!
Do I need to use fresh tomatoes to make this pasta?
Yes! Even though you can make basic tomato sauce using tinned tomatoes, this particular recipe celebrates fresh tomatoes that are at their seasonal peak, sun blushed and juicy. Using beautifully ripe tomatoes and roasting them to bring out even more flavour is what really makes this dish! If you happen to have an abundant amount of fresh tomatoes you might want to try my Roasted Tomato & Fennel Soup Recipe as well.
Do I need to use vine tomatoes?
You can use whatever tomatoes you've got available. I used vine tomatoes here as I had beautiful bunch arrive in my organic veggie box but you could use any type of tomato you want (as long as they are really nice and ripe).
If you're using smaller plum or cherry tomatoes, do not bother quartering them. Simply cut them in half or you could even roast them whole, it's up to you!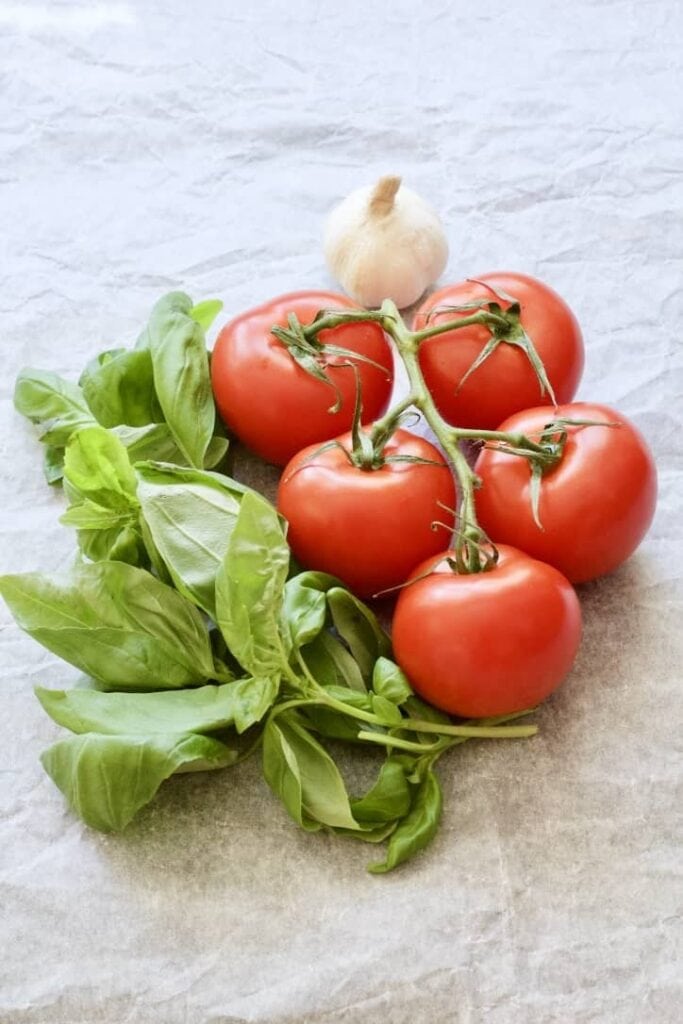 Is this pasta vegan?
Yes, this pasta is naturally vegan providing you use vegan friendly cheese to serve it with or forgo cheese altogether!
You can also easily make it gluten-free by using your favourite gluten-free pasta! I have recently tried this delicious green lentil pasta* and must say am really impressed!
How can I adapt this Roasted Tomato & Basil Pasta?
As this pasta is super basic and relies mostly on the flavour from beautifully ripe tomatoes, there is not much else you can do as then it won't be roasted tomato and basil pasta anymore! However, if you are not a garlic fan you can either reduce the amount of cloves used or leave them out altogether. Roasted garlic goes so well in this pasta though and roasting brings out its sweetness and mellows raw & harsh garlicky flavour.
If you want your pasta to have a bit more of a grown-up, rustic feel, you can skip pureeing and mash roasted tomatoes with the fork instead mixing them with thinly sliced or torn basil leaves. If that's how you choose to have it you might want to slice your roasted garlic cloves thinly as well or simply mash them with the fork as you would tomatoes. That's how I would have this pasta if it was just hubby and myself. Pureeing is brilliant and necessary if you are catering for fussy kids like mine!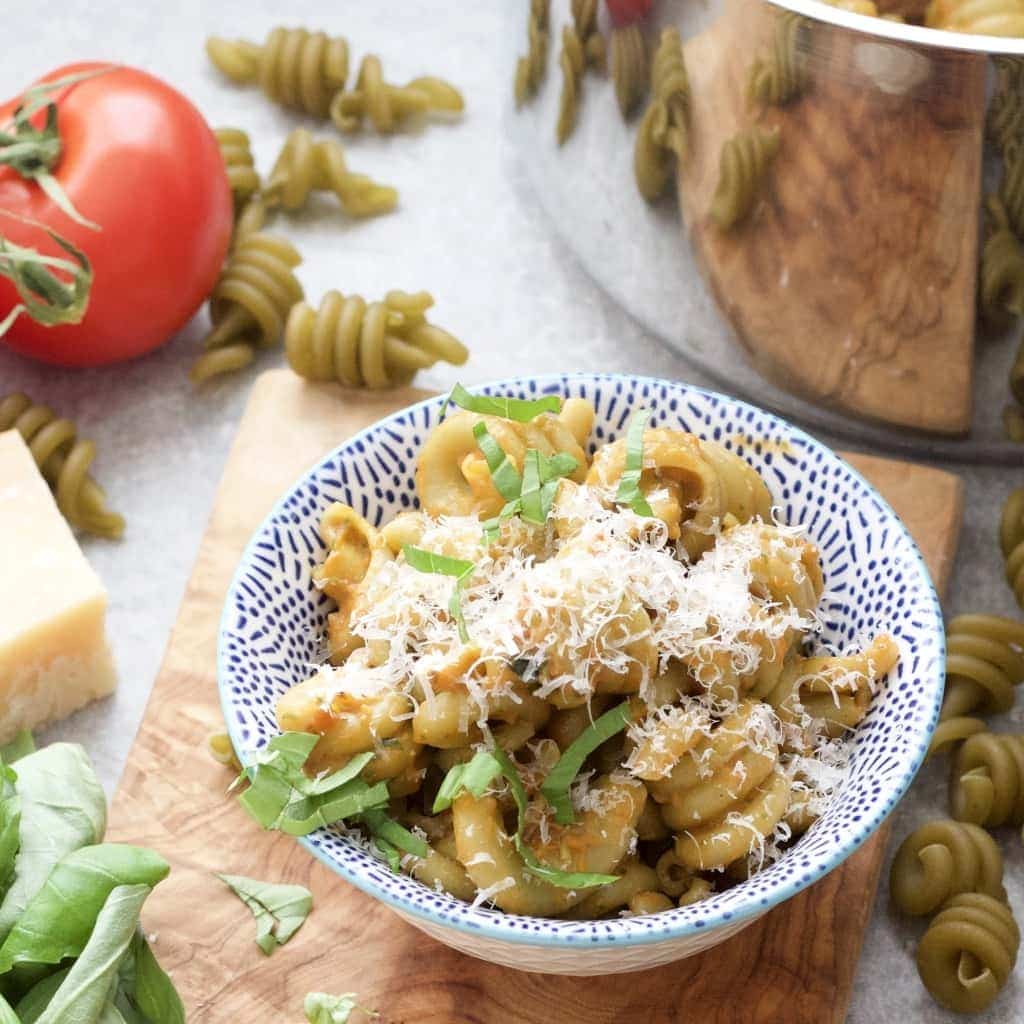 Freezer friendly roasted tomato and basil pasta sauce!
If you have lots of ripe tomatoes that need using up, you can easily make bigger batch of this delicious pasta sauce and freeze it for later. It will keep in freezer safe bag or container for up to 6 months.
How to make Roasted Tomato & Basil Pasta – Step-By-Step
1. Wash and quarter your tomatoes (if using large ones on the vine) and put them on a baking tray lined with aluminium foil together with peeled garlic cloves, dried oregano, extra virgin olive oil, and some salt and pepper.
2. Bake in preheated oven (200C/400F/Gas Mark 6) for 15-20 minutes until they begin to shrivel up and look slightly blistered.
3. Take roasted tomatoes out of the oven and drizzle them with some balsamic vinegar.
*** Take the time when your tomatoes are roasting to cook your pasta as per instructions on the packaging. Save some pasta water for later to adjust the consistency of your sauce! ***
4. Put roasted tomatoes into the saucepan or a blender, add fresh basil leaves and blend until you get nice and thick puree. Taste and adjust seasoning as per your liking.
5. Serve the sauce with cooked pasta of your choice. Use saved pasta water to loosen up the sauce to the consistency you like.
6. Serve with some extra basil and grated parmesan or vegan cheese!
Other recipes you might enjoy
Baked Spinach & Ricotta Stuffed Pasta Shells
Easy Homemade Chicken Chow Mein
Creamy Salmon & Asparagus Pasta
30-minute Vegetable Egg Fried Rice
Easy Veggie Lentil & Bean Chilli (Vegan)
Easy Cauliflower & Lentil Curry (Vegan)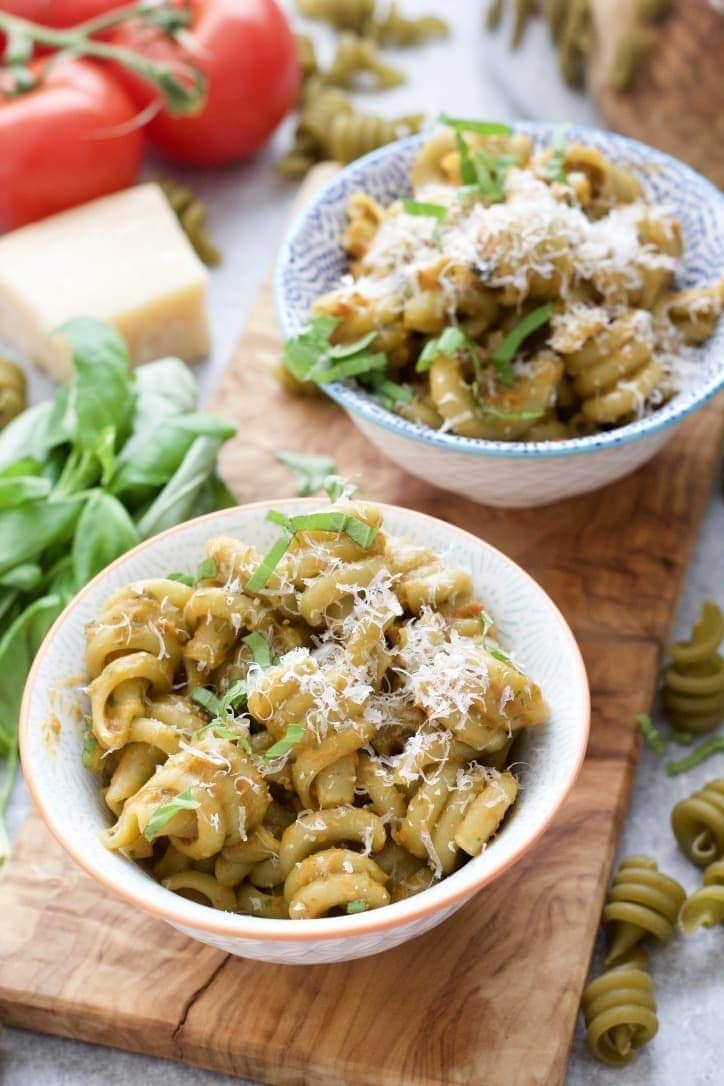 MAKE SURE YOU STAY UP TO DATE WITH ALL THE LATEST RECIPES FROM JO'S KITCHEN LARDER
Have you tried my Roasted Tomato & Basil Pasta? Leave a comment at the bottom of this post, I love reading them!
You can also come and say hello over on my Facebook page, Twitter, Instagram or Pinterest
PIN ROASTED TOMATO & BASIL PASTA FOR LATER!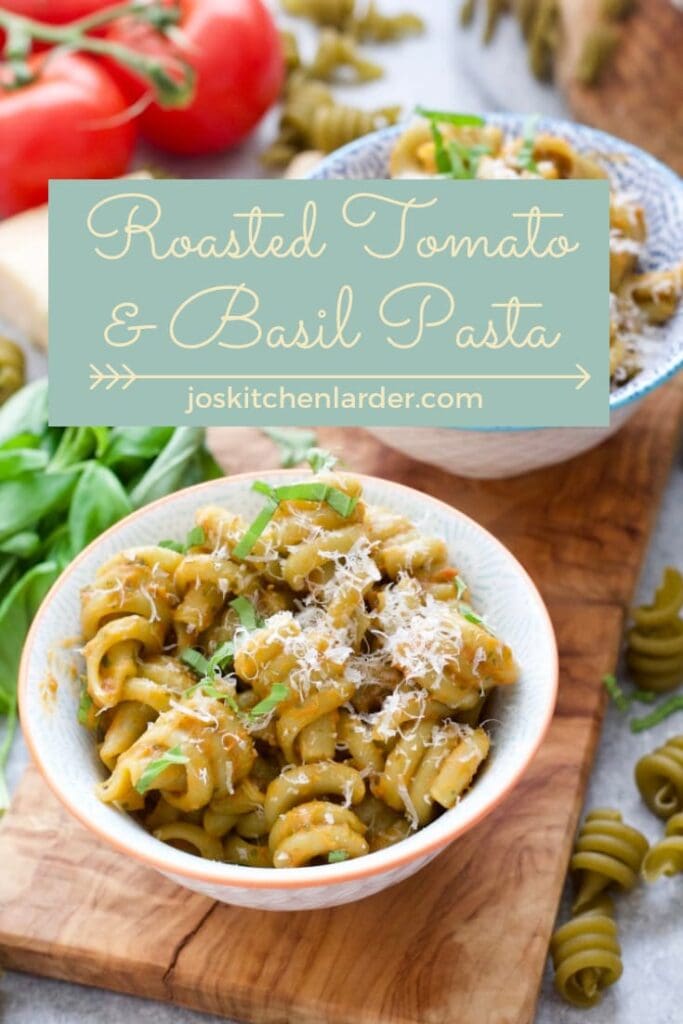 LINKIES
*This post contains affiliate links, which means that if you click on a link and go on to buy the product I recommend, I will get a small commission, but you will not be charged a penny more. I only recommend products I own or really like and which caught my attention. Thanks in advance for supporting Jo's Kitchen Larder!