This Creamy Pasta Primavera with broad beans, courgettes (zucchini) & broccoli celebrates seasonal veggies quick & easy way. Perfect midweek family meal!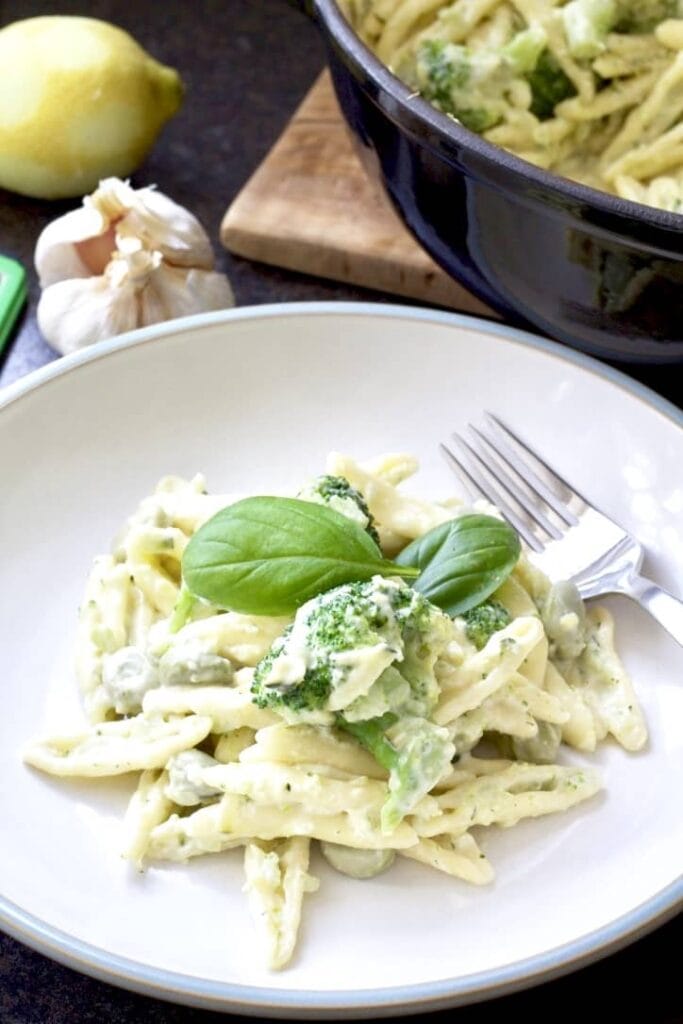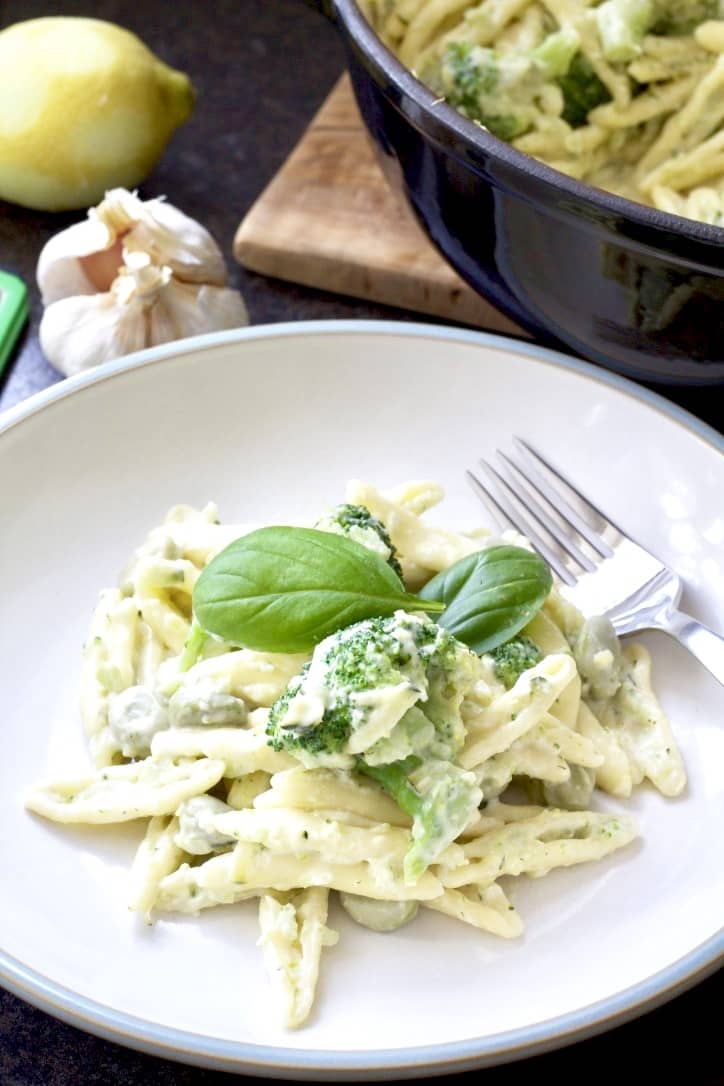 This quick, easy and delicious Creamy Pasta Primavera showcases beautiful, seasonal produce. We've gotten so used to having majority of fruit and veg all year round now that eating with seasons is not something we do anymore!
What is Pasta Primavera?
Pasta Primavera translates into Springtime Pasta (primavera means springtime in Italian). It was first invented by chef Sirio Maccioni in 1975 and became a huge hit in his New York City restaurant Le Cirque. (source Wikipedia)
My version of pasta primavera celebrates three veggie stars of the summer - broad beans, courgette (zucchini) and broccoli and is so wonderfully simple, creamy & delicious! This pasta is a perfect example that eating with seasons really is the way to go!
Can I use frozen broad beans in this pasta?
If you'd like to make this pasta outside of the broad bean season or you simply cannot get your hands on fresh ones, using frozen broad beans would be the next best thing! Frozen veggies are full of nutrients as they were usually frozen very shortly after picking and should most definitely be embraced in our kitchens.  You cannot beat them in terms of convenience either!
Should I double-pod broad beans?
Some of you may find broad beans on a "tough" side (especially at the end of the season). You might want to go to trouble of double podding (peeling) them. This slightly mundane process shall reveal the most gorgeous and tender green flesh that is anything but tough. I warn you though , it is a bit of a faff but hey, where there is a will there is a way. You will most likely notice the difference towards the end of the season when the broad beans get a bit bigger and tougher. It is definitely worth to go to a trouble of double podding then.
Check out my guide with lots more information on how to cook broad beans.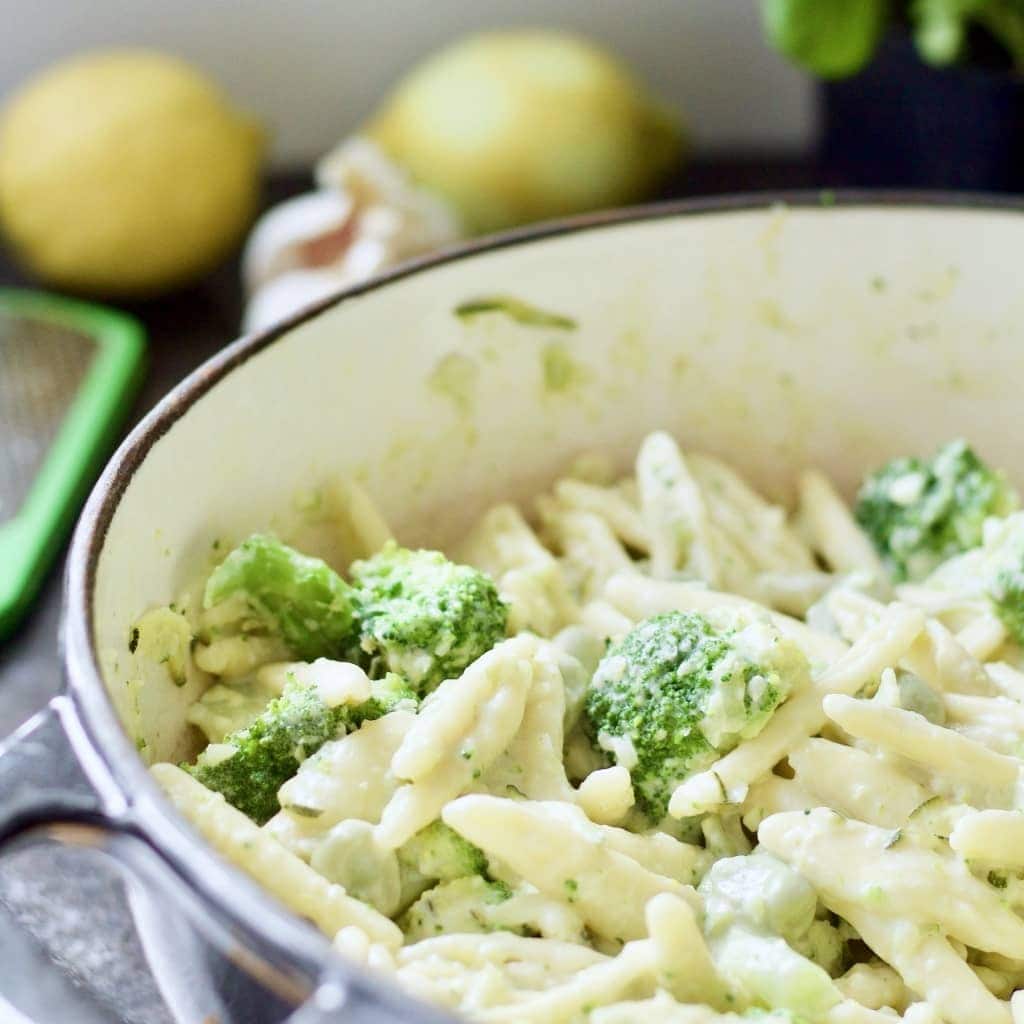 How to double-pod broad beans?
In case you'd like to give double-podding a go simply remove the beans from their pods (initial podding) and pop them in a pot of lightly salted boiling water for anything between 5-8 minutes (depending on their size and how tender you'd like them). When the time is up drain them on the sieve or colander and pop under cold running water to stop them cooking. Now you should be able to easily remove outer skins of your broad beans revealing lovely green flesh. Easy peasy!
How can I adapt this recipe?
Feel free to play around with the quantities of your veggies and the veg itself. Try using asparagus and peas with courgette (zucchini) or swapping regular broccoli for tender stem variety.
You could swap mascarpone for creme fraiche or sour cream (full fat or light versions if you like).
In my opinion this pasta is best eaten fresh but if you have any leftovers you can try them cold or very gently reheated for lunch the next day. I would not recommend freezing this pasta!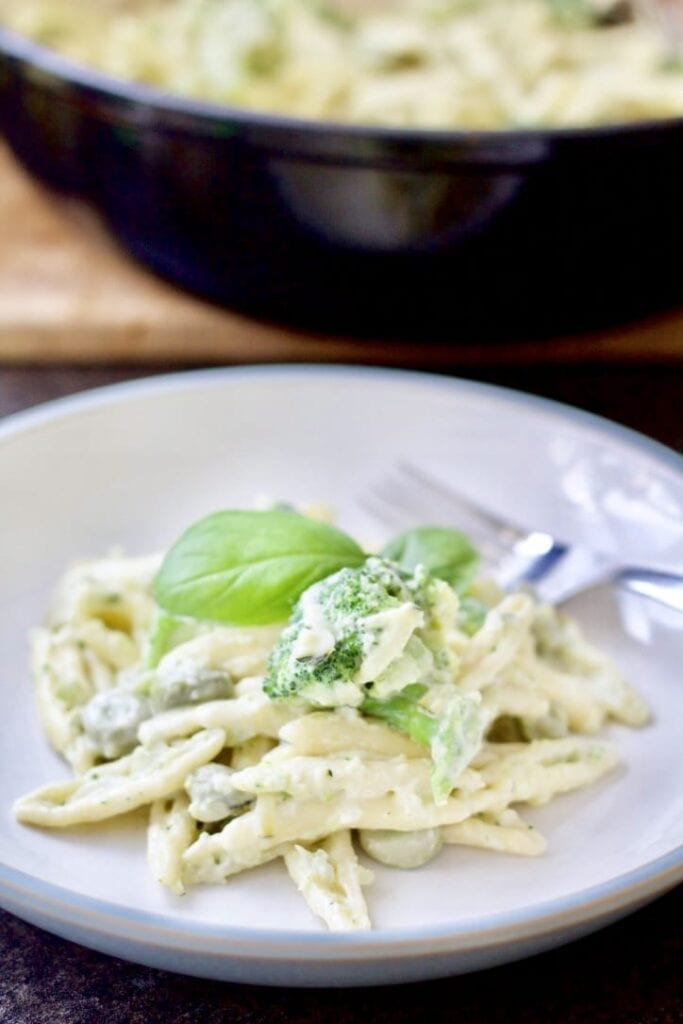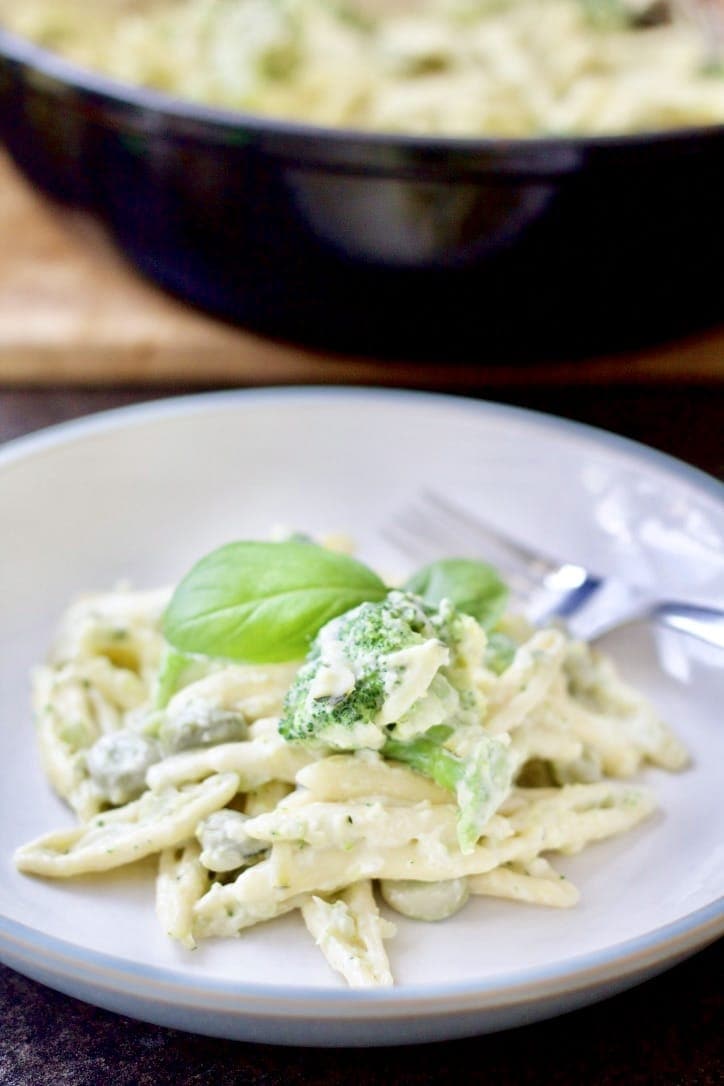 📋 Recipe
Creamy Pasta Primavera
This Creamy Pasta Primavera with broad beans, courgettes (zucchini) & broccoli celebrates seasonal veggies quick & easy way. Perfect midweek family meal!
Ingredients
140

g

broad beans

podded weight

270

g

broccoli florets

1 large head of broccoli

1

courgette (zucchini)

roughly 140g/5 oz grated, skin on

3

garlic cloves

crushed, minced or finely chopped

350

g

pasta

I used Cavatelli*, but any shape will do just fine

250

g

Mascarpone light

20

g

parmesan

grated

zest & juice of 1 lemon

1

tablespoon

olive oil

salt and pepper

to taste
Instructions
Wash and grate the courgette (skin on) on the large part of the grater.

Cook broad beans and broccoli florets in a pan of salted boiling water until cooked but broccoli florets should be slightly al dente and nicely holding their shape. Set veggies aside and cook your pasta in the same water according to packet instructions. Drain but save some of the veggie/pasta water.

Heat tablespoon of olive oil in a large pan, and gently fry crushed garlic and grated courgette until softened. Stir frequently as you don't want your garlic to burn.

Add mascarpone, grated parmesan, zest & juice of lemon and mix well.

Add cooked pasta, broad beans and broccoli and stir gently to warm them up in a pan.

Add splash of saved pasta water to loosen sauce a bit, season to taste.

Plate up and serve with additional sprinkle of grated parmesan and some fresh basil if you wish.

Enjoy!
Notes
Nutritional information is approximate, per serving and should be used as a guideline only. 
The quantities of all the veggies used are as per what I had on hand on the day. Your courgette and broccoli might be smaller or bigger so your quantities might vary. Go with what you've got! You can also play around with seasonal veggies - perhaps use peas and asparagus or tender stem broccoli instead. 
Feel free to double-pod your broad beans, see how above.
You can substitute fresh broad beans with frozen when out of the season. 
This pasta is best eaten fresh and I wouldn't recommend freezing it!
Nutrition
Nutrition Facts
Creamy Pasta Primavera
Amount Per Serving
Calories 570
Calories from Fat 162
% Daily Value*
Fat 18g28%
Cholesterol 3mg1%
Sodium 114mg5%
Potassium 639mg18%
Carbohydrates 80g27%
Protein 23g46%
Vitamin A 1435IU29%
Vitamin C 69.7mg84%
Calcium 221mg22%
Iron 2.3mg13%
* Percent Daily Values are based on a 2000 calorie diet.
Update Notes: This post was originally published on 2 September 2017 and updated in July 2019 with some helpful info and new recipe card.
Similar recipes you might enjoy
Creamy Salmon & Asparagus Pasta
One Pot Leftover Ham & Pea Pasta
Veggie Lentils and Spinach Lasagne (Batch Cooking Recipe)
Baked Spinach & Ricotta Stuffed Pasta Shells
Easy Homemade Chicken Chow Mein
MAKE SURE YOU STAY UP TO DATE WITH ALL THE LATEST RECIPES FROM JO'S KITCHEN LARDER
Have you tried my Creamy Pasta Primavera? Leave a comment at the bottom of this post, I love reading them!
You can also come and say hello over on my Facebook page, Twitter, Instagram or Pinterest
Pin Creamy Pasta Primavera For Later!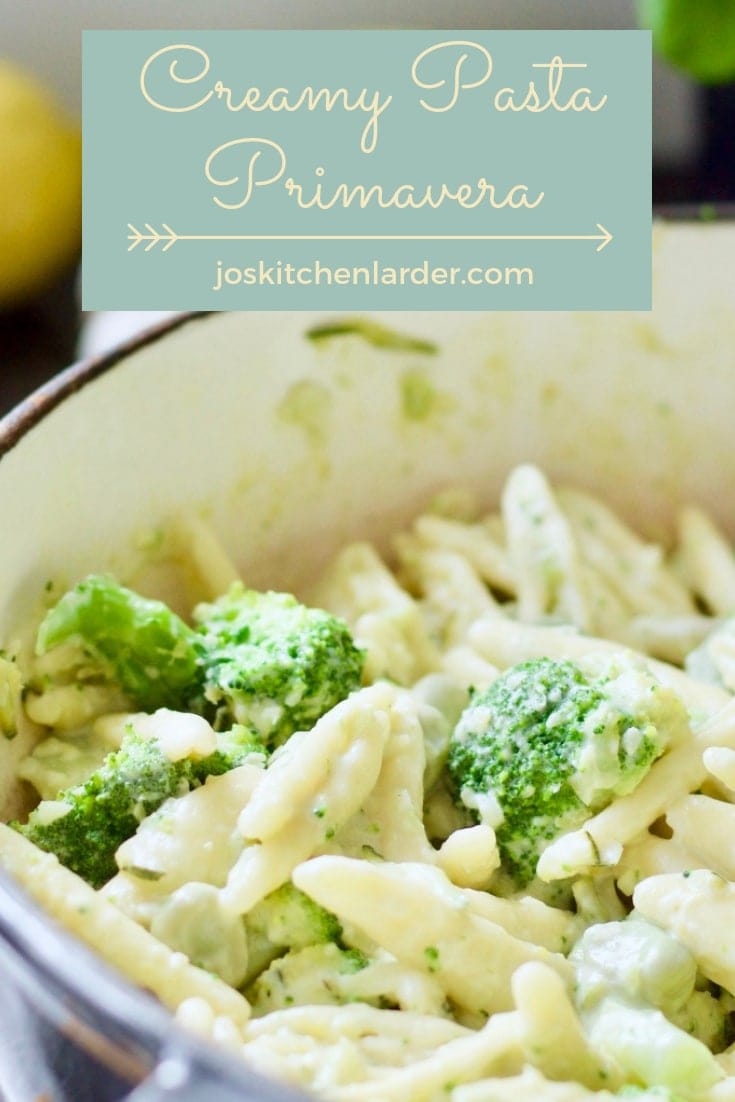 LINKIES
Cook Blog Share hosted by Recipes Made Easy and Everyday Healthy Recipes, Cook Once Eat Twice
*This post contains affiliate links, which means that if you click on a link and go on to buy the product I recommend, I will get a small commission, but you will not be charged a penny more. I only recommend products I own or really like and which caught my attention. Thanks in advance for supporting Jo's Kitchen Larder!