It was Half Term here in the UK last week, not to mention the Pancake Day and Valentine's Day which we have celebrated with my Classic Pancakes and this delicious Perfect Eggless Tiramisu. There was also a bit more time for slightly more labour intensive dishes like these Baked Spinach & Ricotta Stuffed Pasta Shells which went down a treat with the entire family.

It is actually a really easy dish to make and although there are quite a few stages involved, you will be rewarded with wholesome , creamy and utterly delicious family feast! It's a perfect, laid back, weekend type of cooking which I love. If you are on the roll, feel free to double the recipe to freeze for later as it freezes beautifully (minus cheeses on top, which you will add once defrosted and before baking).
Stages of cooking Baked Spinach & Ricotta Stuffed Pasta Shells
Tomato Sauce
You should start with getting your tomato sauce ready and this can be done way ahead. However, if you are making everything all at once then allow minimum half an hour for the sauce to simmer on the hob. The whole hour would be even better.
I've opted for some added veggie goodness in this sauce to make it that bit more wholesome and delicious. My kids absolutely adore it and the good thing is this recipe yields more than you need so you can freeze it or keep in the fridge for later. It will be perfect tossed with some pasta and cooked chicken for a quick lunch or dinner.
I puree my sauce until it's really smooth as it simply suits this pasta dish better like that. However, you can make it as smooth or as chunky as you wish.
Pasta
Pre-cook your pasta shells first. Bring large pan of salted water to boil and cook your shells for approx. 8 min leaving them slightly firm and al dente as they will cook further in the oven. Slight firmness will also help when you are filling them as they won't fall apart in your hands. Once 8 minutes is up, drain them and cool immediately under cold water to stop cooking process. Set aside while you get on with your spinach.
Spinach
If you're using fresh spinach, place it on a colander in a sink and pour over 1-2 kettles full of boiling water over it to wilt it. Cool and drain well, squeezing out as much liquid as possible. Chop finely by hand or using food processor. Set aside.
Filling
Once spinach has cooled down, mix it with ricotta, grated parmesan, nutmeg, salt and pepper and get filling. It's quite therapeutic really. 🙂 In the past I used to make this bake using cannelloni (pasta tubes) which I found really frustrating to be honest hence never used to make it very often but these little pasta shells are soo much easier! No stress at all! It's such a gorgeous and comforting veggie feast, you don't really want to miss out and conchiglioni (pasta shells) are the way forward! 🙂
Now take a look at detailed recipe below!
Spinach & Ricotta Stuffed Pasta Shells
Servings
4
generous servings
Ingredients
Tomato Sauce
Generous glug of extra virgin olive oil

2

celery stick

roughly chopped

1

large or 2 small carrots

peeled or scrubbed and roughly chopped

1

large or 2 small red onions

peeled and roughly chopped

1

broccoli stalk

roughly chopped

2

x 400g tins chopped or plum tomatoes

couple sprigs of basil

leaves and stalks

2

plump garlic cloves

peeled and left whole

1/2

tsp

sugar

or to taste

salt and pepper to taste
You will need the pan with the lid
Pasta Shells with Spinach & Ricotta filling
250

g

conchiglioni pasta

pasta shells - approx 32 shells

500

g

fresh spinach or baby spinach

alternatively approx 300g frozen spinach

2

x 250g tubs ricotta cheese

60

g

parmesan

grating of nutmeg

to taste

salt and pepper

to taste

1

pack mozzarella

125g drained weight

More parmesan to grate on top before baking.

Fresh basil and more parmesan to serve

if you wish.
I used rectangular baking dish approx 34x24 cm
Instructions
Tomato Sauce
Heat the oil in a pan and add onion, celery, carrots and broccoli stalk and let them fry briefly (2-3 min).

Add whole garlic cloves, tomatoes, basil, sugar and couple of good pinches of salt.

Rinse out the tins with a bit of water (less than a quarter of a tin) and add that too.

Stir well and bring to boil. Cover tightly with a lid, reduce the heat and simmer for anything between half an hour to an hour (however much time you've got).

Keep en eye on the sauce and give it a stir from time to time. As long as the pan is tightly covered the sauce won't be reducing rapidly but nice and slow, letting flavours develop.

Puree the sauce using a stick blender to the desired consistency, making it as smooth or leaving as chunky as you like.
Pasta Shells with Spinach & Ricotta filling
Pre-boil pasta shells in a large pan of salted, boiling water for 8 min, drain and run under cold water to cool.

Put fresh spinach on a colander over the sink and pour 1 or 2 kettles worth of boiling water to wilt it. For frozen spinach follow instructions on the pack. Drain well, squeezing out as much water as possible. Chop finely with a knife or food processor.

Put ricotta cheese in a large bowl, add chopped spinach, grated parmesan, grated nutmeg, salt and pepper. Give it a good mix and taste, adjust seasoning as per your liking.

Once you are happy with the taste of filling, start filling pre-cooked and cooled pasta shells using generous teaspoon per shell.

Assemble your bake by spreading generous amount of tomato sauce on the bottom of the dish and arranging your filled pasta shells on top. Follow with some more pasta sauce over the shells, mozzarella cheese and some grated parmesan.

Bake in preheated oven at 180°C for approx 20-25 minutes until golden.

Enjoy!
Nutrition
Nutrition Facts
Spinach & Ricotta Stuffed Pasta Shells
Amount Per Serving (0 g)
Calories 0
% Daily Value*
Fat 0g0%
Cholesterol 0mg0%
Sodium 0mg0%
Potassium 0mg0%
Carbohydrates 0g0%
Protein 0g0%
Vitamin A 0IU0%
Vitamin C 0mg0%
Calcium 0mg0%
Iron 0mg0%
* Percent Daily Values are based on a 2000 calorie diet.
If you are big pasta fan, I have some lovely recipes that might be just up your street. Check out this Spring Lemon and Dill Salmon Pasta with Asparagus and Peas or perhaps Creamy Broad Beans, Courgette & Broccoli Pasta and don't forget my super popular Veggie Lentils and Spinach Lasagne which is perfect if you fancy a spot of batch cooking.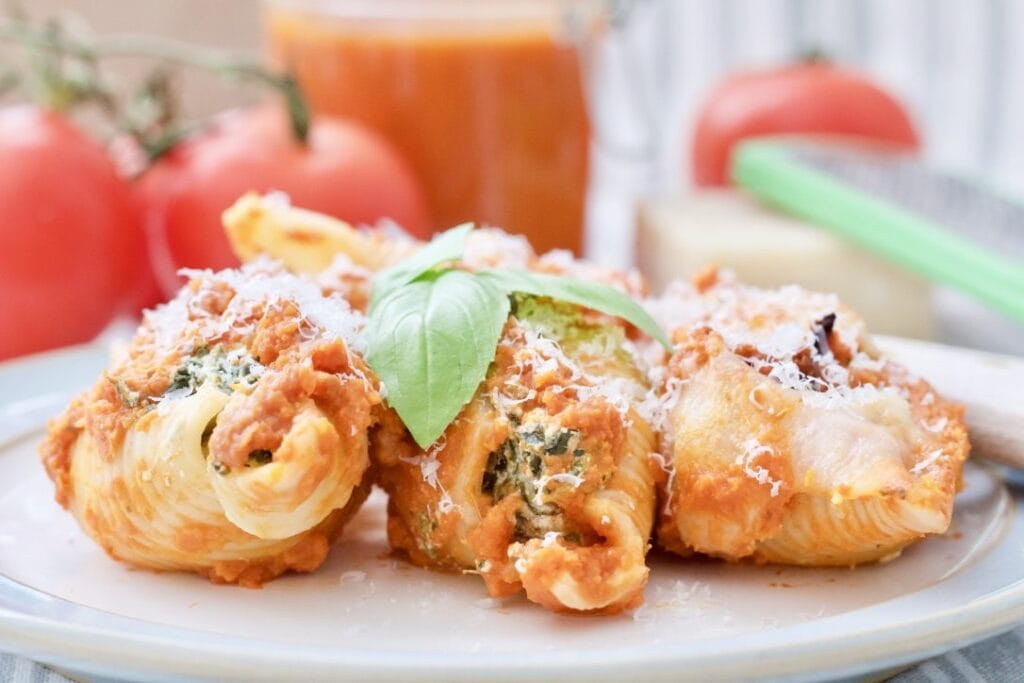 Have you tried my Baked Spinach & Ricotta Stuffed Pasta Shells? Leave a comment at the bottom of this post, I love reading them!
If you don't want to miss new recipes and updates from me make sure to subscribe to new recipe alerts in the top right corner of this page or come and say hello over on my Facebook page, Twitter or Instagram
Pin It For Later!
I'm linking my Baked Spinach & Ricotta Stuffed Pasta Shells post with the following pages:
Cook Blog Share hosted this week by Monika at Everyday Healthy Recipes and Jacqui at Recipes Made Easy
Cook Once Eat Twice hosted by Corina at Searching for Spice
Brilliant Blog Posts hosted by Vicki at Honest Mum Blog
Bake of the Week by Helen at CasaCostello and Jenny at MummyMishaps