Do you like aubergine (eggplant)? I do, and like it a lot! Unfortunately for me my kids and especially the husband don't. In hubbie's case it has got something to do with "horrific" moussaka he was fed at school as a kid. Bless him. 😉  The thing is , he will now not have it in any shape or form. Kids are not too keen either. Oh well.
From time to time I manage to sneak this gorgeous veg into stews or rich tomato based sauces but what I really want is to eat it in its full glory, knowing that I'm in fact, eating said aubergine. That's how my super simple and utterly delicious Aubergine, Tomato & Mozzarella Bake was born. It became my lunch or occasional lone dinner favourite (together with mushrooms on toast) - another veggie hubby won't touch with a bargepole (man's got issues) 😉

Reading the recipe you will notice that there really isn't much to this dish and salt and pepper are the only seasoning here. The reason being, I really wanted for the flavour of the veggies to shine through. Add lots of fresh basil on top and generous drizzle of  extra virgin olive oil and you're sorted. Big slice of buttered crusty bread doesn't go amiss when you're really hungry either. 🙂
If, it happens, you are not a fan of basil, sprinkle of dried or fresh oregano will work really nicely here. My Perfect Greek Tzatziki could be a lovely addition on the side if you're after more defined flavours.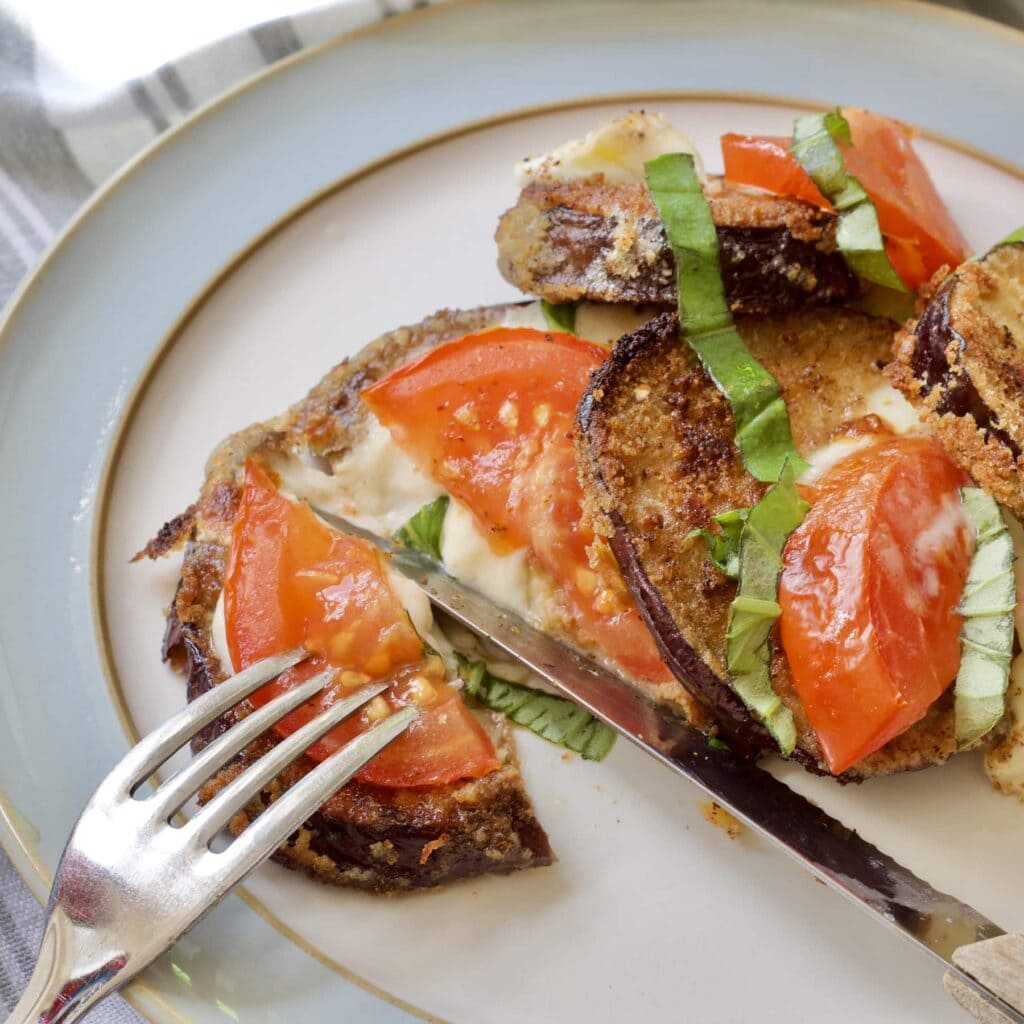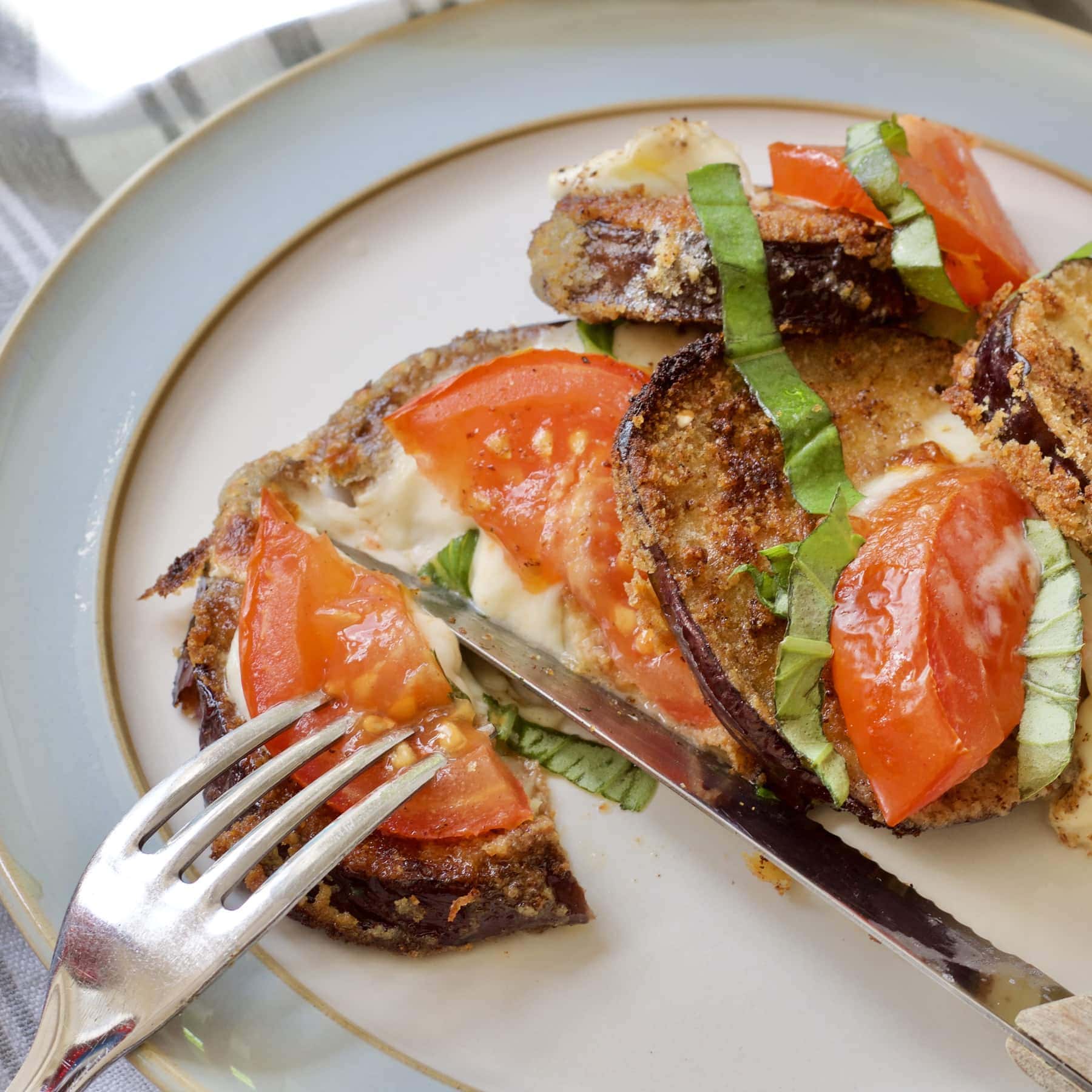 📋 Recipe
Aubergine, Tomato & Mozzarella Bake
Servings
2
-3 lunch portions
Ingredients
1

aubergine

eggplant

2

medium sized tomatoes

1

mozzarella ball

125g drained weight

7

tablespoon

breadcrumbs

2

eggs

salt

pepper

fresh basil

extra virgin olive oil
Instructions
Slice your aubergine into medium thick slices, season lightly with salt and pepper on both sides and set aside.

Prepare two plates or shallow pasta bowls. Add eggs to one bowl and whisk them lightly and breadcrumbs to another bowl.

Dip your aubergine slices (one at a time) in egg followed by breadcrumbs.

Heat tablespoon of oil in a non-stick pan and fry aubergine slices on both sides until breadcrumbs are golden in colour (you might have to add a bit more oil). Drain on a plate covered with paper towel.

Cut your tomatoes in half and slice each half. Drain and cut your mozzarella in half and slice each half.

Prepare ovenproof baking dish and layer your fried aubergine slices, tomatoes and mozzarella as pictured below.

Place under the preheated grill to melt the cheese slightly (you could also do it in the oven preheated to 180°C for about 10min).

Sprinkle with as much fresh basil as you want and drizzle with some olive oil.

Enjoy!
All that veg and I must admit, it isn't the healthiest of dishes due to fried aubergine slices and some mozzarella but little goes a long way here and boy is it worth it! This bake is best eaten warm with bits of mozzarella still oozing beautifully but don't fret if (like me) you are the only one eating it. It reheats just fine either in the oven or if you're impatient even quick blast in microwave will do.
If you are after some more easy veggie deliciousness why not try my Asparagus & Sun-Dried Tomato Risotto or Veggie Lentils and Spinach Lasagne
Pin For Later!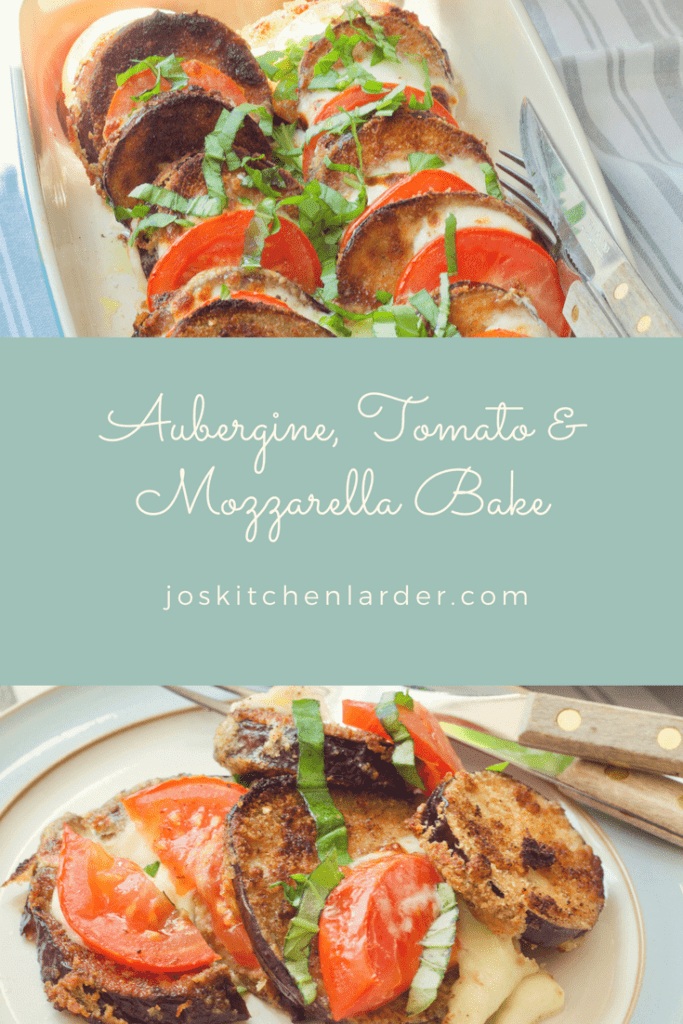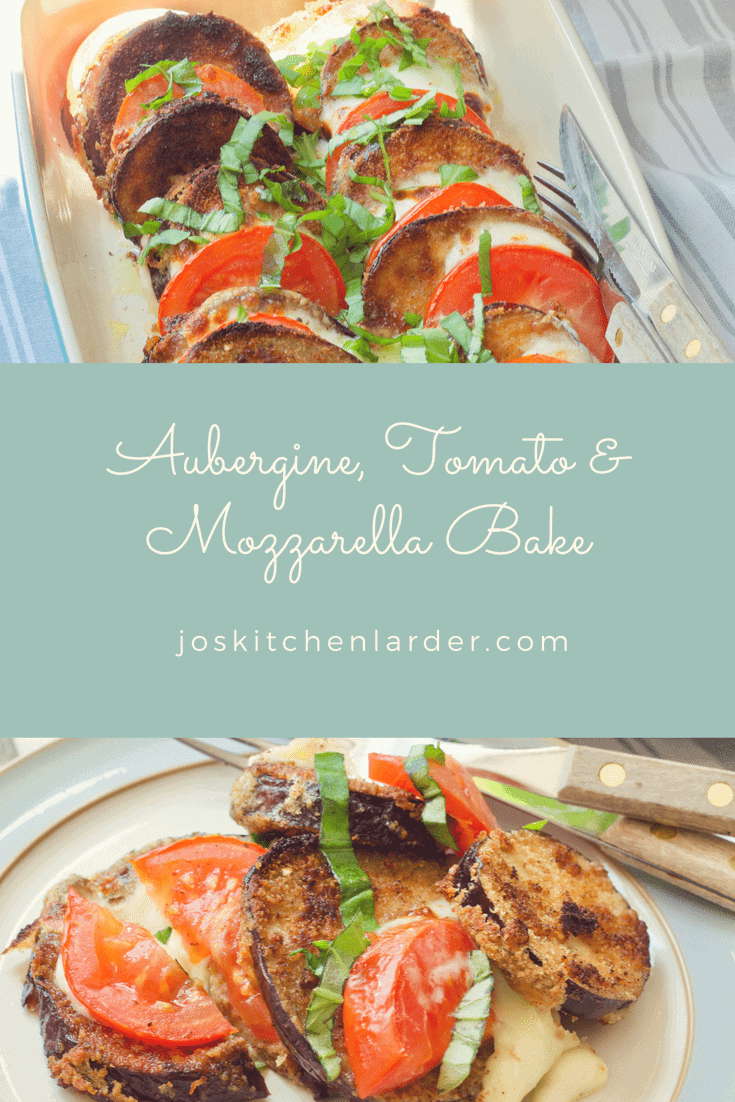 I'm linking my Aubergine, Tomato & Mozzarella Bake with the following pages:
Cook Blog Share hosted this week by Eb from Easy Peasy Foodie and Jacqui from Recipes Made Easy
Cook Once Eat Twice hosted by Corina at Searching for Spice
Simple and in Season hosted by Katie at Feeding Boys