Cheat's Jerk Chicken with Rice & Peas (Beans) - quick and easy midweek family dinner with a taste of Caribbean. Utterly delicious!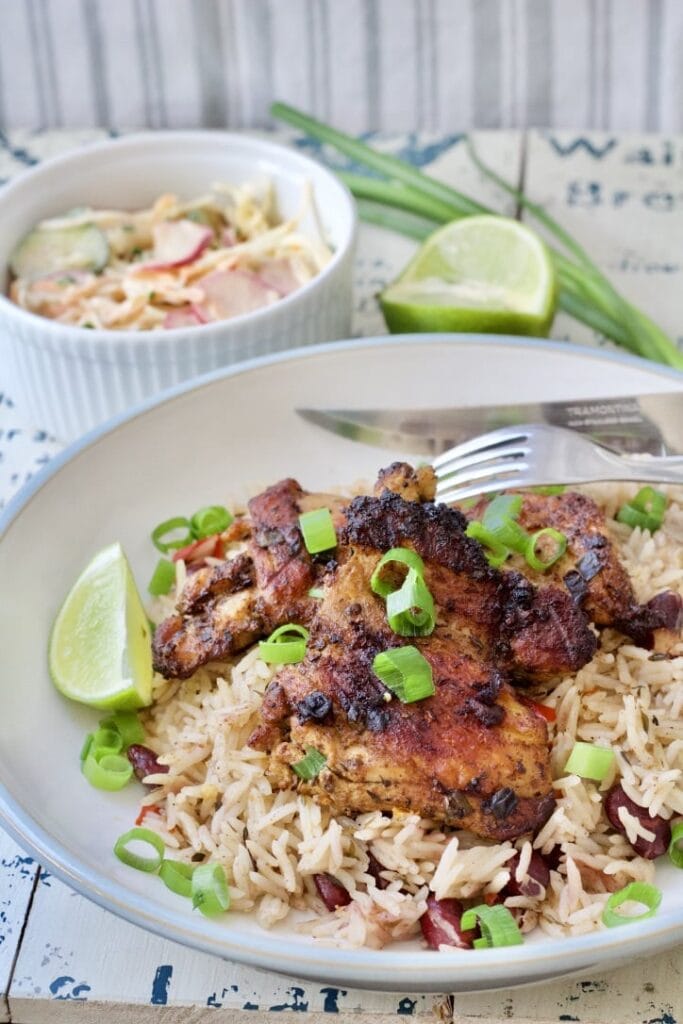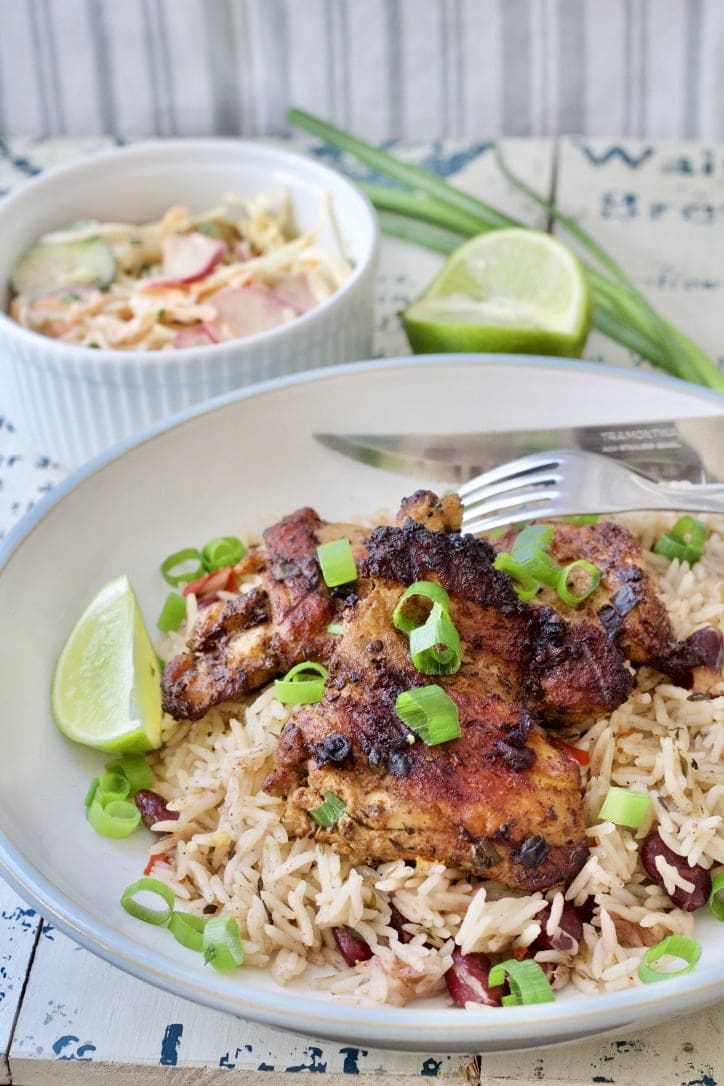 Perfect meal for those busy days!
Do you have those days when cooking is the last thing on your mind? You're tired and a bit fed up but family demands food? Today's recipe for my Cheat's Jerk Chicken with Rice & Peas (Beans) is perfect for one of those days. It's an uncomplicated,  home cooked meal with some easy shortcuts thrown in for good measure. And guess what? It delivers on flavour too and with a little bit of planning it can be on your table in under half an hour!
If you've been following my blog for a while now you know that I'm all for cooking from scratch most of the time but I do have those "really can't be bothered" days too and need any help I can get. 🙂
This simple Cheat's Jerk Chicken dinner is perfect for such days and keeps me happy knowing that my family had a wholesome and nutritious meal, even if with couple of lazy shortcuts on my part!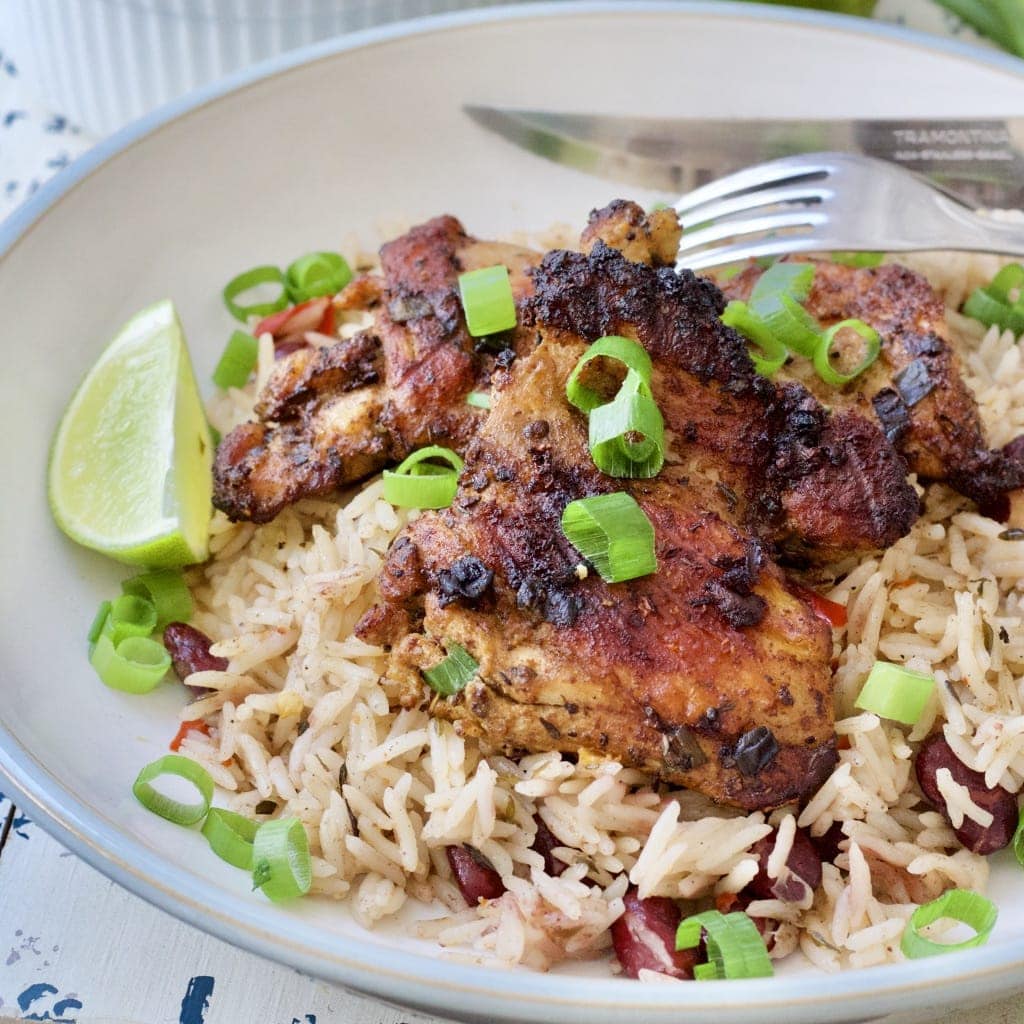 Note about ingredients!
I'm using my favourite part of chicken here (chicken thighs) which I find so much more flavourful plus much more difficult to dry out as they cook! In order to ensure that your Jerk Chicken is really scrumptious and full of flavour, the thighs should be allowed to marinate for as long as possible. Preparing a marinade takes as little as 5 minutes and if you can do it before you leave for work in the morning or the night before and let it do its job while you are out, you will be on to a winner. However, if life gets in the way and you forget etc. even half an hour will be better than nothing.
As for the seasoning, I've used Schwartz Jamaican Jerk* seasoning but you can use any other brand of Jerk seasoning that you've got available. Even though it is a little spicy, my children were perfectly happy scoffing the chicken and even asking for more!
Another shortcut I've use here are the rice pouches which, I must admit, I use very rarely but ALWAYS have few in the cupboard for emergency situations. The ones I've used here were Tilda Caribbean Rice & Peas but you could easily substitute them with other rice pouches of your choice.  If the rice you go for doesn't contain any "peas" you can always mix in some kidney beans for that "rice and peas" effect.
As for the best accompaniment to this meal, I cannot recommend my Creamy Summer Coleslaw enough! Its crunch and mild creaminess is perfect against slight spiciness of the chicken. Might be not authentic but to me it's marriage made in heaven.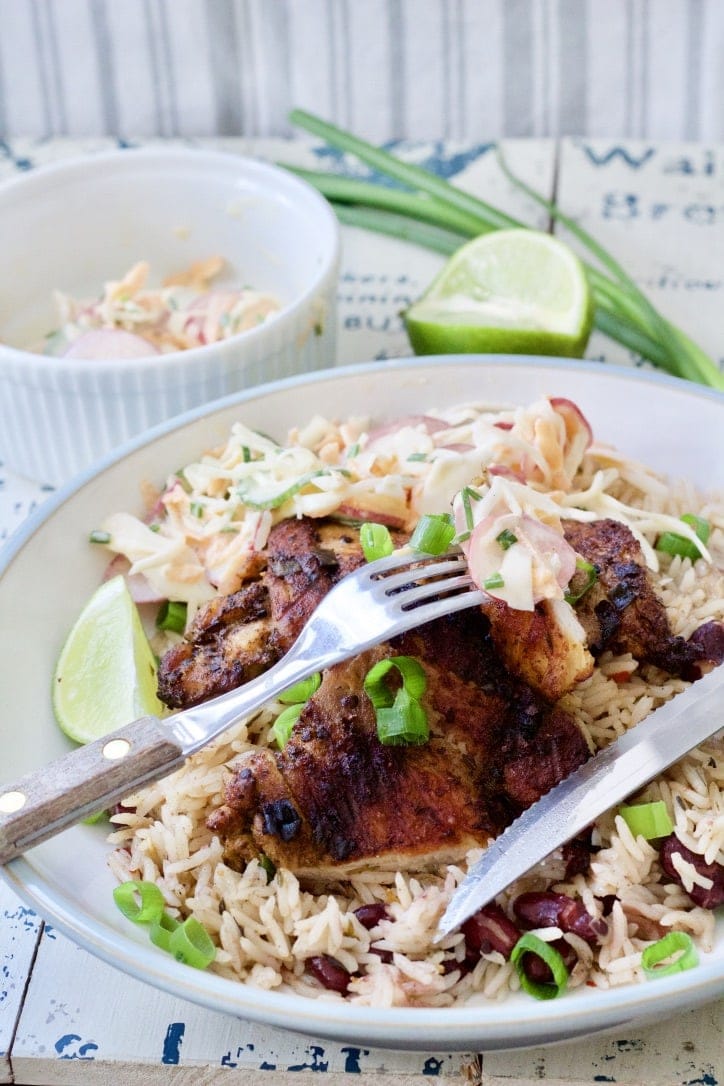 Make sure you stay up to date with all the latest recipes from Jo's Kitchen Larder
📋 Recipe
Cheat's Jerk Chicken with Rice & Peas (Beans)
Quick and easy midweek family dinner with a taste of Caribbean. Utterly delicious!
Servings
4
(2 adults and 2 kids)
Ingredients
500

g

chicken thighs

skinless & boneless

3

250g

pouches of ready Tilda Caribbean Rice & Peas

or similar

spring onions to garnish

juice of 1 lime
Marinade
2

tablespoon

(and an extra shake) Jamaican Jerk Seasoning Blend

or similar

3

tablespoon

Rapeseed oil

2

spring onions

thinly sliced
Instructions
Put all your marinade ingredients in a large bowl and mix well.

Put chicken thighs in with the marinade and mix well ensuring that they are really well covered. Cover the bowl and put in a fridge for minimum 2 hours but preferably overnight.

Heat up the griddle pan and cook each thigh approx 8-10 min on each side until cooked through and beautifully charred.

Served with pouches of ready Carribean Rice & Peas (Beans) or similar sprinkled generously with spring onions and squeeze of lime.
Notes
The number of servings per ready rice pouch is 2 which is never enough in our household. We tend to use 3 pouches for 2 adults and 2 children.
Nutrition
Nutrition Facts
Cheat's Jerk Chicken with Rice & Peas (Beans)
Amount Per Serving (0 g)
Calories 514
% Daily Value*
Fat 0g0%
Cholesterol 0mg0%
Sodium 0mg0%
Potassium 0mg0%
Carbohydrates 0g0%
Protein 0g0%
Vitamin A 0IU0%
Vitamin C 0mg0%
Calcium 0mg0%
Iron 0mg0%
* Percent Daily Values are based on a 2000 calorie diet.
Some more easy recipes you might enjoy
Easy Homemade Chicken Chow Mein
Easy Butternut Squash & Chorizo Gnocchi
Prawn & Chorizo Cheat's Paella
30-minute Vegetable Egg Fried Rice
Have you tried my Cheat's Jerk Chicken with Rice & Peas (Beans)? Leave a comment at the bottom of this post, I love reading them!
You can also come and say hello over on my Facebook page, Twitter, Instagram or Pinterest
Pin For Later!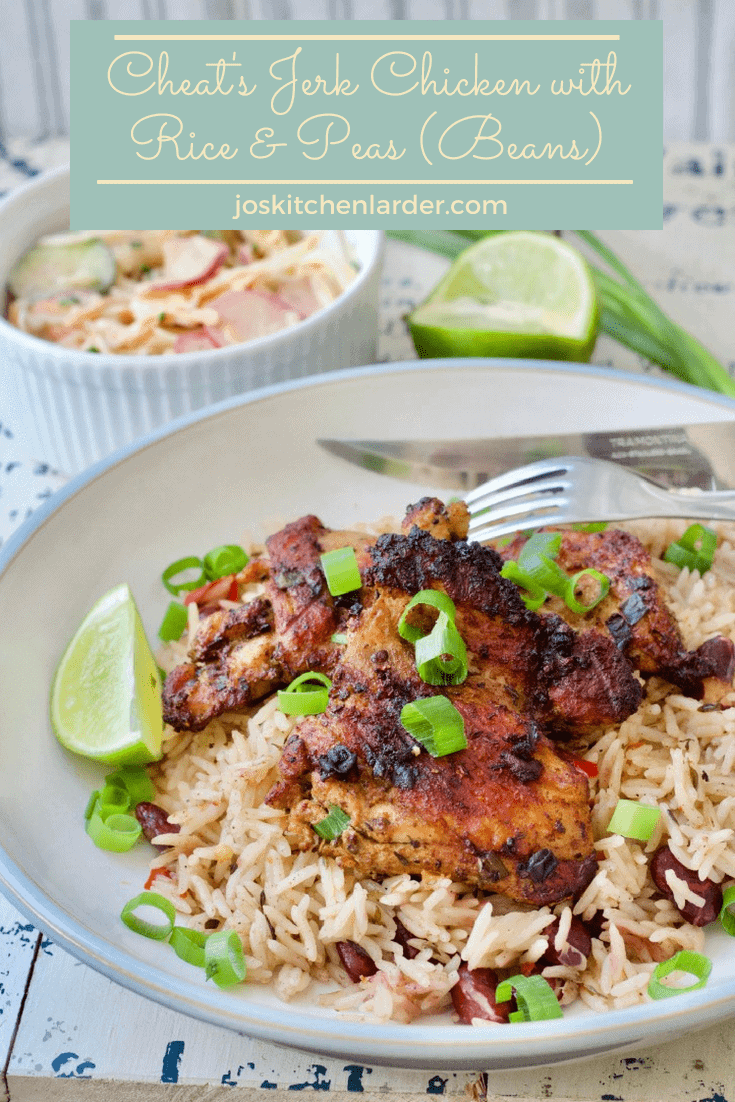 I'm sharing my Cheat's Jerk Chicken with Rice & Peas (Beans) post with the following linkies:
Cook Blog Share hosted by Jenny at Apply to Face Blog and Eb at Easy Peasy Foodie
Fiesta Friday hosted by Angie  and Diann at Of Goats and Greens
*This post contains affiliate links, which means that if you click on a link and go on to buy the product I recommend, I will get a small commission, but you will not be charged a penny more – thanks in advance for supporting Jo's Kitchen Larder!