Easy and delicious midweek supper for the entire family. Smoky flavours from paprika and chorizo married nicely with sweet tasting prawns. This super quick version of paella will become your go to recipe.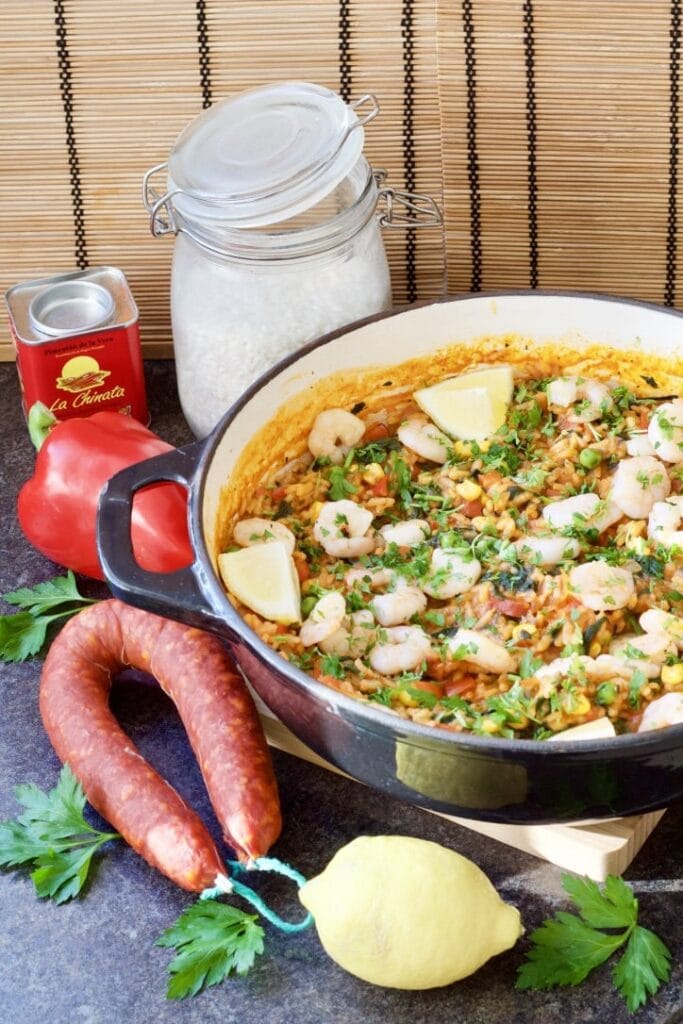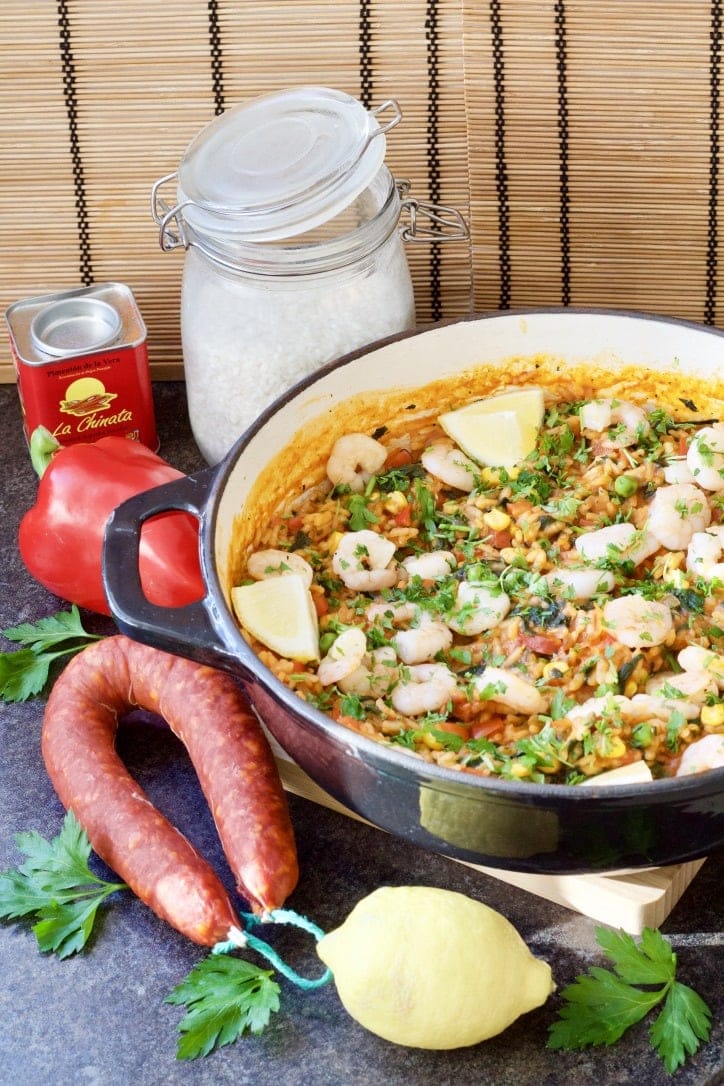 This recipe for Easy Prawn & Chorizo Cheat's Paella was the second recipe I have posted on my blog back in March 2017! I have meant to update the post and photos for a while now and despite me cooking it for us on regular basis I have not managed it until now! Now that I've finally done it, I hope you'll find it as appealing and easy as I do and it will become one of your favourite midweek dinners too!
Why will I love this Easy Prawn & Chorizo Cheat's Paella?
I do love Spanish food and paella must be one of my very favourite dishes! It is also my favourite dish for entertaining as it has got a wow factor and everybody loves it! When I make "proper" paella as opposed to this quick cheat's version, I use not only chorizo and prawns but also the entire chicken (portioned), perhaps some other seafood and of course saffron! I do love the rich flavour and the colour it gives to the rice. As delicious as it is, it does require a bit of time and attention. This simplified version is much quicker, cheaper and definitely less faffy yet still delivers on flavour!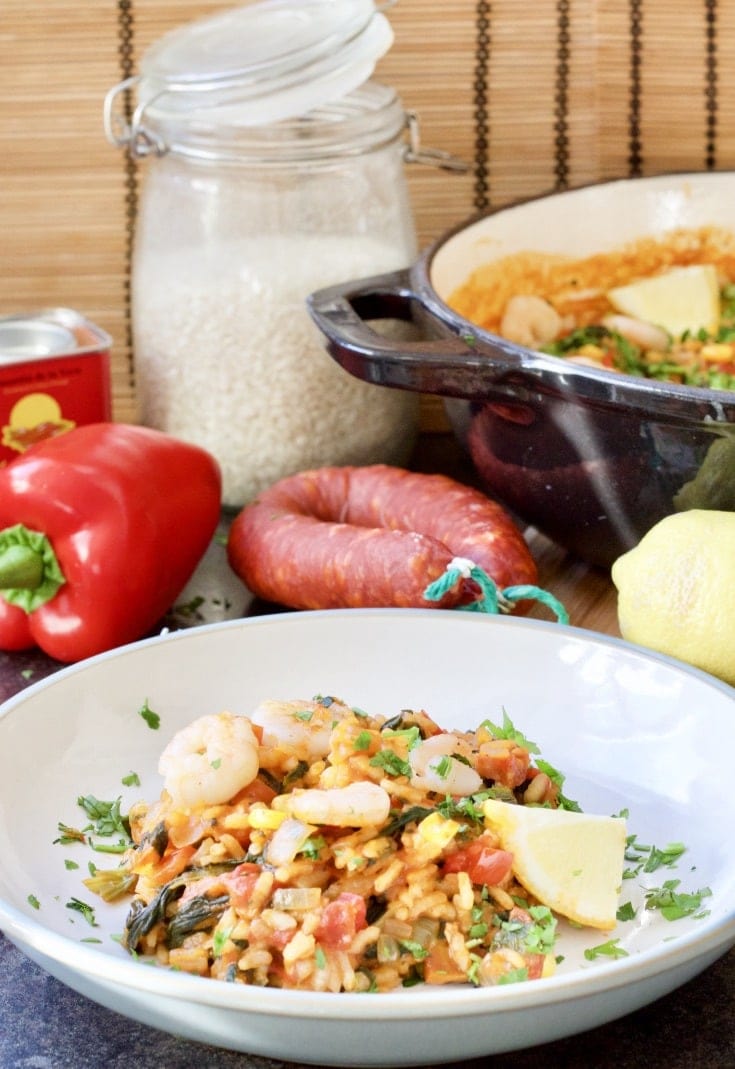 Note on ingredients and how to bulk up this paella with veggies!
Chorizo is definitely one of the staple ingredients in my kitchen. If you open my fridge at any given time, even when it's pretty bare (just before weekly shop), you will always be able to spot some chorizo. It might only be half the ring but it will be there lol. Same goes for smoked paprika* and cinnamon as far as spices go (I do have vast quantities of these two). I'm digressing a bit now lol.
This delicious one-pot rice dish can be easily prepared and on your table in well under an hour and is super filling and really nutritious too! I like to jazz up my cheat's paella with substantial amount of veggies and always tend to use some kind of pepper (whatever colour I've got in the fridge at the time) and also some convenient frozen favourites like peas, sweetcorn and spinach. This dish really packs nutritional punch!
This recipe will easily feed 4 adults and as there are 2 adults and 2 kids in our family we usually have some leftovers which are perfect for reheating the next day for lunch!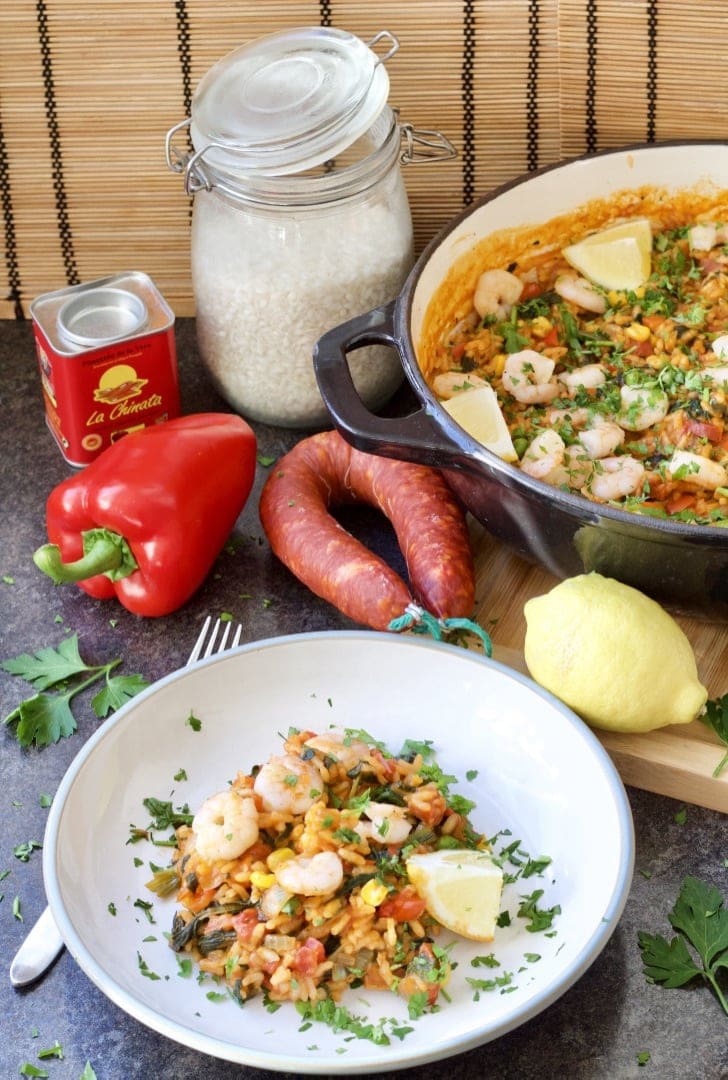 Some more recipes you might enjoy
If you are a fan of one-pot meals make sure you check out this  One Pot Beans & Meatballs Pasta which is not only comforting and delicious but also quick to make! Similar to this Sausage & Lentil Casserole with Cavolo Nero which is simply perfect for this time of year and also on your table in under an hour!
For those of you who can't get enough of rice my One Pot Smoked Sausage Jambalaya is a must. Not only is it quick but also super adaptable (it's my favourite, fridge clear-out dinner).
And for some extra dose of chorizo this Easy Butternut Squash & Chorizo Gnocchi would be perfect.
Homemade chicken stock would go so fantastically well in this paella. Check out my guide on How To Make Chicken Stock in Instant Pot (with instructions for hob/stovetop users too). You will never look back!
Easy Prawn & Chorizo Cheat's Paella Step-By-Step
📋 Recipe
Easy Prawn & Chorizo Cheat's Paella
Easy and delicious midweek supper for the entire family. Smoky flavours from paprika and chorizo married nicely with sweet tasting prawns. This super quick version of paella will become your go to recipe.
Ingredients
1

onion

roughly chopped

2

cloves

of garlic

chopped/minced

100

g

chorizo*

peeled and chopped into rough chunks

300

g

paella/risotto rice

1

teaspoon

(heaped) smoked paprika

1

red or yellow bell pepper

deseeded and roughly chopped

75

g

frozen peas

75

g

frozen sweetcorn

200

g

frozen or fresh raw prawns

defrosted if frozen

750

ml

chicken or veggie stock

from cube is fine

1

lemon

if you wish

150

g

frozen spinach*

(optional) cooked as per packaging instructions, drained and chopped

fresh parsley

for garnish

cayenne pepper*

optional
Instructions
Put a glug of oil in a large lidded casserole dish and throw in your chopped onion and chorizo. Let them sweat until the chorizo starts to release its lovely juices and onion starts to soften, around 8 min. Add chopped pepper, garlic, smoked paprika and sweat for another 5 min. Pour in the stock and add rice followed by chopped tinned tomatoes and good pinch of salt and pepper and stir well. Add a little bit of water to the empty tin of chopped tomatoes, swirl it around to get all the remaining tomato goodness and add it to your dish.

Bring everything to boil, lower the heat, pop the lid on and let it simmer for 15-20 min stirring on a regular bases as the rice will try and stick to the bottom of the pan. You might have to add a drop of water if your rice starts getting dry but is still quite al dente. Add frozen peas and sweetcorn and cook another 5 min. Add spinach (if using) and stir well.

Mix defrosted prawns in bowl with a bit of salt, pepper and rapeseed or olive oil and pan fry them in a dry non-stick pan (couple of minutes on each side until they turn pink in colour).

Serve your paella topped with prawns, sprinkled with freshly chopped parsley and a squeeze or two of lemon juice. Enjoy!
Notes
Nutritional information is approximate and meant as a guideline only.
Feel free to use either cooking chorizo or dried version. I find dried chorizo quicker and easier to work with and as tasty as fresh equivalent.
Feel free to use couple of handfuls of fresh baby spinach instead. Simply add it couple of minutes before the end of cooking only to wilt it.
If you like a bit of spice, a sprinkle of cayenne pepper over your serving will do the trick. 
Nutrition
Nutrition Facts
Easy Prawn & Chorizo Cheat's Paella
Amount Per Serving (0 g)
Calories 592
Calories from Fat 117
% Daily Value*
Fat 13g20%
Cholesterol 153mg51%
Sodium 1145mg48%
Potassium 954mg27%
Carbohydrates 86g29%
Protein 30g60%
Vitamin A 5890IU118%
Vitamin C 77.4mg94%
Calcium 179mg18%
Iron 7.5mg42%
* Percent Daily Values are based on a 2000 calorie diet.
Make sure you stay up to date with all the latest recipes from Jo's Kitchen Larder
Have you tried my Easy Prawn & Chorizo Cheat's Paella? Leave a comment at the bottom of this post, I love reading them! You can also come and say hello over on my Facebook page, Twitter, Instagram or Pinterest
Pin Easy Prawn & Chorizo Cheat's Paella for later!
I'm linking my Easy Prawn & Chorizo Cheat's Paella recipe with the following pages:
Cook Blog Share hosted this week by Jacqui at Recipes Made Easy
Cook Once Eat Twice hosted by Corina at Searching for Spice
Fiesta Friday hosted by Angie and Judi at  cookingwithauntjuju.com
*This post contains affiliate links, which means that if you click on a link and go on to buy the product I recommend, I will get a small commission, but you will not be charged a penny more. I only recommend products I own or really like and which caught my attention. Thanks in advance for supporting Jo's Kitchen Larder!