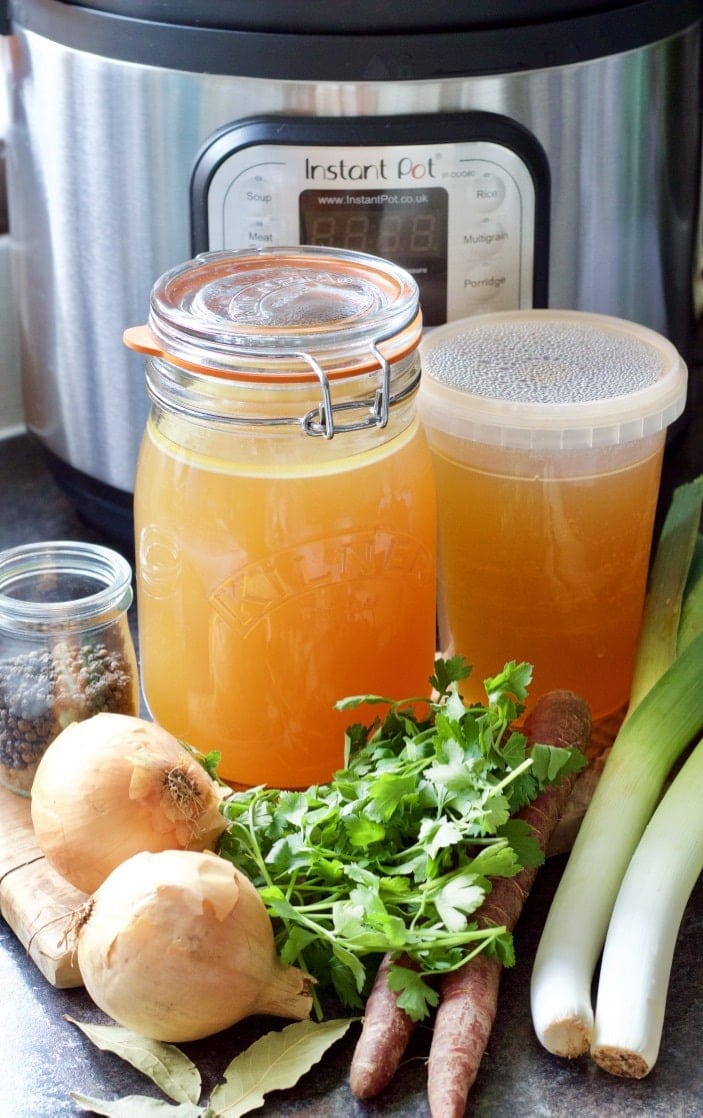 I've been making my own homemade chicken stock for a long while now. It really couldn't be easier and it's a fantastic way of using leftover roast chicken, preventing waste and feeling a bit like domestic goddess! Since I got my Instant Pot, the stock making process has become even quicker and almost completely fuss-free. If you are Instant Pot or any pressure cooker owner, I hope you'll find this handy guide on How To Make Chicken Stock in Instant Pot helpful! For those of you who haven't entered pressure cooking world yet,  I have included my tried and tested way of making chicken stock on the hob (stovetop).
Don't get me wrong, I do like the convenience of good old stock cube and am always stocked up on my favourite Kallo Organic Chicken Stock Cubes*. However, every time I've got some chicken carcasses leftover from roast chicken dinner, I will save them to make a stock. We do love roast chicken in our house and have it quite frequently which means that every time I'm left with roasted carcass, I simply wrap it in aluminium foil and pop it in a freezer until I'm in the mood for stock making.
Below I've compiled a list of chicken stock making tips which will hopefully give you confidence to make your own!
How To Make Chicken Stock in Instant Pot (and on the hob/stovetop) - Useful Tips!
Freeze your leftover roast/rotisserie chicken carcass wrapped in some aluminium foil. I keep a large ziplock type plastic bag in the freezer where I add these every time we've had a roast.
There is no need to defrost the bones before, put them straight into your Instant Pot*or stock pot* together with vegetables.
You can use mixture of roasted and fresh bones. I sometimes add few raw chicken wings for even more chicken flavour.
Vegetable base for your chicken stock is simple - onions, carrots and celery are your holy trinity. I tend to add (otherwise unused) green part from the leeks too. Make sure you separate and thoroughly wash these though as they tend to hide the grit really well. If you don't have any simply add another onion.
When it comes to aromatics I always use bay leaves, peppercorns and fresh parsley.  Sometimes I also add few sprigs of thyme (if I happen to have some).
I never add salt or garlic to my stock as I feel these can be added at the later stage, depending on what dish I'm using my stock for.
If you are making your chicken stock on the hob (stovetop) make sure you simmer it (covered) long and gentle, no rapid boiling! 3-4 hours will do it!
For Instant Pot (any pressure cooker) users make sure you do NPR (Natural Pressure Release). As tempting as QPR (Quick Pressure Release) can be, due to high volume of liquid, the hot stock will start splattering out through steam release and pressure valves.
Take care when straining your stock as the veggies and bones have tendency to forcing their way forward and splashing hot stock everywhere. I use combination of colander and sieve from my favourite Joseph Joseph nesting bowls set* and usually take bigger bits out with the kitchen tongs*.
If you want to have really clear stock, strain it through the cheesecloth* which will catch the sediment that might make it cloudy.
You will notice that once your chicken stock has cooled down, the layer of solidified fat will appear on top. Feel free to gently scoop it out for leaner stock.
Portion your stock according with your usage. If I know I'm going to use my stock within 5 days I will keep it in my favourite Kilner* jar in the fridge. Otherwise, I put them in 0.5 ltr (2 cups) size plastic containers and freeze for later. You know best how you use your stock and what quantities would be best for you. You could even try freezing your stock in silicone ice cube trays* for handy little portions.
When freezing, don't fill up your containers all the way to the top. Make sure you leave some room for the stock to expand as it freezes.
Store your chicken stock in the fridge for up to 5 days or in the freezer for up to 1 year.
With only 10 minutes hands on time, whether you use Instant Pot or make it on the hob (stovetop), homemade chicken stock couldn't be simpler and more rewarding! I hope you found my little guide on How To Make Chicken Stock in Instant Pot useful and are raring to go! If you have any questions or would like to add some of your chicken stock making tips feel free to share them in the comments below!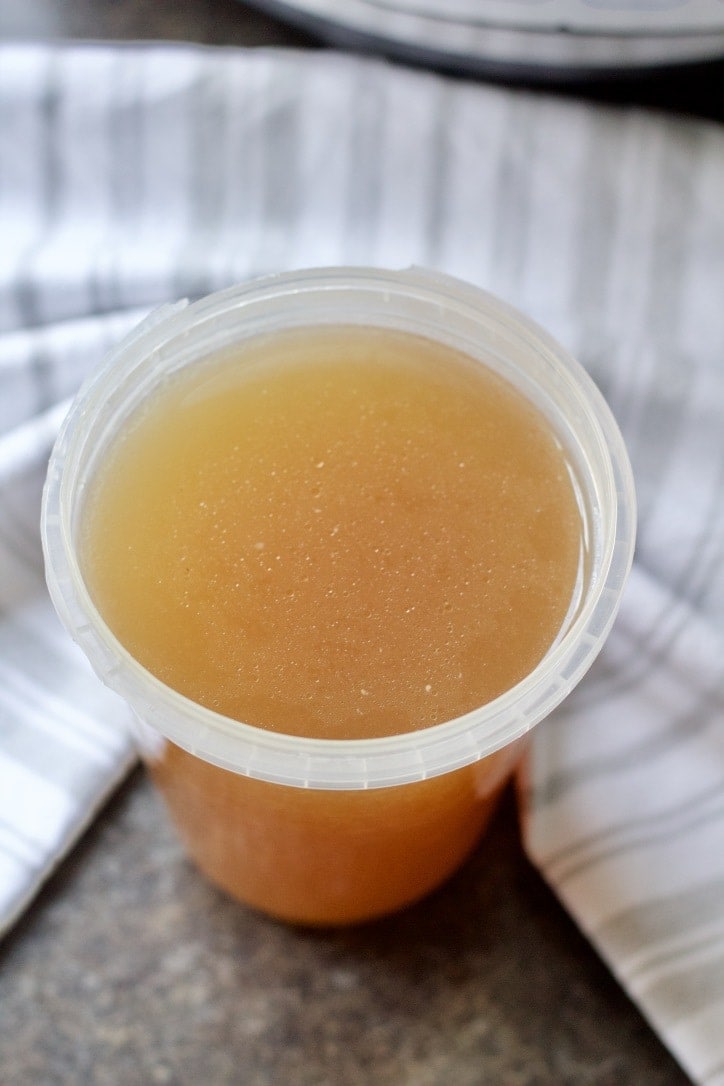 What to use your homemade chicken stock for?
Use stock instead of water when cooking your rice (especially if you are using the absorption method) which will enhance it with lovely flavour. If you'd like to be more adventurous try this One Pot Smoked Sausage Jambalaya - gorgeous and nutritious brown rice one pot your family will love!
Similarly to cooking rice, use it for preparing couscous, polenta, lentils etc. Simply use it as you would water!
Use it instead of water when deglazing the roasting tray and making gravy - heaps of added flavour!
Risottos are perfect for using chicken stock and if you have a little stash of stock in the freezer you will never be too far away from this delicious Italian dish. Check out my collection of risotto recipes which include:
Butternut Squash & Chorizo Risotto
Instant Pot Fennel & Leek Risotto
Asparagus & Sun-Dried Tomato Risotto
Leeks and Smoked Mackerel Risotto
Soups made with homemade chicken stock are that bit more wholesome plus taste fantastic and you are the one who control the amount of salt in them too. Try some of my favourite recipes:
Instant Pot Creamy Cauliflower Cheese Soup
Jerusalem Artichoke & Carrot Soup
Instant Pot Ginger Spiced Beetroot Soup
Leek, Potato and Celeriac Soup
Butternut Squash & Chestnut Soup
📋 Recipe
How To Make Chicken Stock in Instant Pot (including on the hob/stovetop instructions)
All you need to know, step-by-step guide on how to make chicken stock in Instant Pot, including on the hob (stovetop) instructions! Homemade chicken stock is easier than you think!
Servings
10
cups (2.4 ltr)
Ingredients
1 -2

chicken carcasses (leftover roast/rotisserie chicken)

(fresh or frozen)

1

onion

left unpeeled & halved

2-3

celery sticks (including leaves)

washed and roughly chopped

2

large carrots

unpeeled but well scrubbed and roughly chopped

1-2

green leek tops (optional), feel free to use extra onion instead

separated and washed to get rid of the grit

3

bay leaves (or 2 if really large)

10

peppercorns

½

bunch

(15g) large bunch of fresh parsley

leaves and stalks

few sprigs of fresh thyme

optional

2.4

ltr

(10 cups) water

1

tablespoon

salt

optional at this stage
Instructions
Instant Pot
Prepare all the ingredients as per above (see notes below as well) and put them in your Instant Pot. Add chicken carcasses on top and pour over the water. Your water level should be below the Max line on your Instant Pot insert (if using 6 ltr pot).

Make sure the seal is on properly on the lid and lock the lid into position on your Instant Pot (you will hear a little jingle noise once it's done). Set your steam release valve into "sealing" position and then press "Manual" button and set the Instant Pot to high pressure and adjust the timing to 60 min. The Instant Pot display will show "On" and it will take approx 20-25 minutes for it come up to pressure and from this point on the display will start the countdown from 60 min.

Once the time is up. Press"Cancel/Keep Warm" button and let the Instant Pot do NPR-Natural Pressure Release which will take approx 30-45min.

Once the red pressure valve is down you can take off the lid and strain your stock using colander or sieve or combination of both. Once the stock cools the layer of solidified fat will form on top. You can either take it off for leaner stock or leave it. Pour into prepared containers and store in the fridge for up to 5 days or freeze for up to 1 year. Defrost overnight in the fridge or in the microwave.
On the hob (stovetop) instructions
Prepare all the ingredients as per above and put them in a large stock pot with a lid. Add chicken carcasses on top and pour over the water. Bring to a simmer, cover and cook for anything between 3-4 hours gently simmering. The longer you simmer your stock the more intense flavour you will get. Once the time is up, strain your stock and then proceed as per the instructions for the Instant Pot.
Notes
Calories are approximate and per 0.5 ltr (2 cups) of stock
If you use only one chicken carcass, as a result you will get lighter stock whereas 2 carcasses will give you darker and richer stock.
Leave onions unpeeled but get rid of the very top and papery layer. Give them a little rinse to make sure they are clean and there is no grit left on them.
If you don't have any leek tops simply substitute them with an extra onion.
I don't normally add any salt when making my stock as I leave seasoning for later stage when I use my stock in sous, risottos, sauces etc. but feel free to add some if you wish. I would suggest 1 tablespoon at this stage. 
Natural Pressure Release is vital here, don't try and do QPR (Quick Pressure Release) as due to high volume of liquid, the stock will start splattering  through the valve.
When using different brand of pressure cooker, use this recipe as stated but simply follow operating instructions on your model.
Cook time above includes 20-25 minutes coming to pressure and 30 min natural pressure release time. 
Nutrition
Nutrition Facts
How To Make Chicken Stock in Instant Pot (including on the hob/stovetop instructions)
Amount Per Serving (0 g)
Calories 17
% Daily Value*
Fat 0g0%
Cholesterol 0mg0%
Sodium 716mg30%
Potassium 107mg3%
Carbohydrates 3g1%
Protein 0g0%
Vitamin A 2465IU49%
Vitamin C 6.7mg8%
Calcium 19mg2%
Iron 0.4mg2%
* Percent Daily Values are based on a 2000 calorie diet.
Make sure you stay up to date with all the latest recipes from Jo's Kitchen Larder
Have you followed my How To Make Chicken Stock in Instant Pot tips? Leave a comment at the bottom of this post, I love reading them! You can also come and say hello over on my Facebook page, Twitter, Instagram or Google+
Pin How To Make Chicken Stock in Instant Pot for later!
I'm linking my How To Make Chicken Stock in Instant Pot post with the following pages:
Cook Blog Share hosted this week by Eb at Easy Peasy Foodie
Cook Once Eat Twice hosted by Corina at Searching for Spice
Fiesta Friday hosted by Angie and Judi at cookingwithauntjuju.com and Alex at Turks Who Eat
*This post contains affiliate links, which means that if you click on a link and go on to buy the product I recommend, I will get a small commission, but you will not be charged a penny more. I only recommend products I own or really like and which caught my attention. Thanks in advance for supporting Jo's Kitchen Larder!