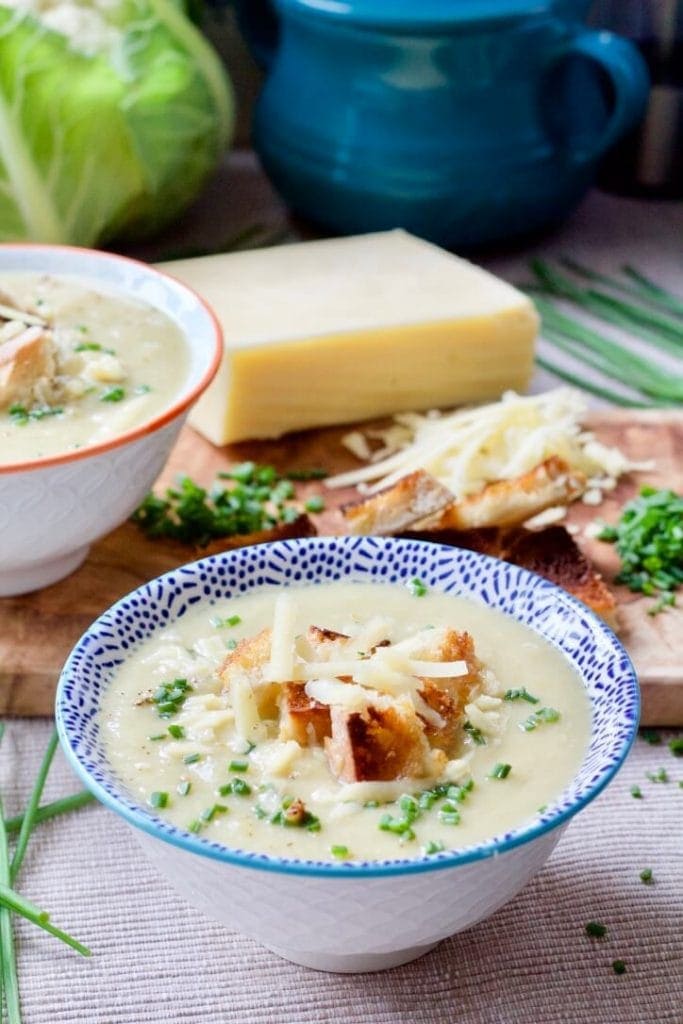 This Instant Pot Creamy Cauliflower Cheese Soup is for all the fans of winter warmer type dishes and cauliflower cheese of course! And don't worry if you don't own pressure cooker, as this soup is super easy to make on the hob/stovetop as well!
We are well into the soup season now and I'm talking about proper stick to your ribs deliciously filling soups! I tend to eat soups all year round but I definitely enjoy them the most during winter season. There is nothing better than bowlful of steaming, thick and creamy soup when it's cold outside, don't you think?
This particular soup came about from my love for cauliflower cheese and it quickly became a favourite in our house!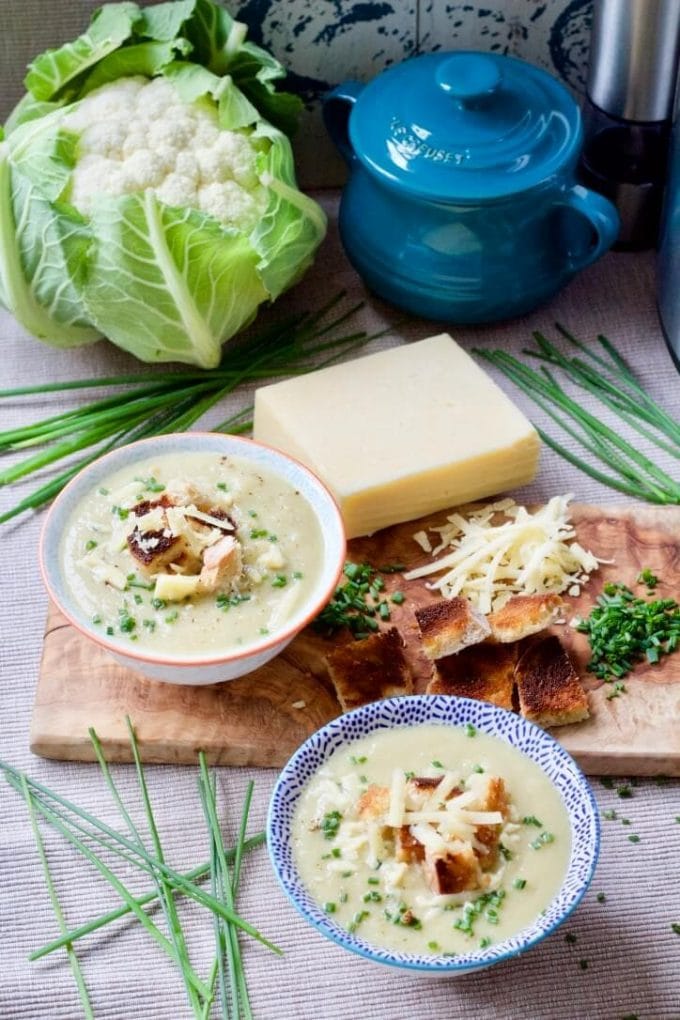 What I like about this soup is that it's really easy to make, uses simple ingredients and is super filling, creamy and delicious. I have used my homemade chicken stock to make this soup which has also been made in the Instant Pot*. You can, however, use any stock you like and the stock cube one will be just fine too. This soup can be easily made vegetarian if you swap your chicken for veggie stock but personally I love the richness and flavour of homemade chicken stock.
I've decided not to add any cream here as I find this soup to be silky and creamy simply with cheese. However, I tend to adjust consistency a bit with few sploshes of full fat milk at the very end to make it go a bit further and to thin it out ever so slightly.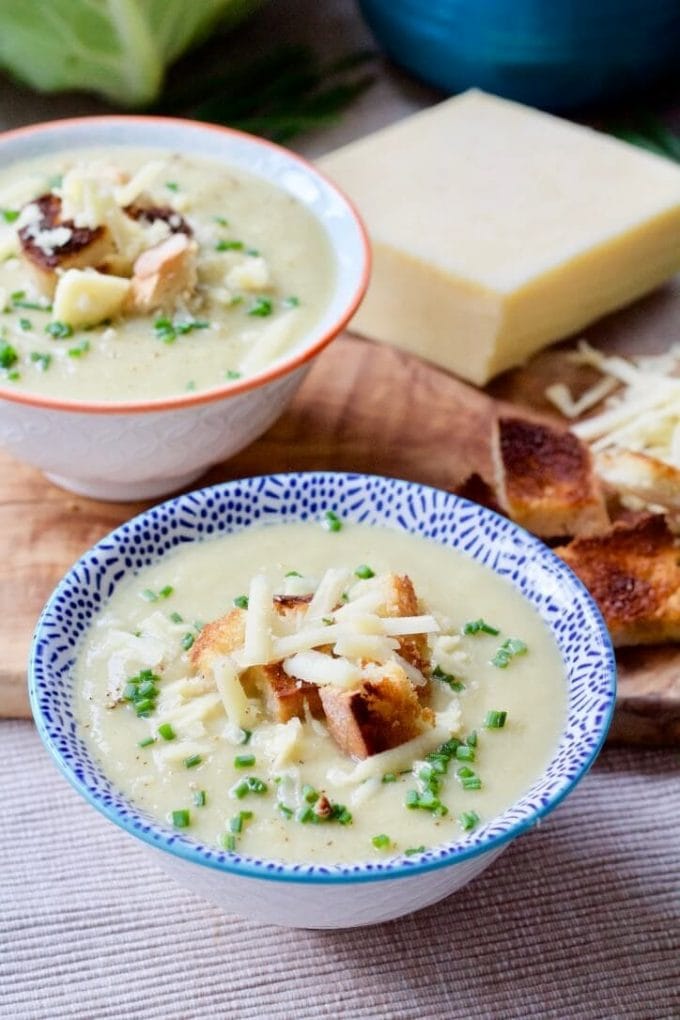 A word about leeks
I have used one of my favourite and super versatile winter veggies here - leeks! This soup or any soup in fact is a perfect opportunity to use them in their entirety, both white and green parts, nothing is wasted. Make sure you clean them really, really thoroughly though to get rid of every single bit of grit they hide so well. The easiest way to do this is to cut them in half to separate white and green parts first. You will notice that the white part will only require a thorough wash on the outside. Green part of the leek, however, will need to be cut in half again and layers separated for a thorough examination and wash. It's the only way to make sure it's clean I'm afraid. Overall it's all worth it though as leeks are simply fantastic in soups and full of goodness too!
Serving suggestions
One of the exciting things about this soup is the array of delicious toppings, garnishes and "dippers" you can use here which will make this soup your own. Our favourites are:
crispy bacon bits, pan fried pancetta or parma ham
pan fried chorizo and sprinkle of smoked paprika*
sourdough croutons, chives and more grated cheddar
breadsticks wrapped in parma ham used as soup dippers (really popular with my kids)
cheese on toast cut into "soldiers" and used as divine cheesy dippers (again, kids favourite)
slices of fresh baguette with some garlic butter
Some more soup recipes you might enjoy!
Roasted Tomato & Fennel Soup Recipe
Leek, Potato and Celeriac Soup
Instant Pot Ginger Spiced Beetroot Soup
Jerusalem Artichoke & Carrot Soup
Butternut Squash & Chestnut Soup
📋 Recipe
Instant Pot Creamy Cauliflower Cheese Soup
Instant Pot Creamy Cauliflower Cheese Soup (with hob/stovetop instructions) is a proper winter warmer! Thick, creamy & so cheesy - comfort food at its best.
Ingredients
1

cauliflower (approx 800g) outer leaves discarded

divided into florets or simply roughly chopped

1

medium

potato (approx 180g)

peeled and roughly chopped

2

medium leeks (Including green parts)

halved and thinly sliced

6

garlic cloves

peeled and thinly sliced

25

g

ghee (clarified butter) or unsalted butter

1

ltr

chicken or vegetable stock

from cube is fine

120

g

mature cheddar

grated

salt, pepper

full fat milk

to adjust consistency as per your liking
To serve
grated cheddar

croutons

chives

fried bacon bits (smoked or unsmoked)

optional
Instructions
Instant Pot
Prepare all the vegetables as per instructions above. As we are using the entire leeks, make sure you clean them really thoroughly from any grit that might be hiding in the green parts.

Heat clarified or regular butter in your Instant Pot using Sauté function (it should be set on High, 30min) and fry thinly sliced leek for 5-8 minutes until soft and translucent but not coloured. Make sure you stir now and again to prevent leek catching.

Add a little bit of stock just to deglaze the pot (use wooden spoon to make sure nothing is stuck to the bottom). Turn the pot off by pressing Keep Warm/Cancel button.


Add all your remaining vegetables: cauliflower, potato, garlic and bay leaves. Pour in the stock and give everything a little mix. Try and prod your chopped veggies so that they sit in the stock and don't protrude out too much (a little bit is fine).

Put on the lid and lock it in place making sure that the black, steam releasing valve is pointing to "Sealing". Set your Instant Pot to "Manual" setting for 8 min on high pressure. It will take approx. 10 minutes for the pot to come to pressure if you've used cold stock (less if you used hot).


When the time is up turn the pot off by pressing Keep Warm/Cancel button and do Quick Pressure Release (QPR) by moving the black, steam releasing valve to "Venting". Please take care during this process.


Remove bay leaves and puree until smooth using stick blender.

Add grated cheese and mix it in with a spoon letting it melt. You might need to turn the "Sauté" function on briefly to make sure your soup is nice and hot for your cheese to melt. That shouldn't be necessary as long as you pureed your soup straight after QPR and added your cheese after pureeing.

Adjust consistency as per your liking by adding few splashes of full fat milk if you think the soup is too thick. Taste and adjust seasoning as required. Serve with your favourite garnishes and enjoy!
Stovetop / Hob Instructions
Follow the steps as per above only in your stock pot or large pot with a lid. Once you've sautéed your leeks and added all the remaining vegetables and stock, bring the soup to boil and after that lower the heat and simmer for approx 30 min until all the vegetables are very tender.

Puree the soup until smooth with stick blender, add grated cheese and adjust the consistency with full fat milk if you find the soup too thick. Season to taste. Serve with your favourite garnishes and enjoy!
Notes
Calories are approximate and per serving without garnishes.
Soup made with homemade chicken/veggie stock which hasn't been salted will need a bit more seasoning that one made using stock cubes (unless you're using low salt ones of course). Also bare in mind the addition of mature cheddar and most importantly taste, taste, taste!
Nutrition
Nutrition Facts
Instant Pot Creamy Cauliflower Cheese Soup
Amount Per Serving (0 g)
Calories 197
Calories from Fat 108
% Daily Value*
Fat 12g18%
Cholesterol 34mg11%
Sodium 404mg17%
Potassium 313mg9%
Carbohydrates 12g4%
Protein 10g20%
Vitamin A 800IU16%
Vitamin C 13.4mg16%
Calcium 176mg18%
Iron 1.2mg7%
* Percent Daily Values are based on a 2000 calorie diet.
Make sure you stay up to date with all the latest recipes from Jo's Kitchen Larder
Have you tried my Instant Pot Creamy Cauliflower Cheese Soup? Leave a comment at the bottom of this post, I love reading them! You can also come and say hello over on my Facebook page, Twitter, Instagram
Pin Instant Pot Creamy Cauliflower Cheese Soup for later!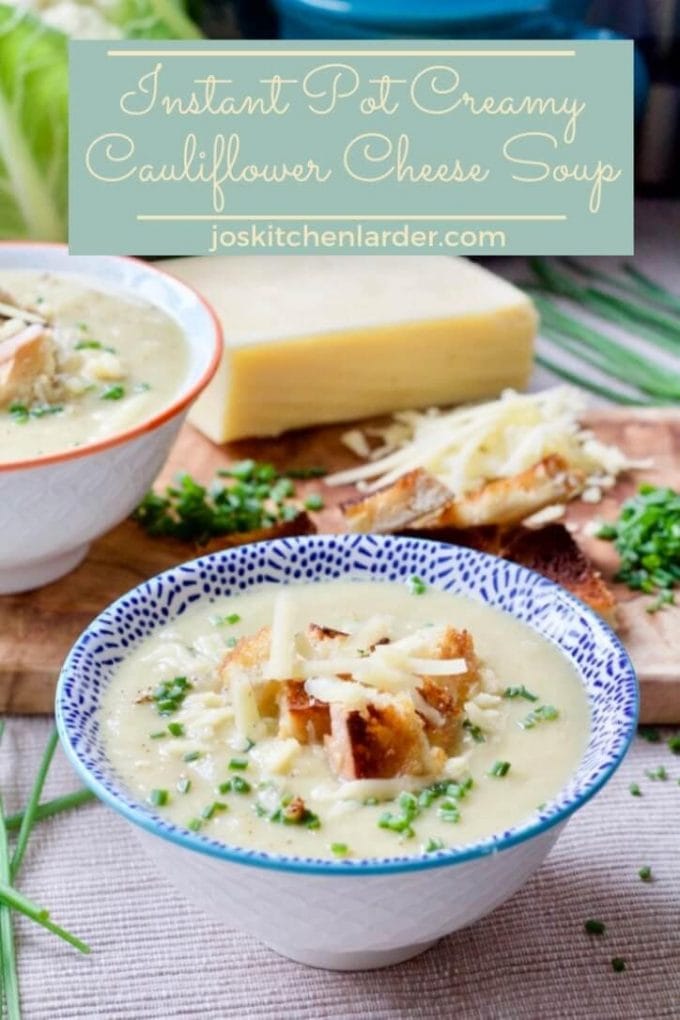 I'm linking my Instant Pot Creamy Cauliflower Cheese Soup recipe with the following pages:
Cook Blog Share hosted this week by Monika at Everyday Healthy Recipes
Cook Once Eat Twice hosted by Corina at Searching for Spice
Fiesta Friday hosted by Angie and a bunch of lovely co-hosts - Jenny @ Apply To Face Blog, Jess @ Cooking Is My Sport, Jhuls @ The Not So Creative Cook and Judi @ cookingwithauntjuju.com
*This post contains affiliate links, which means that if you click on a link and go on to buy the product I recommend, I will get a small commission, but you will not be charged a penny more. I only recommend products I own or really like and which caught my attention. Thanks in advance for supporting Jo's Kitchen Larder!