The soup season is not over yet as winter is still showing its chilly side despite having entered March already! To be honest I tend to eat soups of all kinds throughout the year and whatever the weather as they are such easy and healthy lunch option. My latest offering uses knobbly jerusalem artichokes from my weekly veg box which paired with some carrots deliver on warmth and flavour in this Jerusalem Artichoke & Carrot Soup.
If you have never come across jerusalem artichokes, they are little knobbly and gnarly veggies, a bit similar to potatoes (looks not flavour) and very versatile. They can be boiled, roasted, sautéed or even eaten raw. When it comes to flavour they remind me of slightly nuttier tasting parsnips. There is also slight mushroomy taste to them especially when pureed. All in all, I think they are actually really delicious and worth adding to your cooking repertoire. They are a bit of a pain to clean mind you, so make sure you've got yourself a good vegetable scrubber. 🙂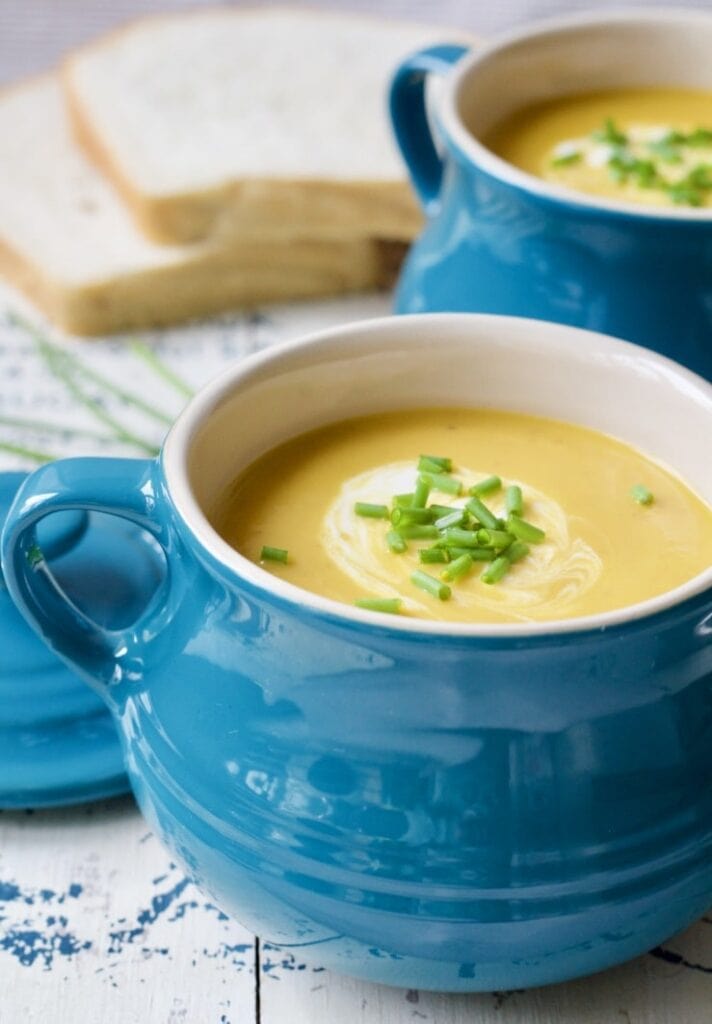 For this particular soup I decided to pair artichokes with some carrots as they go really well together. I kept the flavours super simple. Beside salt and pepper and couple of flavourings like garlic and some parsley stalks, you won't find any other herbs or spices. I really wanted the veggies to shine here and for the artichokes not to be disguised or confused. Having said that, those unfamiliar with their flavour won't quite know what's in the soup. Delicious as it is, having added both veggies in equal quantities, you can't really tell what's in it beside the carrots lol. There is a lot going on although it might be quite difficult to put your finger on it. Tasty? Yes. Comforting? Definitely! What's in it? Hmmm, not quite sure! lol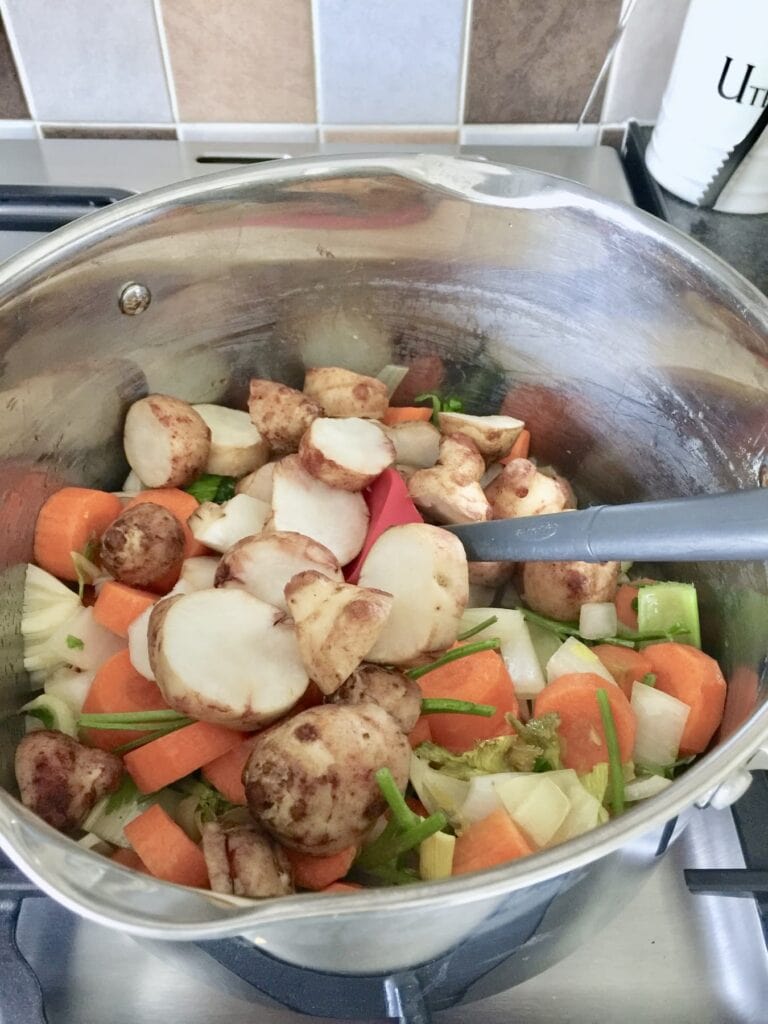 I kept this soup really simple in terms of preparation too. It's pretty much all veggies in the pot at the same time and majority of your work is done. And due to its creamy consistency (courtesy of artichokes and not heavy cream) this soup is really healthy despite feeling quite indulgent. Have I mentioned my kids went bonkers for it? 🙂 All you need is nice, thick chunk of bread (try my Irish Soda Bread) and you are in soup heaven!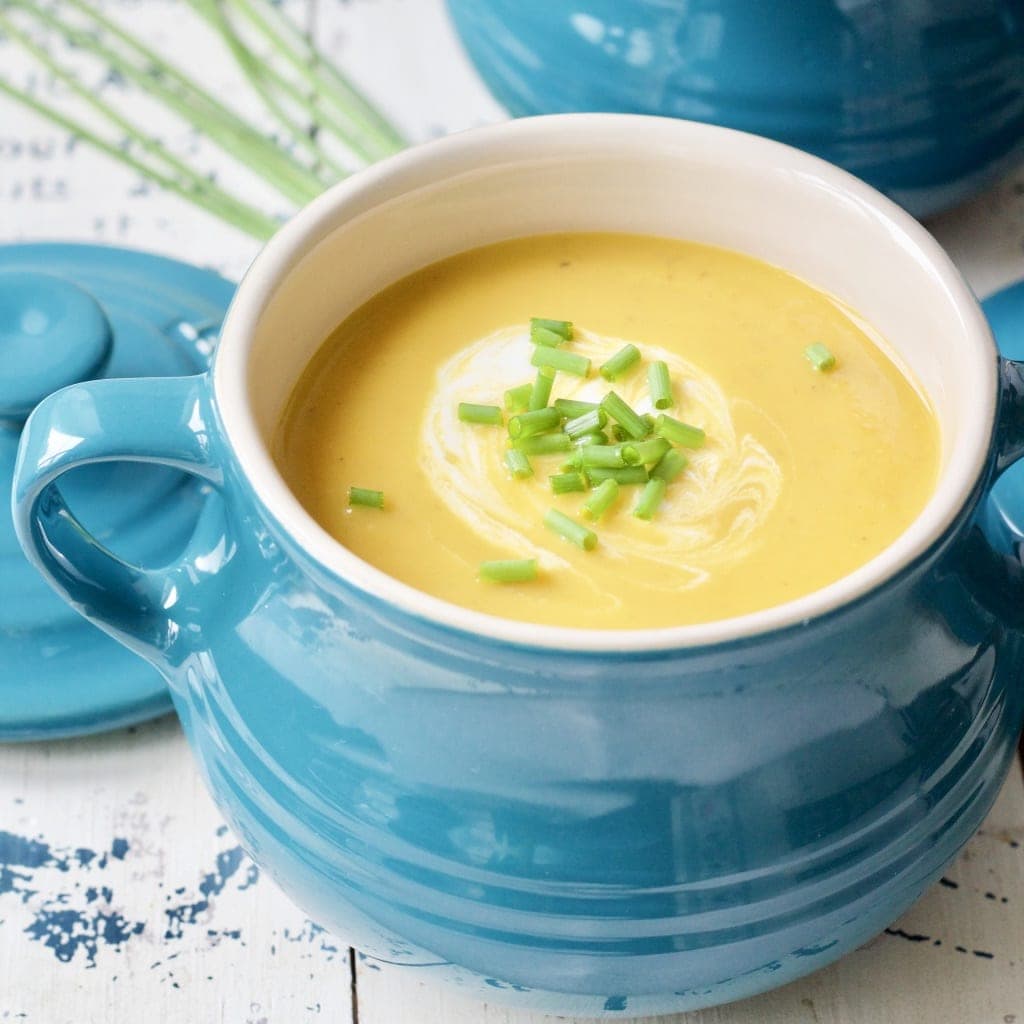 Some more soup recipes you might enjoy
Roasted Tomato & Fennel Soup Recipe
Leek, Potato and Celeriac Soup
Instant Pot Ginger Spiced Beetroot Soup
Instant Pot Creamy Cauliflower Cheese Soup (both with hob/stovetop cooking method included as well)
Homemade Roasted Pumpkin Seeds– perfect topping for any soup
Vegetarian Sausage Rolls – perfect accompaniment
If you are soup lover and maker, you might want to make your own stock too. This particular soup is fully veggie but you could also make it with your own, homemade chicken stock. Feel free to check my guide on How To Make Chicken Stock in Instant Pot (with instructions for hob/stovetop users too).
Jerusalem Artichoke & Carrot Soup
Ingredients
500

g

jerusalem artichokes

well scrubbed and roughly sliced

500

g

carrots

peeled and roughly sliced

1

large onion

peeled and roughly chopped

2

celery stalks with leaves

roughly chopped

2

plump garlic cloves

peeled and thinly sliced

small bunch of leftover parsley stalks

roughly chopped

ghee

clarified butter or sunflower oil

1.2

ltr vegetable stock

from cube is fine

salt & pepper to taste

creme fraiche or yoghurt and some chopped chives or parsley to serve
Instructions
Prepare all the veg. Make sure you clean the artichokes really well. Wash them in the bowl filled with water and scrub well (there is no need to peel). You might need to cut the knobbly bits off to make sure you get rid of all of the muck. You can still use these in the soup.

Melt the ghee or heat up the oil in a large pan and add all of the vegetables in and let them stew gently until lightly softened but not coloured (approx. 10 min)

Add stock, season with salt & pepper and bring to the boil.

Cover, reduce the heat and simmer for approx. 30 min or until vegetables are soft.

Take the soup of the heat and puree using the stick blender until desired consistency.

Taste and adjust seasoning.

Serve garnished with a swirl of creme fraiche or yoghurts and some chopped chives or parsley.

Enjoy!
Have you tried my Jerusalem Artichoke & Carrot Soup? Leave a comment at the bottom of this post, I love reading them!
If you don't want to miss new recipes and updates from me make sure to subscribe to new recipe alerts in the top right corner of this page or come and say hello over on my Facebook page, Twitter or Instagram
Pin For Later!
I'm linking my Jerusalem Artichoke & Carrot Soup recipe with the following pages:
Cook Blog Share hosted this week by Kirsty at Hijacked By Twins and Eb at Easy Peasy Foodie
Brilliant Blog Posts hosted by Vicki at Honest Mum Blog
Recipe of the Week hosted by Emily at A Mummy Too
Cook Once Eat Twice hosted by Corina at Searching for Spice