This wonderful, aromatic Leeks and Smoked Mackerel Risotto is always a big hit with my boys big and small. 🙂 They are not huge fans of leeks, however in this dish, they absolutely love it. Both, leeks and smoked mackerel are absolutely full of nutritional goodness so you can be sure you are feeding your family "the good stuff".
To me, risotto is an ultimate fast and comfort food in one. Oh, add "cupboard ingredient friendly" too. Even if you are running low on things, I'm pretty sure most of us would still be able to whip up at least a basic risotto. This recipe requires a tiny amount of planning, however ingredients are readily available and rather inexpensive too, which is always a good thing.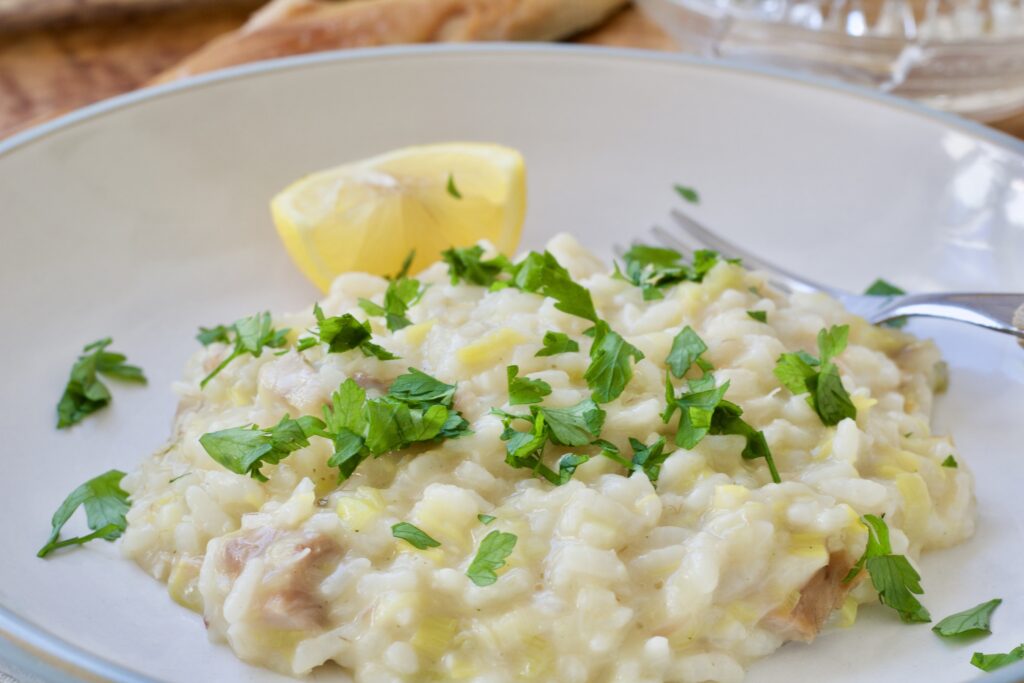 You can buy smoked mackerel already filleted (plain or peppered version) in any supermarket and it really is pretty cheap in comparison to other types of oily fish out there. We are very fortunate as living by the seaside we do get most wonderful, locally caught and smoked mackerel which I tend to buy and eat a lot of (all those Omega-3s).
You might say that 150g of mackerel in this risotto is not a lot but it is quite a strong fish and you don't want it to overpower good old leeks. However, feel free to adjust quantity as per your taste buds. 🙂
Leeks can be a bit of a pain due to containing fair bit of grit and therefore, the best way to sort them out is to get rid of the very top, dark green, woody part. Make sure you leave a bit of green though (closer to white part). Once you've done that, cut your leek in half (lengthwise) and gently run them under cold tap getting rid of all the grit. Make sure the leek stays intact though (it will be easier to slice). Once clean, go ahead and slice each half nice and thin.




Most risotto recipes starts with chopping and sweating an onion, however, I don't believe this one will gain anything from adding one. Leek is pretty much a sweeter version of onion and there is lots of it here!
I love using homemade chicken stock in my risottos! If you are not vegetarian feel free to check out my guide on How To Make Chicken Stock in Instant Pot (with instructions for hob/stovetop users too). You will never look back!
This recipe yields 4 portions which in our family feeds 2 kids and 2 greedy adults. 🙂
If you are after some more recipes for risotto, why not try this Asparagus & Sun-Dried Tomato Risotto or Butternut Squash and Chorizo Risotto
Leeks and Smoked Mackerel Risotto
Ingredients
300

g

risotto rice

arborio or any other short grain variety

150

g

smoked mackerel

flaked

250

g

leeks

after trimming

Juice of half a lemon

50

g

unsalted butter

1

litre hot vegetable stock

cube is fine

1

heaped tablespoon crème fraîche

chopped parsley and lemon to serve
Instructions
Prepare your leeks (tips in the blog post above), cut them in half (lengthwise) and then slice thinly.

Melt all the butter in a pan and pop all the leeks in. Sweat them for a good 5-10 minutes until nice and soft but not coloured.

Add the rice and stir well for 1 minute. Slowly start adding your hot stock ladle at a time. Altogether it should take you approx 15-17 min to achieve perfect consistency of risotto (I timed it). It should be nice and plump and still have tiny bit of "bite" to it (be slightly al dente). You should use up all your stock.

Now it's time to add your fish and lemon juice. Stir well and let it simmer for couple of minutes for the fish to heat up. Add your crème fraîche, stir and take off the heat. Let it sit for couple of minutes.

Serve sprinkled with chopped parsley and small lemon wedge.

Enjoy.
Pin For Later!
I'm linking my Leeks and Smoked Mackerel Risotto with the following pages:
Cook Blog Share hosted this week by Jacqui from Recipes Made Easy and by Monika at Everyday Healthy Recipes
Brilliant Blog Posts hosted by Vicki at Honest Mum Blog