You know by now that we are all pork fiends in my house. 🙂 From sausages, beautiful roasted joints to chops we have it at least once a week. This tasty little recipe I have for you today is loved by all and makes for ideal family fare. Even though my Braised Pork Chops with Leeks & Carrots take some time to cook, the actual "hands on" time is not long at all so you can get on with other things (as long as you check on your chops from time to time). 🙂

Great thing about this dish is that you don't even need to sear the meat first! You simply add your chops onto your hot stock and leave them to simmer. The final result will be no less delicious and you will have wonderfully moist and tender meat without added fat. The small knob of butter for sweating the leeks is all it takes in this dish and if you trim any additional visible fat rind from your chops you can make this casserole/stew/braise even healthier. And all that wonderful added veg too!
You might want to consider making your own chicken stock to use here. It really couldn't be easier and you can have a nice stash in your freezer to take out and use whenever you need. Check out my guide on How To Make Chicken Stock in Instant Pot (with instructions for hob/stovetop users too)!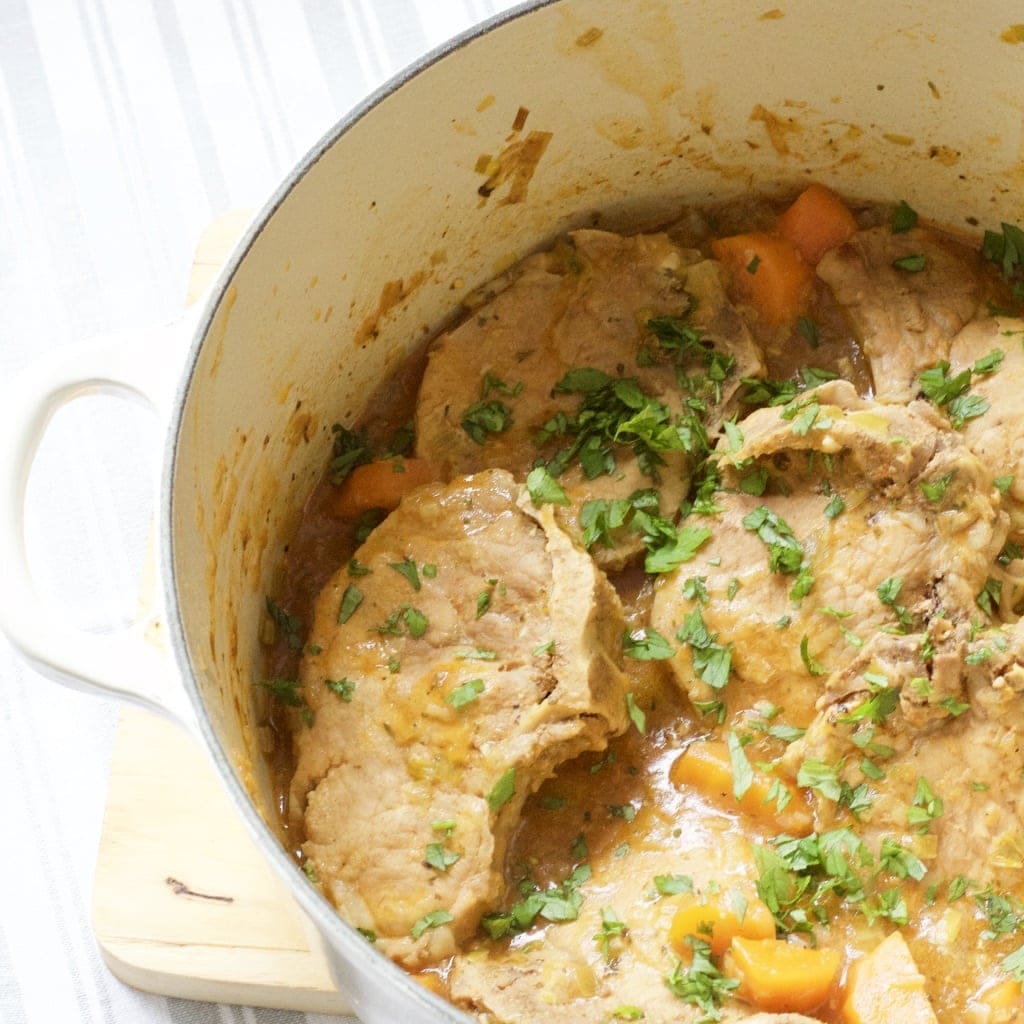 This stew freezes and reheats very well too.  If you are busy and usually short on time during the week, simply prepare it in advance and reheat it adding some side dishes for a quick, mid-week dinner. You will feel so smug serving it in the middle of the busy week 🙂 ( I love that feeling)!
Serve it with some creamy mash and green or a chunk of crusty Irish Soda Bread for mopping all the lovely juices.
If you are a fan of pork and would like more related inspiration check out my Oven Baked Pork Chops with Carrots & Cheese Crust.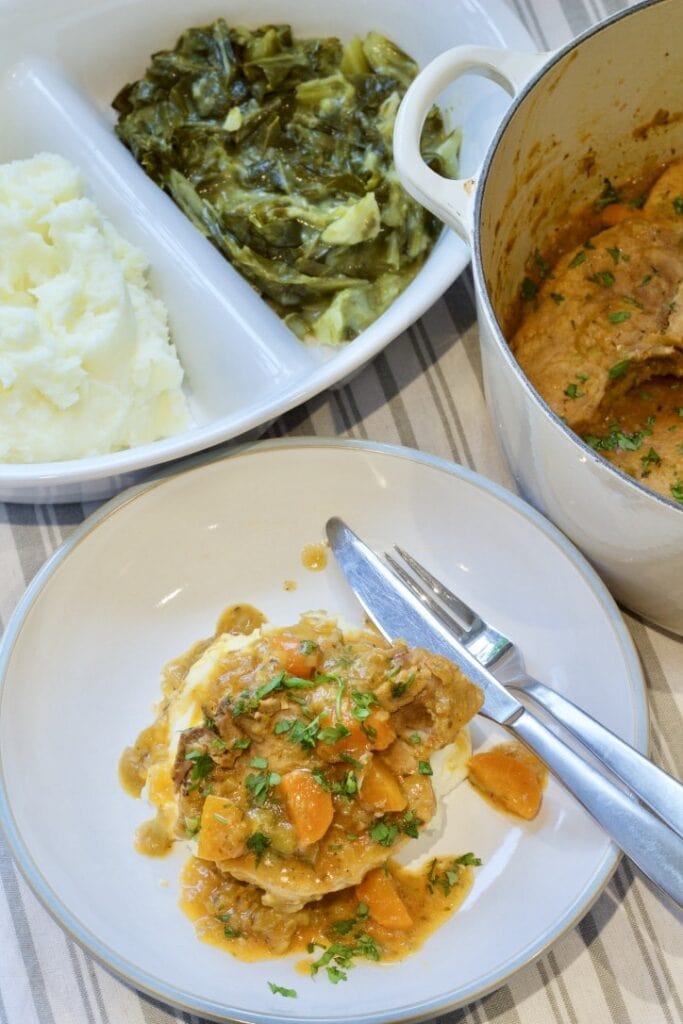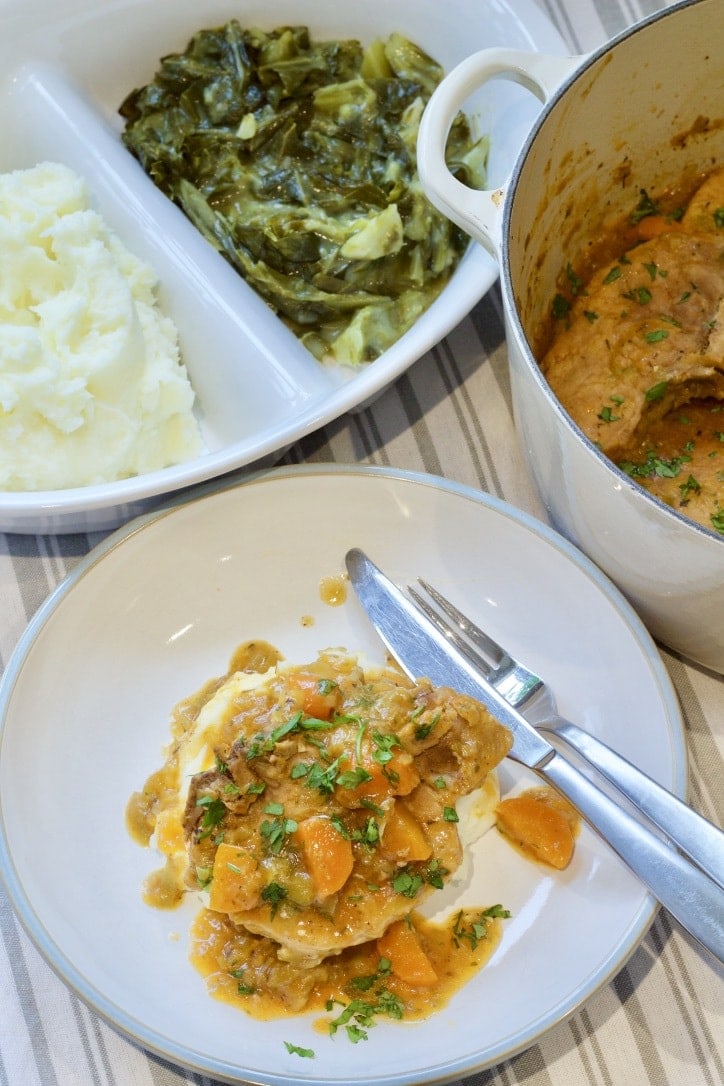 And now onto the recipe itself.
📋 Recipe
Braised Pork Chops with Leeks & Carrots
Ingredients
1

kg

pork chops or pork loin chops

approx 6

2

leeks

approx 200g - white and light green parts

3

small carrots

approx 280g

2

garlic cloves finely chopped

700

ml

chicken stock

from stock cube is fine

1

generous teaspoon mixed herbs

1

generous teaspoon sweet paprika

small knob of unsalted butter

salt & pepper

2

teaspoon

cornflour
Instructions
Start by cleaning and slicing the leeks.

Melt small knob of butter in a casserole dish and fry the leeks until they soften but don't let them brown. Add finely chopped garlic and let it fry together for another minute or two.

Add mixed herbs, paprika and freshly ground pepper and pour over hot chicken stock. Bring to boil.

Add pork chops, reduce the heat and simmer covered for approx. 40min. (turning the meat over half way through).

Add peeled and chopped carrots (medium dice or half moons will be fine) and cook for another 30-40 min (covered) until pork chops are tender. Feel free to add a splash of water or more stock if needed. Taste and season with some salt and pepper if required.

To thicken the gravy put cornflour in a small cup, add couple tablespoons of hot braising liquid and mix well. Add mixture to the pot and stir. Cook for a couple of minutes until gravy thickens.

Sprinkle some fresh parsley over the top and serve with creamy mash and greens.

Enjoy!
Pin For Later!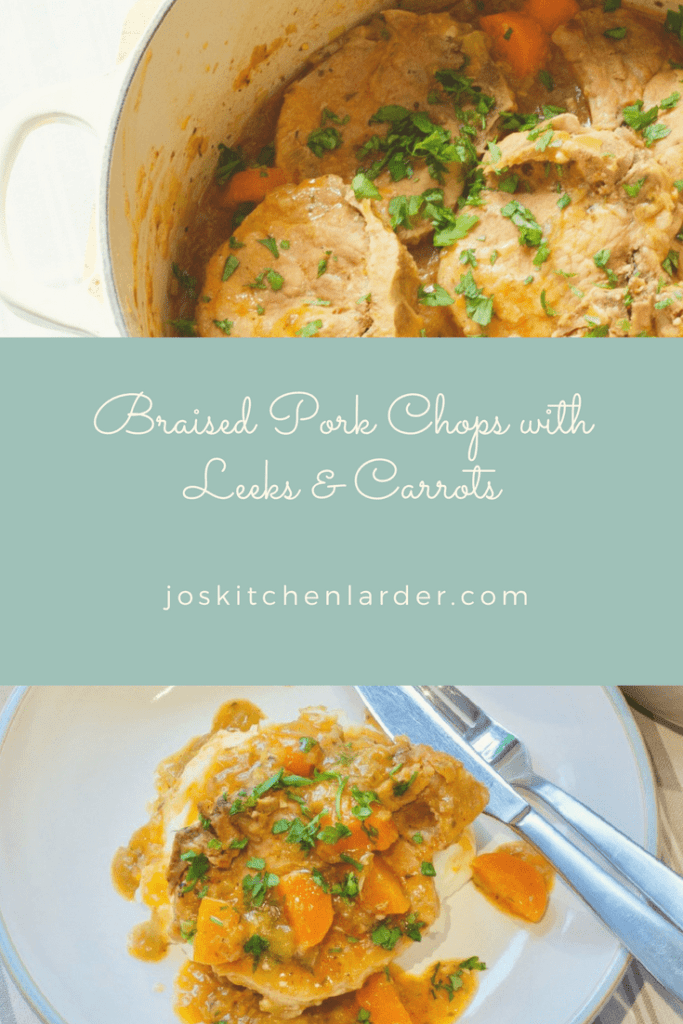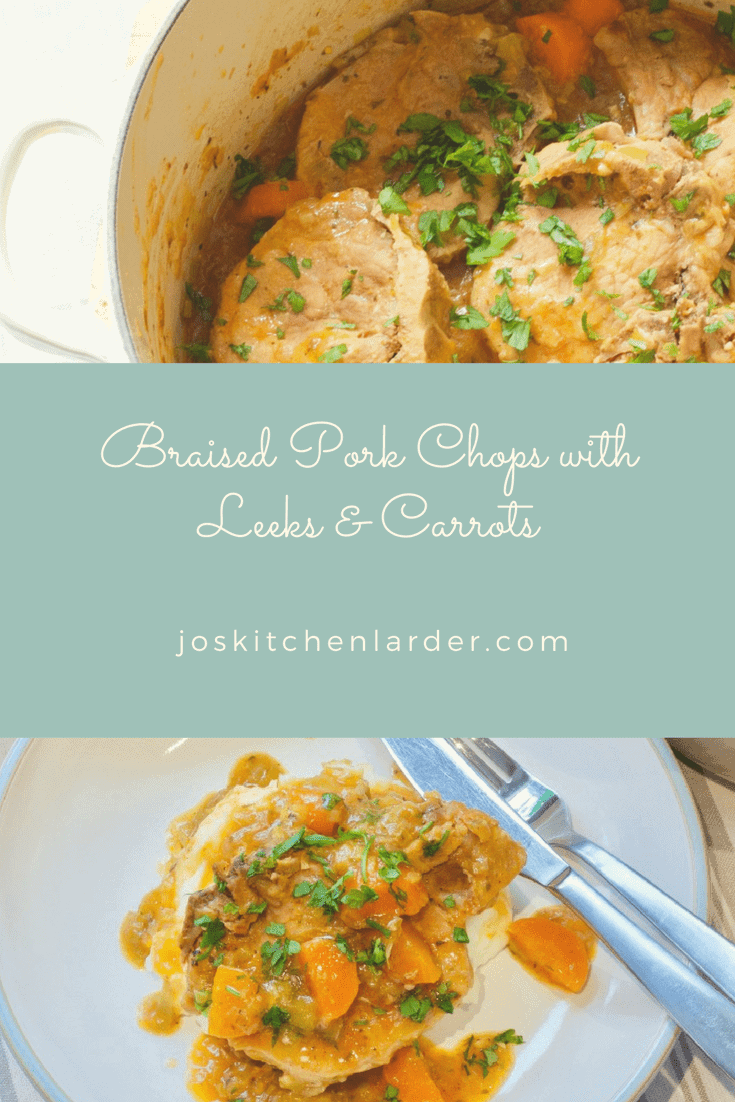 I'm linking my Braised Pork Chops with Leeks & Carrots with the following pages:
Cook Blog Share hosted this week by Eb from Easy Peasy Foodie
Cook Once Eat Twice hosted by Corina at Searching for Spice