White Chocolate & Raspberry Blondies are sweet & cake like with a bit of crunch from almond flakes and slightly sharp raspberries to counteract all the sweetness. Super easy and delicious white chocolate and raspberry traybake for any occasion.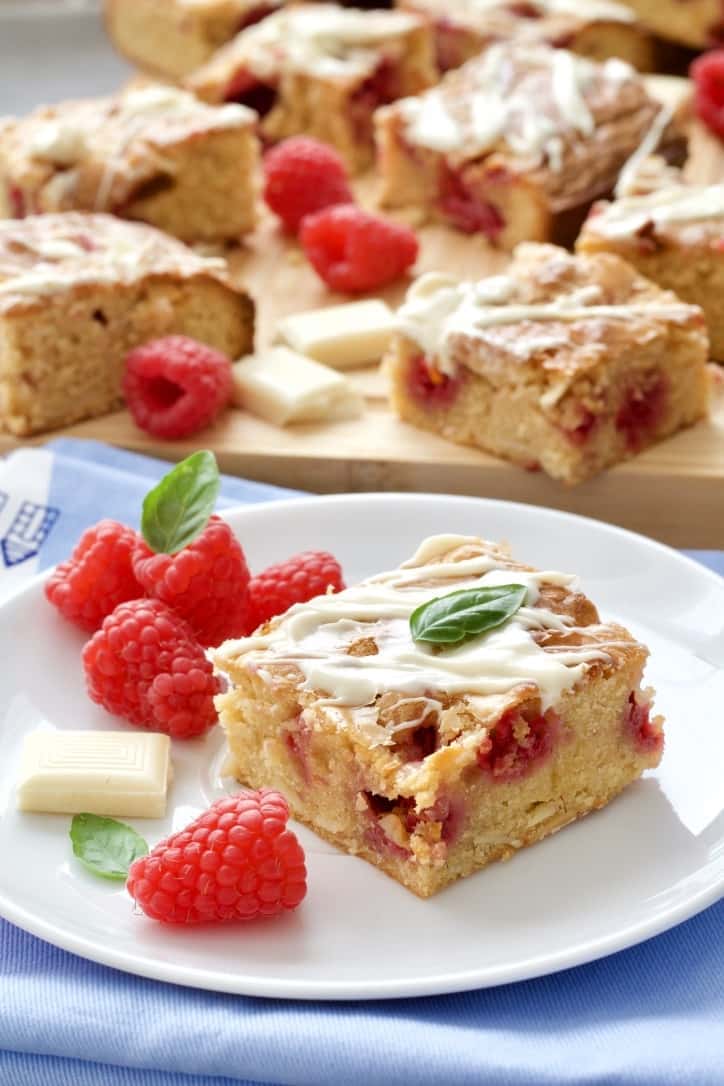 You know how much I love nice and easy traybakes! My Chocolate Banana Cake (Traybake) together with Chewy Cranberry Flapjacks have been our favourites of late but I still keep coming back to this lovely and slightly more indulgent white chocolate blondies recipe. This white chocolate and raspberry traybake is super easy to whip up and so extremely moreish you won't stop coming back for more! If you're a fan of bakes using ground almonds, you will be pleased to hear these are indeed present in this recipe which makes these blondies as much white chocolate and raspberry as it does almond! Almond blondies they are indeed!
White Chocolate & Raspberry Blondies - Ingredients
My White Chocolate & Raspberry Blondies are just so delicious and if you are a fan of chocolatey, fruity bakes with some almond flavour thrown in, you will love them. I decided to substitute some of the flour with ground almonds and also threw in some flaked almonds for good measure and a bit of crunch. I went for flaked almonds as opposed to other nuts to keep the almond flavour going but feel free to substitute them if you like. Initially, I thought about using almond extract instead of vanilla but my original attempt without it worked out so well I decided to leave it. The almond flavour is really quite strong in this recipe and it marries so beautifully with sweetness of white chocolate and sharpness of seasonal raspberries. Perfect combination if you ask me!

Easy recipe
Another thing that is really great about any brownies, or blondies for that matter, is that all you need is a bowl (being it a heatproof one in this case) and a wooden spoon. There is no need for fancy standing mixers (as much as I do love mine) and you can have a quick dessert whipped up in no time. Need any more convincing? Well, let me add that they are easy to cut into neat portions and travel well too. That makes them perfect for Summer picnics or any other type of al fresco dining. Oh and don't forget those fairs/fetes and bake sales either!
How to melt white chocolate?
The best method for melting white chocolate or white chocolate chips is in my opinion bain-marie (heatproof bowl placed over a pan with simmering water). This way you melt it really gently and chance for it curdling or turning into inedible blob are very slim. You still need to watch it like a hawk and make sure that the bottom of the bowl doesn't touch the surface of the water and also stir it from time to time. Also make sure you use the best quality white chocolate as it really makes a difference. I've been using these Callebaut White Chocolate Chips* and love them.
Can I use frozen raspberries instead of fresh?
Using frozen raspberries in the absence of fresh ones or out of season will work just fine. You don't have to defrost them but make sure they are separated and not in one big icy clump of berries lol! They will fold into the blondie batter slightly easier and there is less chance of breaking them. You might have to add couple of minutes to baking time but initially check your blondies for doneness as you would with fresh raspberries and take it from there.
How to make White Chocolate & Raspberry Blondies - Step-By-Step Instructions
Preheat the oven to 180°C/350F/Gas Mark 4. Grease lightly and line your baking tin with some baking paper overlaping on two sides for easy blondie removal later.

Melt 150g of white chocolate and butter in bain-marie (heatproof bowl placed over a pan with simmering water). Make sure the bowl doesn't touch the water. Once melted remove from the heat.
Add brown sugar, eggs and vanilla extract and mix vigorously with a wooden spoon until combined.
Add flour, ground almonds, salt and almond flakes and mix well until incorporated.
Fold the raspberries in gently and spoon mixture onto prepared baking tin. If using fresh raspberries don't worry if some of them break during the process, it really is inevitable.
Bake in preheated oven for about 35 min or until toothpick inserted into centre comes out clean but centre is still slightly soft.

Let it cool before drizzling over some remaining melted, white chocolate (melt it using baine-marie method as above)

Cut into squares and serve with some more fresh raspberries if you like.
Update Notes: This post was originally published on 18 July 2017 and republished in August 2019 with some helpful info, new photos, recipe card, step by step photo instructions.
More recipes you might enjoy:
Raspberry Cake (Vegan, Gluten-Free)
Chocolate Brioche Pudding with Raspberries
Peanut Butter Millionaire's Shortbread
Biscoff Millionaire's Shortbread (No-Bake, Vegan)
MAKE SURE YOU STAY UP TO DATE WITH ALL THE LATEST RECIPES FROM JO'S KITCHEN LARDER
Have you tried my White Chocolate & Raspberry Blondies? Leave a comment at the bottom of this post, I love reading them!
You can also come and say hello over on my Facebook page, Twitter, Instagram or Pinterest
Pin White Chocolate & Raspberry Blondies For Later!
LINKIES:
Cook Blog Share, Cook Once Eat Twice, Brilliant Blog Posts, We Should Cocoa, Treat Petite, Simple and in Season, Bake of the Week with CasaCostello & MummyMishaps, Baking Crumbs