This is my Ultimate Rocky Road Recipe! Quick and easy, no-bake fridge cake, also known as chocolate biscuit cake and even referred to as Polish cake! My version is quite simple and intended for biscuit lovers who are partial to few Digestives and ginger biscuits too! No marshmallows or dried fruit here, sorry!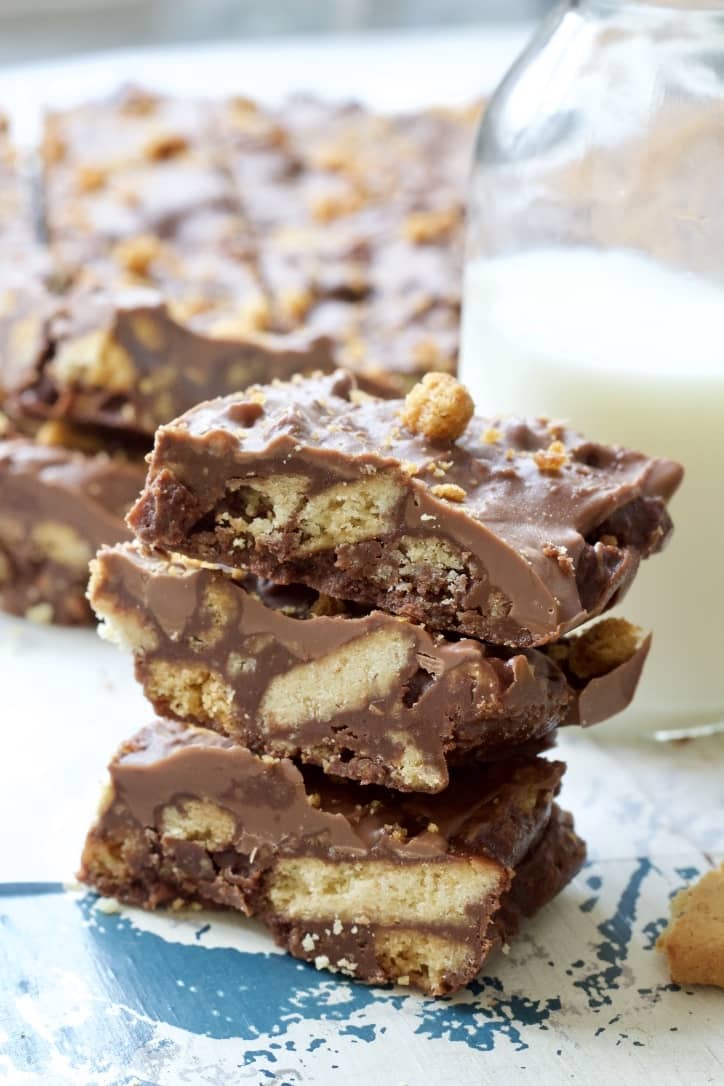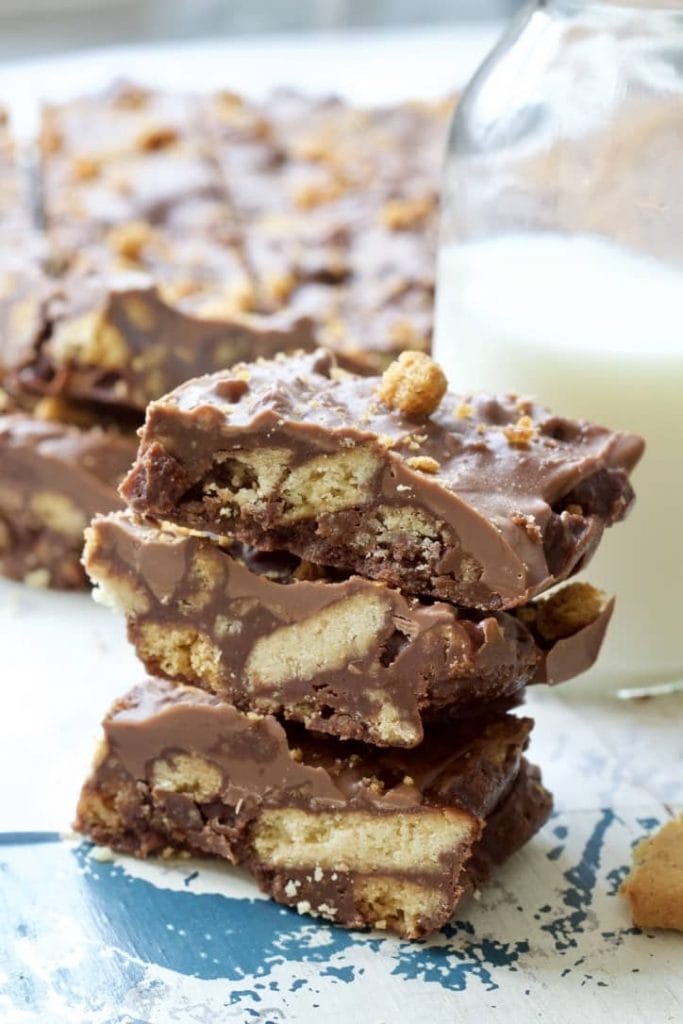 Who hasn't heard of Rocky Road? This simple, no-bake fridge cake seems to be very popular and no wonder as it's quick and easy to make and in most cases (well definitely in my case) it uses ingredients you've already got in your cupboard. Think milk and dark chocolate or chocolate chips, butter, golden syrup and of course biscuits! There are lots of different versions of Rocky Road out there most including marshmallows and some sort of dried fruits. However, as I'm not a fan of either when it comes to this lovely fridge cake and neither are my kids, our ultimate rocky road recipe is all about chocolate & biscuits!
I was really surprised to hear my friend refer to my rocky road as a Polish Cake which (despite being Polish) was news to me! Do you know it as a Polish cake as well? Call it what you like, to me it's my ultimate chocolate biscuit indulgence!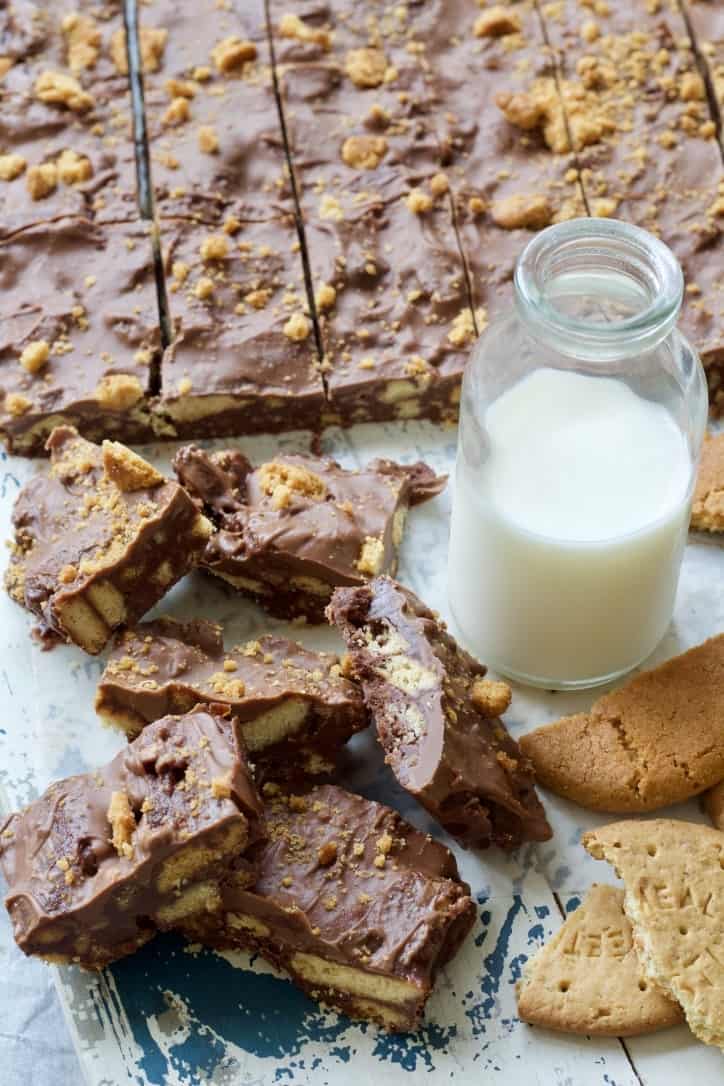 Ingredients I've used and possible swaps.
I went for two different types of chocolate in my ultimate rocky road recipe - milk and dark chocolate. I think it gives you a nice balance of sweetness but you could, of course, go for all milk (for extra sweetness) or even all dark chocolate (if you are after more grown-up taste). One thing to bear in mind is quality of your chocolate. Do go for the best you can afford as it really makes a difference! Take a look at the bottom of this post for my recommendation.
Biscuits are super important part of rocky road and I went for half and half Digestives and ginger biscuits. Such a delicious combination in my opinion but don't let me tell you which biccies to use. Simply go for your favourites! Rich tea or malted milk are my other top choices but feel free to mix and match as you please!
I have made these before using baking spread and honey instead of butter and golden syrup so feel free to substitute if you want! As far as marshmallows go (really not my thing), don't let me stop you popping some into the mix if you want to!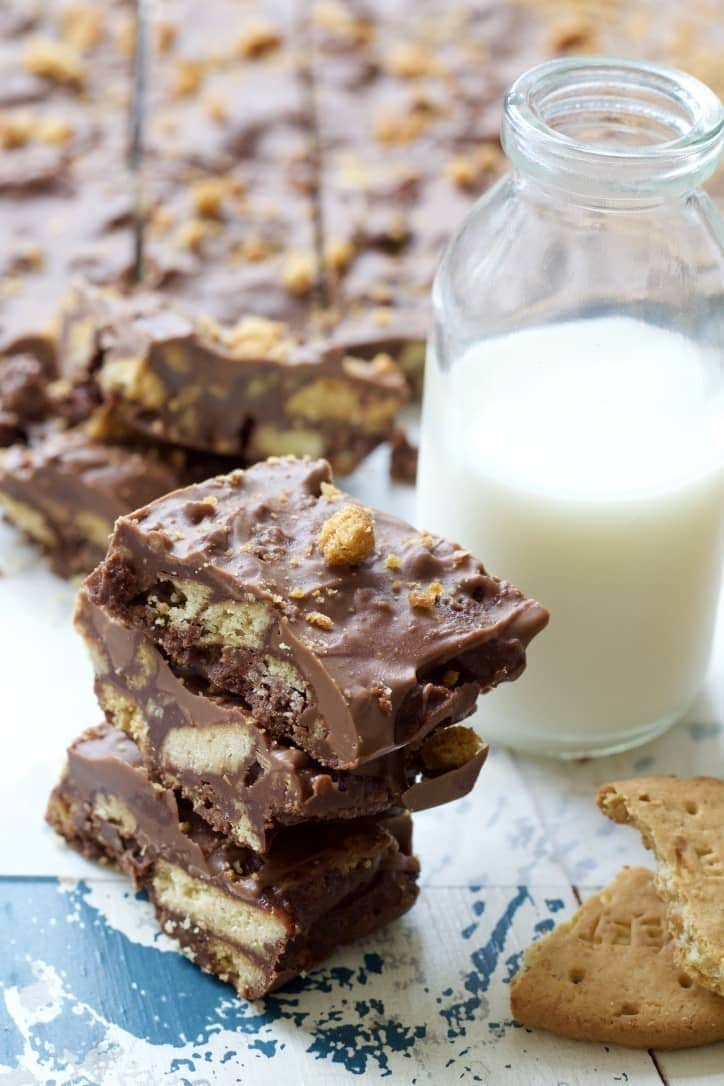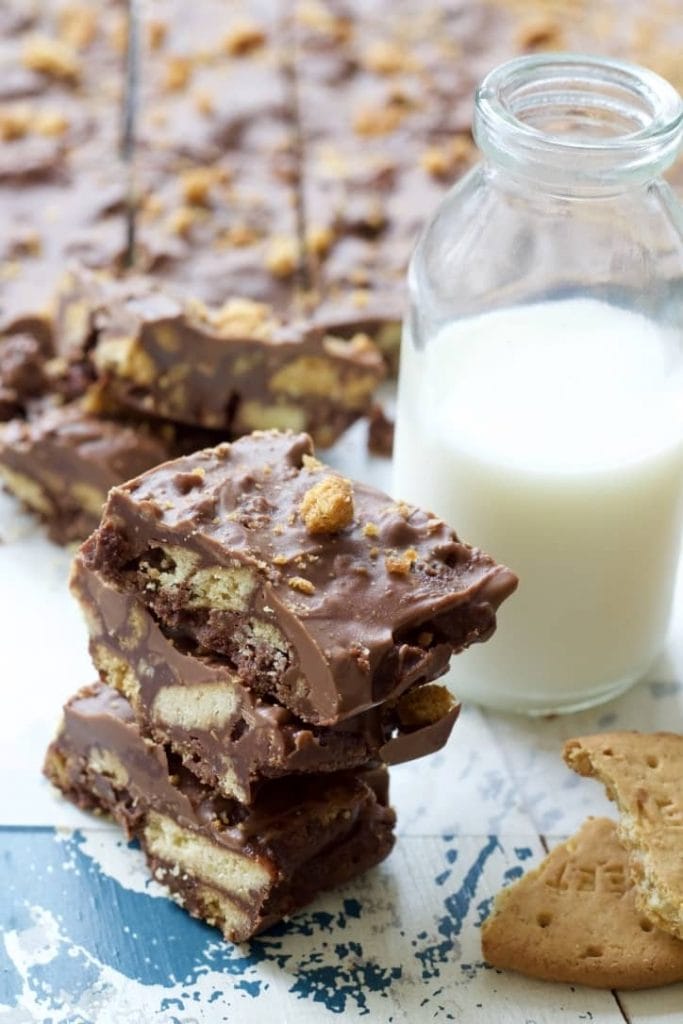 Few helpful tips when making my Ultimate Rocky Road
Line your baking tin with greaseproof paper, overlapping slightly on both sides for easy rocky road removal once firm.
I like to leave my biscuits quite chunky but feel free to crush yours as fine as you like!
Don't worry about the looks, surface not smooth enough etc. It's not going to be perfect but once it firms up it will be easy enough to cut and it will taste delicious!
Give it good couple of hours in the fridge to ensure it's firm enough! I know it's the hardest part but the reward will be immense!
There really are no hard rules here! Make it your own!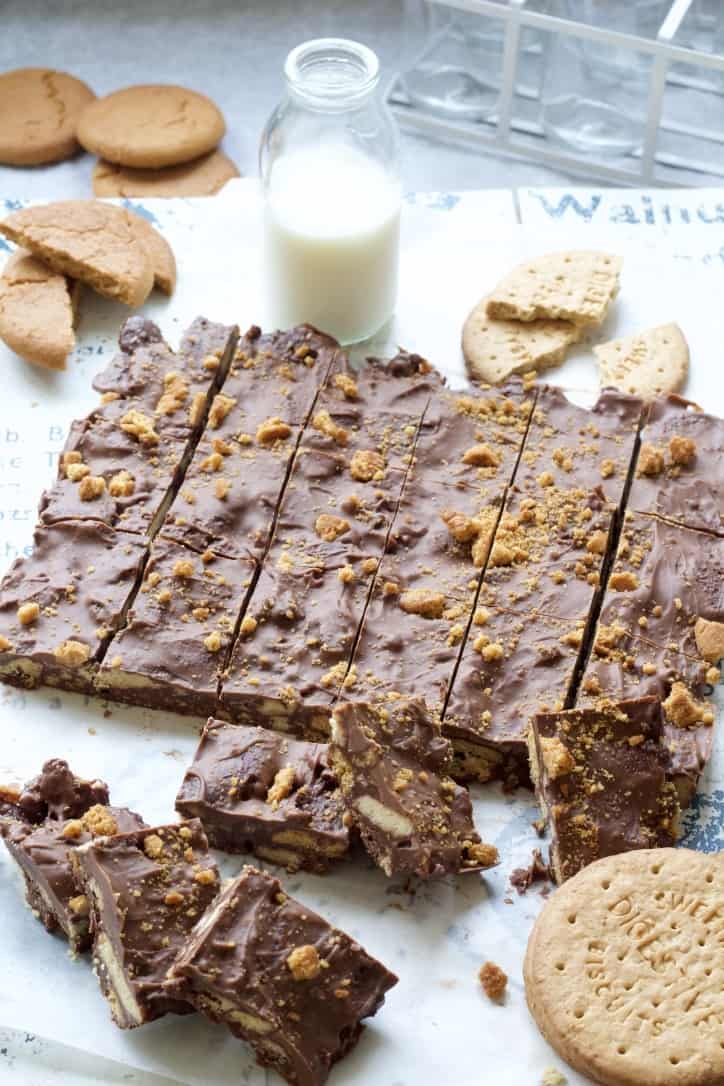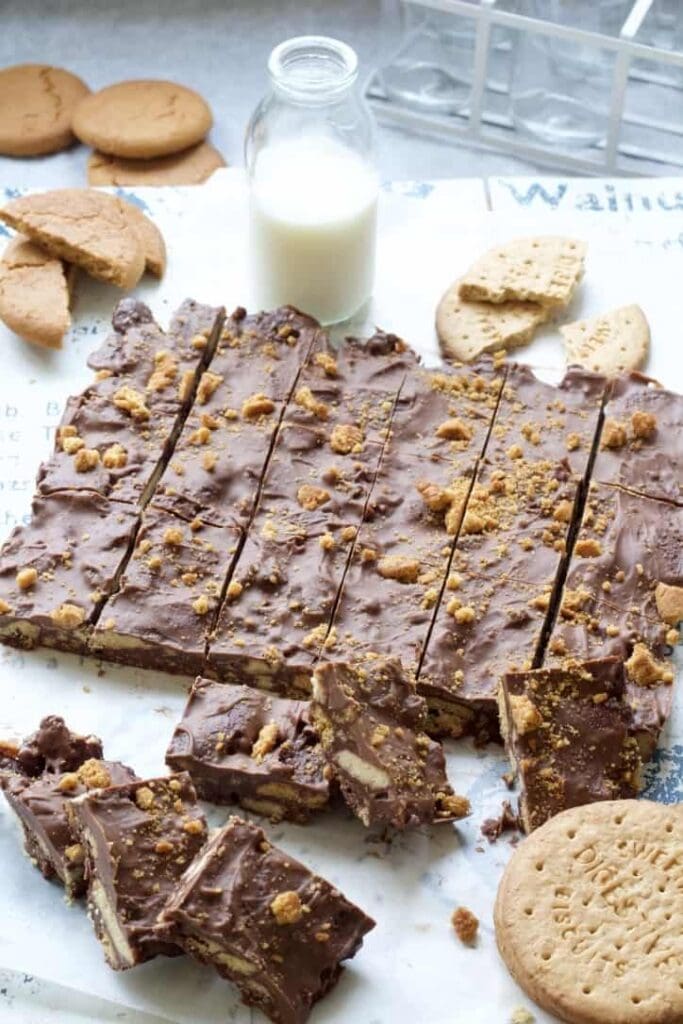 Rocky Road - Storing & Freezing
These lovely chocolate biscuit bars can be stored in the fridge in the airtight container for up to 3 weeks although I doubt they will last that long. If you store them in more than one layer make sure to put a sheet or two of paper towel or greaseproof paper in between the layers to prevent them from sticking.
Rocky road is also freezer friendly! Simply pop little squares into freezer proof container or wrap tightly in cling film and/or aluminium foil and pop in the freezer for up to 1 month. Defrost on the kitchen counter or overnight in the fridge.
How to make Ultimate Rocky Road Recipe - Step-By-Step Instructions!
Put milk and dark chocolate , butter and golden syrup in a large pan and melt gently over the low heat stirring until nice and smooth. Set aside.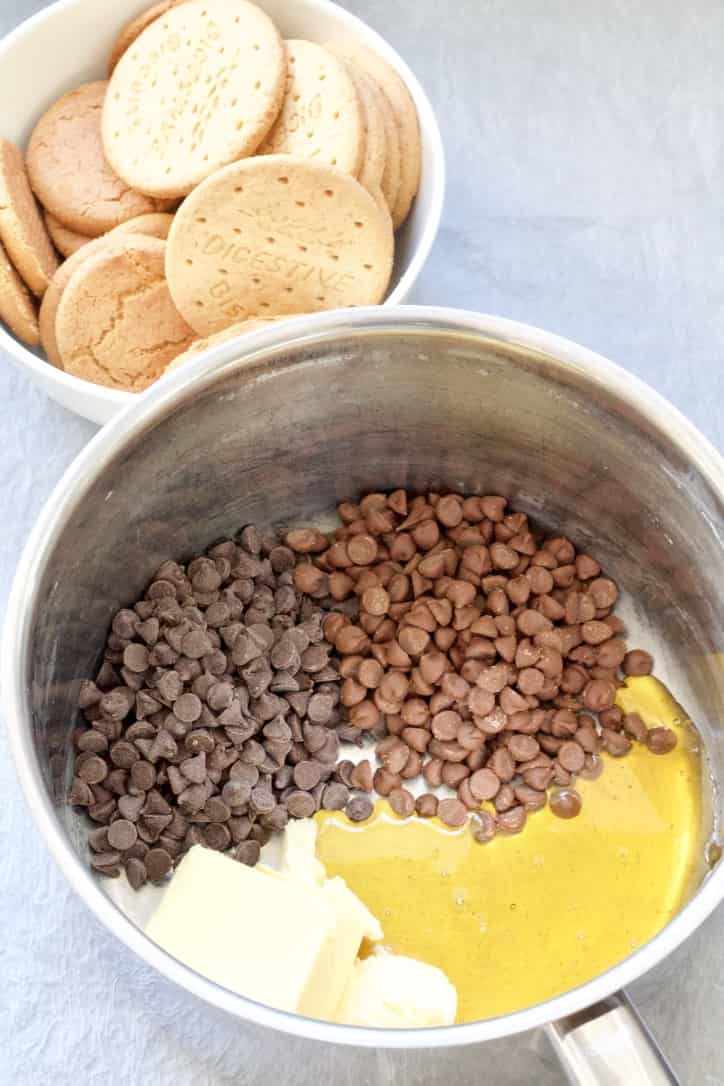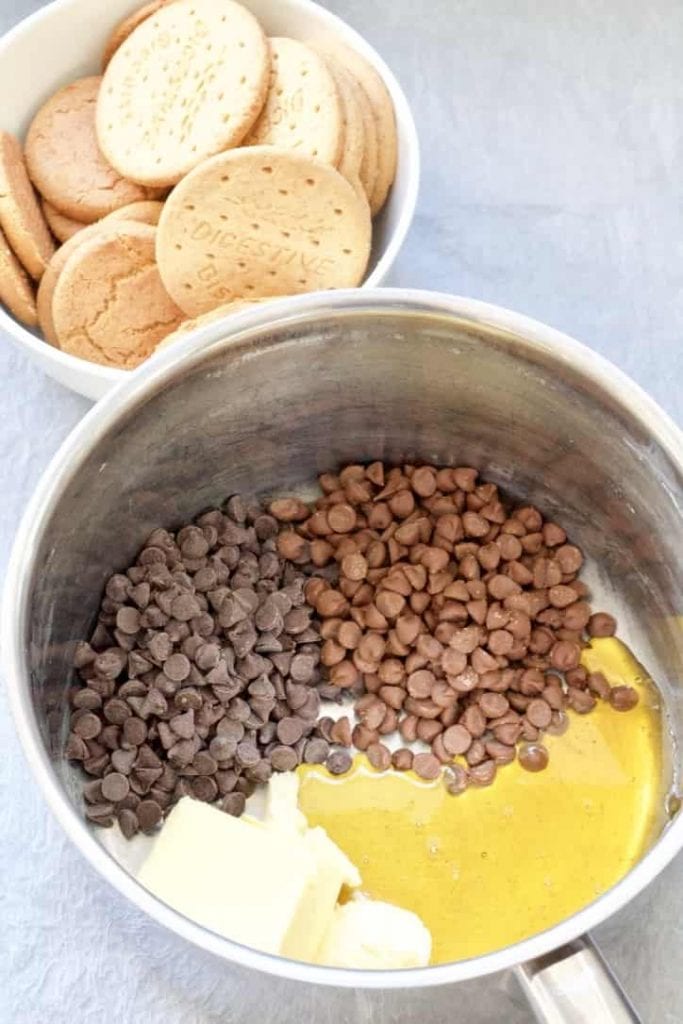 Put all the biscuits in a large plastic bag and give them a good bash with a rolling pin. Keep them as fine or as chunky as you want.
Add crushed biscuits into the pan with melted chocolate and mix well.
Tip the chocolate biscuit mixture into tin lined with some baking paper overlapping on two sides (for easy rocky road removal later). Smooth the surface as much as you can.
For the topping put milk chocolate chips in a small pan and melt them gently over a low heat stirring constantly. Pour in the melted chocolate onto the rocky road base already in the tin and smooth over with spatula, back of the spoon or even a brush. Crumble couple of biscuits over the top for that extra touch and pop the tin in the fridge for 2 hours to firm up.
Other delightful chocolate recipes you might enjoy:
Biscoff Millionaire's Shortbread (No-Bake, Vegan)
Peanut Butter Millionaire's Shortbread
Chocolate Banana Cake (Traybake)
Dark Chocolate Cranberry Chestnut Cookies
Double Chocolate Pavlova with Nutella Cream
Double Chocolate Cream Cheese Muffins
Chocolate Fork Biscuits (Vegan)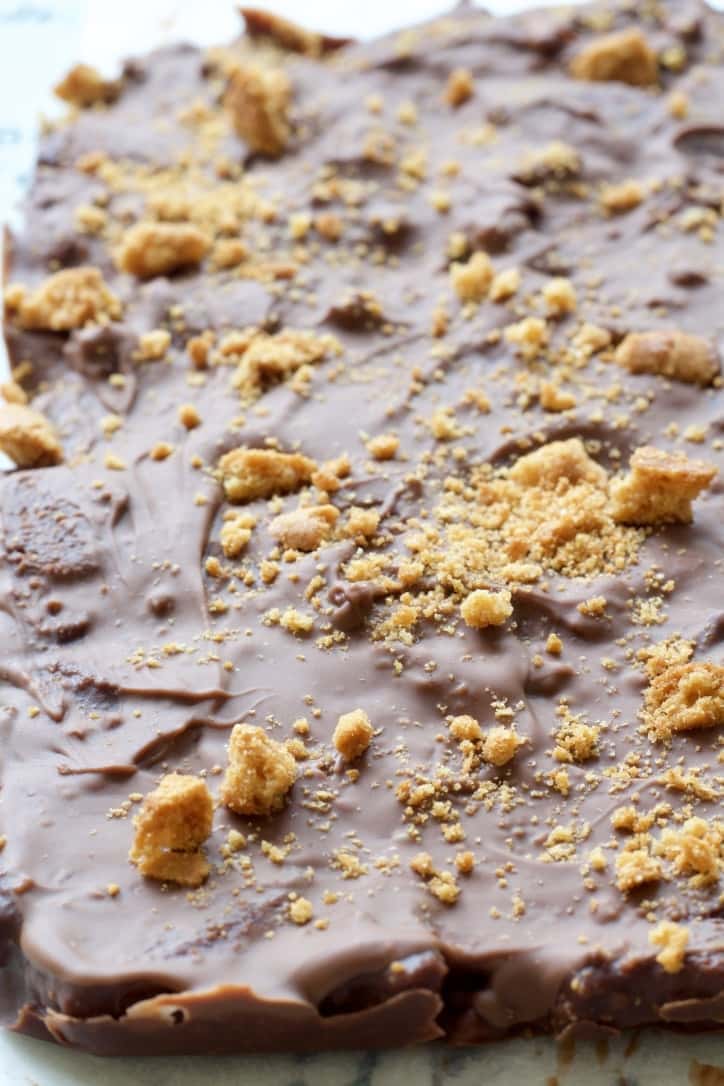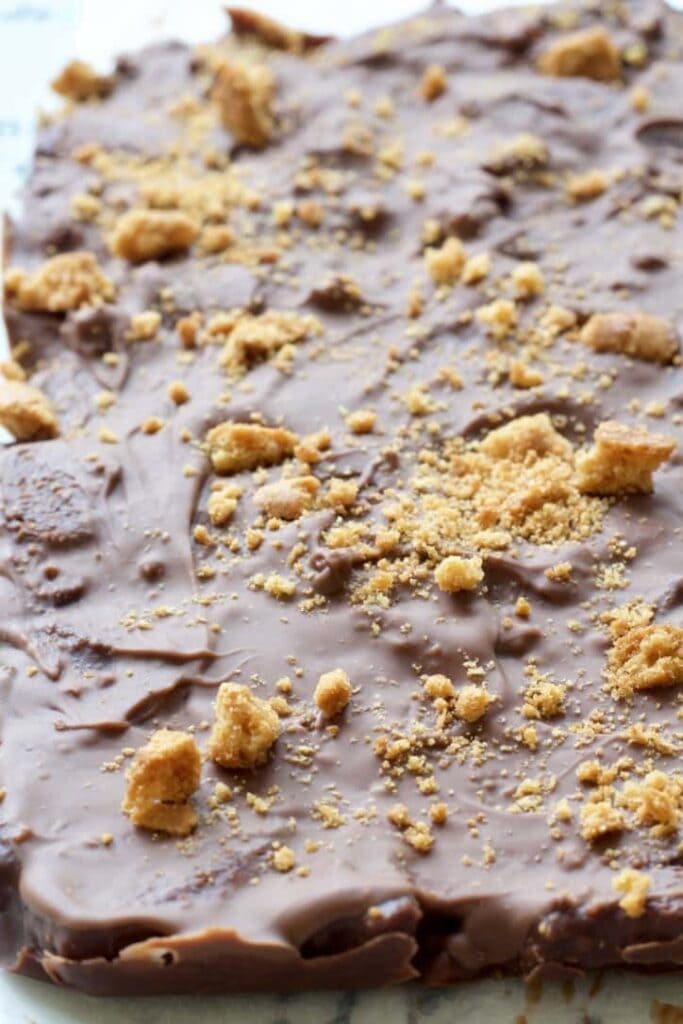 MAKE SURE YOU STAY UP TO DATE WITH ALL THE LATEST RECIPES FROM JO'S KITCHEN LARDER
Have you tried my Ultimate Rocky Road Recipe? Leave a comment at the bottom of this post, I love reading them!
You can also come and say hello over on my Facebook page, Twitter, Instagram or Pinterest
Pin Ultimate Rocky Road Recipe For Later!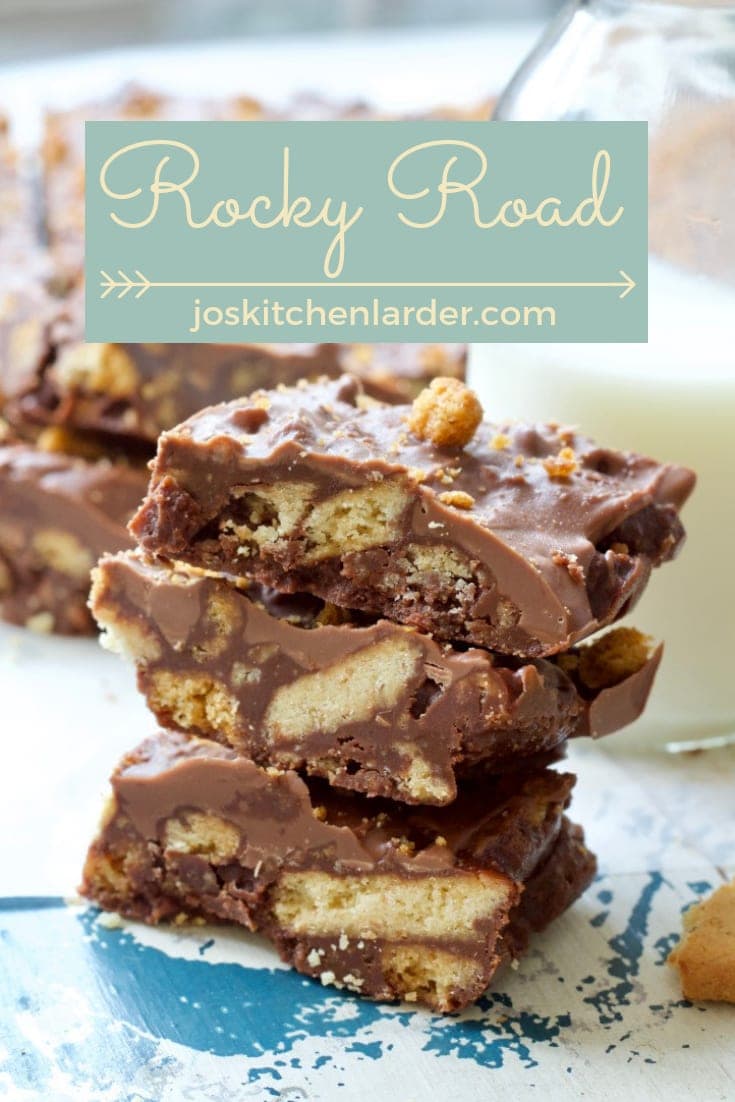 Recommended from Amazon!
*This post contains affiliate links, which means that if you click on a link and go on to buy the product I recommend, I will get a small commission, but you will not be charged a penny more. I only recommend products I own or really like and which caught my attention. Thanks in advance for supporting Jo's Kitchen Larder!