There is not much to say about my second Great British Bake Off inspired creation as it pretty much speaks for itself. Millionaire's Shortbread is pretty much a classic and as much as I love it I decided to tinker with it a tiny bit. Tablespoon of peanut butter here and there, sprinkling of some salted peanuts, et voilà, Salted Peanuts & Peanut Butter Millionaire's Shortbread!
I decided to be really careful with peanut butter cause as much as I love it, I still wanted to keep the essence of the caramel flavour itself. I think my attempt worked really well and you get enough salty deliciousness from peanut butter and peanuts but also some lovely caramel sweetness. Not to mention hint of vanilla coming through from the shortbread as I used my favourite of late, vanilla sugar. I've written about Vanilla Sugar How-To! here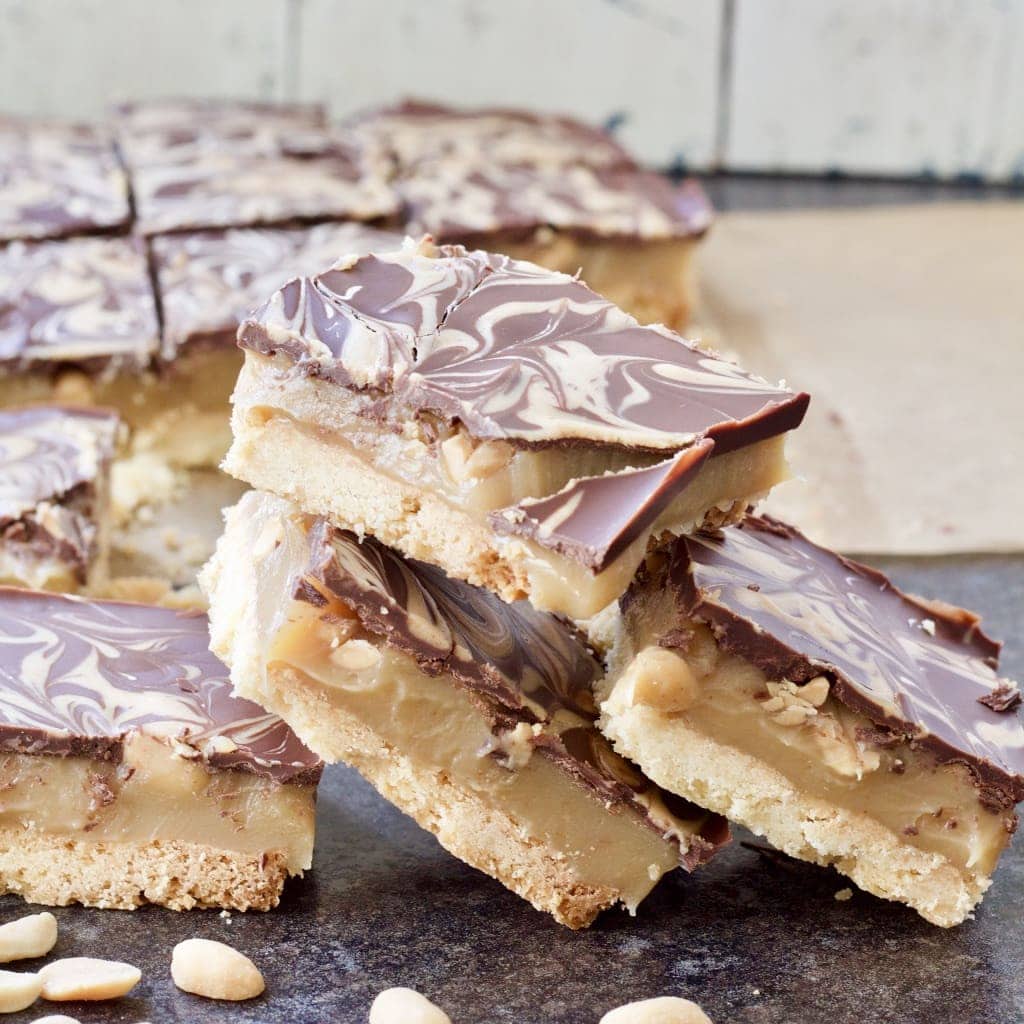 I must admit I have cheated a bit with my caramel and went for the version that uses condensed milk but I do prefer it like that. Do not expect to achieve the same colour as you would if you were to make it the traditional way. When it comes to doneness look for thickening consistency and not the colour to guide you.
As a final touch I decided to add a handful of salted peanuts sprinkled over the caramel for a bit of unexpected crunch! And…bit more peanut butter to the chocolate topping itself to create pretty swirls I was quite happy with (little things). 😉
Finally, onto the recipe itself!
Salted Peanuts & Peanut Butter Millionaire's Shortbread
Ingredients
Shortbread
175

g

plain flour

125

g

unsalted butter

cold

50

g

vanilla sugar or caster sugar
Caramel
150

g

unsalted butter

150

g

light brown sugar

397

g

tin condensed milk

1

generous tbsp peanut butter

50

g

salted roasted peanuts
Chocolate topping
100

g

milk chocolate

100

g

dark chocolate

1

generous tbsp peanut butter
Square baking tin approx 23x23cm or equivalent
Instructions
Put flour, sugar and butter into food processor and mix until you start getting sand/crumbs like consistency. Mix for a bit longer until it starts to look more like a dough. You can also do it by hand if you prefer rubbing cold butter together with mixed flour and sugar.

Tip the mixture onto baking tray lined with greaseproof paper and press the dough with your fingers until it covers the bottom of the pan.

Bake in 180C for approx. 25min, until light golden. Leave to cool slightly

Put sugar and butter in a saucepan and heat up gently until dissolved.

Add condensed milk and peanut butter and mix well.

Bring mixture to boil and keep stirring for about 10 minutes until it thickens and darkens slightly in colour (this caramel will be much lighter though).

Pour caramel over cooled shortbread and sprinkle over salted peanuts. Set aside to cool slightly.

Melt chocolate gently in a bowl set over the pan of simmering water until shiny and smooth and pour it over the caramel layer, smoothing out gently with a spoon.

Heat the peanut butter in a microwave until runny and drizzle over the chocolate. Swirl together with a toothpick to get pretty, marbled effect!

Chill in the fridge for at least couple of hours or until firm.

Cut into 16 squares or as per your tin and enjoy!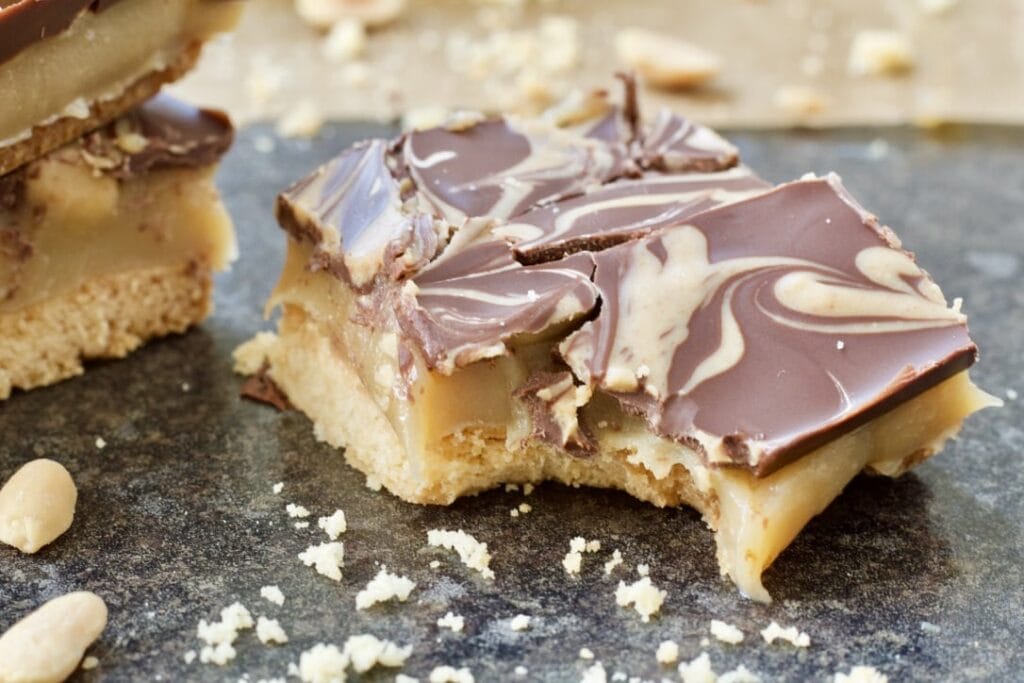 If you like this recipe, take a look at some of my other favourites this Autumn Italian Plum & Almond Cake with Amaretti Crunch and Best Buttery Apple Pie with a Twist
Pin For Later!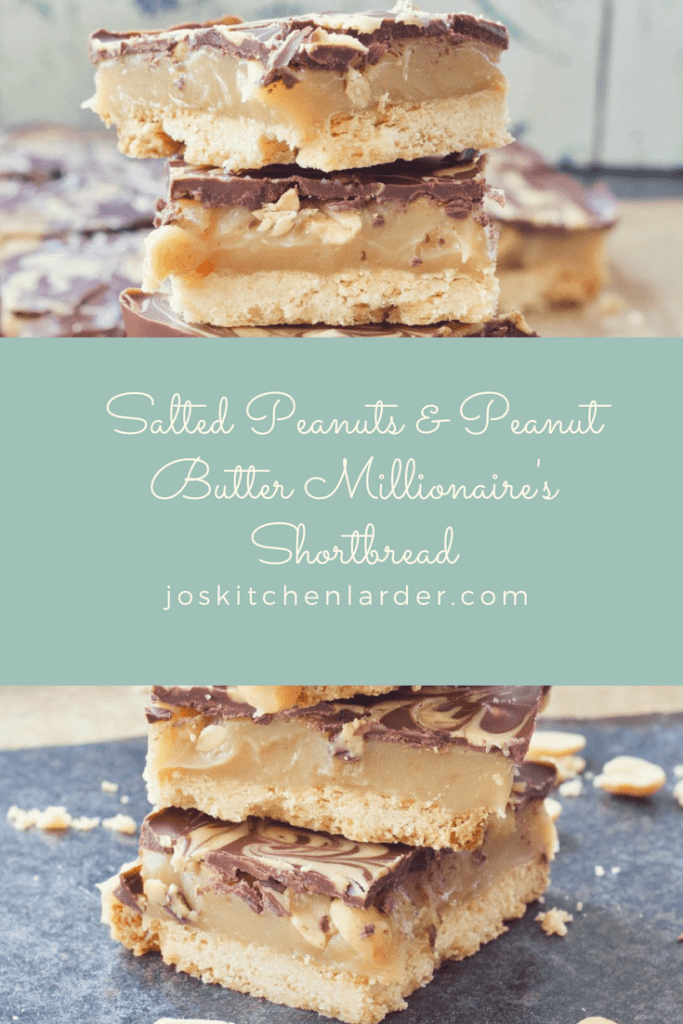 I'm linking my Salted Peanuts & Peanut Butter Millionaire's Shortbread with the following pages:
Cook Blog Share hosted this week by Kirsty at Hijacked By Twins and by Jacqui at Recipes Made Easy
Brilliant Blog Posts hosted by Vicki at Honest Mum Blog
Great British Bake Off Bloggers 2017 hosted by Jenny over at Mummy Mishaps.
Treat Petite hosted by Kat over at Baking Explorer.
We Should Cocoa hosted by Choclette over at Tin and Thyme.