Oven Roasted Asparagus makes a fantastic and elegant veggie side which is quick and easy to make. Learn tips on how to make & serve this seasonal delight.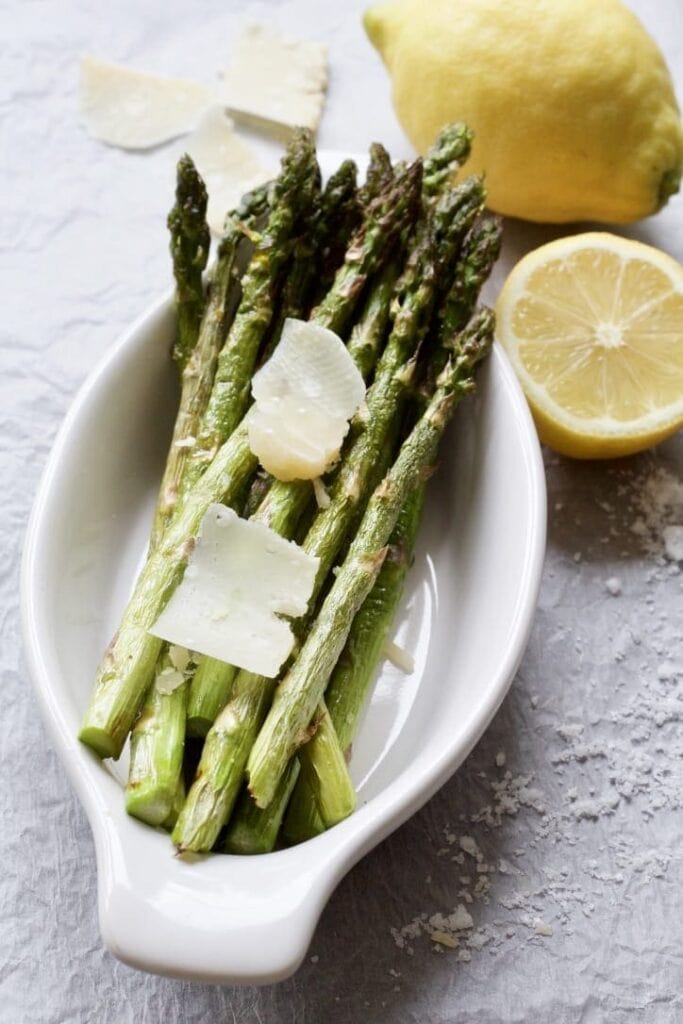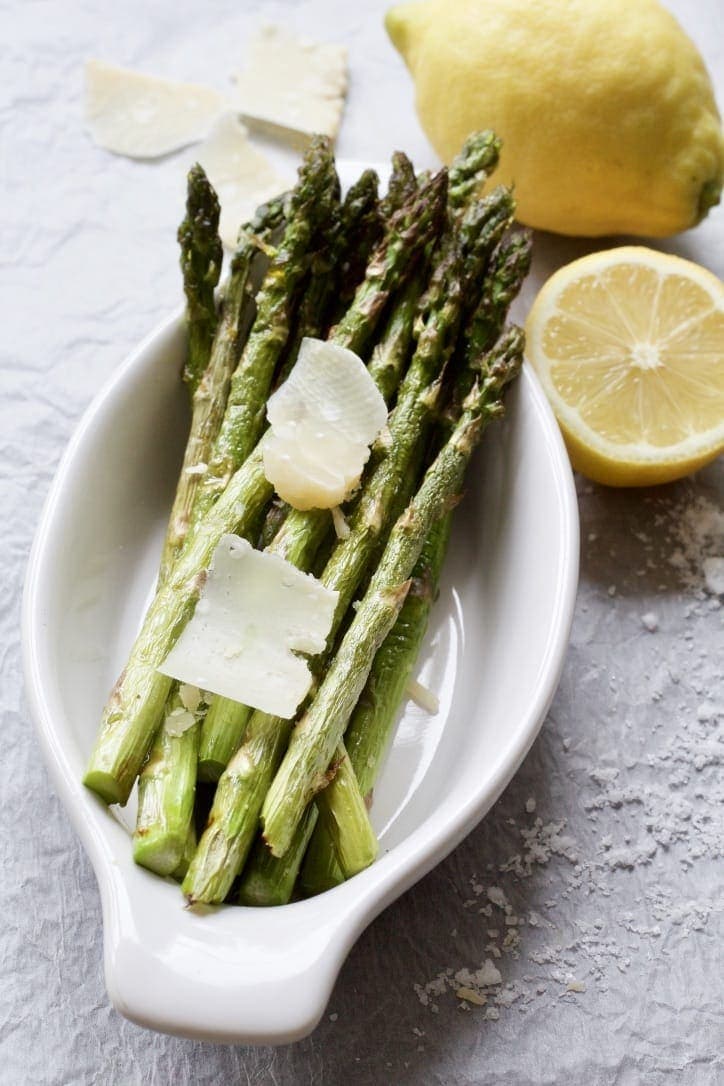 Why should I oven roast asparagus?
I truly believe that oven roasting vegetables is one of the best ways of cooking them and enhancing their natural flavours. You might remember my recipe for Roasted Brussels Sprouts with Parmesan & Garlic which is to die for! Asparagus is no exception and oven roasting those lovely and delicate spears not only brings out the best flavour but also helps to carry any topping you might choose to use with it. There are, however, few things you should know about roasting asparagus if you want to avoid stringy and chewy mess.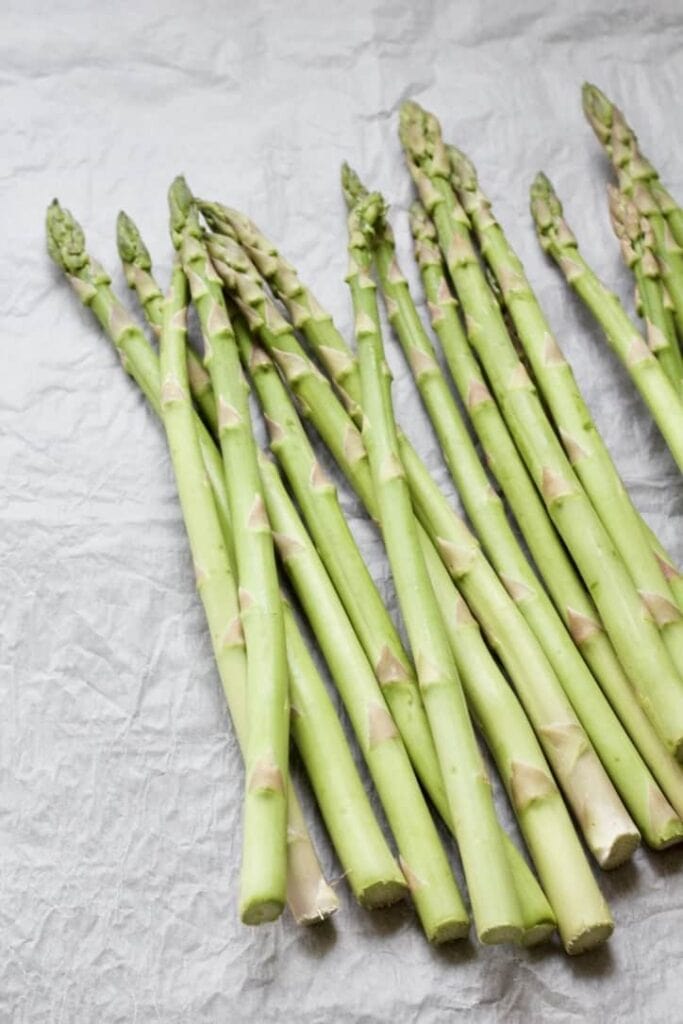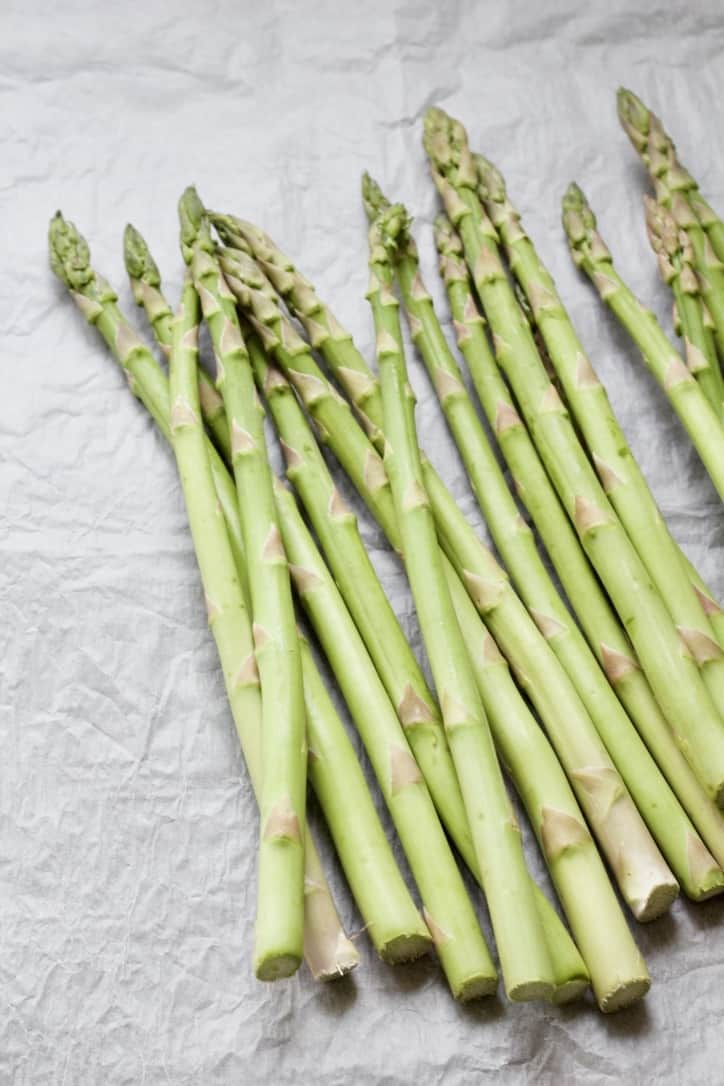 How to prepare asparagus for roasting?
That part is really easy. All you need to do is get rid of tough and woody ends of each spear. The simplest way to do this it to take each individual spear of asparagus and bend it slightly by holding just below the tip with one hand and at the bottom end with the other hand. Once you bend the spear whilst holding it this way it will naturally snap leaving you with the bottom end and tender part of the spear separated. You can then either discard the end or use it when making soups and/or stocks.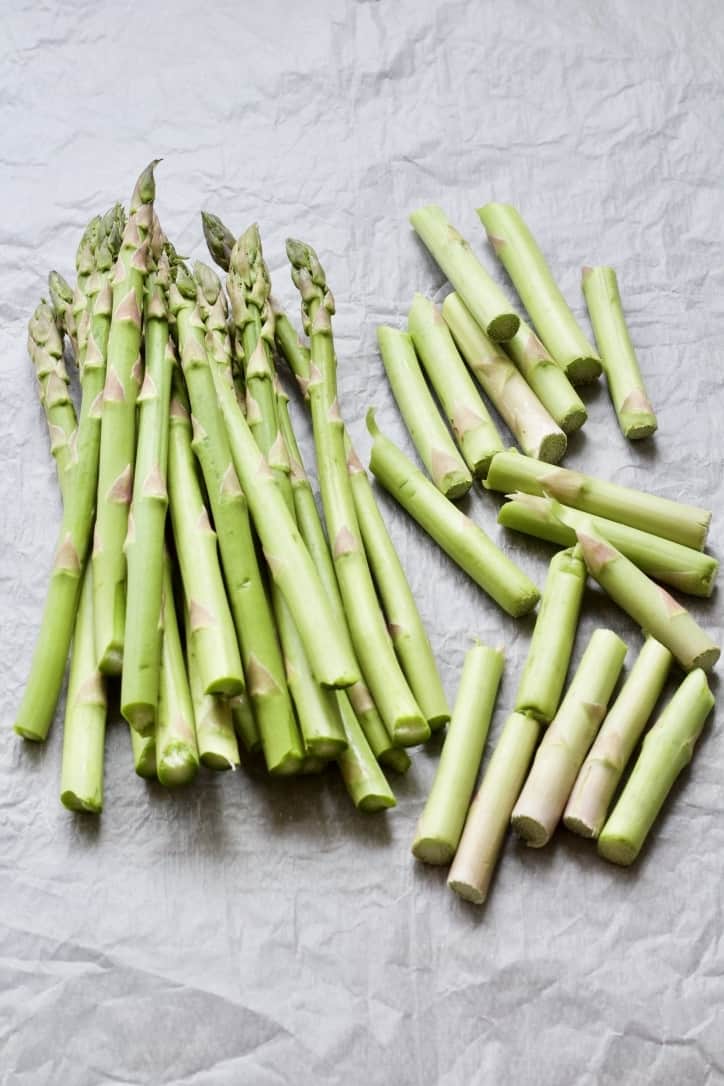 Should I peel asparagus?
Personally, I don't think there is a need as long as you get rid of the woody end but it all comes down to personal preference so if you find it works for you then by all means go for it.
How to oven roast asparagus - tips and tricks
Now to the roasting part. When researching the best ways of roasting asparagus I've come across the opinion that it is best to roast thicker asparagus spears rather than thin ones. As asparagus tend to shrivel up a bit from the loss of moisture when in the oven, thicker spears are better suited to that. That doesn't mean, however, that thinner asparagus should not be roasted, on the contrary. I have had some great results with thinner asparagus as well.
Oven temperature - Make sure your oven is nice and hot 200C/400F/Gas Mark 6
Use grill rack if possible - I found that roasting asparagus on the top of the grill rack sat in the baking tray, roasted the spears quicker and more evenly than simply laying them in the baking dish. Whichever way you choose make sure you lay the spears in single layer!
Keep it simple - When roasting your asparagus, some olive oil (make sure all spears are nicely covered in it), salt and pepper is all you need at this point. All your toppings can be added later.
Timings - For thinner spears: 8 minutes on top of the grill rack and 10 minutes in a baking dish. If you are using thicker spears, you will need to increase roasting time accordingly to between 15-20 minutes (slightly less if using the grill rack).
Toppings for oven roasted asparagus
That is the fun and creative part. Once you've oven roasted your asparagus, it will taste its best when served immediately. These are some of my favourite toppings:
Nice and simple - squeeze of lemon juice. Make sure you do it once asparagus is out of the oven and not before roasting not to loose its lovely green colour!
Freshly grated parmesan (or you can make parmesan shavings with vegetable peeler for that more substantial cheesy bite)
Drizzle of balsamic vinegar! My new favourite and insanely good!
Crumbled feta cheese
Parmesan shavings and lightly toasted almond flakes
Crispy pancetta crumbled over the roasted asparagus spears
Poached or fried egg - lovely brunch option
What is your favourite topping? Make sure to let me know in the comments below!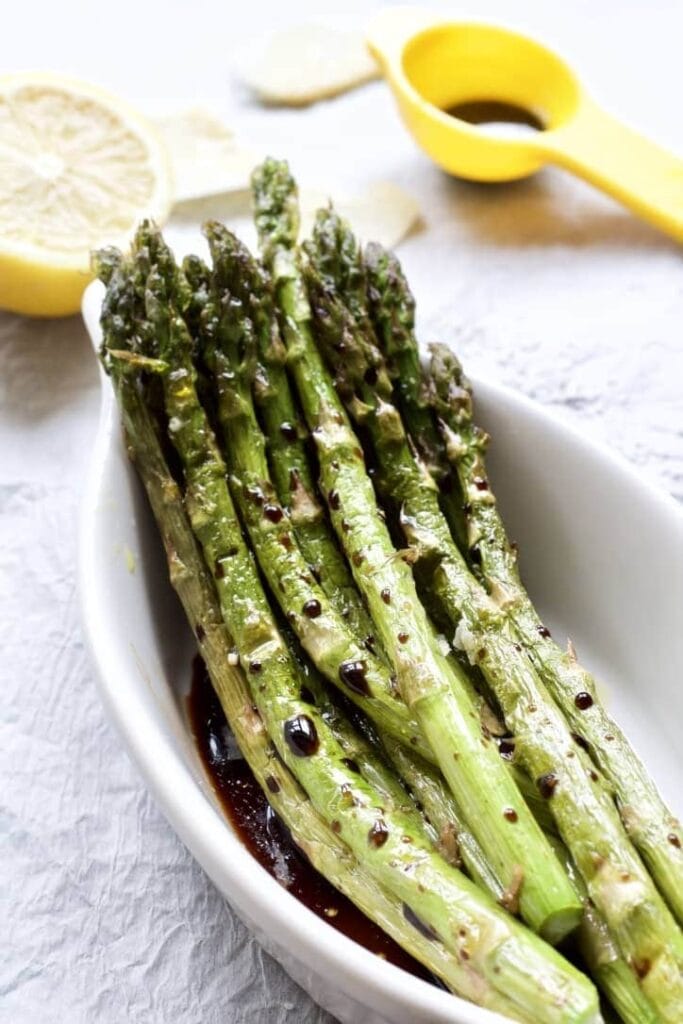 What can I do with leftover oven roasted asparagus?
This lovely side dish tastes best when eaten immediately so it's best to make the amount that you need. However, if for some reason you are left with few leftover spears, they can be stored in the fridge for up to 2 days and eaten cold as a snack, added to salads or (my favourite option) omelettes.
📋 Recipe
Easy Oven Roasted Asparagus
Oven Roasted Asparagus makes a fantastic and elegant veggie side which is quick and easy to make. Learn tips on how to make & serve this seasonal delight.
Ingredients
1

small bunch asparagus (250g or ½lb)

1

tablespoon

extra virgin olive oil

salt and pepper

to taste
Toppings suggestions
lemon juice, freshly grated parmesan, crumbled feta, crispy pancetta, parmesan flakes and lightly toasted almonds, balsamic vinegar
Instructions
Preheat the oven to 200C/400F/Gas Mark 6.

Trim asparagus spears by snapping off the woody ends (see above) and place them in a dish or bowl.

Drizzle over some extra virgin olive oil and sprinkle some salt and pepper.

Give it all a little toss ensuring all the spears are evenly covered in olive oil.

Roast in a single layer on top of the grill rack placed inside the baking tray or in a baking tray/dish for 8-10 minutes for thin to medium spears or 15-18 minutes for thicker ones.

Take out of the oven and serve immediately with the toppings of your choice.
Notes
Nutritional information is approximate and should be treated as a guideline only. Please note that it doesn't include toppings.
I find that small bunch of asparagus is enough for 2 servings however this recipe is easily doubled if need be. 
This simple side is best when eaten immediately, however, any leftovers can be stored in the fridge for up to 2 days and eaten cold/ added to omelettes etc.
Nutrition
Nutrition Facts
Easy Oven Roasted Asparagus
Amount Per Serving
Calories 86
Calories from Fat 63
% Daily Value*
Fat 7g11%
Cholesterol 0mg0%
Sodium 2mg0%
Potassium 252mg7%
Carbohydrates 4g1%
Protein 2g4%
Vitamin A 945IU19%
Vitamin C 7mg8%
Calcium 30mg3%
Iron 2.7mg15%
* Percent Daily Values are based on a 2000 calorie diet.
More asparagus recipe you might enjoy
Spring Pea and Asparagus Risotto (Vegan)
Sun-Dried Tomato Risotto with Asparagus
Warm Potato Asparagus Salad with Lentils
Pancetta Wrapped Asparagus Soldiers with Fried Egg
Asparagus Puff Pastry Twists with Parma Ham & Pesto
Creamy Salmon & Asparagus Pasta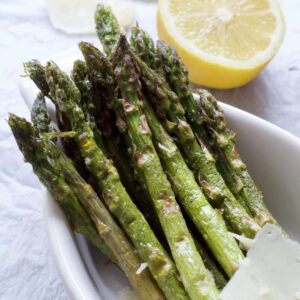 MAKE SURE YOU STAY UP TO DATE WITH ALL THE LATEST RECIPES FROM JO'S KITCHEN LARDER
Have you tried my Easy Oven Roasted Asparagus? Leave a comment at the bottom of this post, I love reading them!
You can also come and say hello over on my Facebook page, Twitter, Instagram or Pinterest
PIN EASY OVEN ROASTED ASPARAGUS FOR LATER!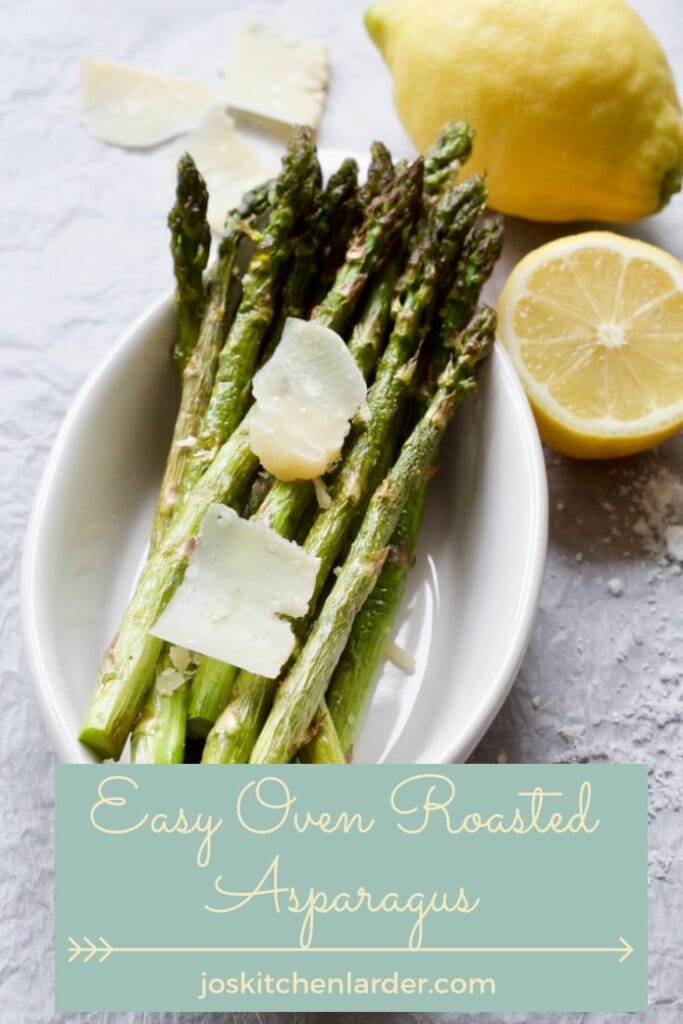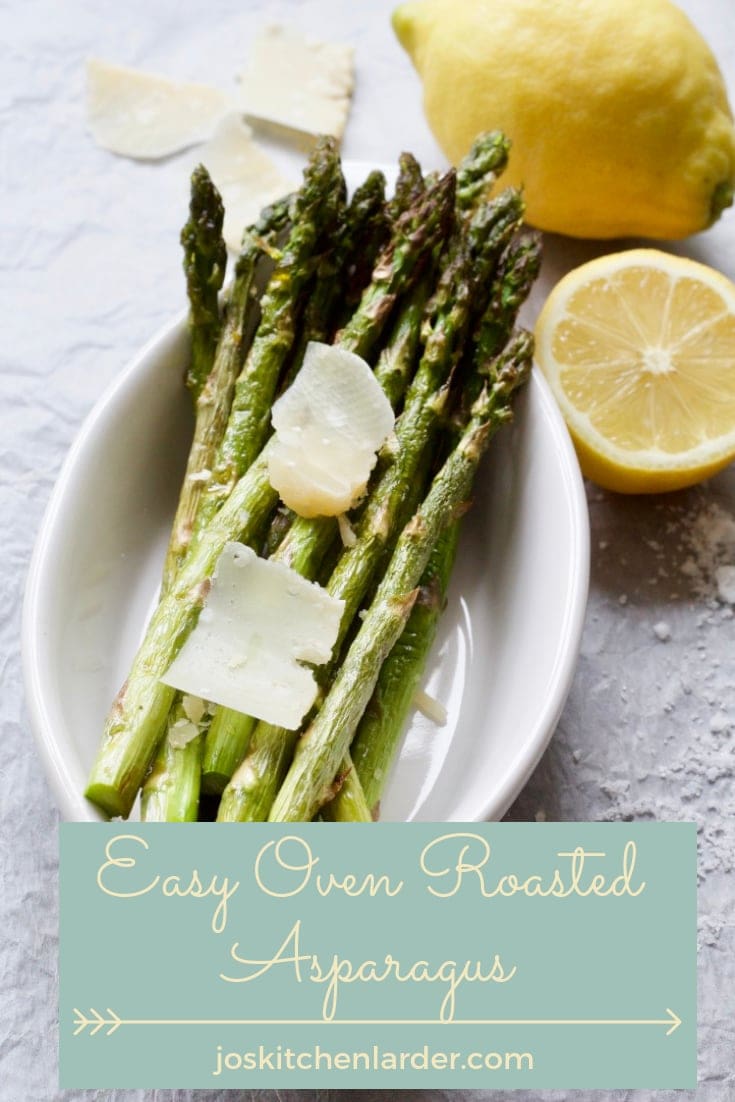 Linkies
Cook Blog Share hosted by Recipes Made Easy