Crème Brûlée - rich and creamy vanilla flavoured custard topped with layer of caramelised sugar. This make-ahead dessert is easier to make than you think and is sure to impress even the toughest critics. Try my foolproof recipe with step-by-step photo instructions to help you on your way.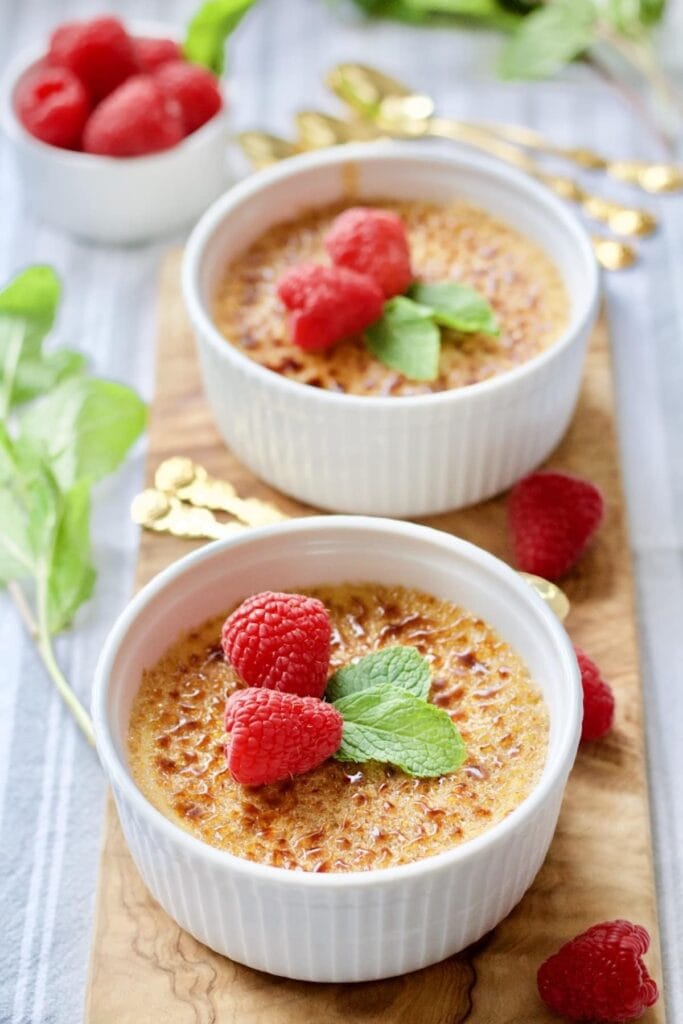 Vanilla flavoured Crème Brûlée is one of my favourite desserts I tend to order when eating out as for me it really is the one for special occasions.
Having said that and even though it looks all fancy and impressive it really is super easy to make at home. 5 ingredients is all it takes to make this fantastic make-ahead dessert, ok 4 if you go with just one type of sugar! And you don't even need a blow torch (although I must say it is fun to use)!
Ingredients you'll need to make Crème Brûlée
Double/Heavy Cream - I'm afraid there are no substitutes here. Proper, full-fat cream produces the best results and there is no escaping the fact that your diet will have to wait. It is a special occasion dessert after all!
Caster Sugar (fine granulated sugar) - Its fine consistency makes it dissolve quicker although you could use regular granulated sugar if need be.
Vanilla Pod vs Vanilla Extract - I like using vanilla pod here as infusing the cream with seeds and the pod itself makes this dessert that bit more special. You will also be able to see little vanilla seed specs as you tuck into your dessert. However, if you are not too fussed about it, 1-1.5 teaspoon vanilla extract* will work too.  Simply whisk it in together with egg yolks and sugar.
Soft Brown Sugar - I like using it on top of the custard as a final finish as it seems to caramelise quicker but if you don't have any to hand use caster sugar.
Eggs - You will need egg yolks alone for your Crème Brûlée and this brings me to a very important question.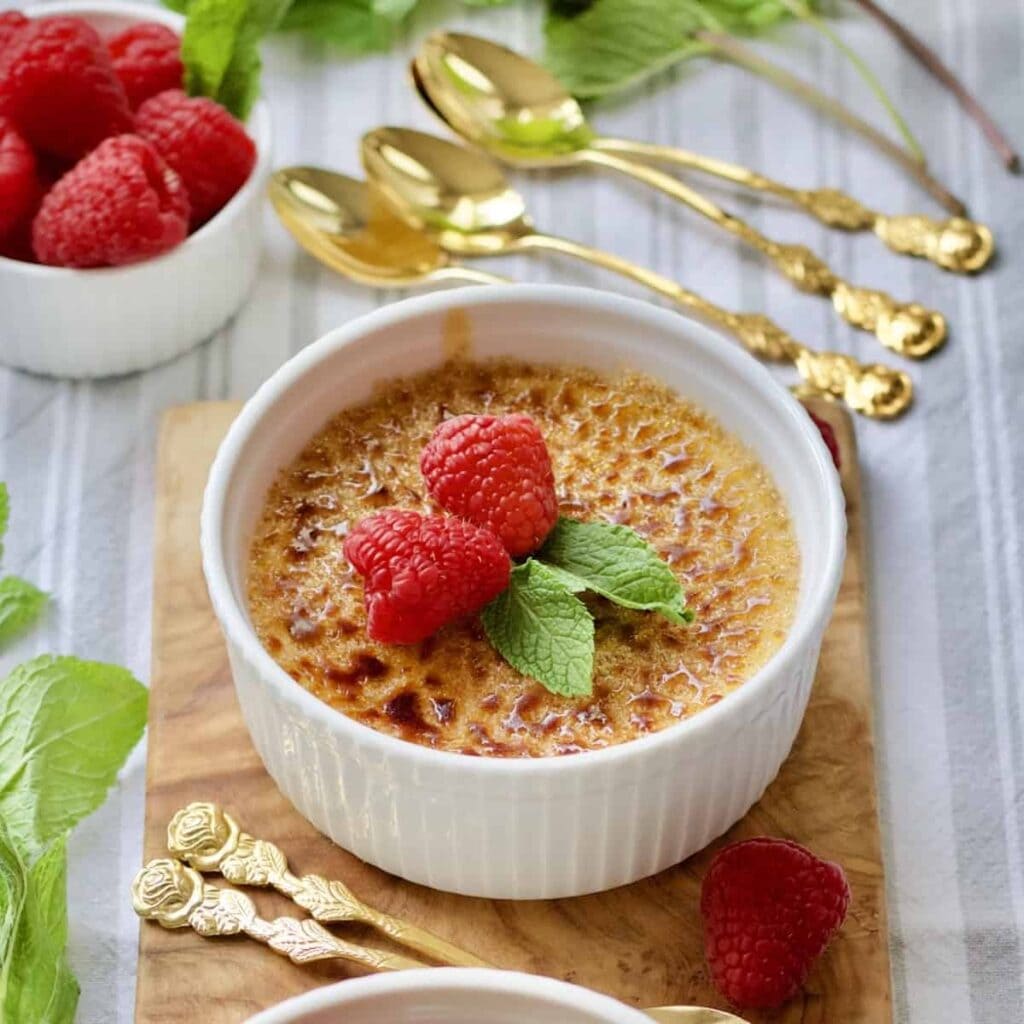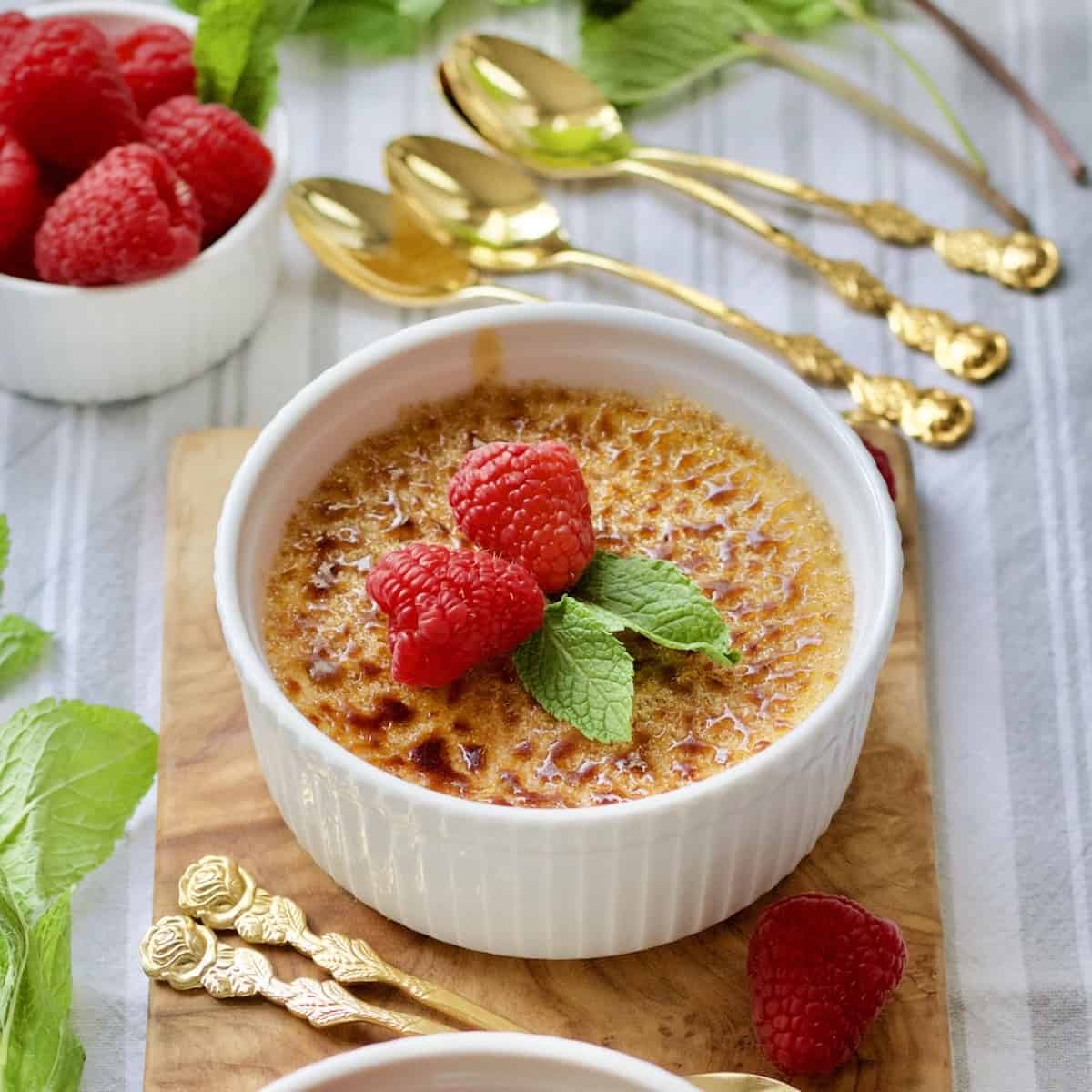 What do I do with leftover egg whites? Can I freeze them?
If, like me, you don't like food waste, you don't need to worry. Egg whites freeze beautifully. In fact, I've used defrosted egg whites many times in bakes like pavlovas and if I didn't know that they've been previously frozen I would be none the wiser.
The most efficient and clever way of freezing the egg whites is to use an ice cube tray*. This way you know exactly how many egg whites you've got and you can defrost them as and when and according with your needs. Simply pour the egg whites into the tray and place it in the freezer. Once frozen you can simply transfer the "egg white cubes" to the plastic bag labeled with the date of freezing. Simples!
Egg whites will keep in the freezer for up to 12 months and should be defrosted in the fridge overnight and brought to the room temperature before whisking.
If you are looking for a recipe you could use the egg whites in try my Double Chocolate Pavlova with Nutella Cream
Equipment you will need for making Crème Brûlée
Whisk, hand mixer or standing mixer with whisk attachment to whisk egg yolks and sugar (and vanilla extract if you decide not to use vanilla pod for infusing the cream).
Cook's Blow Torch - I was gifted this Kitchen Craft blow torch* quite a few years ago now and it's proven quite handy in the kitchen. It is really simple to use too.
Grill/ Broiler - Lack of torch shouldn't put you off as you can simply caramelise sugar until hard under the hot grill/broiler. Make sure you watch it like a hawk though as there is a fine line between caramelised and burnt!
6 small Ramekins (140ml / 5oz) - these here* are perfect size for 6 nice portions although you might have noticed I've only used 4 larger ramekins (250ml / 1cup) which will work just as well.
Baking/Roasting Tray - You will need one big enough to fit all your ramekins. I use my old and trusted Le Creuset Roaster* with very handy handles. Make sure your tray is not too shallow as you will be baking your Crème Brûlée using "bain-marie" (water bath method) where you pour freshly boiled water into the tray approximately half way up the ramekins. This method is perfect for cooking things gently and evenly.
Some things to bare in mind and last minutes tips when making Crème Brûlée
Make sure you don't boil your cream! Quickly take it off the heat just before it gets to that point!
When using vanilla extract instead of the pod, you still need to heat up the cream almost to the boiling point although no straining will be necessary.
When pouring hot cream into your egg yolks make sure to go very slow but at the same time whisk the mixture constantly and really vigorously to prevent the eggs from scrambling!
And remember, even if you overcook your creme brûlées first time around, it's not the end of the world. They will still be creamy and delicious if slightly more set. Practice makes perfect!
How To Make Crème Brûlée - Step-By-Step Instructions
📋 Recipe
Crème Brûlée
My foolproof recipe for Crème Brûlée will guide you step-by-step to make this rich & creamy vanilla flavoured custard topped with caramelised sugar.
Ingredients
500

ml

double cream

1

vanilla pod

or 1 - 1.5 teaspoon vanilla extract (see notes below)

100

g

caster sugar

5

large egg yolks

some brown or caster sugar for caramelising

fresh berries to serve

optional
You will also need 6 small (14ml/5oz) or 4 large (250ml/1cup) ramekins
Instructions
Cut the vanilla pod open and scrape out the seeds with the knife. Pop them in a medium saucepan together with the pod itself and add cream. Bring the cream almost to the boiling point and quickly take it off the heat. Let the cream infuse with vanilla whilst you prepare the egg yolks.

Separate egg yolks from the whites (freeze the whites for another time). Whisk yolks with caster sugar until pale in colour and foamy and very slowly start adding the hot cream whilst whisking constantly and vigorously (to prevent the yolks from scrambling).

Strain the mixture through a fine sieve and distribute evenly between the ramekins.

Put the ramekins onto the baking dish and fill with hot water to come up half way up their sides. Bake in 150°C/300F/Gas Mark 2 for approx 30 min until the little custards are just set. Keep watching them as you want for the edges to be set with some visible wobble in the middle of your brûlées.

Carefully lift the ramekins out of the baking dish and chill really well - minimum 4 hours in the fridge but preferably overnight. Once baked they can stay in the fridge for up to 2 days.

Once chilled sprinkle thin layer of either caster or soft brown sugar and caramelise with blow torch or under the grill until bubbly and brown.

Wait a few minutes for sugar layer to harden before serving with some fresh berries or strawberry coulis if you wish.
Notes
Nutritional information is approximate and should be treated as a guideline only.
If you are using vanilla extract instead of pod simply add the extract to egg yolks and sugar and whisk together. You will still bring the cream almost to the boiling point and take it quickly off the heat but without the pod, seeds and the need for straining. 
Nutrition
Nutrition Facts
Crème Brûlée
Amount Per Serving (0 g)
Calories 418
Calories from Fat 306
% Daily Value*
Fat 34g52%
Cholesterol 276mg92%
Sodium 39mg2%
Potassium 78mg2%
Carbohydrates 23g8%
Protein 4g8%
Vitamin A 1440IU29%
Vitamin C 0.5mg1%
Calcium 74mg7%
Iron 0.4mg2%
* Percent Daily Values are based on a 2000 calorie diet.
Update Notes: This post was originally published on 9 March 2017, but was republished with new recipe card, updated photos, step-by-step process photos,  tips and other useful info in February 2019.
Recipe inspiration: River Cottage Everyday* by Hugh Fearnley-Whittingstall
MAKE SURE YOU STAY UP TO DATE WITH ALL THE LATEST RECIPES FROM JO'S KITCHEN LARDER
SOME OTHER GORGEOUS DESSERTS YOU MIGHT ENJOY!
Gluten-Free Orange and Almond Cake
Chocolate Brioche Pudding with Raspberries
Pancakes (Crepes) with Mascarpone and Cranberry Compote
Have you tried my Crème Brûlée recipe? Leave a comment and rating at the bottom of this post, I love reading them!
You can also come and say hello over on my Facebook page, Twitter, Instagram or Pinterest
Pin Crème Brûlée Recipe For Later: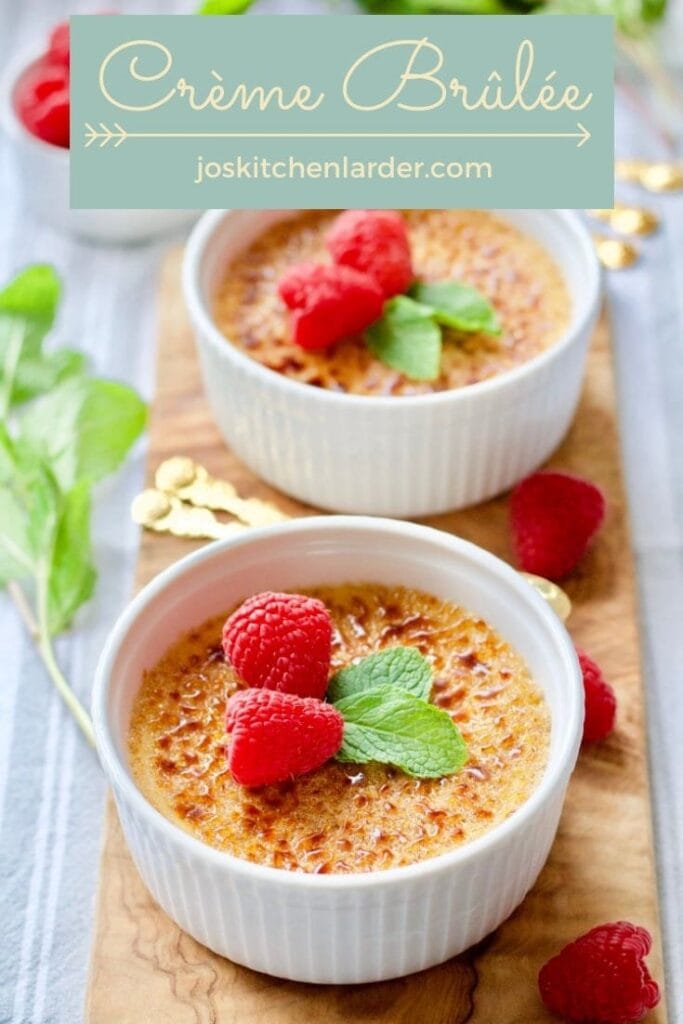 Linkies:
Cook Once Eat Twice , Cook Blog Share
*This post contains affiliate links, which means that if you click on a link and go on to buy the product I recommend, I will get a small commission, but you will not be charged a penny more. I only recommend products I own or really like and which caught my attention. Thanks in advance for supporting Jo's Kitchen Larder!