My Chocolate Brioche Pudding with Raspberries is a take on a classic bread and butter pudding. It's the posh version, wealthier and better looking relation if you wish. So if you love chocolate, buttery brioche and custard, put your "fat pants" on and dig in! Sprinkling of fresh raspberries over the top should make you feel less guilty... 😉
The truth is, this dessert is pure indulgence and little goes a long way but oh is it worth it! It could be a perfect treat pud for your dad this Father's Day!

I absolutely love brioche with its gorgeous buttery flavour, perfect in this pudding. I used to use plain brioche loaf in this recipe but since I've found the one with chocolate swirl running through it, I've switched. Feel free to use the plain loaf if you cannot get the swirl one but I would up the chocolate content to 200g in such case.
Tips:
For the brioche to soak up the wonderful custardy mixture much easier, I do recommend to dry the slices out for couple of hours. Simply lay them out on the cutting board and let the air do its magic.
The best way to bake any custard based puds is to use the water bath (bane marie). This will ensure more even and gentler heat distribution. Simply stand your dish in a larger roasting tin and fill it half way up the sides of the dish with hot water.
Don't throw away leftover egg whites! Simply pop them in the plastic bag and freeze. They freeze beautifully and I personally find them easier to whisk when defrosted! Once you've finished devouring Chocolate Brioche Pudding with Raspberries you can always whip up my Double Chocolate Pavlova with Nutella Cream & Maltesers and use the egg whites up. 🙂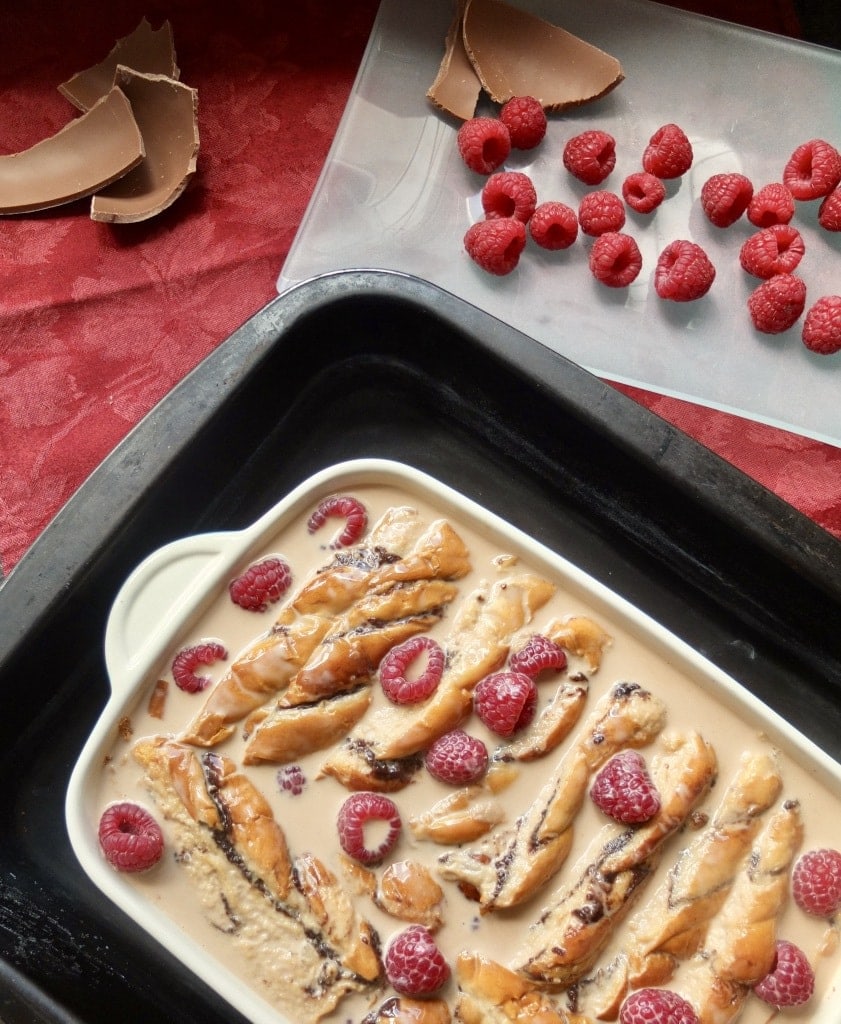 📋 Recipe
Chocolate Brioche Pudding with Raspberries
Ingredients
400

g

brioche loaf with chocolate swirl

120

g

milk chocolate

600

ml

double cream

100

ml

milk

50

g

caster sugar

1

egg

5

egg yolks

100

g

raspberries + extra for garnish
Instructions
Cut the brioche loaf into medium thick slices and let them dry out for a few hours.

Put the chocolate, milk, cream and sugar in a bowl over a pot of simmering water and mix everything together until the chocolate has completely melted. Set aside and let it cool a bit.

Mix 1 egg and 5 egg yolks together and really slowly and gradually mix it with the chocolate mixture.

Line rectangular, ovenproof dish (roughly 26x19cm) with sliced brioche. Sprinkle the raspberries tucking them in a bit in between the slices.

Slowly pour chocolate custard mixture over the brioche, waiting for it to get absorbed before pouring more.

Stand your dish in a larger roasting tin and fill it half way up the sides of the dish with hot water (bain marie method).

Bake in 180C for approx 30 minutes until set in the middle.

Best served warm or at room temperature with more raspberries and perhaps some cream 🙂

Enjoy!
Have you tried my Chocolate Brioche Pudding with Raspberries recipe? Leave a comment at the bottom of this post, I love reading them!
If you don't want to miss new recipes and updates from me make sure to subscribe to new recipe alerts in the top right corner of this page or come and say hello over on my Facebook page, Twitter or Instagram
Pin for later: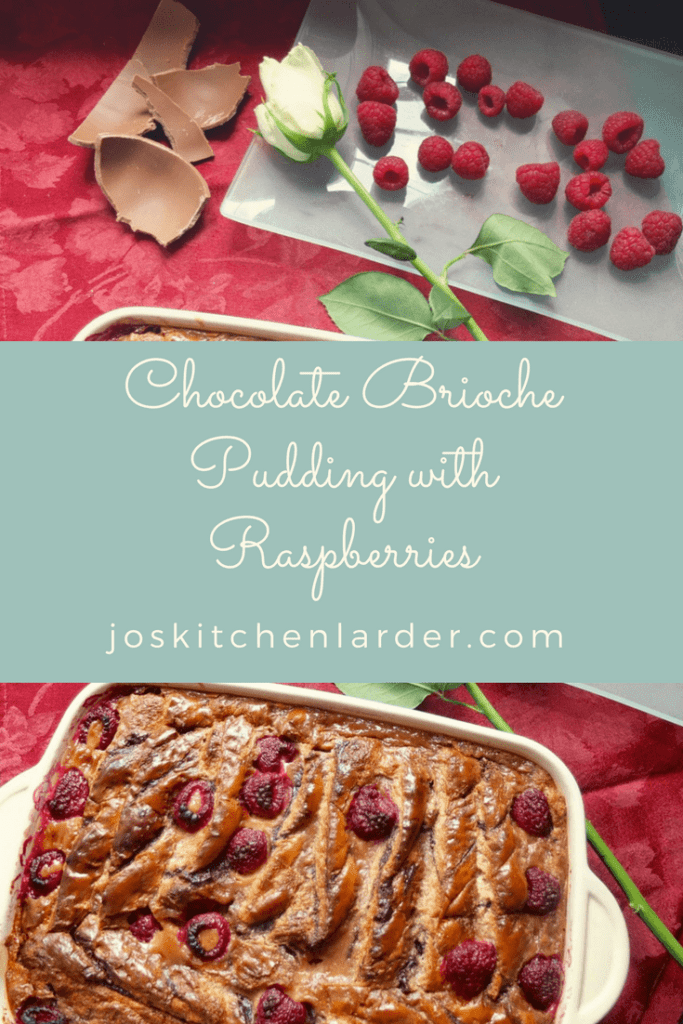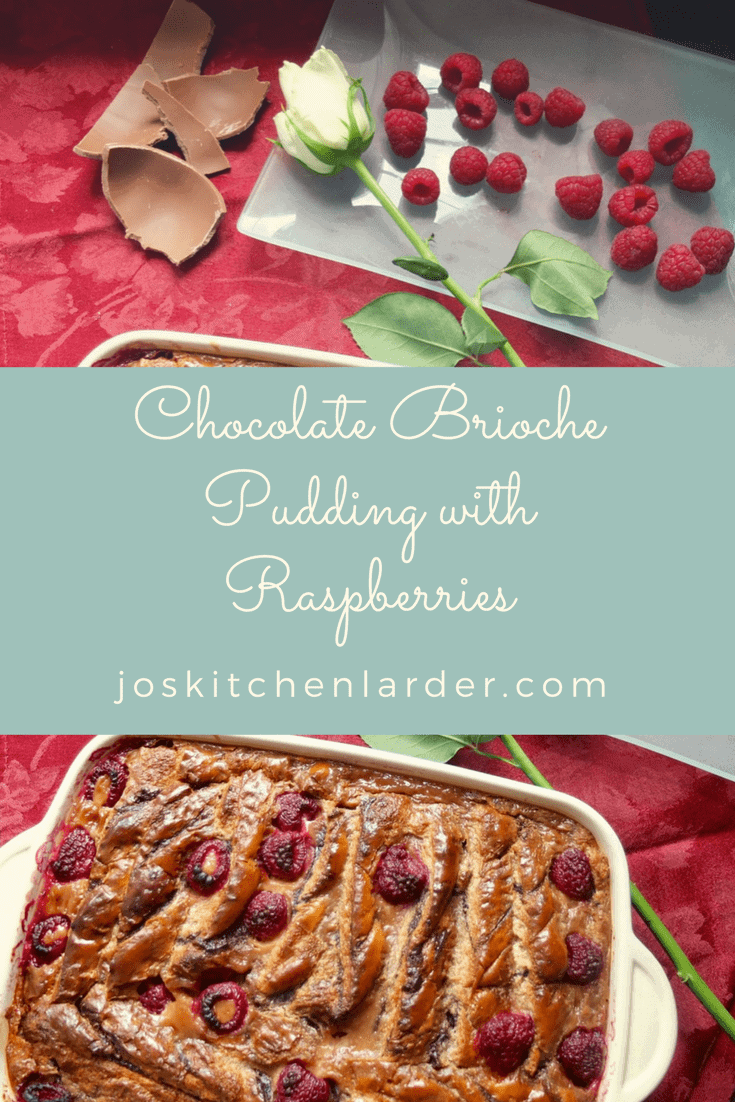 I'm linking my Chocolate Brioche Pudding with Raspberries with the following pages:
Cook Blog Share hosted this week by Jackie at Recipes Made Easy and Monika at Everyday Healthy Recipes
Cook Once Eat Twice hosted by Corina at Searching for Spice
We Should Cocoa by Choclette at Tin and Thyme
Bake of the Week by Helen at CasaCostello and Jenny at MummyMishaps