Baked Chocolate Marble Cheesecake with Brownie Crust is a perfect dessert for any occasion. Beautifully creamy it will satisfy both chocolate & vanilla fans with brownie crust adding another layer of indulgence.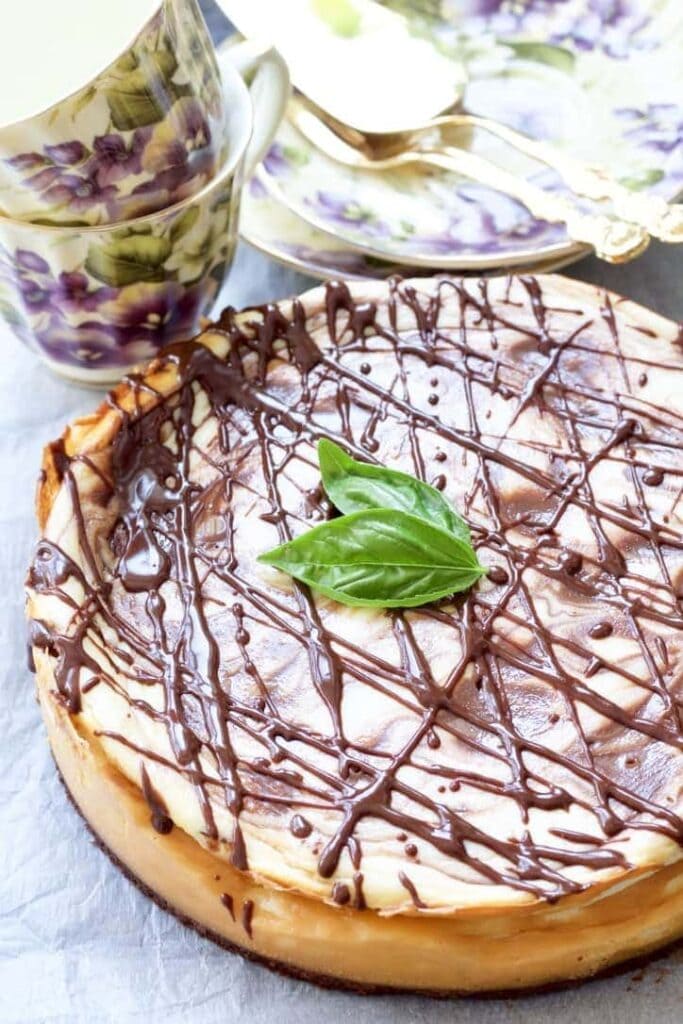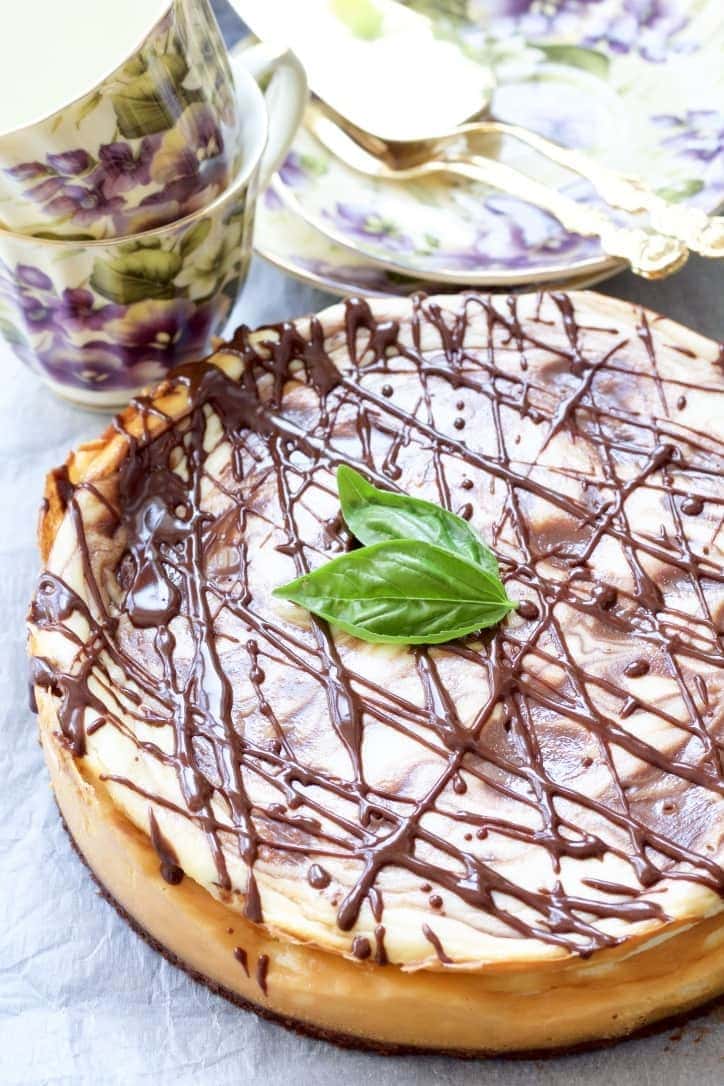 I love cheesecakes! Baked or no-bake ones it really doesn't matter! Ok, maybe I would sway slightly towards the baked ones but I do love both!
My Baked Chocolate Marble Cheesecake with Brownie Crust is creamy, very chocolatey and with a hint of vanilla sneaking through, yum! It's not overly sweet so if you have a really sweet tooth swap dark chocolate for milk one here. Either way it is just extremely delicious and it makes perfect centrepiece for any occasion!
Curd cheese (Twaróg) preparation and alternatives
One thing you need to know about this cheesecake is that it uses special type of Polish curd cheese called Twaróg which is widely available from most major supermarkets in the UK. You can find it in Chilled World Foods part of the refrigerated goods. The one I have used for this recipe is here - Twaróg . The best type to use is full fat or half-fat twaróg (I would go for one of each or full fat only). DO NOT be tempted to use fat-free version here.
Twaróg, as you buy it, is not quite ready for use in a cheesecake. It has got quite grainy, curdly texture and therefore it needs to be mixed in food processor with a blade (or a blender) until it's creamy and smooth. It will only take seconds.
If you are struggling to source twaróg or simply do not want to use it, the closest substitution would be quark. Alternatively, simply use widely available cream cheese (I would go full fat here).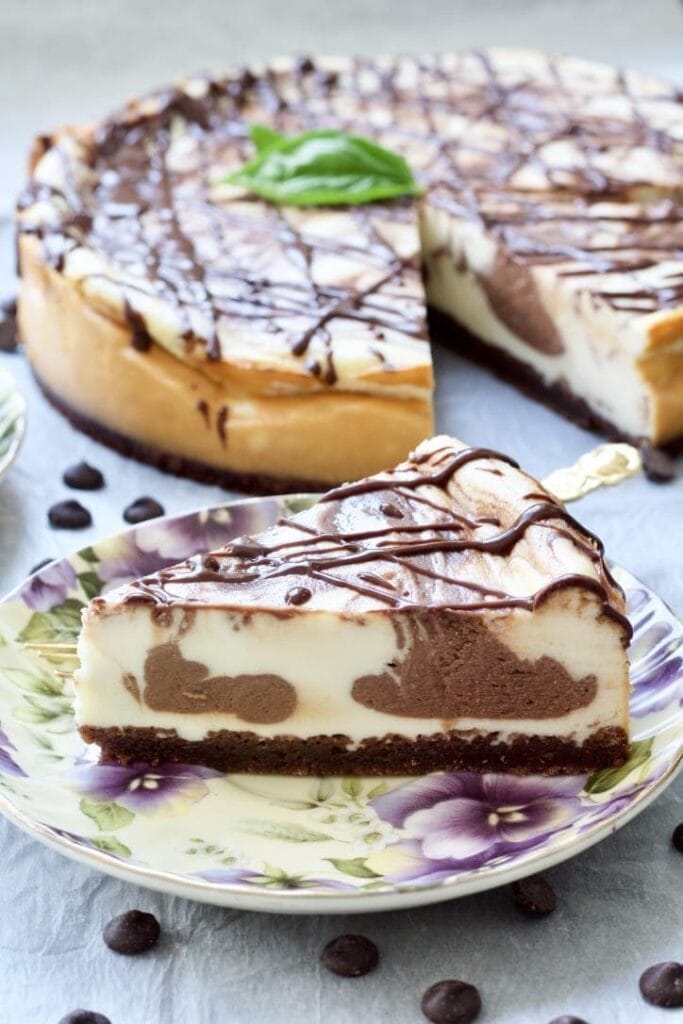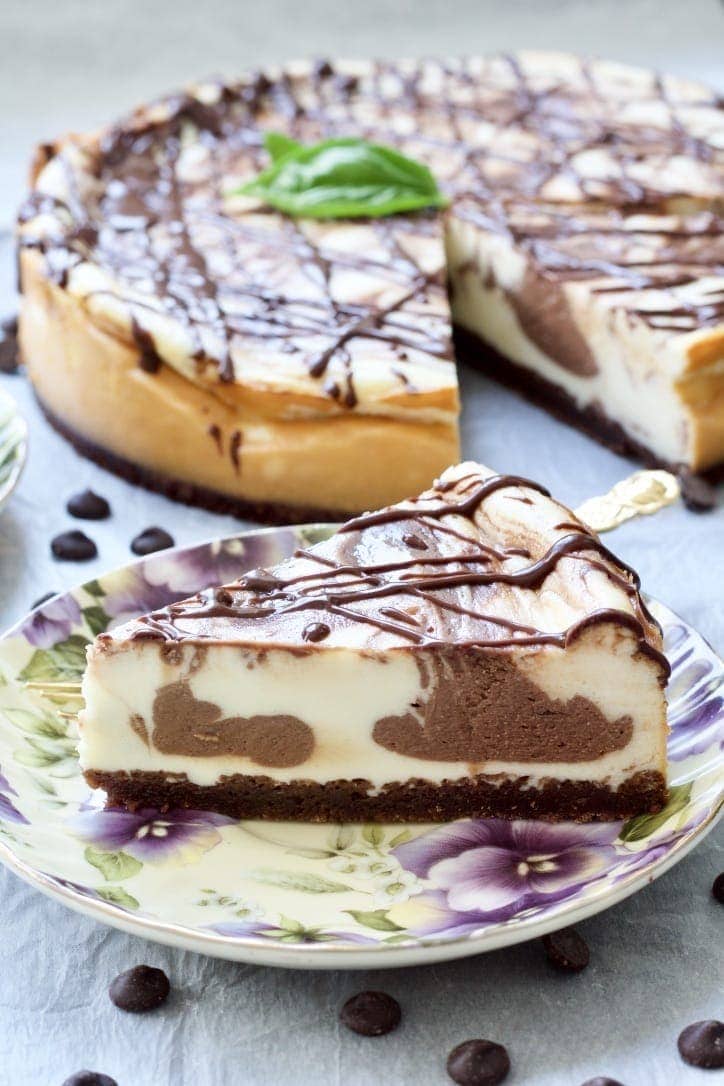 Baking cheesecake using water bath method
Baked Chocolate Marble Cheesecake has a brownie base which you bake first. Once brownie is ready, you will need to wrap your baking tin in unbroken piece of aluminium foil to prevent any water getting inside your tin as the best way of baking this cheesecake is using the water bath. Water bath means, basically, that you are putting your cake tin inside a bigger roasting tin/tray which you fill with hot water half way up the sides of your cake tin. This ensures even and smooth bake without any cracks on the surface of your cheesecake. In my opinion, it is (by far) the best method.
However, if you don't have tray big enough or your oven is too small etc. you can get very similar result to "water bath" method by placing baking try/oven proof bowl etc. filled with boiling water on the shelf below the tin with your cheesecake. This method also ensures high humidity in the oven and even bake for your cheesecake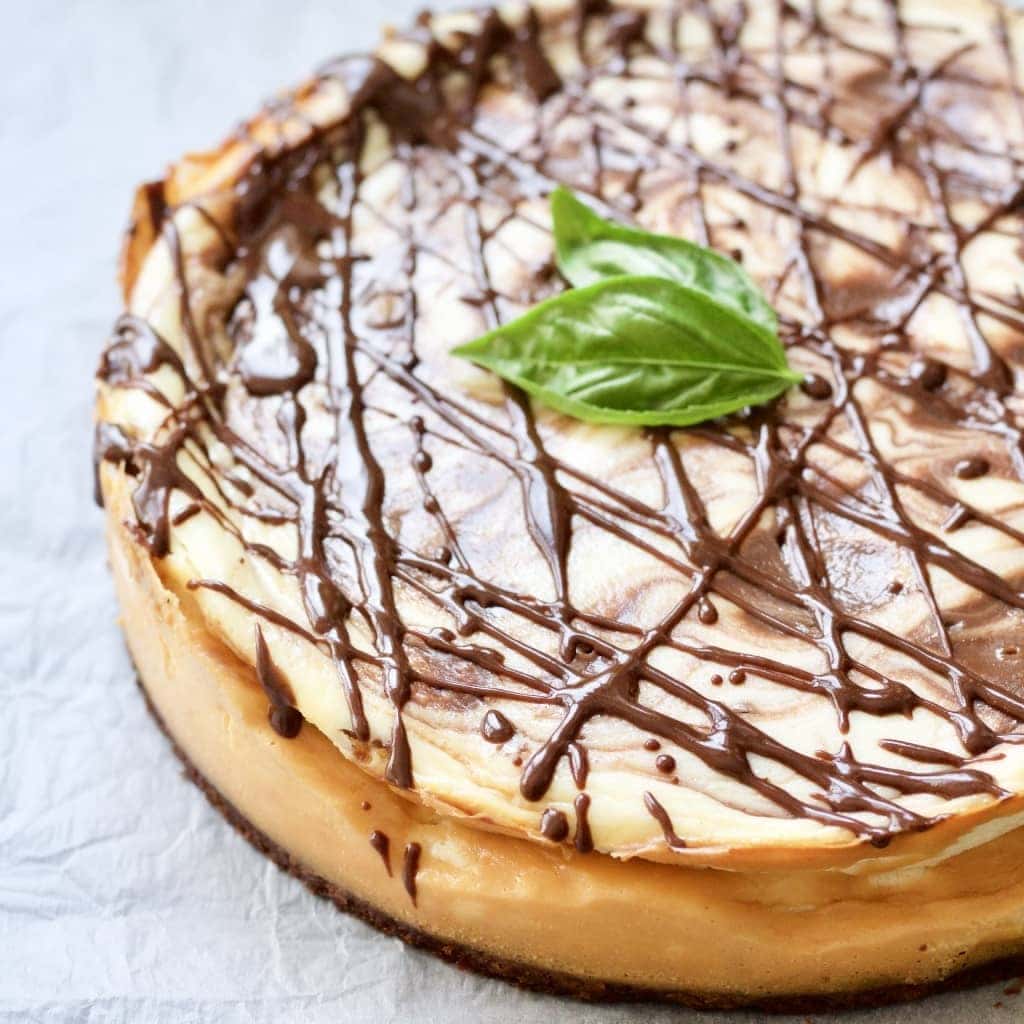 Can I make this cheesecake with biscuit crust instead?
If you don't fancy brownie crust you can simply make regular biscuit crust for your cheesecake using your favourite biscuits (digestives or graham crackers to name a few). Proportions for 20cm/8inch tin would be 250g/10.5 oz biscuits (crushed) mixed with 100g/7 tablespoon unsalted butter (melted). Simply mix biscuits and butter together and put the mixture in your prepared cake tin, distributing evenly and pressing down with your hand. There is no need to bake this crust. Simply pop it in the fridge while you prepare cheesecake filling.
How do I know when my cheesecake is baked?
It should take anything between 50-60 minutes for your cheesecake to be done per this recipe if baking in 20cm/8inch tin. Timing might differ slightly depending on your oven. For me it's usually 55 min. You are looking for a nice set around the edges and a tiny bit of a wobble in the middle. Once you are happy with your cheesecake and its doneness, slide it back into the oven and let it cool there completely with oven door slightly ajar. That will prevent your cheesecake from collapsing.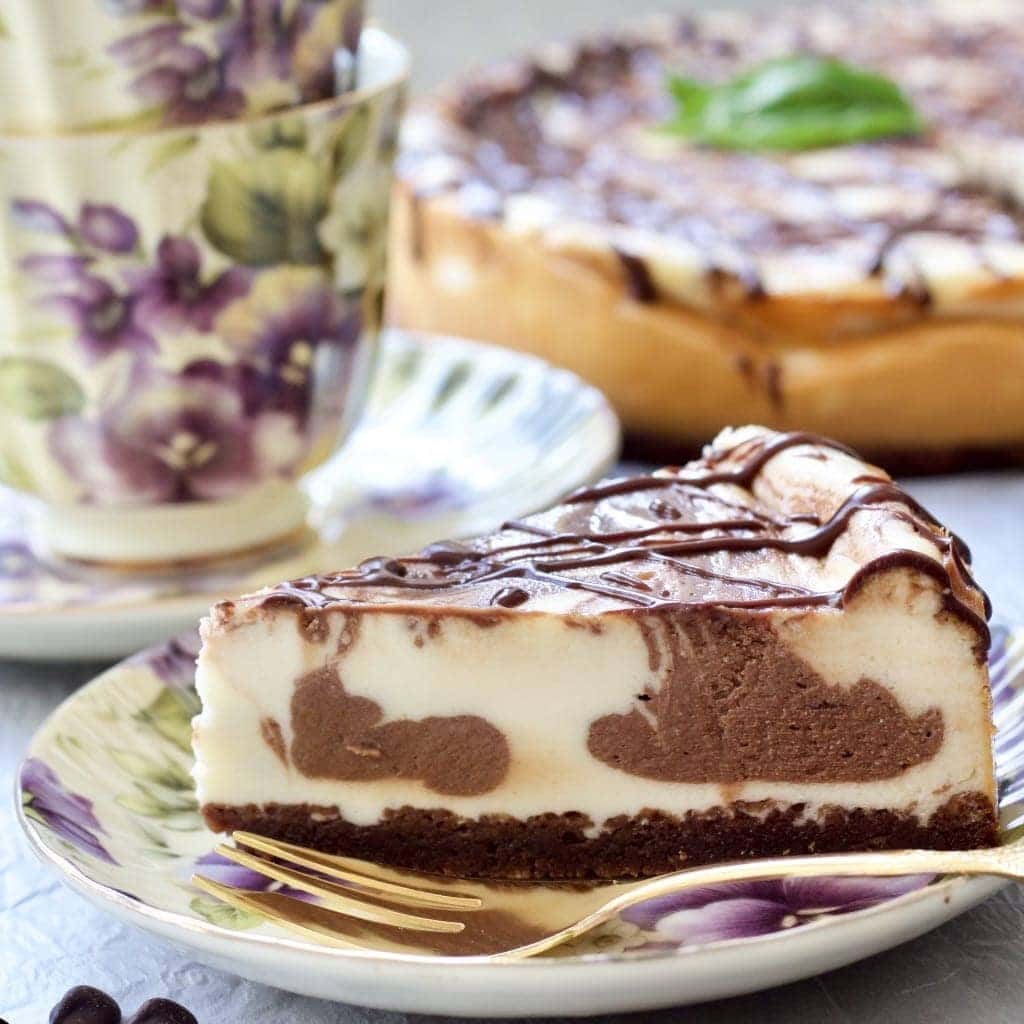 Storing and freezing baked cheesecake
This cheesecake can be stored in the fridge for up to 1 week although I doubt it will last that long! Make sure it is well covered with aluminium foil or cling film or simply pop it in the airtight container to prevent it from drying and also soaking up "fridge smells" (trust me, it does happen).
As most baked cheesecakes this one also freezes really well. You can choose to freeze entire cheesecake or perhaps individual portions which can be then defrosted as and when needed. To freeze whole cheesecake simply cover it well with baking paper and aluminium foil and to be on a safe side pop it in the freezer safe bag or container (if you have one big enough). Freeze to up to 1 month and defrost in the fridge overnight.
If freezing individual portions, I would suggest to put them in the freezer, in a container or on top of a lid or baking sheet, uncovered for a few hours until frozen solid. Then you can simply wrap them individually in the baking paper and/or aluminium foil and put in the freezer friendly bag. Freeze for up to 1 month and defrost as above.
How to make Baked Chocolate Marble Cheesecake with Brownie Crust - Step-By Step
Brownie Base
Cheesecake 
📋 Recipe
Baked Chocolate Marble Cheesecake with Brownie Crust
This Baked Chocolate Marble Cheesecake with Brownie Crust is a perfect dessert for any occasion. Beautifully creamy it will satisfy both chocolate & vanilla fans with brownie crust adding another layer of indulgence.
Ingredients
Brownie Crust
50

g

plain flour (all-purpose flour)

sieved

50

g

unsalted butter

110

g

caster (fine) sugar

1

large egg

40

g

dark chocolate
Cheesecake
500

g

Polish twaróg or cream cheese

see notes and blog post

1

397g

can condensed milk

sweetened

3

eggs

100

g

dark or milk chocolate

or half and half

1

teaspoon

vanilla extract
Chocolate Drizzle
50

g

dark chocolate

50

g

milk chocolate

40

g

unsalted butter
9-20 cm (8inch) round springform cake tin lined with baking paper
Instructions
Brownie Crust
Start with melting butter and chocolate in a small pan over low heat until smooth and glossy. Make sure you keep stirring to prevent them from burning. Set aside and let it cool a little.

Mix sugar and egg in a food processor until pale and fluffy (use egg beater attachment). You can also do it by hand or with hand held mixer.

Slowly start adding melted chocolate until incorporated.

Add sieved flour and fold it in gently with spatula until just incorporated. Do not overmix.

Pour the brownie mix to prepared cake tin (see above) and bake in 170°C/340F/Gas Mark 3 for 12-15 min until just set. Take the brownie out of the oven and let it cool a bit while you prepare your cheesecake mix.
Cheesecake part
Prepare your curd cheese (if using) as per advice in the blog post above. If using cream cheese no prior mixing is required.

Melt chocolate gently in a pan (mixing constantly to prevent it from burning) or in a bowl placed over the pot with simmering water (bain marie). Cool slightly.

Mix cheese together with eggs, vanilla extract and condensed milk until just incorporated. Do not over mix as too much air is going to make your cheesecake raise rapidly and then deflate quickly as well.

Keep roughly a cup of cheesecake mixture aside.

Pour majority of cheesecake mixture onto baked brownie.

Mix the remaining cup of cheesecake mixture with melted chocolate and put in blobs onto the cheesecake already in the tin. With the end of the knife create swirls all over the mixture which will give you marble effect once baked.

Bake cheesecake in the water bath (see the post above) in 150°C/300F/Gas Mark 2 for about 50-60 min. There should be a little wobble still in the middle of the cheesecake but it should feel firm to the touch. Let your cheesecake cool inside the oven with the door slightly ajar. Once cool, chill it well in the fridge for couple of hours but preferably overnight.
Chocolate Drizzle
Prepare your drizzle by melting both chocolates and butter in a small pan, mixing constantly. Once melted, pour it over cold cheesecake. You can make one smooth chocolatey surface or zig zag patterns, whatever you fancy. Enjoy!
Notes
Nutritional information is approximate and should be treated as a guideline only and it is based on the use of full-fat ingredients. 
You can substitute Twarog with quark or cream cheese. 
Feel free to make biscuit crust instead of brownie base. See post above for details.
Storing and freezing
Cheesecake will keep in the fridge for up to 1 week. Let it stand at a room temperature for up to half an hour before serving (optional).
Freezer friendly. 
Nutrition
Nutrition Facts
Baked Chocolate Marble Cheesecake with Brownie Crust
Amount Per Serving (0 g)
Calories 580
Calories from Fat 243
% Daily Value*
Fat 27g42%
Cholesterol 130mg43%
Sodium 551mg23%
Potassium 572mg16%
Carbohydrates 66g22%
Protein 19g38%
Vitamin A 565IU11%
Vitamin C 1.3mg2%
Calcium 422mg42%
Iron 2.6mg14%
* Percent Daily Values are based on a 2000 calorie diet.
Update Notes: This post was originally published on 10 April 2017 and republished in April 2019 with some more useful info, new photos and step by step photo instructions.
Some more recipes you might enjoy
Easy No-Bake Stem Ginger Cheesecake
White Chocolate & Mini Eggs Blondies
Double Chocolate Pavlova with Nutella Cream
MAKE SURE YOU STAY UP TO DATE WITH ALL THE LATEST RECIPES FROM JO'S KITCHEN LARDER
Have you tried my Baked Chocolate Marble Cheesecake with Brownie Crust? Leave a comment at the bottom of this post, I love reading them!
You can also come and say hello over on my Facebook page, Twitter, Instagram or Pinterest
Pin Baked Chocolate Marble Cheesecake with Brownie Crust For Later!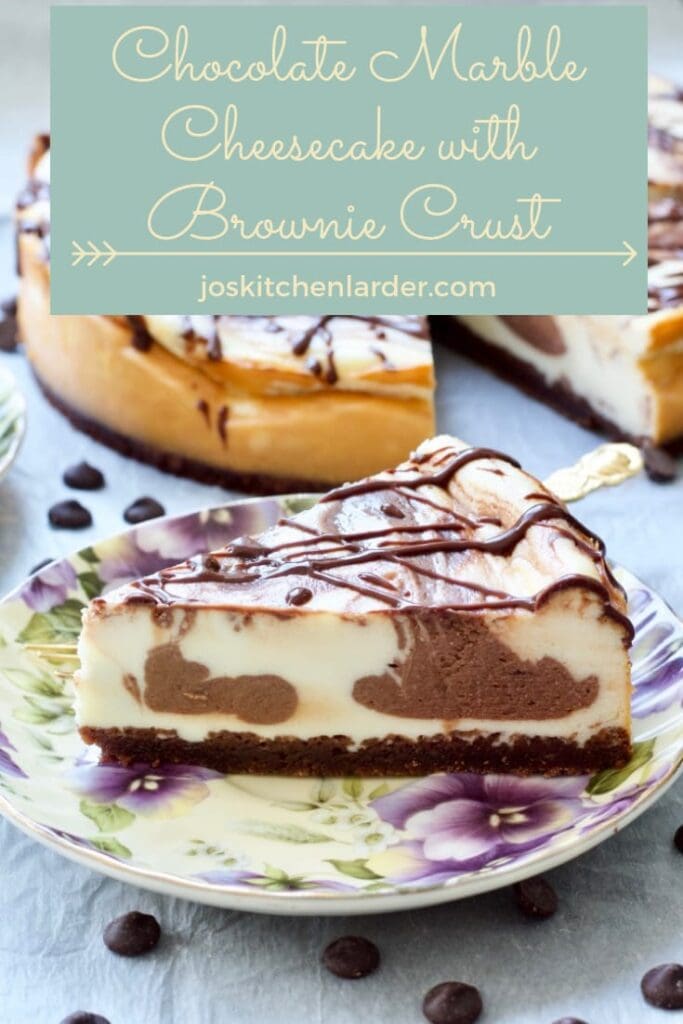 Linkies
Cook Blog Share hosted by Easy Peasy Foodie